I actually have tickets to Mariners Opening Day at Safeco Field on April 2 now. I wonder if it will sell out? Never underestimate the power of 50,000 Bremertonians.
Anyway, in our last segment of
the countdown
, we had counted down to 16. So here's another week worth of numbers, as we're down to about 9 days until Opening Day. Woohoo!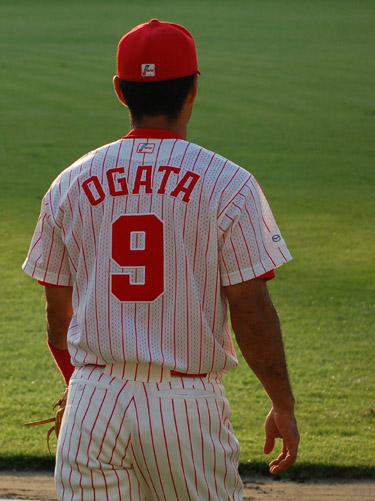 Koichi Ogata is a veteran outfielder for the Hiroshima Carp. In the grand history of Carp players having ambiguous names, he used to share his name with a Giants outfielder, which is not nearly as bad as former Carp outfielder Takuya Kimura sharing his name with a SMAP member, or current Carp rookie pitcher Yuki Saitoh sharing his name with the Handkerchief Prince.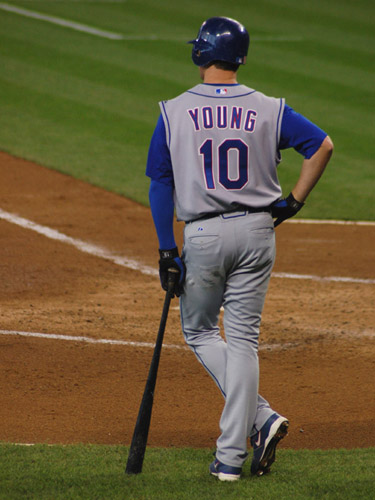 Michael Young is a very rich man. Er, I mean, he's a shortstop for the Texas Rangers.



Yasuhiro Ichiba is a pitcher for the Tohoku Rakuten Kansas City Royals Golden Eagles. He was a highly bribed prized college prospect back in the day, but sadly has still not lived up to his hype potential, and with an FIP of 4.68 to go with his real-life 4.78 and 9-23 record in the last two years, it's unclear whether one can really blame it on Rakuten.



Mike Morse is a bench bat for the Seattle Mariners, as I'm not really sure where he'd fit in with the team right now otherwise. He hit a home run on his birthday yesterday, though. May the Morse be with you!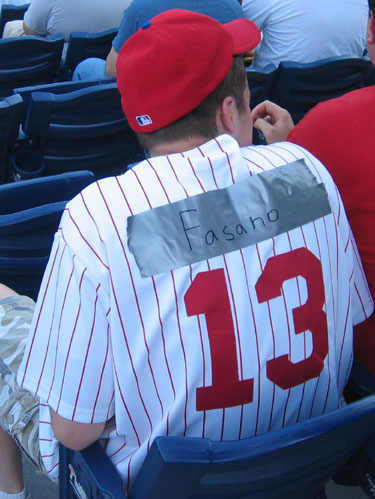 Okay, so this isn't really Sal Fasano. But back at the start of 2006, when Fasano was extremely popular in Philadelphia, and Billy Wagner had decided to go sign with the Mets, there was quite a bit of animosity towards His Lowness. One of Sal's Pals got creative in recycling his Wagner #13 jersey, and I just thought it was too funny.



Gary Matthews is also a rich guy. Unlike Michael Young, he no longer plays for the Texas Rangers, but instead for our other dire divisional rivals, the Anaheim Angels.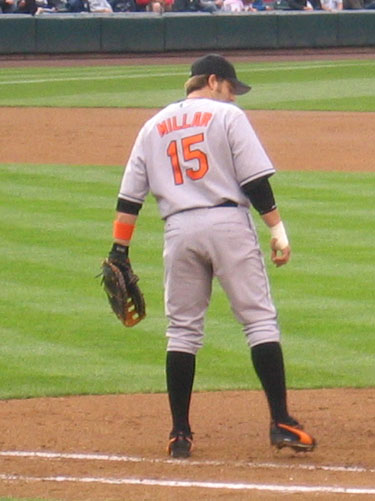 Kevin Millar's a dork, but for some reason I've always sort of liked him. For one, his career's a great story in itself. For two, ever since I saw him on Queer Eye For The Red Sox, I can't see him without thinking of funny scenes from that show. Not many ballplayers could get their back waxed on national TV and get hit on by Carson Kressley and still have a good laugh over it.

(All of these were taken by me in 2006. Young, Morse, Matthews, and Millar were taken at Safeco; Ichiba was taken at Miyagi Fullcast, Ogata at Hiroshima Municipal Stadium, and the Fasano fan was at Citizens Bank Park.)
By the way, I already have #1 - #8 pretty much picked out, so if anyone wants to try to take a guess at them before I post them, feel free. Keep in mind that it has to be someone I was actually able to get a decent shot of their uniform number, which should rule out a few "obvious" choices.