I have to admit that I wasn't all that excited about going to Fan Fest this year, so rather than camp out at 8am with PositivePaul and Corco and the other insane autograph-seekers, I overslept and didn't get there until 11:30am, and I had to pick up my friend Jason on the way. By the time we arrived, all 3000 of the autograph vouchers were gone. Oops.
This year (as opposed to
last year
), I did the following:
- saw a bit of the Hargrove Q&A
- saw the Felix/Rivera Q&A
- walked around the infield and sat in the visitor's dugout
- watched a few rounds of Last Fan Standing trivia, didn't get picked, got bored and left
- toured the history exhibit and the clubhouse and all, since Jason hadn't seen them before
- walked around the stadium and saw all the various tables set up all over the place
- saw the last few minutes of the Lincoln/Armstrong Q&A
- saw the Putz/Betancourt Q&A
- saw the Bavasi Q&A
And that's about it. I took a whole bunch of pictures, and I took notes on my Sidekick, but they're a bit scattered. I'll see what I can piece together and throw in a few of the photos I've cropped.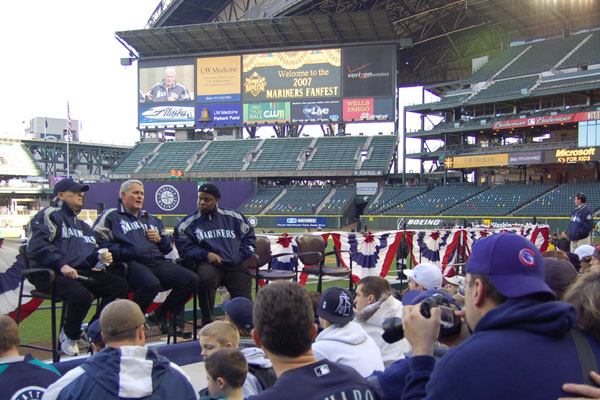 Mike Hargrove answers questions in the Dugout Dialogue.
Hargrove actually seemed to be in a fairly good mood, but some of the questions he got were pretty crazy. Someone asked him, "What the hell was the deal with you guys losing to Oakland so much last year? If you'd even gone 50-50 against them you'd have been in the playoffs!" Another person asked him why they traded Jamie Moyer, and I really don't know why he'd be the one to answer that (he said something like "Well, you know, Jamie's in his 40s, we didn't know how much longer he'd be playing, it's not that we didn't like him or something.")
He mentioned that he'd been emailing back and forth with Ichiro a bit these last few weeks and that he expects to keep Ichiro in center field this upcoming season.
People asked about Broussard and Mike Morse, and Grover basically said that he figured both of them were going to be role players this year. He actually described Mike Morse as a utility guy, saying "he can play some infield, a bit in left, a bit in right," which means he obviously wasn't watching last time Mike Morse actually played in the outfield, but hey, that was followed by "though none of these guys really have the talent level of Willie Bloomquist as a utility player, of course."
He credited JJ Putz with having a spectacular season and really bailing the team out there, and said they owed it to Eddie Guardado for teaching him so well. And in a completely random question, someone asked who the backup catcher would be this year, and Hargrove was like "Uhh... Rene Rivera?" with this look of "Do I have another choice?" on his face.
He was mobbed by people seeking autographs, but since I got him last year, I didn't bother, but instead found a better vantage point for the Felix and Rene Rivera session.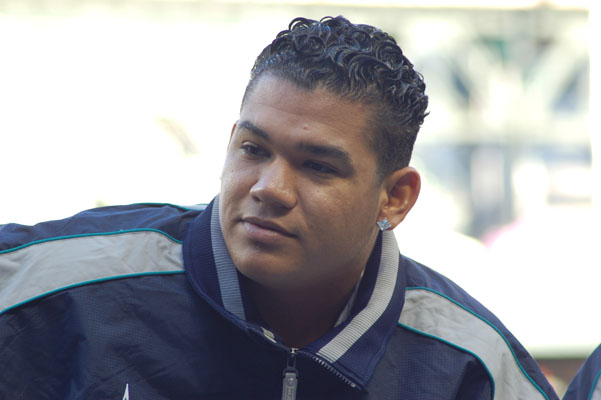 A pensive King Felix.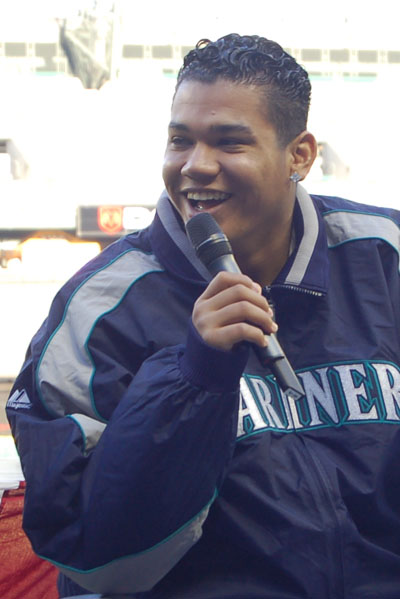 I swear this was in response to "You only have #34 because of Freddy, right?".
Backup catcher Rene Rivera shared the session with Felix.
So yeah, the minute Felix came out there was a ton of applause, and the first thing they started talking about in his session was, of course, how much weight he'd lost and how great he looked.
"How much weight did you lose, anyway?"
"I lost 25 pounds!"
"How'd you do that?"
"I stopped eating fried food."
I was really struck by how great Rivera and Felix both were at speaking English. Last year Felix had an interpreter, but this year he pretty much fielded everything on his own. They did have a Spanish interpreter there, but the guy literally just sat there, they never asked him for help, and Felix's speech was really good.
Rivera got a couple of questions from time to time. Someone asked what he has to do as a backup catcher -- "I have to stay ready for anything, so I work harder to keep in shape." Which pitcher does he like to face? Rodrigo Lopez. Is he looking forward to catching for Jeff Weaver? "I look forward to catching for EVERYONE."
Felix got a pretty wide variety of questions. Some people asked about his pitch selection, and his funniest response was "Pitching inside? I love it!"
The pitcher he looks up to the most? "Freddy Garcia. Doesn't everyone know that?"
Any particular batters he likes to face? "Vladimir Guerrerro." What does he do for that? "I keep the ball fast and down in the zone. Not that it matters, he can hit everything."
Why does he have number 34? "Because I had it in the minors... hey, come on, it's NOT because of Freddy, I swear! It's just a number I like. Baseball players are sort of superstitious about their numbers."
Yeah, so like I said, we wandered around for a while after that. I didn't actually do the "run around the bases" thing last year, so that was sort of fun, and we did the whole take-pictures-in-the-dugout thing, so now I finally have a picture of myself sitting in a major league dugout that isn't Yankee Stadium.
You can pretty much walk straight into the clubhouse from the visitor's dugout, so we did that. We went into Last Fan Standing, got tickets, but weren't picked to compete. Sadly, the categories we saw were NL/AL Wild Card Teams, and "Former Teams of the Mariners 40-Man Roster", which actually was a contest of "Can you name all the teams Batista and Guillen have been on?" After those, we wandered off again.
We went through the Pacific Northwest baseball exhibit down in the Diamond Club, but it was pretty much the exact same thing as last year, though Jason enjoyed seeing the history stuff. Also, I'm pretty damn sure I saw Dave Eskenazi hanging around there, and I probably should have said something to him, except that 1) I forgot his name at the time and 2) it would have probably freaked him out if I was like "I remember you from the SABR book reading!" But since most if not all of the collection was his, I bet I could have at least gotten a whole bunch of questions answered about it all. Sigh.
During the clubhouse tour, we noticed that they had Felix and JJ's lockers next to each other in the locker room. Johjima and Ichiro have lockers off in a corner, next to the... lost and found? And Hargrove appeared to have an Iraqi flag in his office, signed by some of the troops, I think. Also, John McLaren was just hanging around the clubhouse in the area between the weightroom and the locker room, I guess it was after his Q&A, so he was taking pictures with little kids and being all greeter-like, saying "Welcome to our clubhouse! Hi guys, how do you like the clubhouse? Isn't it awesome?"
A sampling of the random tables around the concourse of the stadium included the Aquasox and Rainiers, the SABR table, the Season Ticket booth, the Moyer Foundation (featuring Moyer jerseys from both Mariners and Phillies), the silent auction and memorabilia sale (featuring crazy things like a Dominic Woody jersey for $65 and autographed Bobby Madritsch 8x10's for $5, both of which I at least pondered for a few seconds before not buying them), and the Nintendo booths.
One of the Nintendo booths was a game center much like the one they usually have in the outfield area, and one was this newfangled Nintendo Fan Center demo. Apparently the Mariners will be the location test next year for a Nintendo DS feature, where you can use your DS during a game to get up-to-date stats and scores and even broadcast video of the games, and to order food, and to play trivia games and such. Jason commented that it'd make my Sidekick obsolete, until I asked about how much the service would cost, and then the guy's like "well... it'd have a fee per game... or per month... or something... for some of the features at least..." Yeah. Either way, I think it's a neat idea, but how many people actually bring their Nintendo DS to the stadium on a regular basis?
I got back to the Q&A area just in time to catch the last part of the Chuck Armstrong and Howard Lincoln talk.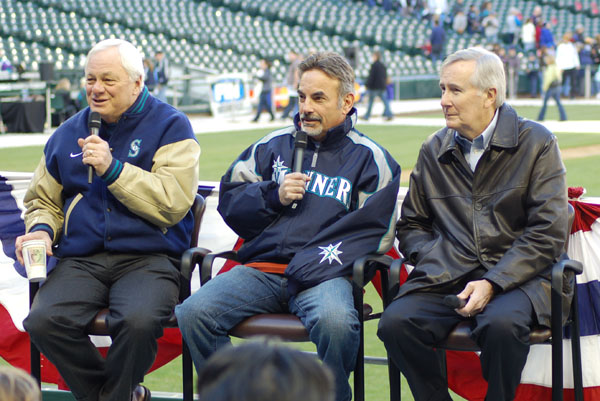 Mariners president Chuck Armstrong, broadcaster extraordinaire Rick Rizzs, and Mariners CEO Howard Lincoln.
I guess the funniest one was an exchange that went something like this:
Fan: "I had a question for you guys -- now that he's available again, have you guys considered re-signing David Bell?"
Armstrong: "No."
Fan: "Err. Why not?"
Armstrong: "We have Adrian Beltre playing third base and we have the best utility player in the major leagues in Willie Bloomquist. Where would we put David Bell?"
(It might have actually been Lincoln, not Armstrong, I forget.)
Another one was like:
Fan: "Have you considered doing something like the Diamondbacks do, where there's a specific place before each game where a player or two will come out and sign stuff for fans?"
Rizzs: "Hey, let me tell you all about this great thing we do called the Mariners Caravan! We go barnstorming all over from Oregon to Canada to Spokane, with various players, talking to fans and signing stuff and all. It's great!"
Lincoln: "Yeah, Rick, and don't they make you drive the bus?"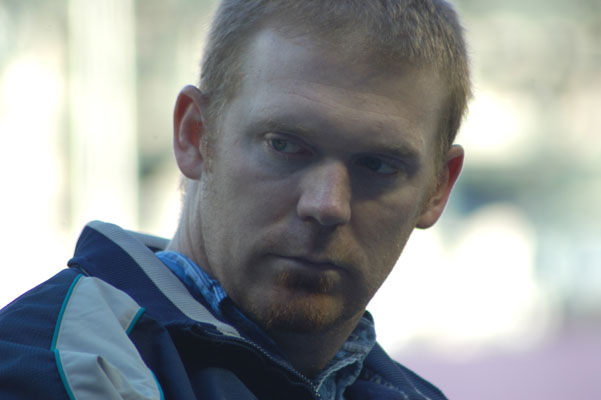 Mariners closer JJ Putz, being all ponderous.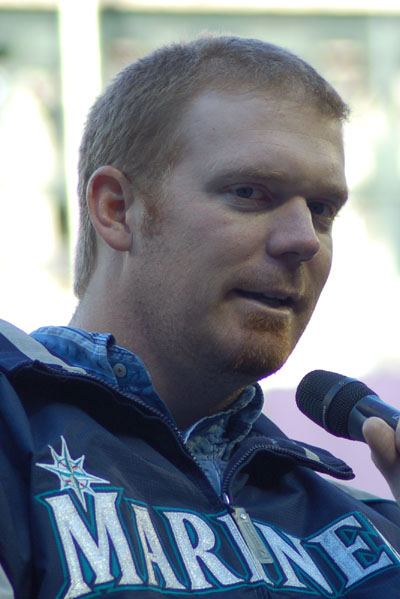 JJ Putz.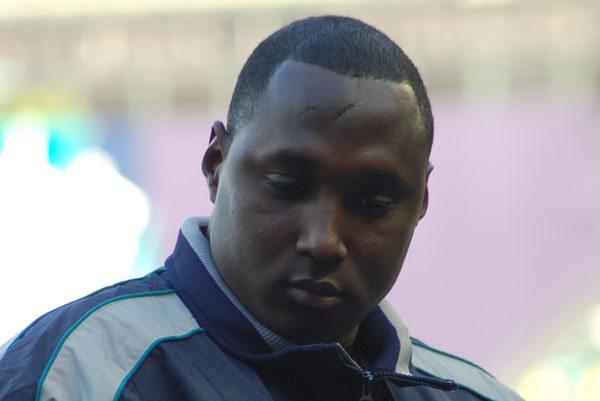 Yuniesky Betancourt.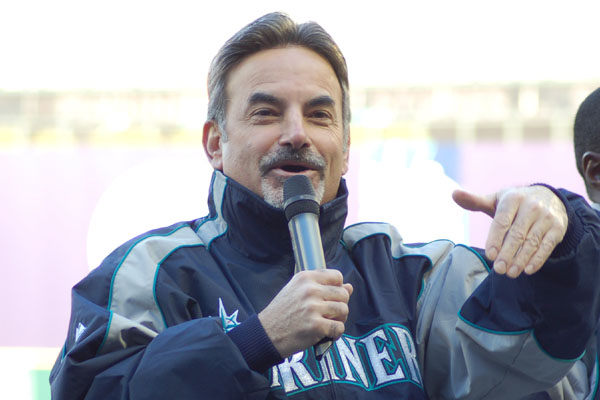 It's the Rick Rizzs show!
They had Yuniesky Betancourt and JJ Putz do a Q&A session together at 2pm, which was pretty odd, to say the least. I was looking forward to it, because "well, Betancourt doesn't really speak English and Putz is pretty dumb, so this could turn into some fairly entertaining Rick Rizzs filler time," and sure enough, the sound guys had even cued up a few rimshots for the bad Rizzs jokes.
But it wasn't that bad. Unlike last year, when Putz unintentionally played the straight man to all of Jarrod Washburn's jokes, he actually had a few funny things to say on his own, and seemed to intentionally be going along with Rizzs's jokes. Betancourt got asked a bunch of questions about Cuba, mainly, and I'm really not sure he was all that into the entire thing (possibly because he couldn't understand a lot of what was going on, though I feel bad guessing that).
Rizzs asked Putz about the new contract. "And what's the best part of the deal for you?" Putz started at him blankly until Rizzs was like "The radio show, right?" and Putz was like "Oh yeah! Bullpen Banter is the most important part!"
Fan: "Were you afraid when you were facing Barry Bonds?"
Putz: "Nah, not really. I mean, he plays left field, we could see him from the bullpen all along. Though then I got out there on the mound and suddenly there's this giant guy at home plate practically holding a toothpick."
Rizzs: "But you sure got him, didn't you?"
Putz: "Yeah. Fastball inside."
Fan: "Is there any hitter that you really wouldn't want to face?"
Putz: "Duhh... uhh... uh, I don't know... Richie Sexson! Yeah."
Fan (a little girl): "Umm... where were you born?"
Putz: "Trenton, Michigan."
Betancourt, through translator: "Santa Clara, Cuba."
Putz: "And where were you born?"
Little girl: "Tacoma!"
Fan: "Who was your favorite player growing up?"
Betancourt: (something about how he was inspired by various stuff)
Rizzs: "My favorite player growing up was JJ Putz!"
Sound guy: [rimshot]
(the laughter and such drowned out Putz's response)
Rizzs: "What's it like having [Betancourt] in the field behind you?"
Putz: "It's great. When he's out there you just pray for ground balls."
Fan: "This one's for Yuniesky... do you have the green light to steal?"
Betancourt: (I didn't really understand the answer, even from the translator)
Rizzs [covering]: "Hey, JJ, do YOU have the green light to steal?"
Putz: "Oh yeah! Sure do!"
Sound guy: [rimshot]
So, oddly, most of the crowd dispersed after that interview, and then a little bit later, Rizzs came back out with Bill Bavasi. I don't think that was actually on the original schedule. So there weren't a ton of us out there at that point, but I have a feeling that over half the people there were blogizens, given the questions that were asked. I was sitting with
PositivePaul
(we spent the entire Putz/Betancourt Q&A snapping pictures on our dSLRs) and David J. Corcoran at this point as well as my friend Jason and Paul's brother-in-law Dave. I even actually asked a question over the microphone, though I'll get to that in a second.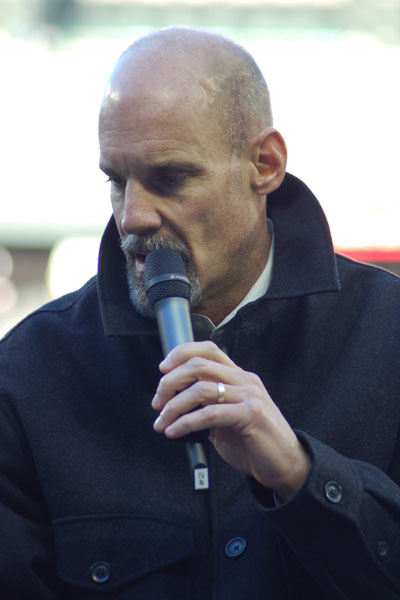 Bill Bavasi, the Mariners general manager
He got asked questions all over the board as well, though I thought he actually gave pretty good answers to a lot of them. Someone asked about Arthur Rhodes, and Bavasi said that Rhodes wanted to come back to Seattle, and that pitching in Citizens Bank Park was just a nightmare for him (though I think an exact quote was something like "Koufax would have gotten killed in this Philly park"). When asked about the Jeff Weaver signing, Bavasi explained that it was in this weird limbo of "pending a physical", which really means "we've essentially signed him but there's a whole bunch of stuff that needs to get settled first."
Fan: "Why did you get rid of Soriano for Ramirez?"
Bavasi: "Wait, we didn't 'get rid of him'. I'm an old GM, you know, compared to all these young guys in the business today, the GMs who just want to make deals and make an impact. We saw a starter with upside, and the Braves saw a reliever with upside, and that's how it went."
Fan: "If you could have any player for your team, who would it be?"
Bavasi: [paraphrased] "Well, if I can't build a time machine and get Babe Ruth, then I'd want a guy sort of like Derek Jeter. I mean, not Jeter obviously because we have a fantastic shortstop, but someone with a makeup like his, with the talent and the proven ability to go out there and win games. You want to build a team around a guy like him."
Fan: "Who was your favorite player growing up?"
Rizzs and Bavasi simultaneously: "BABE RUTH!"
Bavasi: "No, just kidding. It was Sandy Koufax."
(Deanna's note: You know how I grew up with Steve Carlton being my absolute hero when I was a kid because I was left-handed? Bill Bavasi is also left-handed and his dad was GM of the Dodgers through Koufax's career. So even though the latter might seem like the obvious reason, I'd actually bet more on the former. Wish I'd thought of asking about it at the time.)
Corco got up and tried to ask a question but he completely just started babbling about something about Broussard, and I didn't even try to take it down at all.
So I asked the girl with the microphone, "Can I ask him why the hell he traded Chris Snelling?"
She said "Sure, but phrase it a little more positively. What's your name?"
So I told her, and a bit later, the whole stadium could hear "Deanna from Seattle has a question. 'So um... what were you thinking with the Snelling trade?'"
I think Bavasi might have recognized me from the USSM feed, because he even said something like "Hey, I love the guy, and I know you do too. But we wanted to give him a chance to play, and we wanted some veteran experience, which is why we got Vidro." He went into comparing the '95 Mariners to the '95 Angels and saying how they had a great young team in Anaheim but not enough veteran experience, so they choked down the stretch, whereas the Mariners had these great experienced players, or something. I dunno. But he did spend a few minutes basically apologizing for the trade and just reaffirming that he thought it was a shame since he thought Snelling was such a great player and prospect. (Later after the actual Q&A he mentioned that Snelling had some problems swinging a bat with and without his knee brace, and that would also play into his ability to produce at the plate in the future. But he also admitted that there was a pretty good chance Snelling would succeed and we'd end up looking pretty dumb down the line.)
The funny part is, a question shortly after that was:
Fan: "How does fan opinion in general affect your trades?"
Bavasi: "I know you guys are going to hate this, but: NOT AT ALL. Seriously. You know, I go to, say, a Sonics game, and I'm definitely a fan of them, but do they want ME making THEIR rosters? No way. I do what I have to here in order to try to make the team better, to try to make them win."
One guy (I think it was the same one) said something like "You know, you get criticized a lot for your moves, and I just wanted to let you know that I think you don't deserve that," to which Bavasi replied, "Hey! Come on down here! You're my new best friend! No, just kidding."
One little kid got the microphone and said "I want to thank you for signing Richie Sexson because he's my favorite player."
There was a funny exchange about the posting system that led to Bavasi saying "Rick, it's just money!" but I forget the question exactly. And there was an exchange about Jeremy Reed, about how his spot now is basically being the fourth outfielder and he'll have to pretty much battle back from there, start his career over essentially.
After Bavasi was done officially talking, a whole bunch of people swamped him at the dugout and chatted more about other stuff. As suspected, several of them were other USSM/LL folks, though I only actually caught Bretticus's name because he was wearing a Shaun Alexander jersey and carrying a Chris Snelling jersey.
I forget exactly what he chatted about, it was mostly more stuff about Snelling, things like why couldn't Snelling DH instead of Vidro, some other questions, a bunch about Jeff Weaver and dealing with Scott Boras and the motivations behind the one-year deal, and so on. He made the particularly incisive comment that if players had only been treated better back in the days when his dad was a GM, then the market probably wouldn't be as completely ridiculous as it is today. We asked if he'd be coming back to any more USSM feeds and he said that he'd be at the one at Spring Training, but as for up here, hey, as long as they got some pizza for him, he'd be there, or something like that. He shook hands with everyone who'd been gathering around the dugout, even me, and then he walked off.
See, this is why I don't do the whole hating on the management thing. People who get all riled up like "Fire Hargrove!" "Fire Bavasi!" etc, I think if they went to one of these events and actually just talked to them, they wouldn't be the same way. Though maybe I'm wrong, I dunno. I have to say, I wouldn't want to be a GM.
After that, I had to leave to go to another appointment. I'm not really sure I missed much of anything; it's more a shame I wasn't there earlier, though to be honest, waiting in the autograph lines is dead boring as far as I'm concerned :)
Also, man, I really shouldn't have stayed up this late dumping this all out of my brain. Argh. I'll try to edit it down and/or correct things tomorrow sometime.
(edit> for the record, there's an
article
with these and other quotes from Fan Fest, might be truer versions of the quotes I posted, too)