This is the second half of my Chiba pictures, from September 13th. I had basically gone to the Monday game on a whim, but the Wednesday game I went to with Tokyo Sam, a guy from the Mariners blogosphere. It was pretty fun, and we hung out in Makuhari for a while and got to the stadium early and explored the Marines Museum and team store. I even got to play the Konami arcade game Baseball Heroes while we were in Makuhari, which was pretty neat.
The bad part about the day was that it was raining for the entire game. Wackier, that didn't actually stop both teams from playing a full game. Shingo Ono pitched a complete game shutout for the Marines, winning 7-0. Kanehisa Arime started for Rakuten, and while I think he's actually a pretty good pitcher, he had sort of wrecked his arm pitching a 12-inning 17-strikeout 188-pitch complete game only a week or two before this game, so. He did later end up kicking butt in the Hawaii Winter League, so I was redeemed for thinking highly of him.
You can read my
blog entry
of the day, or check out the
score page
on Lotte's site.
So, this photo set starts with a lot of Marines museum pictures and then goes into a rainy batting/fielding practice, and then has a bunch of game photos. Despite the crappy weather I took a surprising number of pictures. If it hadn't been raining, it would have been pretty awesome, but alas.
Full photoset with thumbnails and descriptions here:
Marines vs. Eagles at Chiba Marine Stadium, September 13, 2006
As usual I'll throw up a few highlights. I had to cut a lot of Satozaki pictures out of this set. Yeah, I know I'm hopeless.
Chiba Marine Stadium, the Marines Museum, and a tarp-covered rainy field.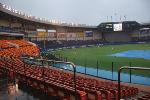 Baseball Heroes arcade game, player roster in the museum, mock outfield in the museum
Mock clubhouse, Marines Wall of Fame, some cool old game posters from the 70's and 80's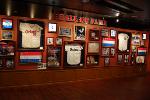 1950's history, Choji Murata display, Nishioka corner in the team store, gratuitous pet clothes, me with Ma-Kun, one of the Marines mascots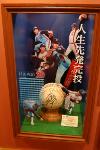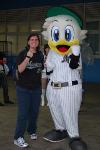 Catchers Tsuji and Satozaki, Katsunori Nomura, Kenshi Kawaguchi, Tsuyoshi Nishioka, Rakuten starter Kanehisa Arime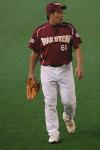 Lotte starter Shingo Ono, Hisanori Nishitani taking a mighty swing, Benny lunging back into first base
Rainy dugout and Imae signing stuff, rainy balloon inflating, people avoiding the rain
Benny Agbayani!, Val Pascucci, Tomoya Satozaki breaking a bat, Satozaki, Jose Fernandez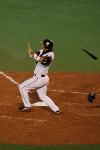 Man, going through my pictures is taking me forever. I still have a few more sets -- next up is Meiji Jingu Stadium and the Yakult Swallows game... then maybe more Seibu, then definitely Yokohama, then the Japanese Baseball hall of fame, and by the time I finish all that I'll be ready to head back to Japan and take more pictures, I'm sure!
I think I had originally figured my last set -- the Japanese hall of fame -- would be finished in time to coincide with the announcing of the american HOF inductees, which should be in approximately 8 hours. Oh well...