I had two whole days of pictures from Chiba Marine Stadium this trip, so here's the first day's set, from September 11th. The second set, from September 13th, will feature the Marines Museum too, and will theoretically go up tomorrow.
You can read my
blog entry
about the day or look at the
game report
on the Marines site, which has pictures that are a lot like mine, but taken by someone much closer to the action, and featuring less cheerleaders :) The Eagles beat the Marines 6-2, with a whole lot of guys named Yamazaki scoring runs for Rakuten. I went to the game to see Yoshihisa Naruse, the young lefty Lotte rookie pitcher, but now looking back, it's cool that I got to see the Rakuten starter Ryan Glynn, since he'll be on the Fighters next year! Yay!
Full photoset with thumbnails and descriptions here:
Marines vs. Eagles at Chiba Marine Stadium, September 11, 2006
And as usual I'll throw up a few highlights of the set. If that Matt Watson fan from Athletics Nation is around, he'll love this set, because I have a whole lot of "Watty", as he was playing right field and I was sitting right near there.
Chiba Marine Stadium, at night, infield, outfield, and scoreboard: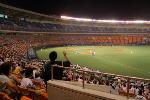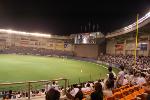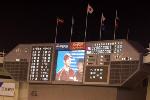 Eagles starter Ryan Glynn, Lotte starter Yoshihisa Naruse, Lotte outfielder Saburo Ohmura: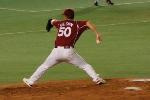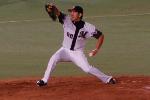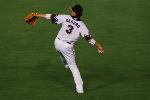 Cheerleaders welcome players, Tatsuya Shiokawa falls down turning a double play, and Teppei is out at the plate: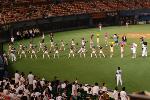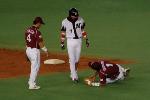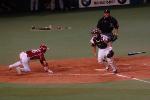 Matt Watson (x2), Hisao Heiuchi, Masato Watanabe, Tsuyoshi Nishioka: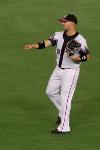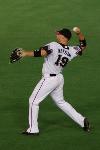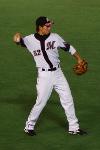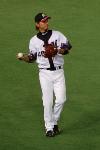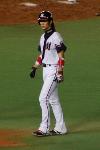 Aono at bat, cheer girls dancing, mascots posing, and a young Satozaki fan: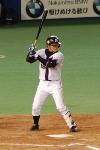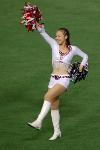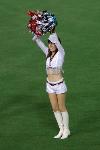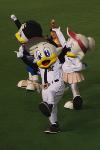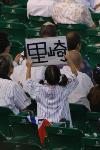 There's more in the full set, with the balloon launching and sightings of Satoru Komiyama and Justin Miller, among other things, but I'm kind of bad at picking these highlight sets out.