EDIT> This just in: Pat Gillick ruins Ryan Madson Day by claiming Greg Dobbs off waivers.
We'll have to see if I can spread the nickname "Dobby The Bench Elf" to the Phlogosphere.
I realize that today is actually Albert Pujols's birthday (and also another famous Cardinal, Dizzy Dean), and
Ryan Madson
's birthday is actually August 28th, but after Monday's
thread on USSM
about, among other things,
Ryan Madson avoiding arbitration and signing a $1.1 million one-year contract
, and Laurie and I both simultaneously declaring our undying love for the charming and talented Phillies pitcher, I've decided to arbitrarily declare today to be Ryan Madson Day. Hooray! I even bothered fixing my scanner so I could scan in the January 2007 page from the 2006-2007 charities calendar, aka Phillies Phashion.
And then, of course, I found this page of
Phillies desktop wallpapers
on their official site with the casual-clothes calendar shots of Burrell, Gordon, Madson, Myers, Rowand, and Utley.
No, that's not a fashion model, that's a pitcher for the Philadelphia Phillies.
(That's a re-sized version of the image from the Phillies' site; the
calendar scan
didn't line up that well)
Actually, to be fair, all of the Phillies wallpapers on that page are awesome. The Ryan Howard MVP one is both super-goofy and super-awesome all at once, really -- he's totally doing the Manny Ramirez 2004-World-Series-postgame gesture, but so what?
The point is, Ryan Madson is awesome, no matter what his 2006 numbers might indicate. For a few quick hits, back in the middle of the 2005 season, Jason Weitzel at Beerleaguer wrote a little retrospective on
why it's easy to like Mad Dog
. Tom Goyne started the
Madson For 2006 Rotation
campaign almost exactly a year ago, even making up buttons -- which I never did remember to order off Cafepress. Oops.
Then I drafted Madson to my
fantasy team
, sniping Tom G for him in the 13th round -- I still can't believe I got Nick Swisher in the 14th round, but hey, this was a Phillies Bloggers league (which, by the way, I eventually placed 3rd out of 14th in, barely edging out the Beerleaguer himself in the finals), where Chase Utley was the 6th overall pick. Anyway, Madson was great for a bit, then the starter role started to wear on him, and when Cole Hamels was called up at the end of May, I dropped Madson from my team for the Phillies' greater good, and he immediately went on a tear, including
May 28th
, which I was in Philly for, and watched as my newly-dropped wonder boy struck out 7 in 5 innings, giving up 2 runs and batting in 2 runs himself to get the win.
But, the shuffling between starting and relieving wore on him through the year, plus it didn't help that they kept putting him into the game immediately following Cole Hamels, the guy who had replaced him in the rotation. It seemed like Mad Dog was on his way to being sent to the doghouse.
Eventually, though, he got back into the swing of things again, and Mike Berquist wrote the
Ryan Madson Reclamation Project
, which ended up being irrelevant as Madson reclaimed himself. When Tom Gordon went down with an injury late in the season, Madson and Arthur Rhodes took over the closing duties, as Jason Weitzel had foreseen in saying that perhaps we should think of Madson more as a
Trevor Hoffman type
.
Of course, the
first time
I ever saw Ryan Madson pitch in person was the series when the Phillies came to Seattle in 2005, and he gave up a particularly memorable home run -- Mike Morse's first ever big-league home run. But I noticed that despite that, Madson really handled it well, and the day after that he ended up striking out Richie Sexson with the bases loaded, holding the Phillies together in order to stage a comeback in extra innings.
Laurie, however, has a
much cooler account of that series
, including dissing Billy Wagner in order to get Madson's signature.
In searching for Madson pictures in my collection, I realized I'd cropped and resized a whole bunch of pictures from my trip to Philly this past May, but I'd never actually put them online, so this gave me an excuse to finish those up. These are mostly from
May 28th
when Ryan Madson got a start against the Brewers, and a few from the Nationals game the next day,
May 29th
. It has fun pictures of Madson warming up, but also of various things like Hamels and Utley and Howard and all coming out to sign stuff, of Sal Fasano back when he was still the Italian Superhero of Sal's Pals, and some other fun shots around Citizens Bank Park, including Steve Carlton
punching the Phanatic
. No, just kidding. Anyway:
Deanna Visits Citizens Bank Park May 2006, Photo Set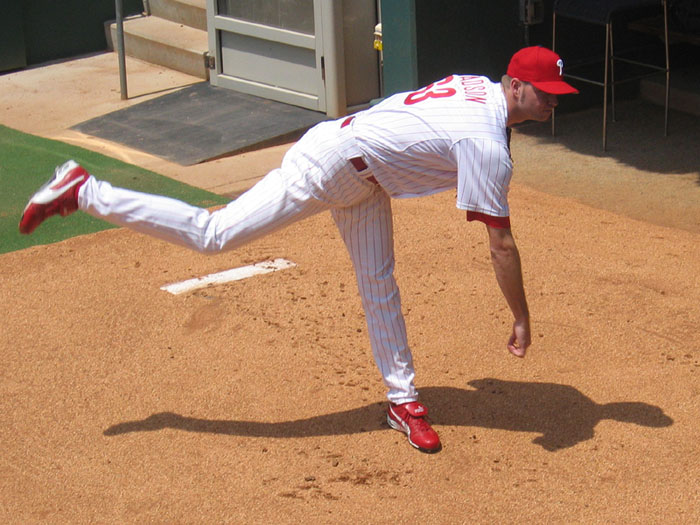 What the heck, might as well end the post with a Madson photo.
Here's to Ryan Madson becoming the best setup man in the National League in 2007. Or at least having
bigger fish to fry
.
(Just watch, later this week I'll have a Scot Shields Day if/when the Angels avoid arbitration with him. Maybe I should just declare it Tall Skinny Right-Handed Awesome Setup Men Week or something.)