Meiji Jingu is the other pro baseball stadium in Japan which predates professional baseball. As Koshien was opened in 1924 for the high school tournament, Meiji Jingu was opened in 1926 for the college leagues to play in. On the other hand, unlike Koshien, it's quite possible to buy general admission seats at Jingu and spread out around a bunch of seats. Unfortunately, though, unlike Koshien, it's nearly impossible to get a good angle to take pictures of the game without going up as high as possible, and even then it's tough. Stupid fences.
I don't really remember the game that well now. I remember being psyched to see Yokohama's best pitcher, Daisuke Miura, and of course ex-Dodger/Met Kazuhisa Ishii, and seeing ex-Mariners pitcher Masao Kida pitching again was neat. But I also remember the Bay Stars won and it was sort of anti-climactic, young hotshot Shuichi Murata getting a huge home run off Masao Kida. It was chilly out, and the wind was blowing all through the upper seats. It felt just like Seattle! I dunno, here's a
blog entry
from the day, here's a
box score
.
Full photoset with thumbnails and descriptions here:
Swallows vs. Bay Stars at Meiji Jingu Stadium, September 14, 2006
I'll throw up a few highlights just because it looks pretty neat when I use the Japan Trip Pictures tag to look at all these entries. But this is a fairly small set (60 pictures, only 5 pages of thumbnails) to look through, there's some scoreboard cartoons, and lots of BP pictures.
Meiji Jingu Stadium at twilight, from outside and in: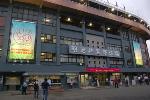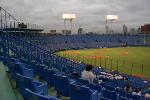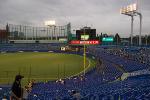 Yokohama starter Miura, a pack of cheerleader girls, and some Iwamura fans in the outfield: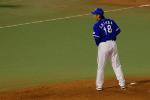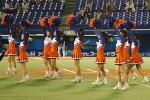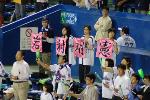 Stadium staffers hustle, the infamous Yakult run-celebrating umbrella dance, the final game score: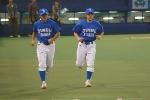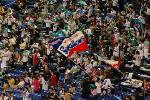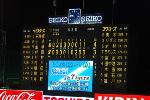 Alex Ramirez high-fives fans, kids watching BP, a Kirin beer girl, Kazuhisa Ishii, Masao Kida: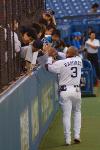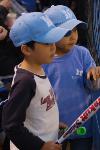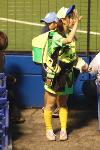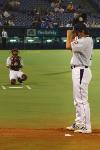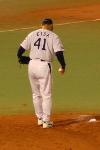 Kazunari Tsuruoka, Ryuji Miyade, Masanao Ebana, Yuuki Yoshimura, Akinori Iwamura being intentionally walked: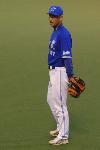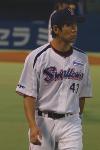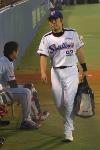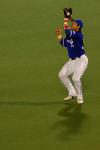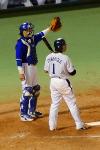 Yay.
Next up will either be Yokohama Stadium or some more Seibu pictures. It was dark and Orix is boring, so we'll see.