I will add more to this post later. Maybe.
What you need to know is that Kwang-Hyun Kim -- the 20-year-old who pitched Korea to a gold medal in the Olympics last year -- apparently couldn't repeat the feat at the WBC, and was roughed up for 8 runs in only an inning and a half of work, culminating in another gigantic Shuichi Murata home run, this time for 3 runs. Johjima also hit a home run later on, Ichiro went 3-for-5, Daisuke Matsuzaka pitched 1 mediocre inning and 3 great ones, we got to see a 7-pitch inning out of my boyfriend Shunsuke Watanabe, and an unsteady Minoru Iwata still managed to finish everything out as Team Japan
walloped Team Korea 14-2
in a game called after 7 innings by the mercy rule.
Talk about a surprise -- I was sure Team Japan was going to lose after the way they played Thursday night and with Kim going for Korea, but hey, that's why baseball is awesome.
I'm not sure I'm allowed to say how it came to pass, but I ended up with a ticket to sit in the 6th row behind home plate for this game, so rather than write about the game, I'm going to just post a bazillion photos that I took. Enjoy.
The Fighters' Atsunori Inaba taking warmup swings. Inaba didn't play at all due to the lefty starter; Ogasawara was the DH and Uchikawa got the nod at first base.
The Giants' Shinnosuke Abe.
Another Giant, Yoshiyuki Kamei.
This is the lineup of Sirs Not Appearing In This Game. You can see Darvish all the way at the left and Inaba a few people down.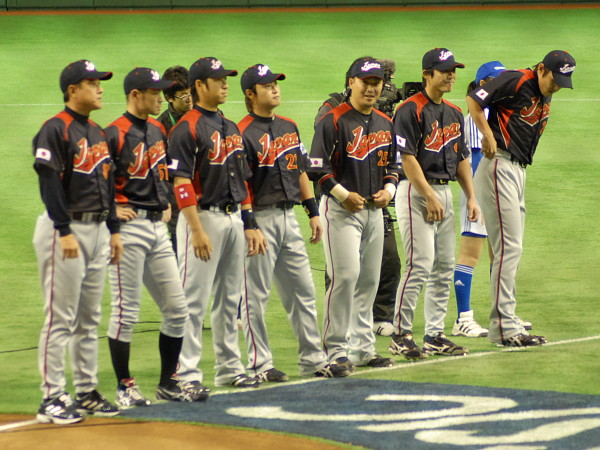 The actual Japan starters. I took a few of these but I liked this shot because Murata's smiling and Ogasawara looks dorky.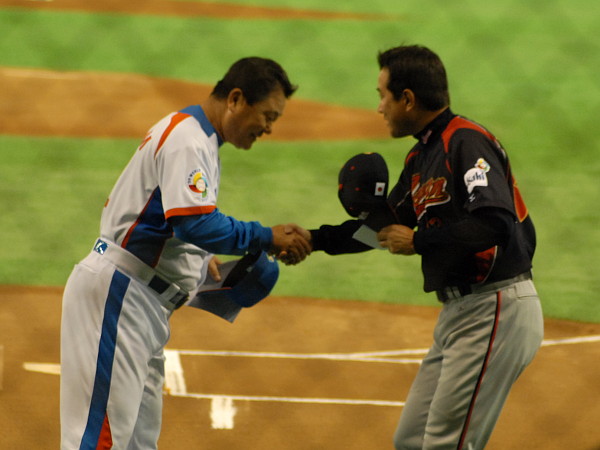 Managers In-Sik Kim and Tatsunori Hara shake hands before exchanging lineup cards.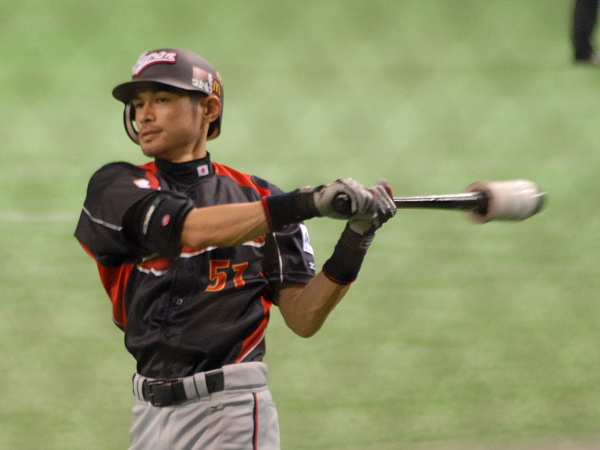 Some guy who everyone kept taking photos of.
Kwang-Hyun Kim pitching to Hiroyuki Nakajima.
Some other dude that everyone kept taking photos of.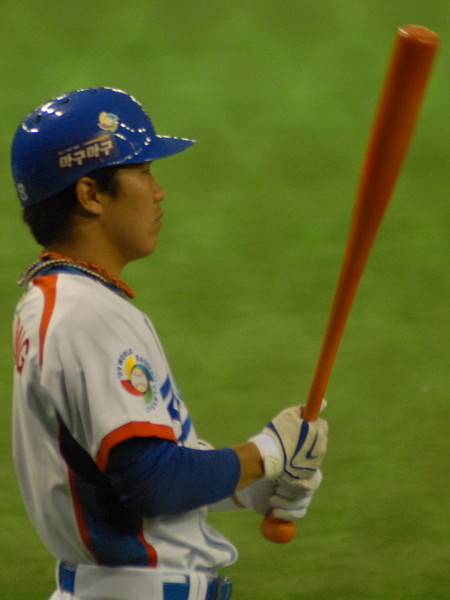 SK Wyverns infielder Keun-Woo Jeong.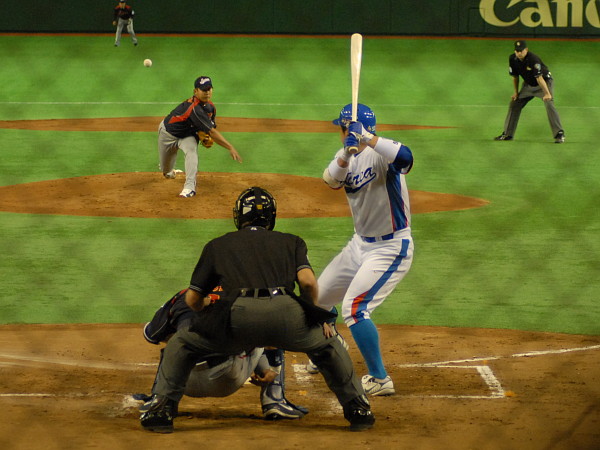 Matsuzaka pitches to Hyun-Soo Kim.
Tae-Kyun Kim high-fives back at the dugout after hitting a 2-run homer.
Kwang-Hyun Kim, the Korea starter.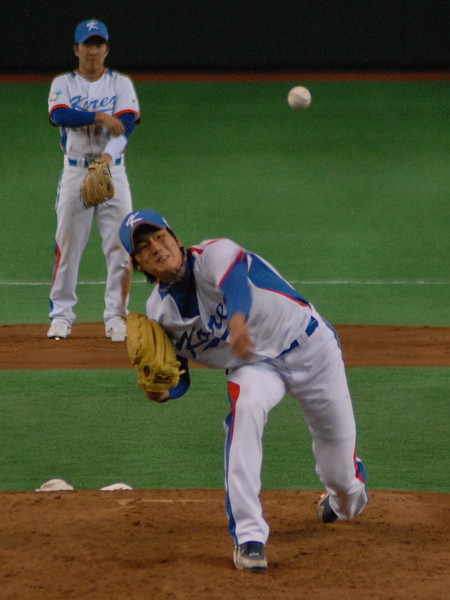 Kim again.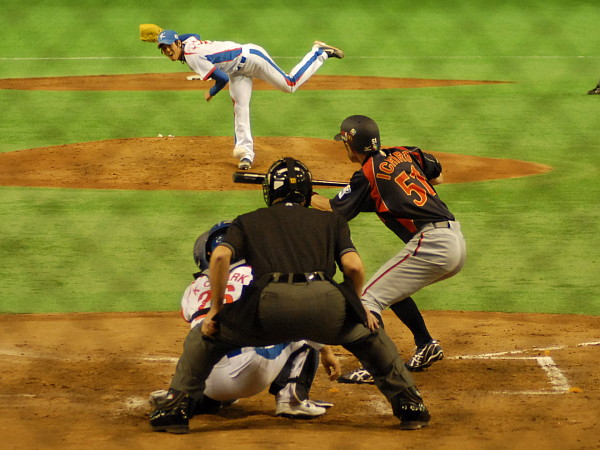 Ichiro's bunt single off of Kim. Kim bobbled the play and loaded the bases -- it really wasn't pretty.
High-fives at the Japan dugout after Shuichi Murata hits a 3-run homer.
Uchikawa: "Crap, do you think they'll take me out of the game now that the lefty's off the mound?"
Ogasawara: "You had a 2-RBI double your last time up and I struck out. I don't think you have anything to worry about."
Korea pitcher Hyun-Wook Jong takes the mound.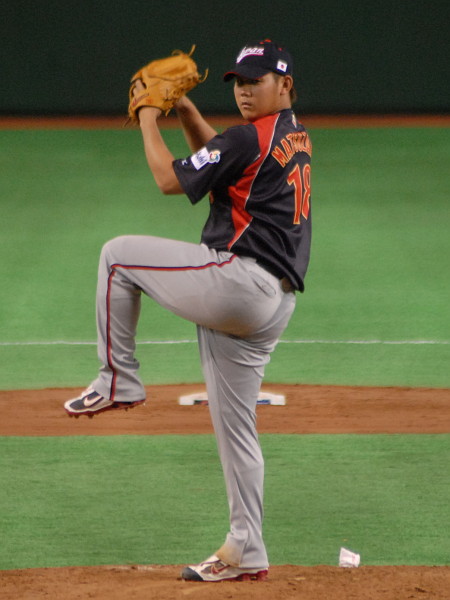 Matsuzaka, a little while before he finished up this outing. Otsukaresama.
The Korean fans, yelling 大韓民国!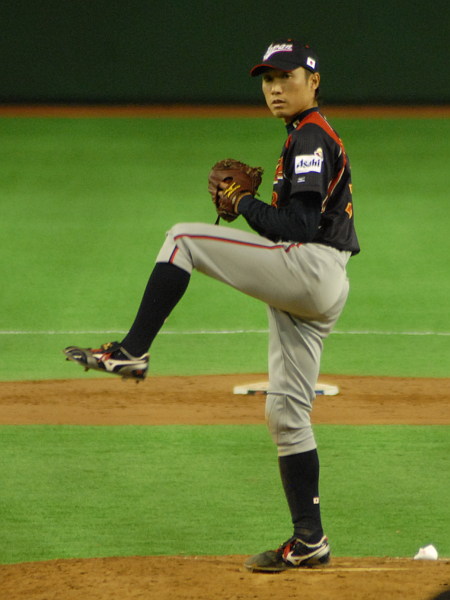 My boyfriend Shunsuke Watanabe! Wheee!
Shunsuke pitches to one of the Korean batters (Kang, I think).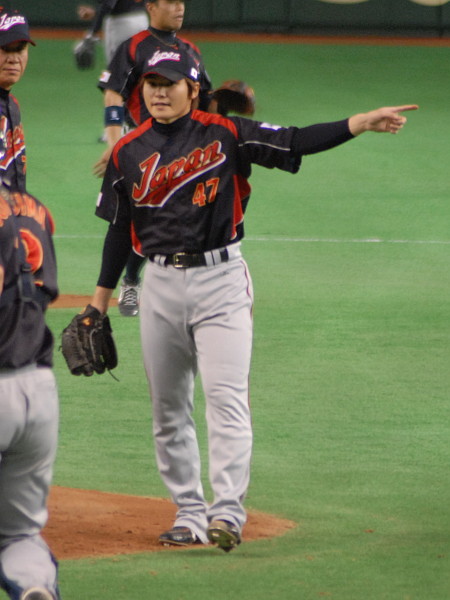 Toshiya Sugiuchi takes the mound, but apparently has some sort of argument with Johjima first.
Final score and Japanese high-fives.
Japanese fans in the right-field stands with all their flags and signs.
Okay, well, I'm off to Game 5, which will be Korea vs. China. Wouldn't it be interesting if this game was also an upset? We'll see what happens, I guess.