For St. Patrick's day, I went to the Tokyo Dome for a Fighters-Buffaloes preseason game and wore my green Hichori Morimoto #1 t-shirt and my green towel and green wristbands, and... and everyone was saying "WTF is wrong with you Deanna-san, we know you're his biggest fan and all but Hichori is injured and won't be playing today, didn't you hear?" and I'm like "I heard, but today is a holiday where we usually wear green in the US, so I am wearing green! It's called St. Patrick's Day!" "Who is this Patrick-san?" "Nevermind."
Fighters games at the Tokyo Dome are always fun, if a little bit empty. We filled the outfield with fans, but the infield was so bare that any time a foul ball was hit, you could see people swarming into the empty seats trying to get them. It was just like Fighters games in the old days!
I got there, found my friends in the front row of the rightfield cheering section, and practiced the new cheer songs with the ouendan. For the record, this year we've added new songs for Luis Jimenez, Tomohiro Nioka, Yoshio Itoi, and... and a new song for Jason Botts since he didn't want to ever hear the Ponyo theme ever again. I recorded a few videos of us singing it, though the best one was actually from later in the game:
期待背負い さぁ立ち上がれ 燃えろ熱く ジェイソン・ボッツ 
内に秘めた大きな蕾 この地で今、花咲け
kitai seoi saa tachiagare moero atsuku Jason Botts
uchi ni himeta ookina tsubomi kono chi de ima, hanasake
Which roughly means "With great expectations weighing on your shoulders, stand up, fire up, Jason Botts! Like a big secret seedling, from within this earth, come forth and bloom!"
It's poetic. It has no references to foul balls. I hope it works :)
This game featured Shogo Yamamoto starting for the Buffaloes and rookie Ryo Sakakibara starting for the Fighters.
This was Sakakibara's first pro start ever, which makes it all the sadder that basically, he threw ONE pitch to leadoff batter Greg LaRocca, who lined it back to the mound, hitting Sakakibara in the right leg and knocking him over... the game stopped for a few minutes and Sakakibara had to be carried off the field by one of the trainers because he couldn't walk. Yikes.
Sakakibara was the last one of the Fighters new faces that I hadn't seen yet... I was hoping to take a photo of him eventually, but THIS WAS NOT WHAT I HAD IN MIND.
Yataro Sakamoto took the mound after that, and things proceeded okay. The Fighters took a quick lead in the bottom of the 1st inning when Eiichi Koyano reached on an infield single, Kensuke Tanaka also lined a single to right, and then Shinji Takahashi hit a shot up the middle to score Koyano.
1-0
. Makoto Kaneko singled in the second and immediately afterwards, amidst his new cheer song, Yoshio Itoi hit a home run way into the right field stands, 125 meters! Two runs more brought it to
3-0
.
Things settled down for a while after that. We spent a while doing our usual antics in the stands; trying to learn the new cheer songs, holding up signs, etc. Eventually the starters gave way to relievers, and that's when stuff got really messed up.
Akiyoshi Toyoshima, who's in his second year with the team and 19 years old now, took the mound in the 5th, and did okay, but then in the 6th... yikes. A flyout by Hidaka started things off nicely, but then Greg LaRocca hit a home run into the Orix cheering section.
3-1
. Tomotaka Sakaguchi singled to left, and then... Alex Cabrera ALSO hit a home run, this time right into the front row of the Fighters cheering section, 105 meters. We were not happy about that.
3-3
. Tuffy Rhodes followed that up with ANOTHER home run into right-center, which made it
4-3
, and as if that wasn't ENOUGH, Jose Fernandez immediately ALSO hit a home run, to the exact same place as Tuffy's, making it
5-3
. The ball hit the stands so hard that it bounced onto the field, and centerfielder Itoi actually fetched the ball and threw it to a Fighters fan. I wanted to shout "Throw it back!" but know that isn't part of the culture here.
My friends were all saying things like "Poor Toyoshima-kun, he got beaten up by those four big monstrous foreigners!"
For whatever reason, though, Toyoshima stayed in the game, and had to give up two more singles to Gotoh and Ohmura before he was mercifully taken out. Poor kid. Yachiho Hoshino replaced him and though he had a shaky beginning, walking Keiji Ohbiki, he got the next two runners out to stem the bleeding and end the inning.
Jon Leicester took the mound for Orix -- not to be confused with Jon Lester even though they Japanify his name the same way -- and he promptly let the Fighters get ahead again. Yay! He walked Jimenez, Nioka got a single, and then Makoto Kaneko, who is (awesomely) on fire lately, doubled in those two runners (who were actually pinch-runners, Murata and Inada), tying it at
5-5
. Chon-so Yoh pinch-ran for him, and then Eiichi Koyano hit a home run as well, bringing it all to
7-5
!
Of course, Hoshino's luck only lasted so long too, and in the top of the 7th he was knocked up for two runs, a double by Sakaguchi and then a homerun by Masahiro Abe, who had come in when all the foreigners were taken out of the lineup following the Big Boom.
7-7
. Mitsutaka Gotoh almost hit another home run, but this one hit the wall a few feet short of clearing it and he got a triple out of it by the time Murata threw the ball in.
In the 7th inning, Ryan Vogelsong was pitching for the Buffaloes, which was kind of bizarre. In the 8th inning, I was apparently on TV, or so said one of my friends who got a message on her cellphone from a friend at home watching the game.
It would have been nice to go home with a tied game, and Shintaro Ejiri ALMOST managed to do that when he pitched the top of the 9th, but somehow he entirely came apart and gave up 6 runs and I've blocked those 15 minutes out of my mind so I don't really want to tell you about them. Suffice it to say it culminated in back-to-back homeruns by Ohbiki and Hidaka, bringing the Orix grand total to 7 home runs for the day, and the final score to
13-6 Buffaloes
, after Daisuke Katoh put down the Fighters in their half of the 9th. Poor Ejiri, I really want him to be awesome and come back, I've always liked him.

Ugh.
My friends all vanished immediately after the game ended, but then I ran into another friend of mine on the way out of the stadium, and he had bought the B*B mascot photobook and wanted to get it signed, so we both walked to the gate behind home plate and sure enough, both B*B and Cubby (the minor-league mascot) were out there, taking photos and signing and goofing around with people!
So, I got my photo taken with Cubby, in all of my total greenness:
And my friend got B*B to sign his photo book for him, then ALSO got Cubby to sign it, then played the mascots off each other as they both drew bizarre things in there. It was silly.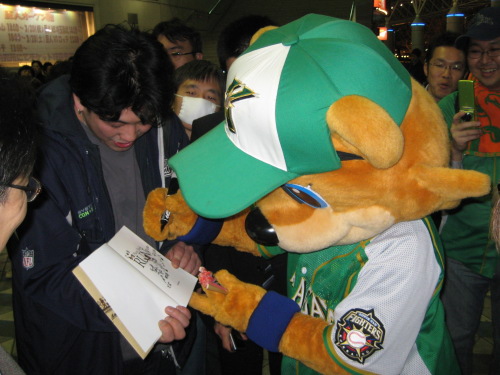 Some crazy Orix fans actually got B*B and Cubby to put on Orix jerseys and take some photos, which was hilarious. Eventually they were kind of throwing around the jerseys like a game of hot potato.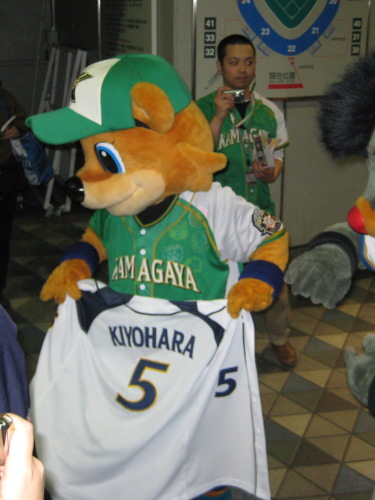 Then a couple wanted to get their baby in a picture with B*B and Cubby... except them being bears and all, they decided to pretend they were going to run off and eat the baby instead. Oops.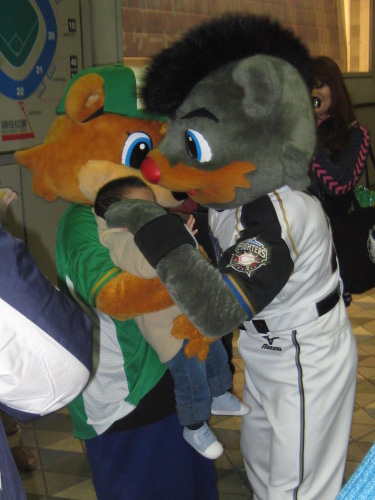 So by the time I left all of this mascot mayhem, I was laughing so hard I forgot the Fighters totally blew the game. I guess that's the point.
I got home from the game a bit after 11pm, and was going to wake up fairly early the next day to go down to Kamagaya for yet another game. This is, after all, Fighters Week! Hooray!