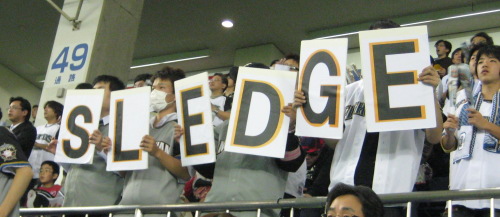 The ouendan finally played "Happy Birthday" for Sledge at Thursday's game... technically it was a day late, but since Japan's a day ahead of America, maybe they were just waiting for it to be his birthday in the US. I don't know.
So yeah, this was another Fighters game at the Tokyo Dome, only this time the Fighters were the away team and the Yomiuri Giants were the home team. Yomiuri's manager Hara and a bunch of their players are currently off at the WBC, but that doesn't make us hate them any less.
I went to this one with Hiromi and Ojisan; they had reserved seats and I had unreserved, but a bunch of us swapped tickets and I went to the lower seats and the others remained in the upper part.
The good news: Both Takedas, as well as Tateyama and Ejiri, pitched pretty well. The bad news: Miyanishi and Sunaga didn't.
Shun Tohno started for Yomiuri and found himself in a 4-0 deficit after only 4 innings. Shinji Takahashi batted in the first Fighters run of the game after Eiichi Koyano reached base on an error, and then the floodgates opened in the 4th when Makoto Kaneko (!!!) hit a 110-meter 2-run home run that landed literally 5 rows in front of me, and it was followed by a double to left by Yoshio Itoi that dropped between Hayato Sakamoto and Alex Ramirez, and then Eiichi Koyano also hit a ball to center that managed to fall in for another hit, to bring in that 4th run.
So things were pretty happy out in Fighter-land for the first half of the game. I was yelling things like "Kattobase, Koyano! Yomiuri taose wo!" as if I was in the Dragons cheering section or something.
Then everything started unraveling a bit later. The top of the 5th was pitched by former Fighter Tatsuo Katoh, and it was going well until Luis Jimenez ended it by tripping over a batted ball. Daisuke Ochi pitched the 6th and 7th for Yomiuri and held down the Fighters pretty well (6 batters, 6 outs, 4 strikeouts... yeah).
And in the meantime, we had Naoki Miyanishi take the mound for the bottom of the 6th. Miyanishi is a pretty good lefty pitcher, he was a rookie last year out of Kwansei Gakuin University. But this day he wasn't so good. Takahiro Suzuki led off with a single, and while Miyanishi got Kimutaku to fly out to left, he followed it up by walking Masakuni Odajima, then got another fly out, and then walked Seung-Yeop Lee as well to load the bases! Argh. So it only stood to follow that Yoshitomo Tani followed that up with a huge hit to left field -- it even looked like a home run at first, but then hit the wall just shy of clearing it and bounced in. By the time the ball got back to the infield two runs had scored AND there were runners at second and third... just in time for Hotshot Teenager Hayato Sakamoto to come up there and hit a single as well, scoring Lee and Tani and tying the game at 4-4.
It was around then that there was an Ogasawara Giants ad on the screen and I grumbled, a little too loudly, "Dare aitsu?" ("Who the hell is that?") which, fortunately, got laughs from most of the people around me.
The Giants had started a kid named Nakai at third base and I was joking that the Giants are just like SMAP, since they had a Nakai-kun and a Kimura Takuya, and a Kisanuki which is kinda like having a Kusanagi... but then the analogy broke down. Oops.
Silly jokes aside, the game was still tied when Micheal Nakamura, the former Fighters closer, came in to pitch the 8th inning... for Yomiuri. We honestly weren't sure whether to cheer or boo.
But all the Fighters could get off of him was a walk. A pinch-running Chon-so Yoh was left on third base at the end of the inning when Jason Botts sadly struck out.
Shintaro Ejiri, who I like, and who had been terrible on Tuesday, pitched a reasonable 7th inning. But then Hideki Sunaga, another Urawa Gakuin player, pitched the bottom of the 8th... and things kind of started off okay. Daijiro Tanaka singled, and then they pinch-ran former Fighter Takahito Kudoh for him. To our delight, Kudoh tried to steal second as Seung-Yeop Lee struck out, and our rookie catcher Shota Ohno NAILED him! So, two outs quickly... but then Tani singled and Sakamoto doubled, and that made it 5-4, and Ryuichi Kajimae ALSO doubled, making it 6-4, and that pretty much meant the game was over. We've never been all that good at late comebacks; the Fighters rely more on scoring a few runs and then having strong pitching and defense to keep it close.
Marc Kroon came out to pitch the 9th, of course. As Makoto Kaneko was grounding out for the first out, we all noticed something amusing: former Giant Tomohiro Nioka was in the on-deck circle!
So Glasses Guy, one of the crazier people in the Fighters ouendan, picks up his trumpet, and plays the first few strains of "Sky High", which was Nioka's intro theme when he played for the Giants. It was, infact, one of the ONLY cool things about Nioka when he played for the Giants.
Naturally, a whole bunch of us start cheering "Whoaaaaaaaa! [clap clap clap clapclap]"
So he did it again, and we all started yelling "GO GO NIOKA!!!" and thumbing our noses at the Giants fans. But then as we started doing Nioka's new Fighters cheer song, he grounded out to first. Grumble.
Koyano struck out to end the game
and the Giants won it 6-4
. Grr.
Hiromi grabbed my camera and took this really cute photo of me and Ojisan though:
I might be the best-known English Fighters blogger, by way of being the ONLY English Fighters blogger, but I'm pretty sure Ojisan is the best-known Fighters blogger overall; his blog is
鎌ヶ谷おじさん
and he posts stuff from Kamagaya pretty much every day. EVERYONE knows him, whether they're in the stands, or they're players on the team, or players' families... seriously. It's pretty nuts. He also does radio shows for Hokkaido Broadcasting about the Fighters' minor league team. And he's really nice and saves seats for all of us when we come cheer at Kamagaya or the Tokyo Dome. In a word, he's pretty awesome.
ODdly, on the way out of the Fighters cheering area I actually ran into another group of foreigners, three guys and a girl, all blonde, two of whom were wearing Fighters jerseys. It was really weird because they said they became Fighters fans last fall, and have been to a few games, but I'm pretty sure I've never seen them before. I guess I'll probably run into them again at some point though, because I'm hoping to go to even more Fighters games this year than last!