Baseball season has officially started for me once again, and I hope with it the writer's block I've felt all winter goes away. I went to the first game of the WBC last night with my friend Pau and his friend Alfredo. I brought a brand-new fresh scorecard book with me and kept score, and that's what really signifies the start of a new season, I think.
Pau is from Spain (and a Hanshin fan) and Alfredo is from Panama (and a nominal Gomiuri fan, apparently) and I'm from America (and a total die-hard Nippon Ham Fighters fan, but you probably knew that already). Which is, of course, why the guys showed up with Japan and China flags. We took some photos outside the Tokyo Dome, and a random Chinese guy even came up and wanted a photo with the guys and the China flag.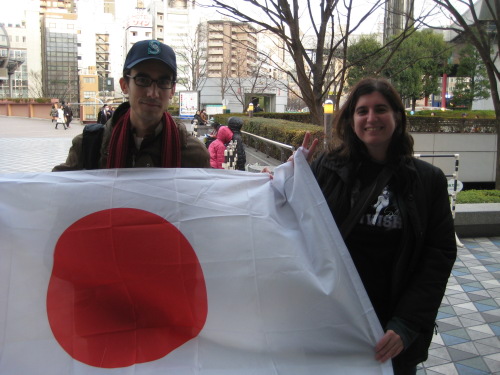 Now who do you think we're rooting for?
We walked around the Tokyo Dome towards gate 41, and while we were trying to peek into the goods tents, a lady walked up to us like "Hi, where are you guys from? Are you here for the WBC?"
We all look at each other like "Umm... we live here..."
Anyway, it turns out she was from CBS (I think) and was looking for fans who spoke English to get some quotes from, so she interviewed us. I was first, and our conversation went something like:
"What's your name and where are you from?"
"I'm Deanna Rubin, from the United States."
"...what part of the US?"
"[pauses] Uhh... most recently Seattle."
"Oh, so you must see a lot of Ichiro."
"Well, I used to have Mariners season tickets a couple of years ago, yeah..."
"Who do you think will win tonight?"
"Oh, Japan. No doubt."
"Why do you say that?"
"Because we've seen China in international competition several times now, and they just aren't that good. Plus, see the t-shirt I'm wearing? I'm cheering for this guy Darvish. He's really great."
"Oh, of course I've heard of Darvish, he's a great young pitcher. Do you think we'll be seeing him in the majors soon?"
"I certainly HOPE NOT."
"... .. .. ... What?"
"I'm a huge Fighters fan, you better not steal him from us!!"
"...?"
"Plus he always says he's not interested in going."
"Um, okay..."
...and then she turned to Alfredo to interview him. I thought it was funny because Pau's from Spain and Alfredo's from Panama, I don't think she expected that. Either way, she got our names, so if CBS quotes some random chick in Japan as saying "DON'T STEAL OUR DARVISH YOU FASCIST PIGS", that actually was me and I'm not being misquoted.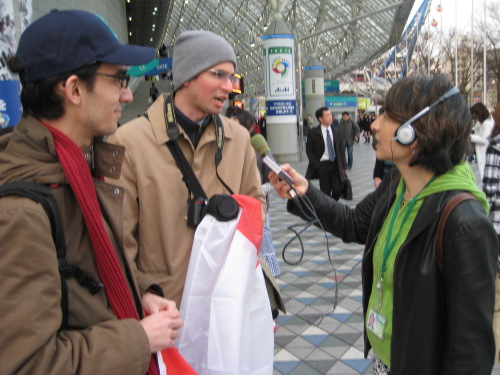 "Point spread? I'm going with 10 to 2..."
We went in and had a really difficult time finding seats. Even at a bit past 5pm for a 6:30 game, I swear the upper deck was practically full! It was unreserved seating, so... yeah. Eventually we found three seats, up behind first base, about 4 rows from the top of the freaking Tokyo Dome. Sheesh. At least we weren't sitting under the Giants sign.

"You guys are going to get us in trouble with that flag, aren't you..."
We spent an hour and a half basically waiting for the game to start. I went and investigated possible goods and whatnot, but all you could actually get inside the dome was WBC Tokyo Round programs (I bought one for 1500 yen so I'd at least know who the players were), plus cigarette lighters, and some T-shirts that had tiny letters/numbers for select players like Ichiro and Matsuzaka, and cost around 3300 yen. No thanks. I also got my traditional overpriced Tokyo Dome bento box for dinner, which was at least somewhat reassuring in a weird way.
Eventually the opening ceremonies started, and they were... interesting, to say the least. They had people dancing on the field with all 16 flags of the countries in the WBC, plus a weird tower with an inflatable baseball, and the colors of the WBC below it.

I have no clue what the heck the dancing tower under a baseball within the flags is supposed to signify, but whatever.
Eventually they introduced both teams, there were lineups, and the US Army Band played the national anthems of both teams. And to add a nice touch, Sadaharu Oh threw out the ceremonial first pitch. Munenori Kawasaki, who played for him on the Hawks for several years, caught it. Oh might be 68 years old, but to his credit, he can still throw just fine from the mound to the plate.
Something we discovered is that apparently McDonald's has a promotion where you buy a certain value meal and you get these folders with WBC cheering things on them -- a LOT of people had those. There were also plenty of homemade banners, as well as a ton of people wearing either Team Japan jerseys, or a remarkably high number of Fighters Darvish jerseys (I was wearing a specific Darvish t-shirt that I bought at the Sapporo Dome).
I'm not sure there's any point in me saying much about what happened during the game itself. You can
see box scores of it on mlb.com
, but essentially Japan won 4-0, which is a SUPER low margin to be beating the perennial doormat China team. We joked that it was because Terry Collins -- formerly the Orix Buffaloes manager -- was managing China and obviously had the entire scouting report on Japan -- but REALLY, I'm a bit disappointed in Japan, having expected them to totally slam the Chinese team down.
I mean, it's true the Chinese team only managed like six or seven guys on base all night, but... the only real Japanese offense happened in the 3rd inning, and most of it was due to Chinese team gaffs. Hiroyuki Nakajima walked, "stole" second or something on a dropped pitch, and Aoki then hit a single to center, only the ball went through the centerfielder's legs and so Nakajima scored to make the game 1-0, with Aoki making it all the way to third by the time anyone recovered the ball out there. Inaba managed to ground into a fielder's choice so Aoki was out at the plate, and then Shuichi Murata -- THE MAN -- came up and swung away as he had been all night, and BLAM he deposited a home run 105 meters into the left-field bleachers, making it 3-0.
The only other run of the game happened in the 6th inning, when Sun Guoqiang faked a pickoff throw at Ichiro and was called on a balk; Kosuke Fukudome was at third at the time and scored on the play.
Kenji Johjima, bless his heart, managed to ground into double plays or almost always ground into double plays every chance he got. It was really nostalgic. And flashbulbs went off every time Ichiro tugged his sleeve.
There were cheering groups in the outfield and they played cheer songs for every player regardless of what team they were on, and that included old cheers for Fukudome, Johjima, Iwamura, even Ichiro. They even did the Inaba Jump! That was great.
Unfortunately, some idiot also started The Wave before the 7th inning and it went around the stadium twice or so as well. I really don't think I've seen the Wave in Japan, though Pau tells me he has, so who knows. Maybe it's just not a Pacific League thing.
Oh, and as if it wasn't bad enough that we were in the Tokyo Dome being managed by the Giants manager, with a host of Giants players on the team, guess what they did for Japan's "Lucky 7" break?

I guess they just replaced the Giants banner for a few days or something.
Kyuji Fujikawa closed out the 9th, and Pau got out his Fujikawa jersey and we both sang Lindberg's "Every Little Thing Every Precious Thing" as Kyuji took the mound... and he seemed to be totally unable to throw a strike for a while, but eventually he got his act together and the game finished. Hara gave a manager's speech, and then the game hero was... Darvish??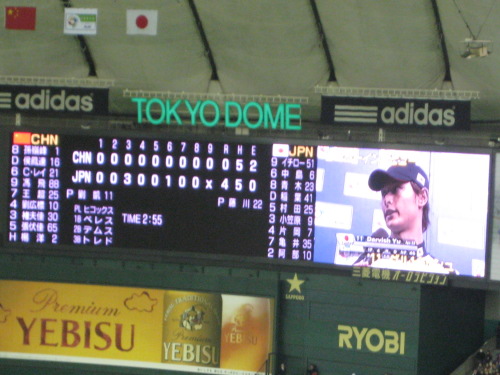 I know I'm biased, and should totally be in favor of a Fighters player getting it and all, but I thought the true game hero was Murata. Not only did he hit that monster home run, but his fielding was AMAZING, he snagged two line drives out of nowhere and just played really well out there. Darvish did pitch 4 no-hit innings, but to be fair, the Chinese team didn't score against any of the other pitchers either, if you know what I mean.
Anyway, I'm off to go see tonight's Korea-Taiwan game. Not sure how much I'll end up writing about it, we'll see. I also went to the Fighters-Marines game at Lotte Urawa yesterday afternoon before the WBC, so I'll try to put up some pictures of the new guys I saw. Very exciting.