On Wednesday, I went to
the middle of nowhere
Fighters Town Kamagaya for another preseason Fighters-Buffaloes game, out of peer pressure. At least they bothered having buses running to the stadium for this one; I'd walked to and from the station to the stadium on Sunday, and while it's a nice 3-kilometer walk, I really didn't feel like doing it again while carrying my cameras and all.
Fortunately, my excellent friends had saved an entire row of seats right above the Fighters dugout, so even though I didn't arrive until 12pm or so, I still got to sit right up front. The benefit of that was also that when the players came out and were hanging out by the dugout before field practice, and people were yelling down things to them (mostly little kids asking to throw them a baseball), I was right there to yell down in English, "Hey! Terrmel Sledge! Happy birthday!!"
It was, infact, Sledge's birthday on Wednesday. He's only a few weeks older than I am. But he seemed totally surprised to hear English and to hear a birthday wish. So he looks up like "Hey! Thanks!"
I said, "Are you going to hit us a birthday home run?"
"You bet I'm gonna try!" He grinned. "Wish me luck?"
"Good luck! Go out there and have a great day!"
"Thanks a lot, enjoy the game!" He smiled and ran off. I'd never talked to him before, but he seems like a nice guy. And then people as usual were like "Whoa, what did you say to him?" and I explained in Japanese, "It's his birthday! I just told him 'ganbatte' and all that kinda stuff."
After that I wandered over to the bullpen, and on the way there, an older lady taps me on the arm and is like (in Japanese), "Hey, hey, were you at the Tokyo Dome yesterday? We saw you on TV!"
I'm thinking, "Oh crap", but I replied, "Really? What was I doing?"
"You were holding a cheering board for Tomochika Tsuboi and singing his cheer song and laughing!"
"Whoa! Really?" I replied, genuinely surprised. I think one of my friends might have been messing with me about me looking like a dumb foreigner on TV. Or I just misunderstood what she said.
"Yeah! And aren't you the girl who sometimes talks to Sweeney-pitcher?" said the other woman with her, I presume her daughter.
"Well... er... yeah... maybe... he is a very nice guy!"
They look at each other and say "Sugooooooooi." Which I guess roughly meant "Amazing." Or just "She IS crazy." Sometimes it's hard to tell.
When I did make it to the bullpen, though, nobody was in there except one of the bullpen catchers. Oops.
I walked back, and then saw that fielding practice was ending and the players were coming to the dugout for the pregame huddle. After it broke up, I yelled down, "Hey Jason! Jason Botts!"
He looked up and said "Hey! Yeah?"
I've never talked to him before either, but I just said "Did you notice we have a new cheer song for you this year?"
He made a funny face and replied, "No... not really I hadn't, but..."
"Well, you should listen to it! It's awesome and I promise it has no references to foul balls or anything."
He laughed.
"I'm really sorry about last year," I said.
"It's okay, thanks a lot," he said.
I still have no clue whether I was
indirectly responsible
for him asking the ouendan to stop doing the "Ponyo" cheer theme we did for him last year which ended in "he hits a big, big, FOUL BALL", but at least for my own sake, I have now actually apologized to him directly, and I feel better about that, even though he undoubtedly had no idea who the hell I was.
My friend Hiromi tagged me again and asked in Japanese, "What were you talking about??"
I giggled. "Cheer songs."
"Does he like the new one?" she asked.
"I don't know," I said, "But I do know he hated Ponyo!"
A bit after that the Fighters retreated into the dugout entirely, so I ran up and bought some yakisoba to eat for lunch, and they did the starting lineup announcing, and the starting pitcher for the Fighters was none other than Kazuhito Tadano! Who I just happened to have a sign for! So I very well might have ended up on TV yet again. Oops. As an aside, even the lady who was staff with Cubby-mascot was like "Oh! It's you, from last night at the Tokyo Dome! What's up?"
There was a game of Rock-Paper-Scissors through a big group of people in the stands for the honor of throwing out the ceremonial first pitch. No joke. It was won by this adorable little boy in an Inaba jersey.
So, there was a game. We watched, we took photos, we cheered. The
Fighters beat the Buffaloes 6-2
, which was nice for a change. It was mostly due to a good four innings from Kazuhito Tadano and then a nice revolving door of some younger relievers, an inning each out of Miyamoto, Tanimoto, Kanamori, Matsuyama, and Uemura. (Miyamoto and Tanimoto look disturbingly similar if you see them close up.) Aside from a home run from Keiji Ohbiki of all people, the Buffaloes didn't manage a lot of offense during this nice sunny day at Kamagaya. Even with Cabrera, Rhodes, and Fernandez in the heart of the order again, they just never really got anything going.
Yoshio Itoi led off for the Fighters in the first inning by hitting a home run, and things just got better from there. Chon-so Yoh hit a double, moved up on a Koyano single and then Sledge's birthday RBI was a single to left to score Yoh.
A series of hits brought in 3 runs in the 4th inning, and then in the 5th inning, Luis Jimenez hit a home run to the Fighters ouendan in left field. Jimenez has been nicknamed "Hime-chan", and I'm really not making that up. I tried to explain why the hell nicknaming an extremely large Venezuelan man the equivalent of "Little Princess" is just way too freaking weird for my brain to process, but I'm not sure I got through to people. I mean, I do get where it comes from (the katakana of his name is Hi-me-ne-su), but still.
It was just really nice to sit outside with my friends on a beautiful sunny day and watch some baseball and yell a lot in Japanese. Except, of course, we were watching the Japan-Korea WBC game on and off on my friend's phone, and it was just bad because they were down 3-0 so early, and the Fighters pitcher Darvish was starting, so it meant more to us. Johjima got thrown out of the game and everyone was asking ME what the deal was, but I honestly had no clue, and didn't figure it out until reading about the game in English later. And then Korea won, which made everyone sad, but the Fighters also won, so people were happy.
After the game I tried to figure out what to do about my lapsed fan club membership, since I moved over the winter. It seems that I have to actually call someone in Hokkaido, which is scary. Hopefully I can get in touch with the English-speaking fan club guy who I randomly met in Kamagaya last spring.
I'm also way behind on writing up Fighters Week, so here's some photos and we'll leave it at that.
Birthday boy Sledge!
I have no idea WHY Jimenez and Koyano are rubbing a baseball on Sho Nakata's back, but it was pretty funny at the time.
Flower-exchanging ceremony before the game. I'm sure Ohishi and Nashida are just happy former Kintetsu teammates shaking hands, and not trash-talking at all.
Fighters starting pitcher, #16, Kazuhito Tadano.
Orix starting pitcher, #16, Yoshihisa Hirano.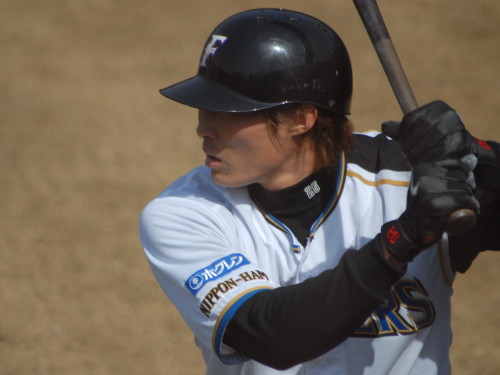 Yoshio Itoi, who hit a homerun as the first Fighters at-bat of the game!
Tomochika Tsuboi.
Tuffy Rhodes fails to stretch a single into a double, spectacularly.
Chon-so Yoh bows after hitting a 2-RBI single in the 4th.
Luis Jimenez hits a home run in the 5th inning.
Sho Nakata warms up to get into the game.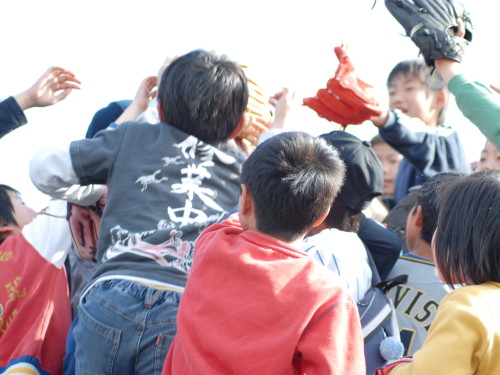 Every inning, kids would yell out for the players to throw them a ball... and then they'd fight over it for a while.
Pitcher Takayuki Kanamori and catcher Shota Ohno go back to the dugout after the 7th inning.
Speaking of Ohno, I really would have romanized his name "Ono"... this makes me think "Oh no!" And that's not what we should be thinking when this talented guy is out there.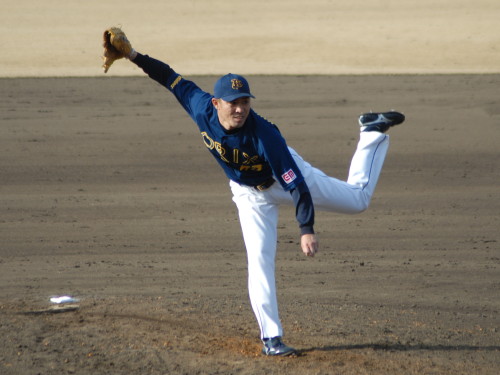 Orix's pitcher Tsuyoshi Kikuchihara defies gravity.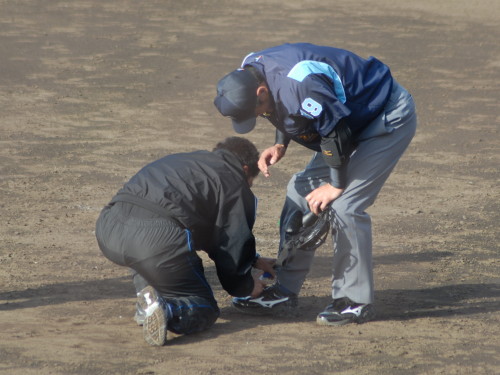 Uemura's second pitch to Ikki Shimamura was a bit wild... it eluded catcher Ohno and hit PLATE UMPIRE KAWAGUCHI in the leg. Ow! Poor guy.
Greg LaRocca spends some time trapped in The Gaijin Cage.
Except apparently so does Hirotoshi Kitagawa, so it's not just for gaijin anymore.