You know, with all the excitement that happened in other games this weekend, I suddenly feel like Friday's game was a billion years ago.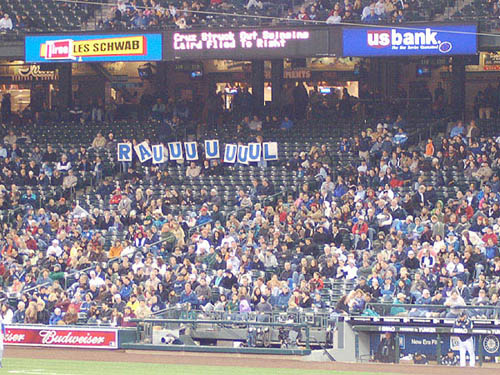 Spot what's wrong with this picture.
My original plan involved showing up early to snap some BP photos and maybe even shout out to
CJ Wilson
about how awesome his blog is. What really happened is that the weather was dark and grey and rainy, and so I took my time walking to the stadium, even stopping in at Elliott Bay Book Company to get a copy of Zack Hample's book
Watching Baseball Smarter
, which I'll review sometime next week.
The roof was closed, but I did take some BP shots. Most did not come out well, and I may not even bother making a photoset out of this game. I think next time I'm just not going to bother taking pictures at all in those lighting conditions. Also, the Rangers are a notoriously crowd-avoidant team here, although I did see Sammy Sosa actually sign for a few people when I first got there. But other than that, they were all noticeably determined not to acknowledge most of the fans watching BP. Ron Washington was being pretty friendly, but I think he took that with him from Oakland.
While trying to find Conor Glassey, I ran into Bretticus (one of the commenters on LL/USSM), or more like, he spotted me with my big camera and Phillies cap and said "Hey, are you Deanna?" and I ended up chatting with him for most of the pre-game. Ironically, he doesn't actually read Marinerds, so I could totally trash-talk something about him here, and he'd never see it!
During the game, I ended up sitting in front of a group of guys who had graduated from the University of Texas sometime in the last few years. They were mostly drunk and all quite loud. A few of them seemed to be Astros fans, or at least anti-Rangers, while others were wearing Rangers jerseys. One guy didn't even have a jacket, and kept going on about how "I've never been to a game where it was less than 90 degrees out, what the hell is with this cold crap?" This same guy also uttered such gems as "Where's Bucky? Cmon, Bucky, take this guy out!" (he wasn't aware Buck Showalter was no longer the manager), and every time Sammy Sosa came to bat he'd stand up and let out a really loud "COOOOOOOOOOOOOOOORK".
Rather than sum up the game, I'll just try to remember the interesting parts of it:
- When Raul Ibanez came up to bat in the first inning, they actually displayed on the scoreboard, "Raul has 199 career doubles, one short of 200," and I swear, less than five seconds later, he hit a ball into the gap in right-center for... a double. Seeing Raul's 200th double is not quite as exciting as when Edgar hit his 500th on my birthday a few years ago, but it's still pretty awesome.
- Beltre REALLY smashed a few of those long fly balls he hit. Infact, in general the Mariners were really smashing fly balls, but maybe something about the cold wet weather or the wind kept a lot of them in the park. Also, strangely, Millwood was the one giving up a bazillion fly balls, whereas Washburn was getting all grounders (Millwood's GO/FO was 4/12, whereas Washburn's was 9/5).
- Jeff Sullivan and I usually agree on most matters, but we wildly disagree about Ian Kinsler. Jeff thinks Kinsler is horrendously overrated; I think Kinsler's pretty good. In addition to all the hitting-type stuff, during the 2nd inning Betancourt hit a liner up the middle which Kinsler managed to jump and snag, and then he fired to first to double up Johjima on the play. Later, Young and Kinsler combined for a bounce-stop on an Ibanez grounder up the middle; although it was a single, it still looked cool. Maybe I'm just easily impressed. Also, he wears high socks, which gives him extra cool points.
- Speaking of Johjima, HE IS ON FIRE! In the last three games he went 8-for-10 with four doubles and a walk. However, this also only resulted in one run and one RBI, which either accounts for the Mariners sucking or for him being misused at the bottom of the order where he has nobody to knock in or knocking him in.
- Weight Watchers notes that after Friday's game, Ichiro (.182), Beltre (.136), Vidro (.174), Sexson (.190), and Betancourt (.158) were all on the program. Actually, I guess technically Ichiro is listed at 170 so maybe he wasn't. Still. Fortunately, Ichiro and Beltre and Vidro all had good days during Sunday's slugfest and have managed to acquit themselves.
- The grounds crew danced to "Old Time Rock'n'Roll", the "we lost the game" theme was "Don't Stop Thinkin' About Tomorrow", and the new scoreboard game gag seems to to be this "traffic jam" thing where they have a bunch of cars in a pinball-like game and you have to guess which one will get to the finish first.
- I'm not sure how raucous the festivities were for College Night, as I'm pretty sure the guys behind me were UT alumni, not current students. However, for "fact and fiction" the category was "Division 1 Team Nicknames", including things like the "Pillowfighters", the "Banana Slugs", the "Blue Hens", and the "Heffalumps". I'll leave it as an exercise to the reader to look them up.
- Matt Kata hit a home run, among going 3-for-4. I somehow had completely forgotten about Kata's existence since his stint in the Phillies minor league system and didn't even know he'd spent a year on the Reds AAA team before signing with Texas. Crazy.
- Joaquin Benoit was pitching in the 7th and was vaguely struggling - after Lopez hit a line drive single to center, and then Beltre hit another line drive for a double, scoring Lopez, I saw CJ Wilson warming up, and I was thinking he'd come in to pitch to Ibanez, but after striking out Vidro, they let Benoit stay out there, and he got a groundout. At that point, Akinori Otsuka stood up to warm up and Wilson sat down. I hadn't seen Aki pitch in person since sometine in early 2005 with the Padres, I think, so that was kind of cool. The only hit Aki gave up was a double to Johjima. It should be a goal for Johjima to double off every Japanese pitcher in the MLB, I think.
- Eric Gagne pitched the ninth and got the save for Texas. To be perfectly honest, I thought he looked terrible when warming up in the bullpen, from my vantage point -- didn't look like he was throwing much of anything at all -- but then he came in and pretty much smoked everything across at about 94 mph, even causing Ichiro's third strikeout of the day.
- No game post would be complete without a shoutout to George Sherrill for actually getting into the game for one out, where he got Blalock to ground out to first base in two pitches. On the other hand, one wonders whether he was really necessary to pitch to Blalock in the first place. It'd be nice if George could actually get in for a full inning one of these days.
And yes, for whatever reason, the RAUUUUUUUUUL gang was sitting behind first base instead of in left field. I'm not sure what was up with that.