Okay, so I really shouldn't have taken a ton of pictures at the game today -- because instead of writing a blog post, I've been going through pictures and cropping them. For some reason, this one is my absolute favorite of all the ones I took today: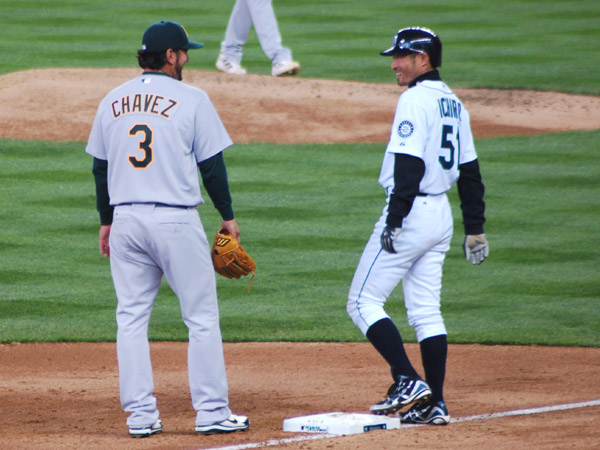 Chavez: "So, what do you do with all of your Gold Gloves, Ichiro?"
Ichiro: "I hit singles in mine. All the time."
(
Here is my full set of photos from the day -- 56 pictures, with thumbnails
)
Opening Day officially started this morning at around 9:30am when I was riding the bus to work, finishing reading the last chapter of
Derek's book
, wearing my Mariners jersey and generally minding my own business. Two guys got on the bus at the north end of downtown, and one of them is like "I can see THAT girl's ready for the game!" and I replied, "Sure, but it isn't for six hours...?" and they explained that they were going to the stadium nice and early to hang out for a few hours and get drunk so they wouldn't be depressed when the Mariners lost. I said, "Hey, Felix is on the mound today, ANYTHING can happen!"
Boy, I had no idea exactly how prophetic that would turn out to be.
In case you somehow missed it, the Mariners won today. Not only did they win, but Felix completely shut down the A's lineup, striking out 12 in 8 innings, walking 2, getting the other 12 outs via ground balls, and basically gave up 3 hits -- the three times the ball actually left the infield. Which is fortunate, because the only arm on the team that worried us more than JJ Putz's was Jose Guillen's, so we're spared that debacle until tomorrow night when J-Rod the Washburninator is on the mound and will be giving out flyballs like they're Oberto samples.
For his part, Danny Haren managed to shut down the Mariners for quite a while, and I was almost worried the game would stay in a deadlock at 0-0 forever. But in the 5th inning, A's shortstop Bobby Crosby made an error that looked silly, letting the ball go right between his glove and legs on what should have been a routine Richie Sexson grounder to short. Fine fielding from third baseman Eric Chavez kept Sexson from advancing past second base for the rest of that inning, but then in the sixth inning, it was another Crosby error that would eventually blow the game wide open.
Jose Lopez led off the sixth inning with a bullet shot up the third base line which only proved to show why Eric Chavez has so many gold gloves, as he grabbed it to make the out at first. Ichiro, however, would have none of that, and he hit a soft grounder up the third base line, which Jason Kendall chased after, but the ball never rolled foul, and by the time he was done watching it stop rolling, Ichiro was safe at first. Adrian Beltre hit a legitimate single to left after that, and for the very first time in the game for either side, there were actually two baserunners. Unfortunately, Jose Vidro grounded the ball back to the mound for a 1-6-3 double play after that.
Except the A's didn't make the play.
Danny Haren got the ball and threw it to second base, where Bobby Crosby was covering the bag, and the ball somehow bounced out of his glove. Stunned, Beltre was safe at second, and even Vidro managed to get to first base while Mark Ellis was recovering the misplay. Ichiro would have been safe at third regardless, but a double play would have ended the inning, and even a successful fielder's choice at second would have put it at two outs with runners at the corners, rather than bases loaded with one out.
(It was at this point which I took the picture of Chavez and Ichiro joking with each other at third. Perhaps another reason I love that picture is because of what happened next.)
Raul Ibanez came to the plate and took the second pitch he saw and sent it into a high arc towards right field. Although it would find its way into Travis Buck's glove on the way down, both Beltre and Ichiro would tag up and advance on the play, Beltre getting to third base and Ichiro scoring. Given the way Felix was pitching, it seemed like one run might be all the Mariners would need to win the game.
But Richie Sexson wasn't having any of that, and remembering his general habit these last few years of getting his first home run out of the way on the first or second game of the season, hit an absolute firecracker into center field -- the kind that you stand up to watch the minute it recoils off the bat, because you want to see whose beer it lands in -- and it travelled
415 feet
and landed in a shrubbery beyond the centerfield wall. As Beltre, Vidro, and Richie circled the bases, the words "Funk Blast" blinked on the screen. No, I don't really know why, but at the time, I also didn't really care.
The score was 4-0, and that's where it would stay
.
That was really the main excitement for the game, aside from Felix's 12 strikeouts, of course.
I don't know if Mike Hargrove did this on purpose, but the three Joses on the Mariners lineup were perfectly spaced out. Jose Vidro batted 3rd, Jose Guillen batted 6th, and Jose Lopez batted 9th. I seem to recall that Mike Scioscia used to have a theory about having at least one big on-base threat in each third of the lineup to prevent dead space, which is why he had Adam Kennedy batting 9th even when his average was in the .320 range, so maybe Grover's decided to take a similar tactic and make sure there's a Jose in each third of the lineup.
Or maybe it's to go with their uniform numbers. Jose Vidro also took #3 from Yuniesky Betancourt, who is now wearing #5. Jose Guillen is wearing #6. Jason Ellison, however, is wearing #9, not Jose Lopez, who is still wearing #4.
I have to admit that I was actually pretty worried when JJ Putz came out in the 9th inning. Maybe it's just all the rumors and articles getting to me, but he also was definitely not throwing his splitter, and when Milton Bradley led off the 9th inning by getting a double, it seemed like those fears might have been legitimate. Fortunately, he managed to retire the rest of the side just fine.
Travis Buck was making his MLB debut, so he should probably be pretty proud of getting one of the three hits Felix gave up, and the only extra-base hit, a solid line drive into the CF wall at that.
(Despite this, there was a little kid behind me who was yelling and screaming for the whole game, and his best line was probably "BUUUUCK! YOU SUUUUUCK!")
Jay Marshall was also making his MLB debut. Jay Witasick wasn't looking so good in the 8th, and I saw a crazy lefty submariner warming up in the A's bullpen, and I had vaguely remembered Brad Ziegler mentioning him in one of his Q&A's on Athletics Nation, but the name hadn't stuck. I'm a big fan of funky deliveries and of sidearm/submariners, and lefties are even rarer. Despite that it took Marshall 9 pitches to get Raul Ibanez to ground out, it was a nice treat to round out a generally awesome game.
There were, as usual, a bunch of Stupid Stadium Tricks. The opening day ceremonies included having three ceremonial first pitches thrown by Alvin Davis, Dave Niehaus, and Jay Buhner simultaneously to JJ Putz, Raul Ibanez, and Willie Bloomquist. In addition, they had a kid run around the bases to inaugurate the season, and then there was a presentation for Ichiro's golden glove, and long introductions of both teams, and various other stuff. Later in the game, during music trivia, the question "1984 Rookie of the Year: A: Alvin Davis B: Alvin Davis C: Alvin Davis" came up, and another game later was player anagrams ("He is Rex Coins", "Nice Buoyant Turkeys", etc).
But the in-game stunt which took the cake was this "Steal-a-Base" thing, where they had a 10-year-old girl run out from the outfield and go steal second base and run off with it. At least, that's the way it was supposed to work. What really happened is that she ran out there, tried to pry the base loose, but it wouldn't give, so with Yuniesky Betancourt and Jose Lopez sort of standing there trying to figure out whether they should do anything about it, this poor little girl was tugging at second base with all of her might, until a crew member came out and helped her.
Jason Ellison came in to play defense in the top of the 9th inning. That was sort of funny. I wonder if that means Willie Bloomquist will pretty much be relegated to only backup infield duty from now on.
Also, seeing Brandon Morrow during the opening ceremonies was really pretty crazy. I mean, I knew he'd made the roster, but it wasn't until I actually saw him there, wearing #35,
standing between Reitsma and Weaver
, that it really hit me that our #1 draft pick from 2006 was actually
in the majors already
. And while I haven't voiced much about the situation, I'll admit that I'm both overjoyed and worried to death for him. Mostly, I hope he gets some playing time. We'll see what happens.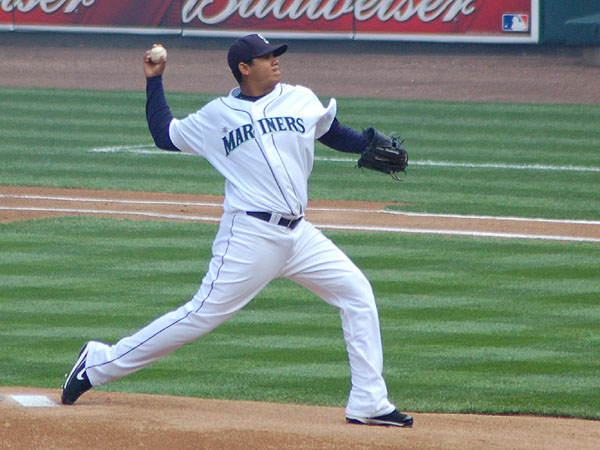 It's good to be the king.
On that note, I'm going to sleep. I hope to be at the game tomorrow, but we'll see -- I'm going to go to either Tuesday or Wednesday, but not both. The A's don't come back to town until late July, so if I don't stalk Brandon Buckley now, I won't get another chance for quite a while!
(Speaking of which, what did the Mariners do with Dominic Woody? They apparently have a new bullpen catcher, Brian Schweiger? Anyone know what the story is with that? He appears to be a former Mariners prospect. I'd also love to know if anyone has any dirt on exactly how Hunter Brown left the organization, because I am really sad about that.)
Either way, tomorrow, we see whether the Mariners can finally overcome the Cupcakes Curse once and for all!