This weekend is the traditional Waseda-Keio deathmatch, a rivalry that goes back as far as there has been a Waseda and a Keio, pretty much. I ranted a few weeks ago that
whoever wins Soukeisen wins the league
, which is good for bringing tons of Saitoh fans to Jingu, but bad for causing a completely meaningless Week 7. Either way, I had a feeling that this game was going to draw a really big crowd, between the Saitoh fans, the normal Waseda nutcases, AND the Keio students/alumni, because this series was going to be playing for all the marbles.
I generally don't plan to go to Soukeisen because I don't like dealing with the crowds, but it seems I've ended up there the last few semesters regardless, for various reasons. This semester was no different, as Saturday morning I awoke to vaguely rainy weather and an email from a friend asking if I'd be at Jingu and saying they had an extra ticket if I wanted to go. So I figured, what the heck.
As it turns out, the game was a sellout, and people were actually standing in the standing-room-only area in the back of the outfield, even:
(Though, despite the "special infield seats" being sold out, there were plenty of empty seats in that area. My best guess is that either people didn't come due to the weather, or more seats were allocated than necessary due to season passes and club passes and whatnot. We actually ended up moving down there in the 4th inning or so, because the upper infield seats were actually all full, and quite uncomfortably crowded.)
As always, Waseda had separate ouendan and brass bands in the infield and outfield. But Keio ALSO had them this year, which was kind of crazy. So instead of having 3 bands out of sync with each other, this time we had 4!
Yuki Saitoh started for Waseda, as expected, and Daisuke Takeuchi started for Keio. Takeuchi, a sophomore lefty who is still in this mode of "Wait, I'm the ace? Really?" really got lucky more than anything else -- for whatever reason, Waseda didn't start batting champion Yuya Watanabe, and I honestly truly can't come up with any excuse other than that he bats left-handed. Everyone else in the lineup except for Shohei Habu bats either righty or is a switch-hitter:

Keio                  Waseda
----                  ------
Yamaguchi, lf         Matsunaga, ss
*Yumoto, 2b           Udaka, 1b
*Fuchigami, ss        *Habu, rf
*Itoh, rf             Sugiyama, c
Takao, 1b             Yamada, lf
Matsuo, 3b            #Matsumoto, 3b
Aoyama, cf            Gotoh, 2b
Nagasaki, c           #Sasaki, cf
*Takeuchi, p          Saitoh, p

* denotes lefty, # denotes switch-hitter

Unless they were sitting him to protect his batting title -- which ALSO doesn't make any sense at all if they were trying to win this series in order to win the championship.
Anyway, Keio started off this game looking pretty pathetic. Takeuchi was letting runners on base left and right (okay, mostly right), but they weren't getting around to score. Meanwhile, the Keio batters were just looking stupid in front of Saitoh for the first 3 innings. Saitoh literally threw 3 pitches in the 3rd inning as the bottom 3rd of the order went down on two fly outs and a groundout.
But then captain Tatsushi Yumoto managed to get a single in the 4th inning, and shortstop Hitoshi Fuchigami grounded out to advance Yumoto to 2nd, and he moved to third on a wild pitch, and then Saitoh hit Hayata Itoh in the upper thigh with a pitch -- that looked pretty painful, but Itoh managed to stand up and limp to first base, and then Yasuhiro Takao hit a double to center! Yumoto scored easily on the play and Itoh was running and running and running, and the 3rd-base coach stopped him at 3rd, but with two outs they probably should have sent him, even though he had taken a fastball to his leg a bit ago. I dunno. Either way, it made it
1-0
for Keio.
Waseda continued to almost get things there, but still fall short each time. Shohei Habu got himself picked off in a rundown. Shota Sugiyama hit a foul ball that was only meters away from being a home run. Toshiki Yamada hit a liner up the left side that Ren Yamasaki happened to make THE best play of the game to stop, catching it on a dive.
Then things got interesting in the 9th.
Yumoto left off with a double to right, and Fuchigami naturally bunted him to third. Then Hayata Itoh -- who ALWAYS seems to come through in these situations -- hit a TRIPLE down the right-field line, just this shot into the corner that had Habu scrambling to the wall. Yumoto scored easily, (
2-0
), and Itoh made it all the way to third base, and then pretty much collapsed; I think his legs had all they could take of abuse for one day. He pumped his fist at the crowd as he limped off the field, and Takuya Shintani pinch-ran at 3rd... but stayed there as the next batters struck out and grounded out.
Takeuchi stayed on the mound for the bottom of the 9th; in the grand tradition of Keio lefties, he wasn't budging if Saitoh wasn't budging. Or something like that. After all, he had a whopping 2-0 lead to protect.
Yuki Jihiki pinch-hit for Sasaki to lead off. He struck out. (On a tangent, he has had exactly 2 at-bats for Waseda ever, both at Soukeisens, and both strikeouts.) Freshman Satoru Ezuka then pinch-hit for Saitoh, and standing at a whopping 191cm/90kg may be one of the biggest guys in the league, period.
He grounded to short.
And Fuchigami lofted the ball over first base and Ezuka was safe on the error.
Then Hiroki Matsunaga followed that up with a grounder to short.
And Fuchigami lofted the ball over SECOND base and Matsunaga was safe at first AND Ezuka was safe at third on the error.
Suddenly things weren't looking so good for Keio anymore. Daisuke Takeuchi surrendered the mound to righty Koji Fukutani, who I rambled about having a pretty good fastball, as I'd seen him hit 149 on the Jingu guns before, and he didn't disappoint in this game either, getting as high as 151. BUT, unfortunately, the first thing that happened to him is that the aforementioned batting champ Yuya Watanabe suddenly entered the building, and he hit a fly ball to right field... and Tomohiro Tatsumi, who had replaced Itoh, took off for the ball and misjudged it and the ball landed 10 feet in front of him for a single. Fortunately, only one run came in, to make it
2-1
.
Habu grounded into a fielder's choice to put runners at the corners and two outs... but then Sugiyama walked to load the bases. Lefty-batting Keisuke Kawanishi pinch-hit for Yamada, and...
...and struck out!
Keio WINS!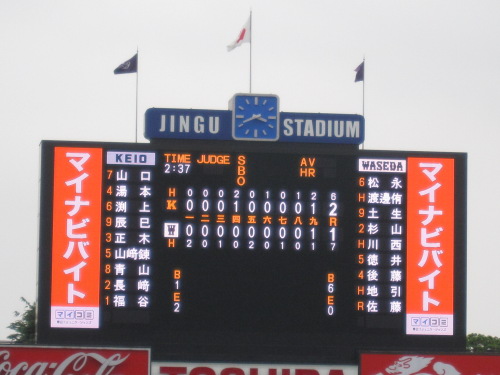 Whew.
A slight rain had been falling off and on during the game, and there were approximately 3638948239843 billion people in the stadium, so we pretty much bolted the minute the game ended.
It was a pretty good game nonetheless. I still wonder what was up with Fuchigami that last inning -- he made something like two errors in the entire 2009 YEAR, so two in one game -- two in one INNING at that -- was pretty crazy.
Now, it is Sunday night.
I hoped to be able to write that Keio swept Keisousen and won the Big 6 title, and that the Rookie Tournament would be starting tomorrow, since I have Monday off from work and could actually go. (I have to work next Saturday and Sunday instead, though.) Unfortunately, I can't write that, as today Yuya Fukui started for Waseda, and Koji Fukutani for Keio, and Fukutani gave up 3 runs in the first inning, and Keio never caught up from the deficit, although Hayata Itoh was apparently well enough to smash a home run in this game. Tatsuya "Thank god they didn't make me start today" Ohishi did his usual thing and pitched 3 innings of relief and struck out a whole bunch of guys, and
Waseda won 4-2
.
So, the series carries on to Monday.
I'm debating going, but I'd also kind of like to get to Kamagaya for a Fighters ni-gun game already -- it's been way too long.
Oh, on one last note, Keio was going all out with selling stuff for this game -- t-shirts, towels, thundersticks, special newspapers, etc. I bought a t-shirt, because I thought it was really cool, and I rarely ever see Big 6 teams selling this kind of stuff. (I'd love a Hosei baseball t-shirt, but don't think they're available to the general public.) This one featured a K and a "Keisousen 2010" thing on the front, and the fight song on the back.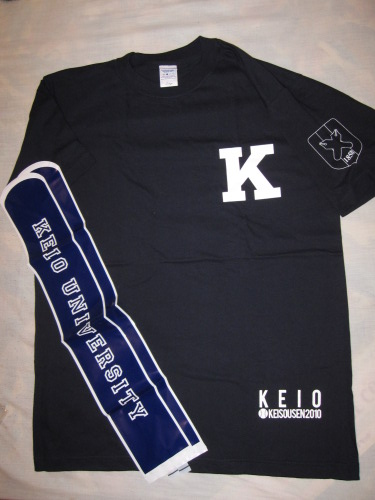 They should still be selling them for tomorrow's game, if you wander by Jingu, I suppose. You can also get
Tokyo Big 6 merchandise
at the stadium as well.
GO KEIO! BEAT WASEDA ALREADY! YOU HAVEN'T WON THE LEAGUE IN 5 YEARS!