I know, you're all wondering "Is this now a Tokyo Big 6 University League blog, Deanna? Have you given up on the Fighters?" No, I haven't, but I also basically ended up with an entire month period of not going to Fighters games due to them not being near Tokyo or me not being near Tokyo, and with interleague I can't even watch them play unless they are on BS1 TV. Plus, the college ball season is so short that I put priority on it for now.
(I will, however, note that last night two of last year's Big 6 grads were pitching in NPB ichi-gun games. Hosei's Hisashi Takeuchi, now with the Hiroshima Carp, gave up
two 2-run homers
to Shogo Akada and Mitsutaka Gotoh of the Orix Buffaloes. And Rikkio's Kenji Tomura, now with the Rakuten Golden Eagles,
made his third start
, against the Yokohama Baystars. He had 5 good innings but then got into a pinch in the 6th -- Uchikawa hit a 2-RBI single off him, and then another run scored on a wild pitch, and then the Rakuten bullpen took over and proceeded to continue giving up the game. On the other hand, can I say that I'm proud of Yokohama for not being in last place?)
Anyway, on Saturday the 15th I headed down to Jingu with the intention of sitting on the first base side for both games; a friend of mine saved me a seat in the front row with the rest of the usual suspects, who are mostly Meiji fans and/or alumni. The theory was that I would sit with them and root for Meiji in the first game against Keio because I wanted the "interesting" outcome for the season, and they would sit with me and root for Hosei in the second game because they hate Waseda. In practice, most of them left to say hi to the Meiji players and get lunch after the first game and never came back.
Not that I minded them leaving... most of the people in this group are older guys (by which I mean more like, in their 60s, although one of the guys is about my age and louder than the rest of them combined) and so some of them are in the habit of getting drunk and doing what is called "yaji", or heckling. So I had to put up with them yelling in my ear for the entire first game. And by entire game, I really do mean entire game. If the Meiji ouendan was doing cheers, they were yelling the cheers. If the Meiji ouendan wasn't doing cheers, these guys were still finding things to yell. And if Keio was up to bat, these guys were yelling things like "HEY YOU #51! FIRST-BASE COACH! GET YOUR ASS BACK IN THE COACHING BOX! WHAT DO YOU THINK YOU'RE DOING STEPPING OUT AND STEALING OUR SIGNALS?"
By the way, before starting this post at all, I just wanted to share a photo of the "Holy crap, I took that?!?" variety. It is irrelevant to the game action, but an awesome shot, huh?
Keio's Naoki Yamaguchi breaks a bat on his way to striking out.
I suppose it is vaguely relevant in that Yamaguchi was the leadoff batter of the game. Actually, both teams had a leadoff batter named Yamaguchi playing left field, although Meiji's Masashi Yamaguchi is a little dude who used to play 2nd base but was usurped by Hiroki's Little Brother Takashi Uemoto.
The starting pitchers for the games were the aces as advertised: Meiji's Yusuke Nomura, 3rd-year, righty, from Hiroshima's Koryo High School, the boy who was 2 innings away from winning Koshien 2007, and now, the boy who refuses to walk a batter...
Keio's starting pitcher was Daisuke Takeuchi, 2nd-year, lefty, from Aichi's Chukyodai Chukyo High School. He pitched at Senbatsu 2008, but the school won the entire summer Koshien the year AFTER he graduated. Oops. I already had a big
Takeuchi photopost
a week or so ago, but here are a few more from this week...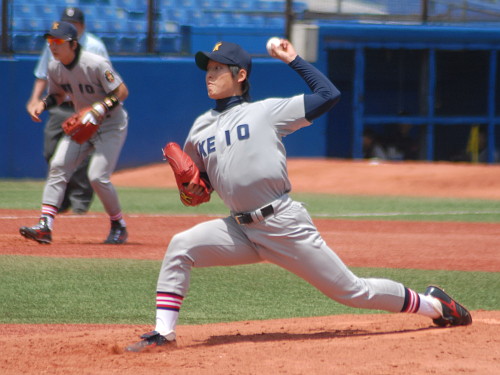 Anyway. Here's how the game went...
1st inning, K 0 M 0:
Keio's lineup all ground out (Yamaguchi, Yumoto, Fuchigami). Meiji's Yamaguchi walks, advances to second on a bunt by Takashi Uemoto, advances to 3rd on a wild pitch during Kento Yajima's at-bat, but Araki and Yajima strike out.
Yamaguchi diving back to first.
Takashi Uemoto bunting.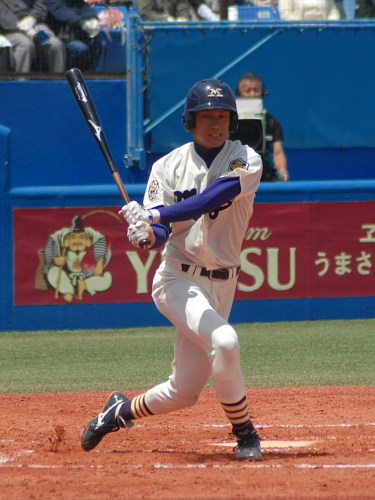 Fumiya Araki striking out.
2nd inning, K 0 M 0:
Hayata Itoh singles to lead off and steals second during Takayuki Matsuo's at-bat, but Takao and Matsuo strike out and Kazuma Takeuchi grounds out. Meiji's side goes down in order (Nakamura, Abe, Shashiki).
3rd inning, K 0 M 0:
Masahiro Nagasaki leads off with a double to the right-field corner. Daisuke Takeuchi fakes out bunting him up but still advances him to third by grounding out. However, Yamaguchi and Yumoto strike out after that. Meiji's side, yet again, goes down in order (Yamauchi, Nomura, Yamaguchi).
4th inning, K 0 M 1:
Keio's side goes down in order (Fuchigami, Itoh, Takao), but this time Meiji's side has Takashi Uemoto lead off with a double to center. Fumiya Araki sac bunts Uemoto over, and the bunt dribbles to third base; Araki headslides safely into first base and Uemoto is safe as well. Kento Yajima grounds into a 6-4-3 double play but Uemoto scores to make it 1-0. Masataka Nakamura singles on a weird grounder through the mound but Toshiki Abe hits a pop fly out to end the inning.
5th inning, K 0 M 1:
Keio's side went down in order (Matsuo, K.Takeuchi, Nagasaki). So did Meiji's (Shashiki, Yamauchi, Nomura).
6th inning, K 0 M 1:
Keio's side went down in order (D.Takeuchi, Yamaguchi, Yumoto). But Meiji's Yamaguchi led off with a single to left, and yet again Takashi Uemoto was called upon to bunt him up. Araki walked, and so did Yajima. The bases were loaded for Masataka Nakamura, who struck out. At this point Keio changed pitchers from the lefty Daisuke Takeuchi to the righty Hironori Tanaka. Meiji changed batters to Katsuya Kawashima, who grounded back to the mound to end the inning.
Takashi Uemoto.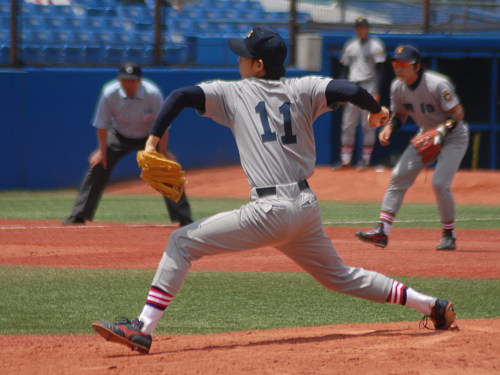 Hironori Tanaka takes over on the mound.
7th inning, K 1 M 1:
Hitoshi Fuchigami hit a pop fly to center to lead off, and then Hayata Itoh singled to right. Yasuhiro Takao also singled to right, moving Itoh to third. Takayuki Matsuo singled to right as well, scoring Itoh, 1-1. Tomohiro Tatsumi, who had entered the game as CF in the bottom of the 6th, struck out, and Nagasaki grounded to short for the third out, leaving two runners on. Meiji's side went down in order (Shashiki, Yamauchi, Nomura).
(Shashiki was getting a LOT of shit from the guys sitting behind me, which, in all fairness, is not entirely uncalled for. I'm wondering if Shashiki is playing injured, actually... he has had some serious elbow trouble in the past, and aside from his Best Nine performance last spring, hasn't really been all that great on the college level otherwise.)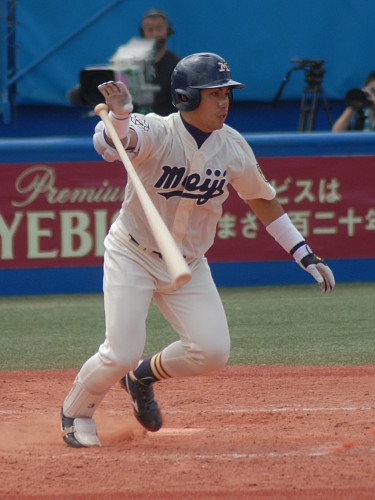 Shogo Shashiki.
8th inning, K 1 M 2:
Ren Yamasaki pinch-hit and led off with a pop fly to left. Yamaguchi also hit a pop fly. Captain Tatsushi Yumoto walked but Fuchigami grounded out to first.
Kohei Yamagata replaced Hironori Tanaka on the mound.
Meiji's Yamaguchi struck out. Uemoto walked and stole second during Araki's at-bat. Araki doubled to left, scoring Uemoto. 2-1. Yajima hit a pop out and Nakamura grounded out.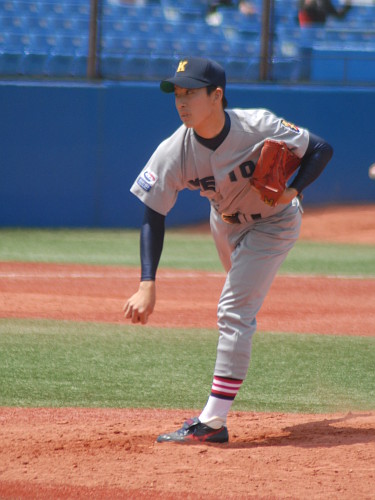 Kohei Yamagata, freshman, from Tosa HS in Kochi prefecture.
The Meiji fans were pretty happy about that turn of events, but their happiness would be cut short soon enough...
9th inning, top, K 3 M 2:
Hayata Itoh led off by grounding to first base, where Shogo Shashiki charged the ball, went to get it, and... missed? It was like he suddenly couldn't grab the ball. Very weird. So, Itoh was safe at first on the error. Takao bunted him up to second, and then BLAM!! Matsuo smacked a huge hit that went all the way to the right-field wall for a double, and Itoh scored, tying the game 2-2. Takuya Shintani pinch ran for Matsuo, and Ryuta Iba pinch-hit for Tatsumi and hit a pop fly to center (no advance). But then Nagasaki launched a ball out to center-right -- it was hit so hard that a lot of us thought it was a home run for sure -- but it hit the wall instead. Meiji recovered the ball fast, but it was still a double for Nagasaki that scored Shintani, 3-2. A pinch-hitting Hiroshi Aoyama grounded back to the mound to end the inning, but Keio had gotten the lead...
Also, I couldn't believe it, but the guys behind me were yelling things like "Nomura, get your act together! Don't forget what happened at Koshien!" and I'm thinking, "...wait, so you want him to think about being exhausted after throwing hundreds of pitches and giving up a bunch of late-inning runs? Really?"
I actually thought it was somewhat fitting that Nomura got exhausted after throwing hundreds of pitches and gave up two late-inning runs as a result. Although it really wasn't his fault that Shashiki completely forgot temporarily how to hold on to a baseball.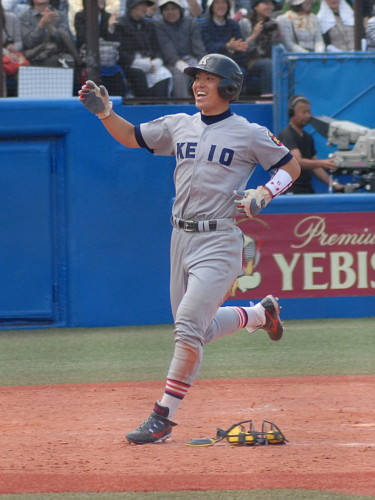 Hayata Itoh crosses the plate with the tying run for Keio. These things ALWAYS involve Itoh.
9th inning, bottom: Keio wins 3-2
Koji Fukutani took the mound for Keio. Aoyama went to play center. Yutaka Fukutomi entered to play 3rd base.
Ikuhiro Takeda led off with a single (he entered the game to replace Kawashima in the 7th). Takeda then stole second, and he advanced to third when Shogo Shashiki grounded out. Yusuke Kobayashi pinch-hit and grounded out, and then Hideo Toyota pinch-hit and hit a pop fly foul right by the camera well, and that was the game.
Keio won 3-2.
One of my friends is a big fan of this Takeda kid so she was happy about him getting a hit, but pretty pissed off at Shashiki for sucking.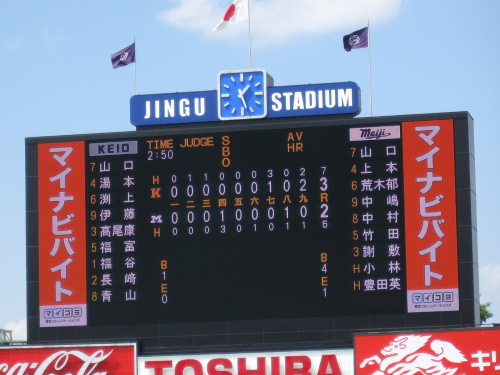 Here is an avalanche of photos of that last inning, since Fukutani is super-interesting to watch (he has a head twitch that he does just like Tsuruga Kehi/Orix's Nobuyoshi Yamada, only when Fukutani does it, his hat doesn't come off...). And I also got the entire final foul fly on camera as well.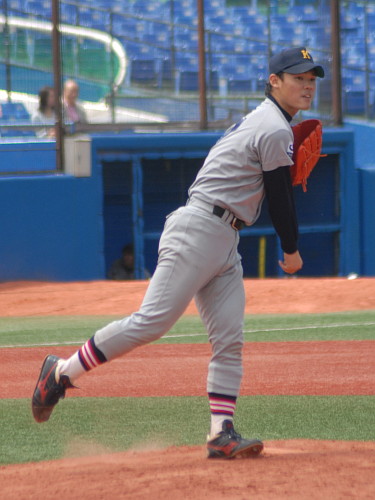 Koji Fukutani. I like this kid. Even if I generally never see him pitch because he usually pitches Sundays.
And here is that final out. Catcher Masahiro Nagasaki, and third baseman Yutaka Fukutomi, both ran to get it -- and collided for the catch right under the cameramen in the camera well. But Nagasaki managed to hold onto the ball the entire time.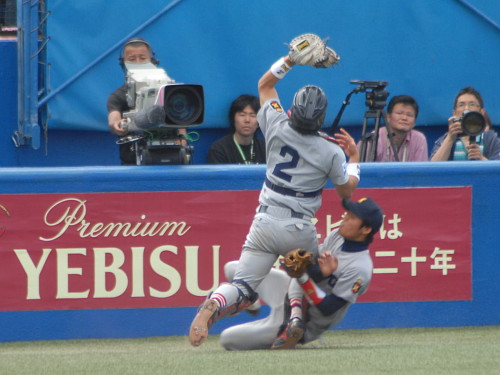 They collide.
Fukutomi goes down and Nagasaki goes flying.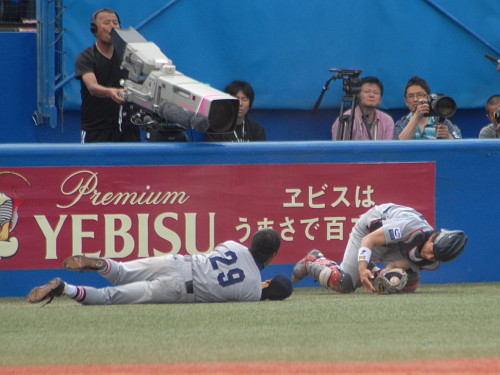 But one somersault later...
Nagasaki still has the ball! Game over!
Fukutani ran in and the dugout ran out and people picked up the collided players and celebrated winning a close game.
Honestly, if Hosei had won their game I would feel a lot better about Keio winning theirs. Seriously. I like players on both Keio and Meiji's teams and don't have a particular alliance to either group per se, even if most of my Big 6 bleacher buddies are Meiji fans, and Keio is the university I have the most connections with academically (my university had an engineering exchange program with them, and also, my landlord is a Keio alum).
After Game 1 was over I hung out for a few minutes to watch the Hosei guys warm up -- yelled "ganbare!" to a bunch of the players, and then I took off to put on more sunscreen and get some food and all. Thanks to the second game involving Waseda, there were actually lines for the bathrooms and for the food stands, but whatever, it worked out okay.
Anyway, here are some more Meiji photos from the game that just kind of didn't fit in with the story...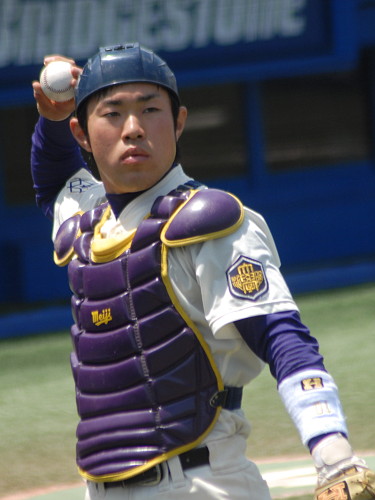 Meiji team captain Yamauchi warming up on the sidelines.
This is Takashi Uemoto, Meiji sophomore infielder. His older brother
Hiroki
went to Waseda and now plays in ni-gun for the Hanshin Tigers. He totally looks like his brother -- but even odder -- I think he's actually got a "H. Uemoto" glove?!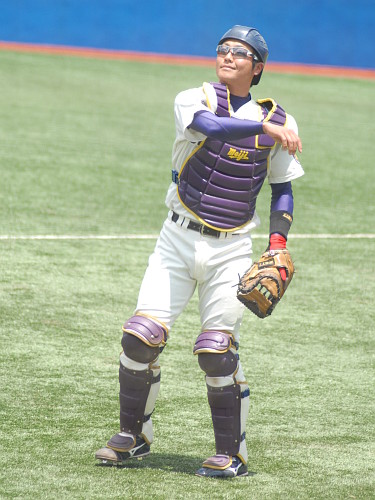 This guy is now actually probably my favorite Meiji player, Shuhei Ikenaga... the backup catcher. He's a senior this year, and he went to Nichidai San, and he wears glasses, and he is always laughing and joking with other players, and I noticed him last year and thought he was really adorable. Last year he mostly caught in the bullpen because Meiji had the steady Ryota Yasuda behind the plate. I thought that maybe since he's a senior this year Ikenaga might get to play some, but then catcher Yuki Yamauchi became captain, and well, the captain generally gets to play a lot more than some random other dude. Still, this doesn't seem to have fazed Ikenaga-kun, who still takes his duties as a bullpen catcher fairly seriously.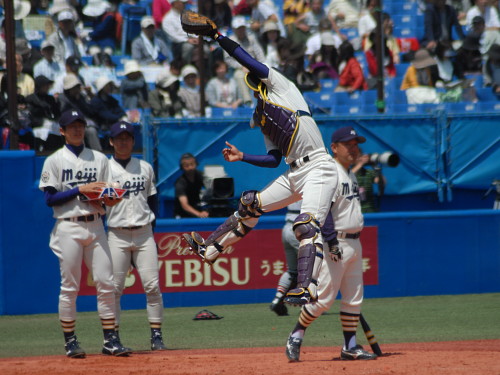 And I took this crazy photo before the game of Ikenaga catching a ball thrown back to home plate from the outfield. He's the dude jumping in the air.
As mentioned in my
rant
, Keio also won their game on Sunday and took the series from Meiji. Bizarrely, Daisuke Takeuchi also started for Meiji on Sunday after pitching 5 innings on Saturday. It was another close contest, but
Keio took that game 4-3
as well. Keio's Naoki Yamaguchi, whose broken bat photo I have above, hit a 2-run homer off Meiji's Kazuki Nishijima, and then Takayuki Matsuo hit a 2-run homerun off Meiji's Gota Nanba. As is typical in this level of ball, Yusuke Nomura finished Sunday's game for two innings despite pitching a complete game on Saturday. It didn't matter anyway, apparently.
So Keio took the series and now I'll be cheering for them at Soukeisen again. Or more like, I'll be cheering for them to WIN IN TWO GAMES! so that I can actually get to the Rookie Series. If Soukeisen goes to three games, I can't see any of the rookie series.