I know, you're probably wondering what the heck I was doing at the Tokyo Dome for a Buffaloes-Giants game. But as you can see from this shot of the "out-of-town scores" from the middle of the game...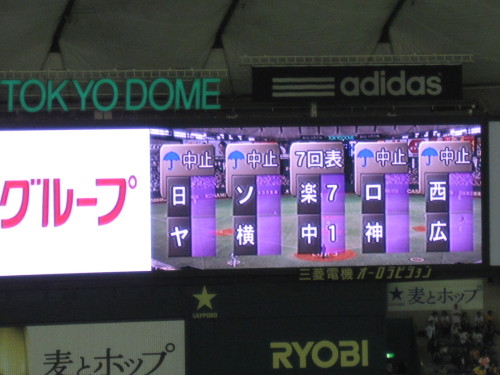 ...the Fighters-Yakult game got rained out, as did pretty much every outdoor game in the country, so this was the only indoor option in the Tokyo area. I had two friends in town from Seattle this past week, and I'd promised to take them to a baseball game here. They wanted to sit in a cheering section, so the Fighters game today seemed like the best idea, until the Tokyo skies decided to open up and start raining around 9am, and they're not supposed to stop until sometime on Tuesday. So instead, I said we could go to the Tokyo Dome and see if there were any tickets, and if there were, at least my friends could see a game, even if it was going to be between the team that I hate the most in the country (the Giants) and the team in the Pacific League that I care the absolute least about (the Buffaloes).
We even ran into another friend of mine outside the Tokyo Dome, who was like "Wait, is that really Deanna? At a Giants game? WTF?"
Anyway, we did manage to get 3 pretty good seats in the upper deck on the 3rd-base side. I got to at least explain the whole ouendan deal, and also got to explain pretty much why I despise every single member of the Giants lineup. ("This guy, Chono, he turned down the Fighters and the Marines for drafting him. And this guy, Ogasawara, he was my favorite player... when he was on the Fighters. Now he's some clean-shaven doppleganger. Think Johnny Damon. Oh, and this guy, he hit a sayonara home run off the Fighters at Game 5 of the Japan Series last year. And this starting pitcher, Nishimura? I totally DESPISE him. My favorite Fighters player, Hichori Morimoto, had a 2-year streak of playing in every single game, until this jerk over here hit him with a pitch and broke his hand, and Hichori has never really been the same player since.")
The nice part is that the Buffaloes actually smacked the hell out of Nishimura for a change. In the first inning, Arakane got hit by a pitch, Gotoh singled and then "T" Okada singled home Arakane,
1-0
. Aarom Baldiris followed that up with another single that landed in shallow center, and Takeshi Hidaka grounded to second, only Edgar Gonzalez ate the ball and Gotoh scored on the error,
2-0
. Koji Yamasaki hit into a fielder's choice, but it wasn't a double play and so Okada scored,
3-0
.
Then in the second inning, Shogo Akada got on base, and Gotoh walked, and then "T" Okada slammed a home run into the Orix cheering section!
6-0
!
It was a nice start to the game.
I amused myself by yelling alternate things to the Giants cheers, like "GO HOME HISAYOSHI" instead of "CHONO HISAYOSHI". One of my friends decided that "Shinnosuke" sounded like they were cheering "IMHOTEP!" so he started yelling that instead. And so on.
Ogasawara got hit by a pitch in the 3rd inning and had to leave the game. There were mumblings that he might have broken his wrist, though reports on Yahoo indicate that no fractures was found and he was just bruised up pretty badly.
Alex Ramirez pounded one of the most impressive home runs I've ever seen at the Tokyo Dome, in the 6th inning. I think it almost hit the roof -- and it hit the left-field back wall of the stadium above the IIJ sign, right below the roof. It was said to be 140 meters, which is 460 feet or so -- but it was to LEFT, not to center, so you can imagine how high that thing was going. It would have gone straight out of some other stadiums like Jingu. No, really.
6-1
.
Tomotaka Sakaguchi hit another home run off of reliever Takahiko Nomaguchi to lead off the 9th inning, which made it
7-1
.
Yoshinobu Takahashi pinch-hit in the bottom of the 9th -- I feel like I haven't seen him at bat in YEARS at this point -- he singled to center, and then Hayato the Kid hit a home run to left field to make it
7-3
, off Mamoru Kishida.
But, fortunately, that is where the game would end.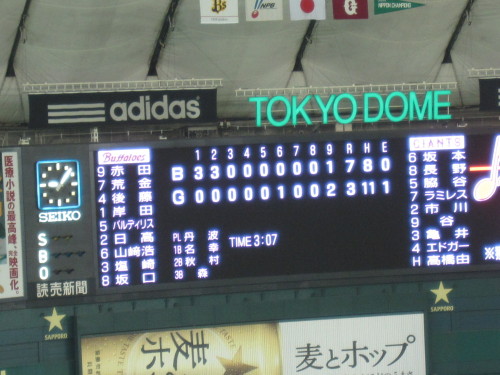 (And the
Yahoo box score
.)
Something odd I just realized is that Takahiro "T" Okada went to the same high school, Riseisha, as Hosei's Ryo Imai, and was one year ahead of him... which means Okada didn't play at Koshien, but Imai did. I think Okada is obviously having the slightly more successful baseball life these days, though.
I enjoyed this game despite not really caring about either team involved. I mean, I got to hang out with my friends, babble about all the nuances of Japanese baseball, and see the Giants get slammed down. What else could I ask for? We ate churros and Tokyo Dome ice cream sandwiches, and one of my friends drank 4 beers and a hi-ball. Really. He had a goal of trying to flag down a beer girl from each one of the major companies, though I think he got Suntory, Kirin, and Yebisu, and didn't manage to get Sapporo. Alas.
The only sad part is that we never got to see the Orix Towel Dance, which I had been telling my friends was the only cool thing Orix fans really do. I only had my Tokyo Big 6 towel with me, but I was totally ready to dance with it. I guess the 1st inning was too early to start doing it; not sure why they didn't do it in the 2nd inning when there were a lot of guys on base and very few outs, but whatever. They never really had a "chance" moment later on. Too bad.
Actually, see that IIJ sign over my friend's head on the left? That's where Ramirez's home run hit the back wall, above that sign. No joke. That thing was SLAMMED.
The weather forecast is calling for the rain to continue through Monday too, which has me a little bit worried. The Fighters-Swallows games didn't actually HAVE a makeup day scheduled, and Yahoo shows the other 3 rained out games today as being made up on Tuesday, but not Swallows-Fighters, so I wonder what'll happen -- maybe they'll be tacked on at the end of interleague? That'd kind of suck. The Big 6 college games also get shoved back a day, and if they can't play on Monday, I think they get to bump Tohto League out of Jingu on Tuesday, although all that remains in Tohto is the Asia-Rissho catfight, as Toyo already clinched the league. We'll see, I guess.