Alright, so Saturday's Hosei-Waseda game is kind of hard for me to write about. It made me feel pretty sad at the time.
Basically, Hosei was in a must-win situation going into this series; especially after Meiji lost their game, Hosei had to win at least one game against Waseda to have any chance at the championship, preferably to win both games. The pitching matchup was Hosei ace Kisho Kagami, against Waseda's ace Yuki Saitoh. The stadium was pretty packed for this game, but I showed up at 10am for the first game of the day as well, so was sitting in the very front row, next to another woman who is a Kagami and Hosei fan (but used to be a Waseda fan back in the Hosoyamada-Uemoto-Keijiro days).
They put the rosters up on the big board as the teams went out to practice, and I noticed, hey, that #26 Kawai, freshman, Chukyodai Chukyo... THAT'S KANJI KAWAI! The kid I saw hit a
walk-off homerun at Koshien
last year! And there was #26 out at third base doing fielding drills! So I informed Drunk Tanaka of this, and he nearly blew a gasket, partially because he is from Aichi and supports Aichi players, and partially because he had already had several beers during the Meiji-Keio game.
I have to admit, when they announced Kawai as the leadoff batter for Hosei, I was pretty psyched. Sure, he'd undoubtedly been under more pressure in a baseball game before in his life -- like playing through to the final victory of Koshien last year. But still, you've got this 18-year-old freshman in college, coming to bat in his first official college game at Meiji Jingu stadium, in front of 20,000 people, and the first pitcher he's going to face is Yuki Saitoh, the most famous college pitcher in the country.
And even better, he pretty much went up there like "Bring it on, Handkerchief Boy," and got a hit in his first at-bat. I can only hope the rest of his time at Hosei continues to go that well.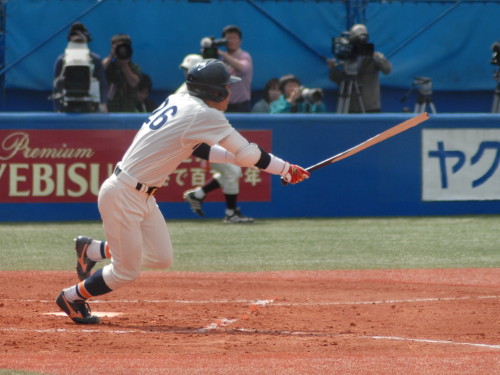 Kanji Kawai's first college hit, a broken-bat single to right.
Starting lineups:

Waseda              Hosei
------              -----
Watanabe, 2b        Kawai, 3b
Matsunaga, ss       Tatebe, rf
Habu, rf            Taki, ss
Sugiyama, c         Sasaki, 1b
T.Yamada, lf        Imamura, cf
Udaka, 3b           Ohyagi, 2b
Gotoh, 1b           Kagami, p
Sasaki, cf          Hiromoto, c
Saitoh, p           Nakao, lf

Seriously, the only guy on Hosei's team who can actually hit a baseball with a bat dependably this year is Yoh Sasaki. To be fair, Sasaki is #2 in the league in the batting average race, and #1 is Waseda's Yuya Watanabe, who was batting .458 going into this series. But Waseda still has Shota Sugiyama, Shohei Habu, and Koji Udaka all batting pretty well this year... and most of Hosei's lineup is struggling to stay above the Mendoza line.
Anyway, beyond Kawai playing and getting a hit in his first at-bat, it was a relatively fast first two innings. During Kagami's at-bat, he popped the ball up to short, and he was kind of wincing and waving his hand afterwards as if maybe he hurt it when he hit the ball, which nearly gave me a heart attack, but he came out to throw again and it didn't LOOK like anything was wrong with his hand.
Until he pitched to pitcher Yuki Saitoh in the top of the 3rd inning, and BLAM, Saitoh hit Waseda's first home run of the year -- yes, the first home run for ANYONE on Waseda this entire SEASON -- a shot into the first few rows in left field. How embarrassing is THAT? For everyone except maybe Saitoh, really?
1-0
.
The next few innings went by mostly depressingly (Hosei got a batter to 3rd base in both the 2nd and 3rd innings but just couldn't DO anything about it, including Taki striking out with Nakao on 3rd and Kagami striking out with Sasaki on 3rd). Then in the 5th, Kanji Kawai came up to bat with 2 outs, and managed to do something nobody else did -- he got a SECOND hit off Yuki Saitoh! Kento Tatebe then hit a double to center-right and Kawai-kun ran and ran and ran and SCORED!
1-1
! I would have more photos of it, but Drunk Tanaka jumped out of his seat and ran across the front high-fiving everyone like "LOOK AT KAWAI-KUN FROM AICHI, IS HE NOT AWESOME?" and, of course, ran in front of me and my camera as well.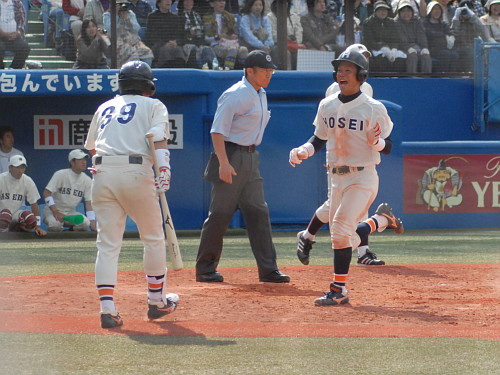 Kanji Kawai crossing the plate! First college run scored!
I had been charting and counting pitches, but I got sidetracked after that. My Hosei baseball club alum friend Mizushima came down to say hi for a while and for some reason had a Hosei sophomore pitcher named
Shogo Wada
in tow with him, and he was like "This is Wada, he went to the same HS as the Fighters' Kinoshita" and I'm like "uh, okay... which school?" and eventually I had to ask the kid himself, "what's your name? what school and year?" and then I was like "OH! Were you classmates with Yusuke Yamada?" and he said yeah, and I was embarrassed to admit that YES I had seen him at Koshien but I didn't remember anything about Toho that year except Yamada's walk-on homerun against Hokkai, because it made me late to work. No joke.
They asked me what I thought of Kagami's pitching and I said that I was pretty worried that he might have hurt his hand during his at-bat in the 2nd inning, but if he did, he seemed to have recovered from it pretty well, his pitches looked good, he was throwing strikes, and he was hitting 150km/h on the radar gun, so...
UNfortunately, about 10 minutes after I said that, they went into the 8th inning, and Kagami gave up his first walk of the game, to a pinch-hitting Keisuke Kawanishi. Yuya Watanabe then grounded to short, but Kawanishi slid into second ahead of the force throw, and both runners were safe. Kagami hit 152 km/h (95mph) on the gun to strike out Hiroki Matsunaga, but then Shohei Habu was up to the plate...
...and Shohei Habu SMACKED one to right field. It almost looked like a home run at first, but hit the back wall instead. Tatebe scrambled to get the ball and throw it in, but by the time he did, Habu was more than safe at third and could have really even tried for an inside-the-park homerun.
3-1
.
Waseda's fans went crazy, and I basically wanted to cry, because I knew that Tatsuya Ohishi was going to come pitch for Waseda, and I knew the Hosei batters weren't going to manage to do a damn thing against him.
And I was right on both counts. Ohishi threw pretty much everything in the 151-154 range, faced 7 batters, gave up one hit (to captain Ohyagi) and struck out 5. Ouch.
Waseda won the game 3-1.
Bleh.
Kazuki Mishima threw the 9th inning for Hosei, and I haven't seen him pitch in a while because Kagami keeps throwing complete games on Saturdays, so that was good. Mishi still throws everything around 150, and he also struck out 2 of the 3 batters he faced, but it was too little too late. Sigh.
After the game I wasn't sure if talking to players would be possible -- there was a Yakult game so it was crowded AND there were all the Waseda fans waiting for them to come out as well. Waseda takes a bus back to their dorm, but Hosei players take the subway. As it turns out, the players came out anyway. I saw Kagami but he was in a hurry and pretty much bolted through the crowd. Saw a few of the other guys. Should have bugged Yoh Sasaki but I was too shy and slow. Eventually I did bug Ohyagi, and Taki, and Imai for autographs. Ohyagi's mother was there and was kind of like "...you're a fan of my son?" and I told her that I'm a fan of Hosei's team, and her son is a fine team captain. At least, I think that's what I said.
Oh, and I did finally say hi to Kazuki Mishima and tell him about the birthday thing and he kinda laughed like "I heard about that," so... yeah. Whoops.
Also, there's an older actress that is now mostly-retired and comes to cheer for Hosei pretty much every weekend named
Tokachi Hanako
, I met her last year at one of the games, can't remember when, and usually say hi. This time she gave me a CD of some duet songs she did with Kenji Nanda a few years ago. Mizushima told her "Hey, you should sign it", so she did. My life is bizarre sometimes. I now have an enka CD signed by an actress that I know from cheering for college baseball.
Anyway, here are a few more pictures from the game (mostly of Kanji Kawai, heh):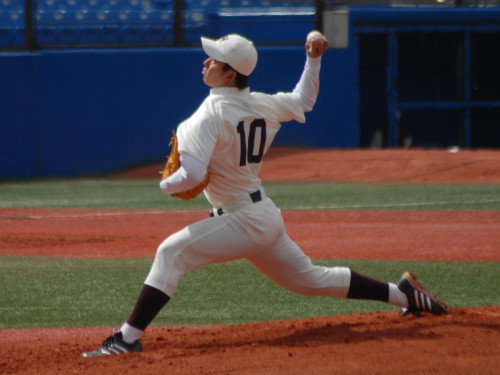 Yuki Saitoh.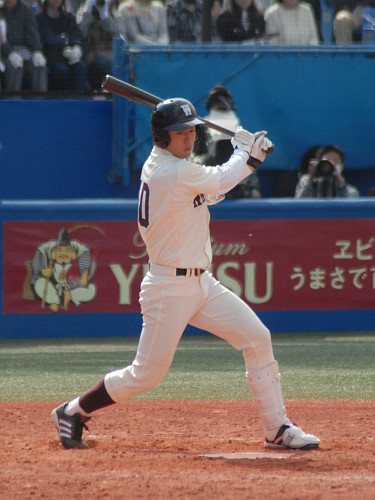 Saitoh at bat. No, this is not when he hit the home run.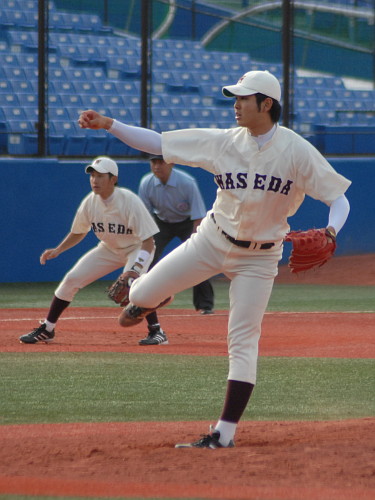 Tatsuya Ohishi, who now wears #1 instead of 15, it's weird.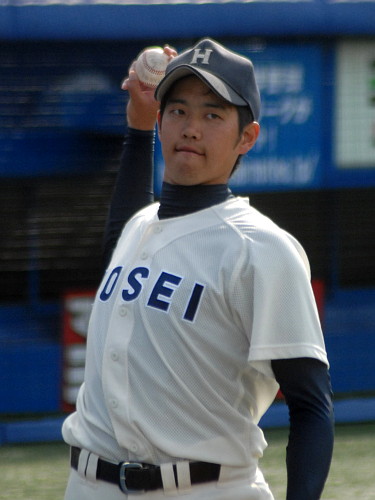 Kagami throwing on the sidelines -- he had to bat so he did it from the dugout side for a change.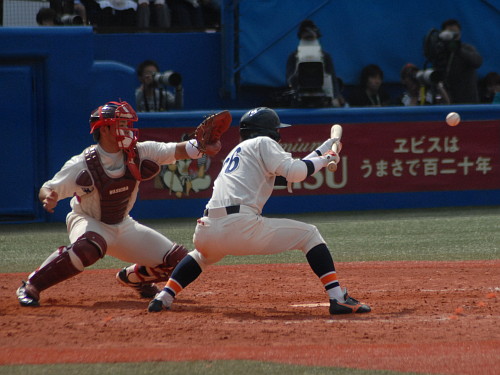 Kanji Kawai bunting in the 3rd inning.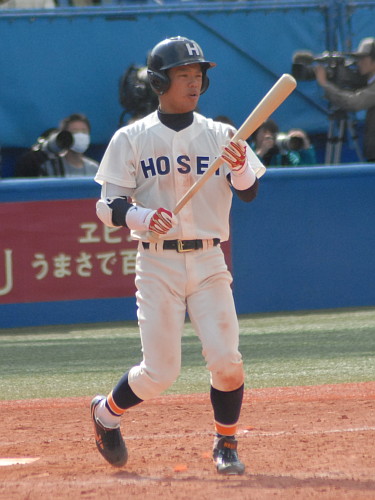 Kawai at bat in the 5th inning.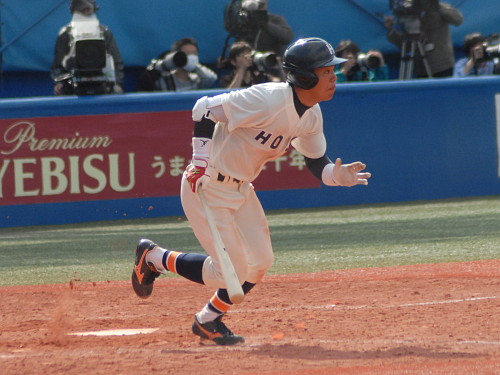 Kawai's second hit!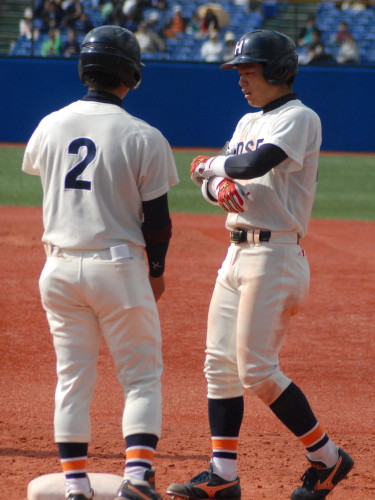 Kawai on first base. Tetsuro Matsumoto is coaching for some reason.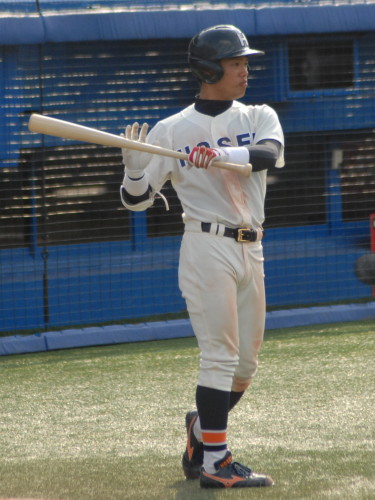 Kawai standing in the warmup area.
A few shots of the Jingu scoreboard with speed readings: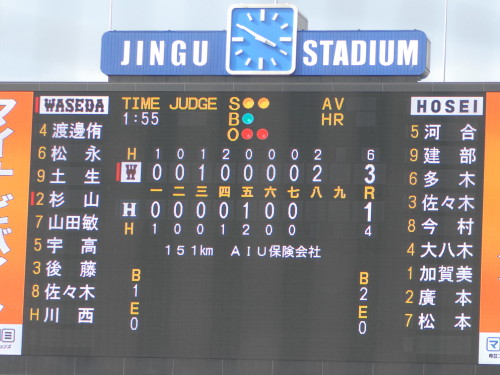 Kagami hits 151 km/h (about 94mph) against Shota Sugiyama. He got 152 too a bit later.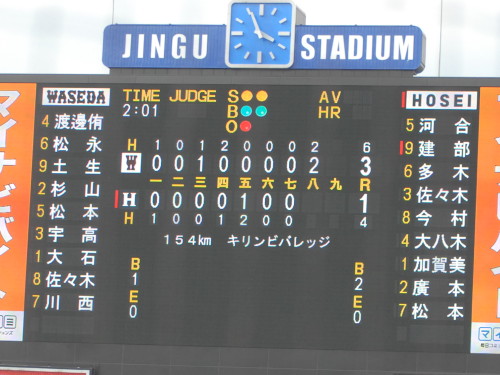 Ohishi throws 154 against Tatebe. Not that odd, most of his stuff was coming across in the 150-154 (93-95) range; that's what a fireballing reliever DOES :)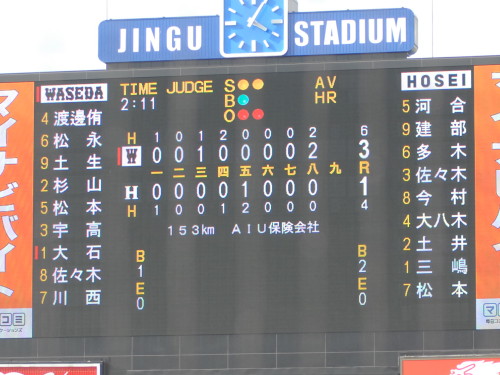 Kazuki Mishima hits 153 when pitching to Tatsuya Ohishi.
Oh, and from
here
, Kagami's comments after Game 1:
-今日の試合を振り返って
 大事なところで踏ん張れなかったです。
- What did you think of today's game?
We couldn't pull through in an important time.
-早大打線の印象
 いいバッターが揃っている印象でした。
- What's your impression of the Waseda lineup?
My feeling is that their lineup is full of good batters.
-投球の際、気を付けたこと
 コントロールミスに気を付けて、低め中心に集めるのを意識しました。
- What were you concentrating on while pitching today?
I was worried about control, being very conscious of the lower part of the strike zone.
-今日に向けての対策
 相手に関係なく、自分の投球をすることを意識しました。
- What was your plan for today's game?
I wasn't concerned about the opponents, I just wanted to focus on my own pitching.
-ご自身の調子
 良かったんじゃないかと思います。
- How's your physical condition?
It's not too bad, I think.
-次回に向けて
 まだ(勝ち点を)落としたわけではないので、明日、明後日に向けて準備したいです。
- Going forward, what are you doing?
Well, this series isn't over yet, we still have a chance, so I'm going to prepare for tomorrow and Monday's games.
And for the record, both Ohyagi and manager Kanemitsu's comments on Kanji Kawai: "He's a kid who really gives it all he's got."
On Sunday, Waseda's Yuya Fukui started against Hosei's Tomoya Mikami. And basically, Waseda scored one unearned run off him in the 4th -- Fukui led off with a walk, Watanabe got an infield hit to advance him to second, and then Hiroki Matsunaga hit a grounder to the mound and apparently Mikami threw to third and it somehow got misplayed, and Fukui scored on the error. That was the only run of the entire game, but it was all Waseda needed
to beat Hosei 1-0
and take the series.
They interviewed a bunch of players
for game 2 as well
, including Kanji Kawai, so here's his comments... I may have mistranslated a nuance or two, but overall it was interesting to read what he had to say.
-今日の試合を振り返っていかがですか
 個人の結果もだめだしチームも負けて、勝ち点を早稲田に取られてしまって。いいピッチャーから打てなかったら日本一にはなれないし、こういういいピッチャーを打ち崩さないと上に行けないと思います。
- Looking back on today's game, how was it?
Well, I had bad results and the team lost, and Waseda got the series point. If you can't hit against good pitching, you can't become a champion, and so I think that our lack of hitting is what brought us down.
-昨日神宮デビューでしたが感想を教えて下さい
 いきなり1番バッターで使ってもらえて斎藤投手という素晴らしいピッチャーで。初打席で初ヒット打てたのは運がよかったです。偉大な先輩方と一緒にプレーできて嬉しかったです。
- Tell us how you felt yesterday during your Jingu debut.
Well, I got to be the leadoff batter, but I was suddenly out there against such an amazing pitcher like Saitoh! Being lucky enough to get my first hit off him in my first at-bat was great. Getting to play with all of the amazing upperclassmen on this team made me really happy.
-昨日のスタメンはいつ言われましたか
 昨日の朝です。
- When were you told you'd be in the starting lineup yesterday?
Yesterday morning.
-けがをされていたそうですがもう大丈夫ですか
 大丈夫です。
- It seemed like you got hurt, are you okay?
Yes, I'm fine.
-斎藤、大石、福井優投手の印象はいかがでしたか
 とにかく素晴らしいピッチャーで、球威良くて失投が無くて、甘い球は来ないです。大石投手はバッティングマシーンみたいなすごい球でした。
- What was your impression of Saitoh, Ohishi, and Fukui?
Certainly they're all amazing pitchers. They all have a good arsenal and don't make mistakes; I didn't get any easy pitches to hit at all. Ohishi throws some great stuff, he's like a batting machine!
-2日間早稲田と戦ってみていかがでしたか
 レベルが高いリーグで六大学だなぁと思いました。いいピッチャーから打てないと勝てないし、1対0でも負けは負けなので。ひとつのミスが大きな1点になってミスから生まれる失点は大きいなと。レベルの高い大学と試合できたのは大きな体験になったので、この2敗を次に生かしたいです。次は明治ですけど、いいピッチャーで済ませてたら勝てないのでいい明治戦になるように備えたいです。
- How was it playing against Waseda for these two days?
I thought that Tokyo Big 6 would be a pretty high-level league. We couldn't hit or win against those great pitchers, but we only lost 1-0. The biggest thing was that they got that one point off our mistake. It was a great experience to play baseball against such a high level of competition, and I hope to build on the experience I got from these two losses. The next match is against Meiji, and I want to prepare for facing some more good pitching.
-明大戦に向けて意気込みをお願いします
 使ってもらえるかわからないですけど、使ってもらえたら貢献したいです。
- Finally, what can you say going forward to the Meiji matchup?
I don't know if they will use me or not, BUT, if they do, I want to do as much as I can to contribute to the team winning.
I guess it is a little hasty to say it, but I really am hoping for some great things out of this kid. Here's hoping for some good results at the Meiji series and the Rookie Tournament!