I spent last Saturday (May 8th) hanging out at Jingu watching college ball, which is pretty much what I do every Saturday that I'm in Tokyo and there's actually college ball happening. My real motivation for going was to see Kisho Kagami pitch for Hosei, because he is awesome and my favorite college player, and he's basically been their starter for every Saturday game. Well, and I share a birthday with Hosei pitcher Kazuki Mishima -- May 7 -- so I wanted to say hi to him too. However, being as the Hosei game was the second one of the day, AND it was against Tokyo so basically a guaranteed win, I figured I should also show up for the first game of the day and see Keio take on Rikkio.
It worked out really well because Keio and Hosei both were on the 1st-base side for their respective games, so I could just sit in the same seat for the entire day, AND Keio's ace right now is a left-handed sophomore named Daisuke Takeuchi, who threw a no-hitter a few weeks ago (even though it was against Todai). Keio seems to be continuing their streak of lefty aces; before Takeuchi there was Nobuaki Nakabayashi (now at JFE Higashinihon), and before him there was Mikinori Katoh (now with the Yakult Swallows), and...
I sat next to a big Keio fangirl who was yelling a lot of "GANBARE DAISUKE!!!" ("C'mon Daisuke!") and then sometimes quieter, "Daisuki!" ("I love you!") It was cute. We chatted about the Keio team a bit, despite me admitting that I was really there for the Kagami. Turns out she's a fan of Naohiko Tadano, so we talked about the Keio HS Koshien 2008 team a bit; I like Kei Tamura better, but I'm left-handed.
Anyway, for those who read about the no-hitter but have no real idea who this Daisuke Takeuchi kid is, I took a few photos:
Takeuchi pitching.
Throwing to first base.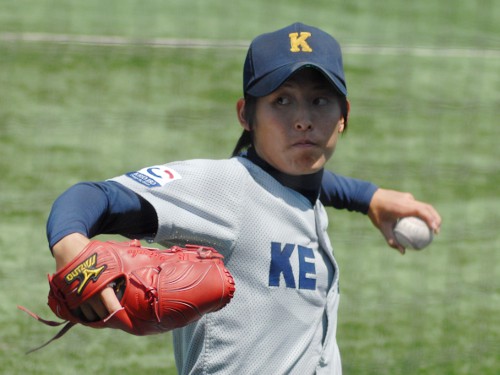 Throwing on the sidelines between innings.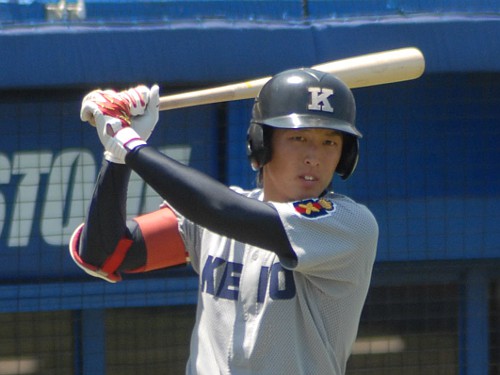 Warming up in the on-deck area.
At bat!
Okay, so that was more than just a few. What can I say, he made an interesting target to try to shoot. I actually think he sort of looks like Shunichi Nemoto from the Marines, but since he's still pretty young (he'll be 20 in a few weeks) he looks more like a cute kid than anything.
Actually, I saw Takeuchi pitch last year at the
fall Rookie Tournament
against Hosei, but I pretty much went to that game just to hang out with people and waste time before Game 3 of the Japan Series. I never even did anything with the photos I shot that day. Whoops. Looking back at them, though, Takeuchi looks a ton older now than he did 6 months ago, it's kind of weird.
Rikkio's starter was a kid named Kenya Okabe, who I have seen pitch way too many times this semester. That is, I've seen him pitch 3 games and 23 innings already, which is more than I've seen of even my favorite guy Kagami-kun. Every time I have gone to Jingu this semester, I have seen Okabe pitch. They have him listed as 182/86 (about 6'0", 190), which is about right, as he is a pretty big 19-year-old kid.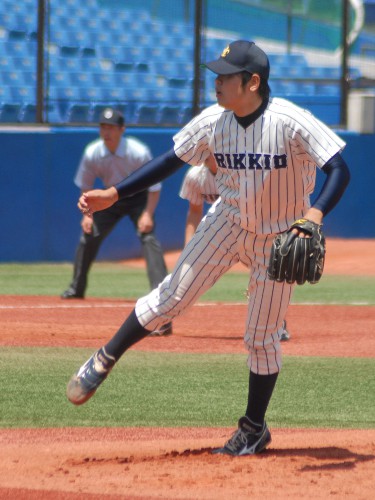 Okabe pitching.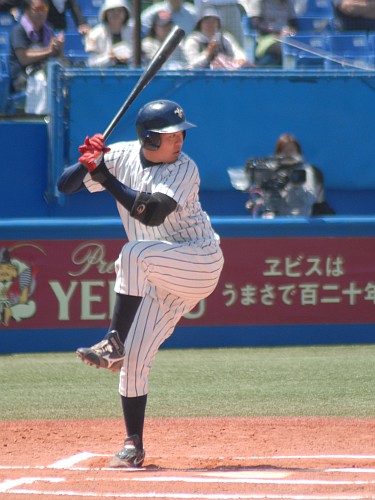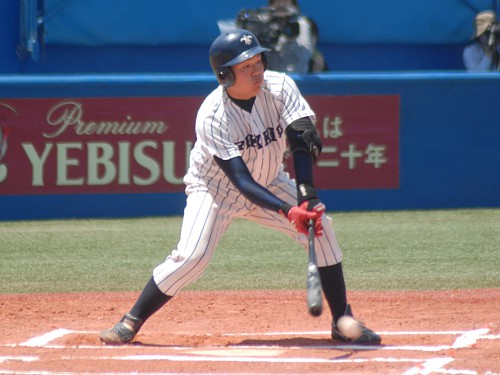 Okabe at bat.
Anyway, so it was a battle of the sophomore aces. Infact, 4 out of the 9 starting members for Rikkio were sophomores -- SS Soichiro Matsumoto, OF Hayato Saitoh (西藤勇人, not to be confused with the 3rd-year pitcher Hayato Saitoh 斎藤隼), 3B Ryuichi Maeda, and pitcher Okabe. Sophomore LHP Masato Komuro would also enter the game later on. If I'm not mistaken, Rikkio currently has the most underclassman regulars on their team, which is both a good and bad thing in some ways.
Keio scored two runs in the first inning. Okabe walked both Tatsushi Yumoto and Hitoshi Fuchikami, and they both came around to score on an RBI double by Hayata Itoh, to make it
2-0
...
Naoki Yamaguchi leads off.
Team captain Tatsushi Yumoto walked to first, standing there with coach Shota Hayashi.
Keio dugout reacts as Hayata Itoh hits a 2-RBI double to left.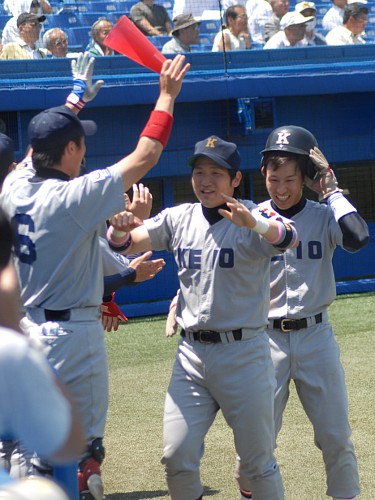 High-fives back at the dugout after Yumoto and Fuchikami score (the kid with the helmet is captain Yumoto).
And well, that is where it stood for the next 5 innings. Okabe gave up a few more hits but they were mostly scattered until the 6th. In the bottom of the 6th, he was already well over 100 pitches and still out there. Takao singled to right and then Aoyama followed it up with a hard-hit grounder to second that Okazaki made a fantastic dive for, but couldn't get it to first in time. Then catcher Nagasaki came up bunting but kept swinging and eventually singled to left, and that loaded the bases.
Daisuke Takeuchi came to bat and grounded into a 3-2-3 double play.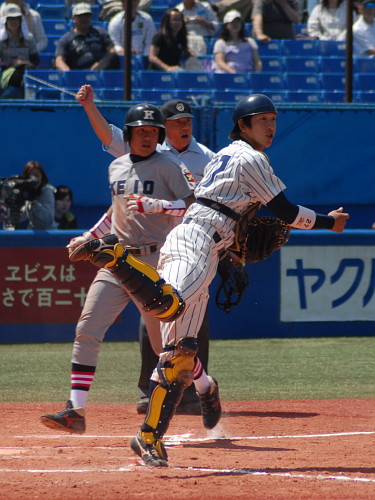 (Rikkio catcher Maeda turns the double play; Takao is out at home.)
But then Naoki Yamaguchi singled to center and that was enough to drive home Aoyama to make it
3-0
before Yumoto grounded out.
Takeuchi continued to keep the Rikkio guys off the bases though, and so the game went on. Okabe came out after 6 innings and was replaced by Masato Komuro, a lefty:
And Komuro pretty much immediately gave up a single to Fuchikami and then an RBI double to Hayata Itoh. Itoh tried to stretch it into a triple and found himself out at third base in a cloud of dust, though: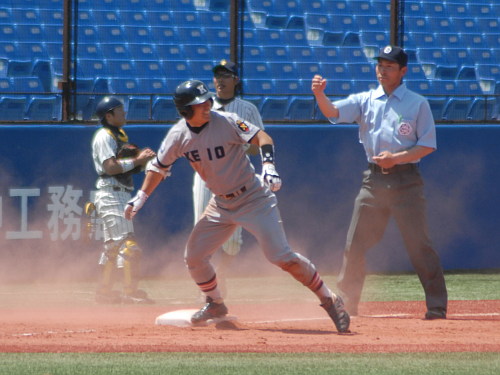 And then Komuro struck out the next two guys.
The only blemish on Takeuchi's game was when Rikkio scored a run in the top of the 9th, but it was pretty weird circumstances. Basically, Ryuichi Maeda doubled to left, and then Naoshi Hasegawa hit a pop fly caught by the catcher. Ryugoro Moji then hit a single to left field, and Maeda stopped at third base. It was a pretty big hit to left and it wasn't really clear why Maeda stopped in the first place, so then the umpires ended up getting together for a minute to discuss it, and they awarded Maeda home plate and Rikkio the point. I think there may have been some kind of interference at 3rd base that made him stop? It was largely irrelevant as Yuki Maeda grounded into a double play to end the game right after that, but it did cost Takeuchi a shutout, basically. Keio still won the game 4-1.
Here's the official box score
.
The game heroes were Takeuchi for pitching the complete game win, and Itoh for accounting for the RBIs on 3 out of the 4 runs Keio scored. I would have gone to take better photos of their hero interview, but Kagami came out to do pre-game warmup throwing and I kind of lose sight of everything else when he's anywhere near me.
So anyway, here are a few other shots from the game...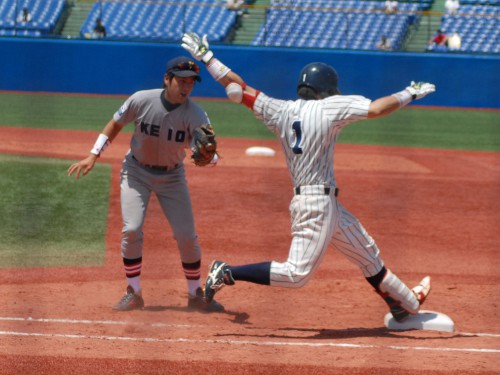 Keisuke Okazaki, from PL Gakuen. He's a third-year kid, plays second base, and is currently leading the league in home runs this semester, with 3. The list of guys he hit them off this semester is impressive: Waseda's Yuki Saitoh, Hosei's Kisho Kagami, and... Keio's Koji Fukudani. Still, the first two are the best two pitchers in the league, so that is saying something.
Ryuichi Maeda, sophomore, 3B, uniform number 29.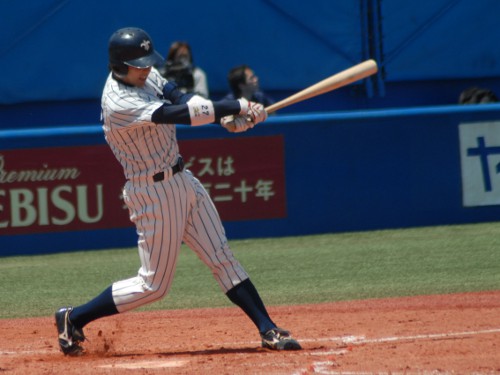 Yuki Maeda, senior, C, uniform number 27. How confusing.
Masahiro Nagasaki, Keio catcher.
This was notable mostly because I saw that Hayato Saitoh (the pitcher, that is) was coaching. He wasn't listed on the roster for this game.
Hayata Itoh, from Chukyodai Chukyo HS, one year ahead of Takeuchi.
Itoh again. It turns out that this was actually Itoh's 21st birthday, and the ouendan even sang happy birthday to him before his second at-bat.
You know -- I intended to make one big post about both games I went to on Saturday, but I think it'll be better if I just cut this one off now... there are already enough photos in it to kill anyone's browser!