As I mentioned before, Week 7 was completely meaningless in terms of anyone actually being able to win the league, but they could at least claw their way into a possible 2nd-place finish. However, the actual outcome was that Rikkio, Hosei, and Todai cemented their places in the standing at 4th, 5th, and 6th. Ugh. (Meiji will finish 2nd or 3rd depending on Soukeisen. More on that later.)
I went to the Hosei-Meiji game on Saturday morning, May 22; and I sat in the Hosei ouendan, so I don't really have pictures from the game as they'll eject you from the area if you try to take photos of anything in the ouendan and you don't have an armband designating you as connected with the university or the league. I wish I was making this up, but I'm not.
Actually, "sitting in the Hosei ouendan" isn't quite accurate. "Sitting with the Hosei baseball club members who aren't on the active roster" would be closer to the truth. See, there are something like 100 guys in the baseball club itself, but only 25 can be on the active roster (or the "bench" as they call it) at any given time, so many of the other guys will come to the games anyway to watch and cheer for their teammates. Some guys are also responsible for carrying equipment and other such duties before and after the game. Regardless, you can spot the baseball club members in the stands because they'll be in the outer part of the ouendan, and they all wear white button-down shirts or white polo shirts, and slacks, according to their school's uniform. Sometimes they'll even wear the full jackets and ties if it's cold out.
So, thanks to my friend Mizushima, who is a Hosei alum and got me a free ticket and dragged me in, I was basically sitting in the row right behind the players. Miyagaki-kun and another player I forget were chatting with Mizushima for a while, and then Wada-kun, who I met last week, came up and sat next to us. He looked through my scorebook, and told me some stuff about the team's practice schedule. Apparently a bunch of guys left halfway through the game to go back to the Hosei grounds and practice, as they have practice every day, all through the year, even if there is a game. Even if there is class, they still have evening practice. Wada is a sophomore, so he had to help with stuff after the game.
Maeda-kun, who was all polite outside the stadium a week or two ago when I met him, was a completely crazy guy in the ouendan, he was imitating the female cheerleaders and dancing like a weirdo most of the time.
(And for the record, one of the black-suited women in charge of keeping order in the ouendan area actually came up to a baseball club member and yelled at him for taking a photo of the cheerleaders without having an armband. WTF.)
Lineups for Saturday's game:

Meiji                Hosei
-----                -----
Yamaguchi, lf        Kawai, 3b
Uemoto, 2b           Tatebe, rf
F.Araki, ss          Taki, ss
Yajima, rf           Sasaki, 1b
Nakamura, cf         Imamura, cf
K.Kawashima, 3b      Hiromoto, c
T.Abe, 1b            Matsushita, lf
Kawabe, c            Ohyagi, 2b
Nomura, p            Kagami, p

As has been my pattern this semester, I came to the Saturday Hosei game in order to watch Kisho Kagami pitch, because he is awesome.
The game started off in a pretty spectacular way as Kagami struck out 2 out of the 3 Meiji batters he faced, and I had barely gotten into a seat by the time the inning was over. And then Kanji Kawai led off with a grounder to third which Abe couldn't get his hands around at 1B, so Kawai made it to second base on the error. Tatebe sac bunted him up, and Hiroshi Taki singled to left, scoring Kawai!
1-0
. Sasaki grounded out to third, advancing Taki, and then Kota Imamura singled to center to bring Taki home,
2-0
. Takuya Hiromoto struck out to end the inning.
Tokachi Hanako sat with us for the first few innings, and when Kota Imamura was up to bat that first time, I said, "it's his birthday today!" so Hanako took up this cheer in her high voice of "OI IMAMURA, HAPPY BIRTHDAY! COME ON, GET A BIRTHDAY HIT! YOU CAN DO IT, GO GO GO GO!" and things like that, and so the guys in the baseball club ALSO started yelling things to that effect. It was funny. AND he did get a hit, so that was good.
The second inning was quick.
The third inning, Kagami struck out two batters yet again in the top, and then in the bottom, Kawai-kun led off again, and this time he singled to right! Stupidly, Tatebe struck out bunting (why you are still trying to bunt when you have 2 bunting strikes on you already, I will never know, but...) and Taki hit a pop fly out, but Sasaki hit a long fly ball to right that fell for a hit, and Kawai made it all the way to third base. Birthday boy Imamura walked and the bases were loaded... for Hiromoto to hit a TRIPLE into the gap in right-center! That scored everyone else to make it
5-0
, which seemed impossible off Nomura and his 1.54 ERA, but there you have it.
Meiji apparently also agreed with my assessment, as Nomura was finished after that inning. Kenta Kondoh replaced him on the mound.
Meiji then went ahead and scored a few runs of their own; in the top of the 4th Takashi Uemoto led off with a single, advanced to second on an Araki groundout, and then sat there for a while as Yajima walked and Nakamura struck out, but then Katsuya Kawashima singled to center and Uemoto came home.
5-1
. Then in the top of the 5th, Kenji Kawabe (?!) hit a solo homer into the left-field stands to make it
5-2
.
The onslaught continued into the 6th; Araki led off with a single to short and Yajima followed it up with a single to left. Nakamura hit the ball behind the plate and Hiromoto dived for the foul catch. Kawashima struck out this time, but Toshiki Abe singled to left and drove home Araki,
5-3
. Kawabe also singled, and drove home Yajima,
5-4
. With the tying run on second, a pinch-hitting Hideo Toyota grounded back to the mound to end the threat.
Takashi Nakao led off the bottom of the 6th with a single and stole second base, and captain Ohyagi walked, so with two on and 1 out they pinch-hit for Kagami with Kyosuke Narita, who grounded into a double play. (By this point Meiji had already gone through an inning of Kondoh and an inning of Okada and were throwing first year Ryota Sekiya on the mound. People were like "You have any clue who this guy is?" and I'm like "I don't even know if you pronounce his name Sekitani or Sekiya...")
Kazuki Mishima replaced Kagami on the mound. Mishima is a 2nd-year guy who has the same birthday as me, and isn't much bigger than me but can throw in the mid-90s. Mishima held the 5-4 game for 2 innings and then in the 9th...
...well, things started out well enough. He struck out a pinch-hitting Ikuhiro Takeda, and got Yamaguchi to ground out, and then, for the last out of the game, Meiji brought out their SEKRIT WEAPON, Shogo Shashiki, to pinch-hit for Uemoto.
Note the sarcasm -- Shashiki has been terrible this semester. Flat-out terrible. I have been wondering if he is playing injured. He was finally dropped out of the lineup entirely for this game.
Anyway, Shashiki had a ridiculously long at-bat. The Hosei ouendan kept doing this hand-waving thing of "Owari!" for "Finish it!" but Shashiki persisted in fouling off balls until he eventually walked.
Then Fumiya Araki got to a 2-2 count and the umpires debated after a particular inside pitch for a bit, and decided he had been hit by the pitch and he was awarded first base.
Shashiki went to steal third base, and Hiromoto threw the ball to third, only the ball went PAST third, and... and Shashiki made it home.
5-5
. And to add insult to injury, Yajima struck out.
Kazuki Nishijima took the mound for Meiji in the bottom of the 9th and aside from hitting Soma Uendo on the foot with a pitch, shut down the Hosei lineup easily enough, and so the game went into extra innings.
Which I had a terrible feeling about, although that mostly might have had to do with the fact that it was REALLY HOT out and all I had eaten that day was some bread in the morning. I drank some water and ate a granola bar, which made me feel less like fainting, but still didn't give me any confidence in the outcome of the game. (Plus they had lost Kagami's win.)
Uendo had pinch-hit for Mishima, so another pitcher was coming out for the top of the 10th -- the rather tall and lanky Tomoya Mikami, who I haven't seen pitch for a while. Mikami promptly gave up a hit to Masataka Nakamura, who I suppose you could say was due for a hit. Nakamura advanced on a passed ball, then also advanced to third on a Kawashima groundout. Toshiki Abe pulled off a perfect squeeze bunt up the first-base line; Nakamura scored easily and Mikami got the ball to tag out Abe, but it didn't matter.
6-5
. Another hit and another HBP later, the inning ended.
However, aside from Yoh Sasaki walking, nobody in Hosei's lineup could do anything against Nishijima and so that's where the game ended, with
Meiji winning 6-5
.
VERY painful result.
After the 9th.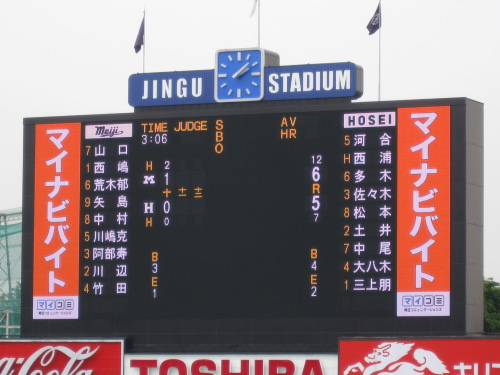 After the 10th.
After the game, I went with my friends to go talk to the Hosei players as they were leaving. Despite it being a heartbreaking game, I knew this could be the last time I'd see most of them for a while, if ever. And I had a mission or two to accomplish. More on that in a second.
I got a few more autographs. Yoh Sasaki, the top batter on the team, said "Err... sign? Like, can I just write my name, is that ok?" Me, in my brain:
What do you think an autograph IS, you silly boy?
Me, out loud: "Yes, please! Thanks! Good luck tomorrow, I hope you can get many hits and capture the batting title!"
Backup catcher Naoki Harada: "You gotta be kidding, you want MY autograph?" "Sure, I like catchers and you work hard!"
I also got Shohei Doi, another backup catcher. He was really sweet, very funny. Basically someone had tagged him thinking he was a different player and I was like "No, I actually mean YOU, Doi-kun!" And he was with Soma Uendo... I was like "I'm sure I'll have photos of you next semester. Was today your first game?" and it turns out that yeah, it was his first ever time playing in an official game. Uendo, whose name looks like it should be Ueto, is from Chukyodai Chukyo and he looks absolutely nothing like
his Hosei site profile photo
.
And speaking of Chukyodai Chukyo, one thing that sucked: I never did find Kanji Kawai, who I had made a photo set for. I really wanted his autograph and to give him the photos from his
debut game
, and to babble at him how I saw him at Koshien last year and so on. Alas. Amusingly, some people who saw my photos asked me if I was a classmate of Kawai-kun's, which is pretty far out there. I'm often asked if I'm an exchange student at Hosei, which makes sense, but 19 years old? WTF?
And then speaking of photo sets...
I spent the last 3 weeks or so making a photo album scrapbook thing for Kagami, because I have been taking photos of him for 3 years or so, and players here like it when fans print out photos for them, apparently. I had photos of him pitching, batting, running, giving hero interviews, etc. Really, I probably have more pictures of him than of any other college player, so between choosing pictures, several trips to the camera store to print them out, and laying them out in a "free" photobook, the kind with the sticky pages, it was quite a bit of a project.
But when Kagami came out, he was immediately swarmed by people wanting his autograph. He's expected to be a pretty high draft pick this year, after all. And being a really nice guy, he was very patient and signed for everyone who asked...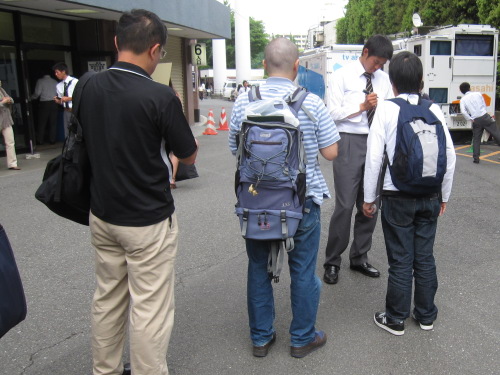 People formed a line to bug him for autographs, so even though I didn't want an autograph this time -- I got him to sign a photo last month -- I got in line anyway.
When I finally got to talk to him, though, my heart started pounding and my brain shut off and I must have sounded like a complete moron, stuttering in Japanese. "I uh... I wanted to give you something... I always take photos of you, and so I made... I made this... uhh... here you are... you pitched really well today as always... ummm..." He thanked me and smiled, especially when he saw that the cover said 「気迫」 on it, since that's kind of a word he always uses in interviews, infact I pretty much learned that word FROM his interviews. It means like... kind of, strength of spirit? Determination? Ambition? I'm not exactly sure, but it fits him well and now whenever I see that word I think of him. So I asked if we could take a picture together and he was like "I should hold this up, huh?" and I smiled.
So here is a photo of
me with my favorite college pitcher
:)
I had put the book in plastic wrap to protect it, so he wasn't able to look at it then -- but he held onto it the whole time he was signing, and a bit later when I went to say hi to my Meiji fan friends, we saw Kagami go by with Yamamoto and another player to go home, and I smiled and waved goodbye to him and said "otsukaresama desu!" and he waved and smiled back -- and he was still holding the photobook. I can only imagine that he got on the subway with the other players and opened it up and looked through it and they were all either like "Holy shit, this is amazing" or "Holy shit, you have a stalker."
I've talked to Kagami a few times before, though, so I know he's at least aware of my existence and that I go to all of his starts if at all possible. I usually get kind of tongue-tied around him, but he's always been very polite and kind to me.
I greeted a few other players on the way out. Taki actually smiled at me when I said hi to him this time (he doesn't seem to smile much), and Kazuki Mishima was signing for a whole bunch of people. We were ragging on him for spending more time practicing his autograph than he does studying or practicing baseball. I told him that he pitched really well, and it was just a shame about the outcome of the game. He said he might get to start the game on Sunday if it didn't rain out, so I told him good luck.
Never did find Imamura to wish him a happy birthday in person.
Anyway...
Sunday rained out and Monday rained out, and so the next Meiji-Hosei game was on Tuesday. I couldn't go to the game, but I followed a cellphone play-by-play thing that updated by inning. Hosei had a BIZARRE starting lineup:
Taki ss
Tatebe rf
Imai cf
Sasaki 1b
Doi c
Imamura lf
Kawai 3b
Mishima p
Nanba 2b
I thought that it was just Kanemitsu-kantoku shaking things up a bit to try something new, but found out later that Ohyagi and Hiromoto were both injured, or at least not in top shape to actually play.
Sasaki had an RBI double in the first inning to put Hosei up 1-0 on Meiji's Yusuke Nomura yet again, but this time the game would remain 1-0 for a very, very long time. Nomura came out after 4 innings again and Nishijima pitched 3 innings. Gota Nanba took over on the mound for Meiji in the 8th and Ryo Imai had a sac fly that put Hosei up 2-0.
But then Kagami took over for Mishima on the mound in the bottom of the 8th, and... and apparently from what I heard, Kagami was just not anywhere near his best -- and not even really good at all -- he walked the first batter he faced, ended up with bases loaded, and a single and a double later, suddenly Meiji was up 4-2, with all 4 runs charged to Kagami. Okada finished out the game for Meiji, pitching a scoreless 9th, and
that's all I have to say about that
. Yet another case of Hosei losing the game in the late innings, as they seem to be making a habit of lately.
Thanks to Sasaki going 2-for-8 on the weekend, he dropped to #4 in the batting average race. And Kagami's ERA ballooned to 2.81. BUT, amusingly: pitching those 7 innings gave Kazuki Mishima 23 innings pitched for the semester, and he only needed 22 to qualify for the ERA title, so with an ERA of 0.39, I think it is pretty safe to say that Mishima WILL win the ERA title for the league this year! If I do the math correctly, there is no way anyone on Waseda or Keio can possibly pitch enough scoreless innings this weekend to beat him out unless like, there are two 15-inning tie games or something.
I don't know if Mishima got to start and go those innings for that reason, or if he started because Kagami wasn't feeling well, or what. It sounds like the idea was that Kagami would start the game if there was a 3rd game, which makes sense.
But yeah, a depressing finish overall. Even more depressing was the Todai-Rikkio game that day -- Todai was actually winning for several stretches of the game, and apparently they even had bases loaded in the 9th, only to leave all runners there and lose the game 8-7. They haven't won a game since 2008. (I was there when they did. It was a momentous occasion.)