So as I
mentioned before
, I spent Saturday the 8th down at Jingu watching college ball. My real purpose in coming was to watch Hosei's starting pitcher Kisho Kagami pitch, even though it was against Tokyo University, which is kind of like having Hosei play against, say, Teikyo HS. (Actually, I wouldn't be surprised if Teikyo could beat Todai, but that's another story.)
After Keio beat Rikkio to start off the day, most of the Keio fans nearby cleared out and so a Hosei alum friend of mine who also keeps a scorecard came down and sat with me in the front row. It wasn't all that crowded, to be honest, probably because nobody really feels like watching games against Todai. The Hosei ouendan even had some kind of deal going where you got double stamps on your attendance point card for going to the Todai games, and would receive a free Hosei folder for going on Sunday. I don't sit in the ouendan seats, though, so I never get any of that. I prefer to sit right up front and
gawk at
admire the baseball players.
Anyway, this post really just an excuse to post the rest of my photos. It is not really about the Hosei-Todai game, because nothing particularly interesting happened during the game itself. Kagami threw a complete game win on 97 pitches. If anything, it was notable because he ONLY struck out 6 and actually ALLOWED 6 hits, which is almost what I would expect him to do against a respectable lineup. He didn't walk anyone, although he knocked over Shota Utsumi with a pitch at one point. (Not intentional. He looked slightly freaked out about it and even allowed a hit to Takashi Kihara right afterwards.)
I've been hearing a lot that the Hosei batters this year haven't been hitting. I mean, as evidence, pitcher Kagami was batting 7th. Of course, this being Todai, the batters finally did manage to knock out some hits, although with 12 hits and 4 walks and a hit batter you'd expect slightly more than 5 runs, huh?
Kagami actually scored the first run of the game, oddly enough; in the bottom of the 2nd he got on base via a walk and advanced on a single by captain Seiya Ohyagi. Shohei Doi singled him in to make it
1-0
, but then Ohyagi got caught stealing third to end the inning.
The second run came in the 3rd inning when the awesome super sophomore Hiroshi Taki doubled to left. Tokyo pitcher Maeda tried to pick Taki off second, but instead threw the ball into CF and so Taki advanced to third, and scored on a single by Kyosuke Narita.
2-0
.
Yoh Sasaki singled and Narita walked to put two runners on base in the 5th, and Tetsuro Matsumoto doubled to center and that drove in two more runs to make it
4-0
.
Kota Imamura singled in the 6th inning, and then stole second base -- and then also made it to third on a passed ball, all during Taki's at-bat, so then Taki singled him in as well, making it
5-0
. Sasaki singled after that too but then Narita grounded out for the third out to end the threat.
Hosei had two more guys on in the 8th but also couldn't drive them home.
Good thing their pitching rocks. They do, as of week 5, have the lowest team ERA in the league at 1.29. Of course, Meiji's team ERA is 1.53 and Waseda's is 1.83, but both of those teams actually have an offense to speak of this year. Hosei has Yoh Sasaki batting a healthy .423/.469/.576 and no other regulars batting over .250.
Anyway, here are some photos, mostly in the order I took them.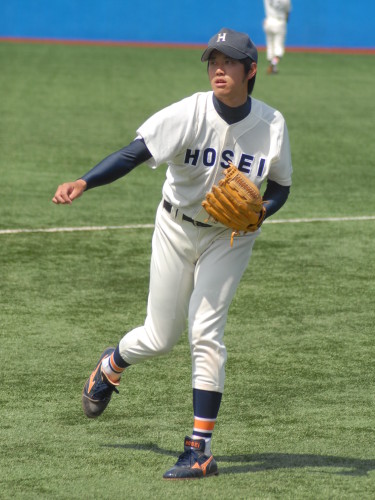 Kisho Kagami warming up before the game.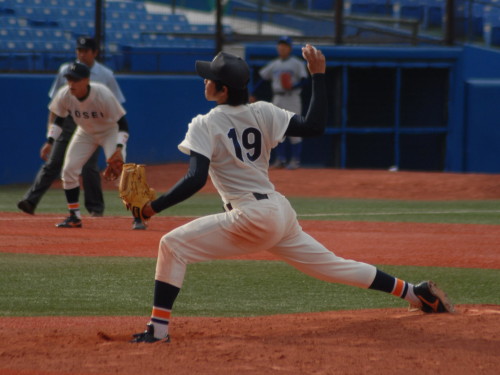 Kagami pitching (but it's always odd from the first base side).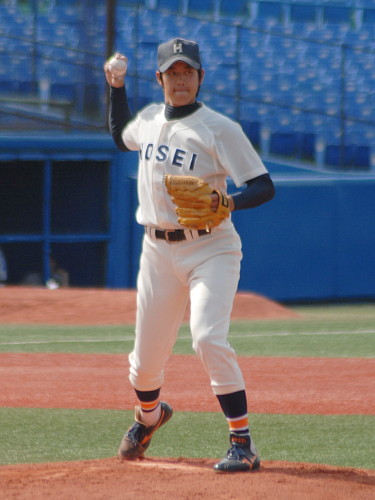 Kagami fakes a throw to first.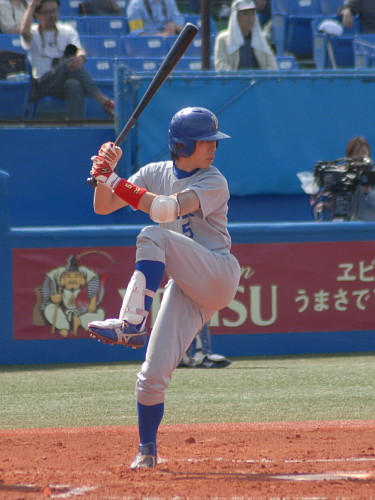 Todai's Shota Utsumi.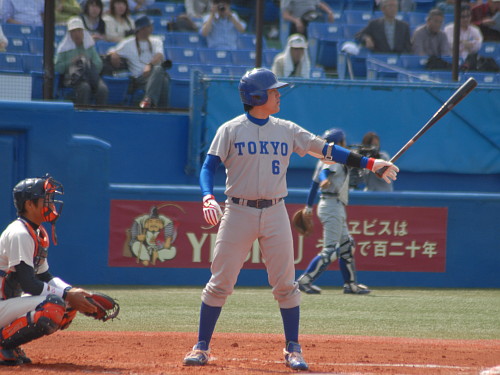 Todai catcher and cleanup batter Atsushi Tanaka, who is really proud of weighing 100 kg.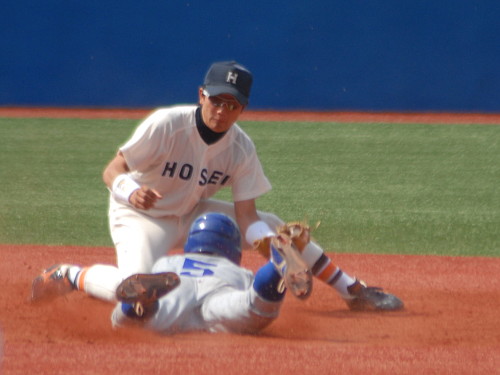 Utsumi completely fails to steal second.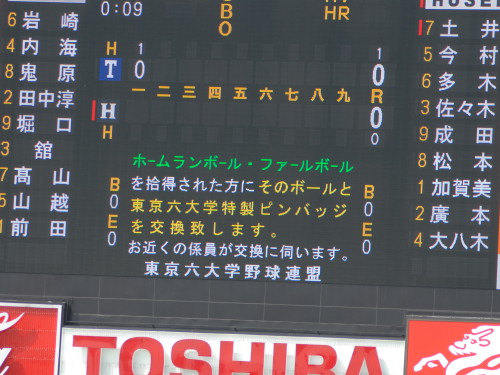 I took this picture mostly because people have asked me before about foul balls at college games. See, if you catch a foul ball an usher will make you exchange it for a pin. (I know, because it's happened to me.) If you catch a rare home run, apparently the same thing happens...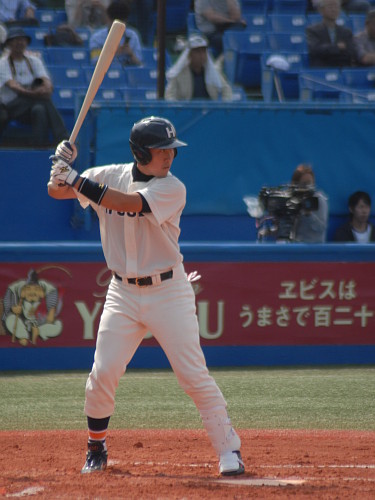 Shohei Doi.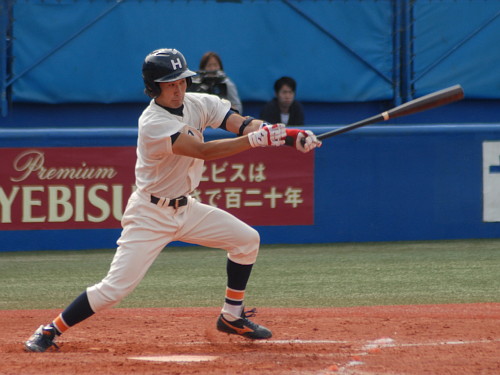 Yoh Sasaki at bat.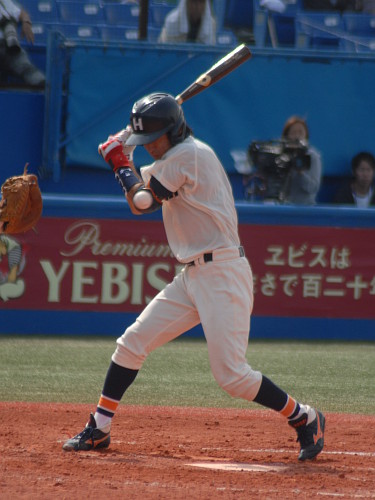 Sasaki getting hit by a pitch.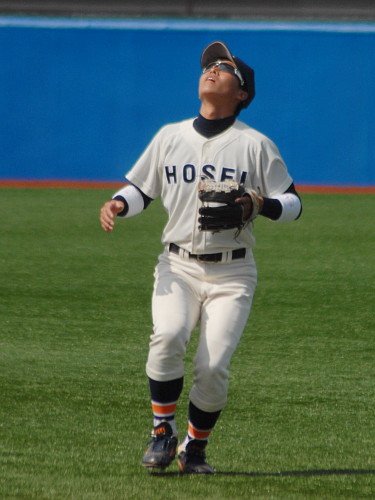 Captain Seiya Ohyagi catching a fly ball.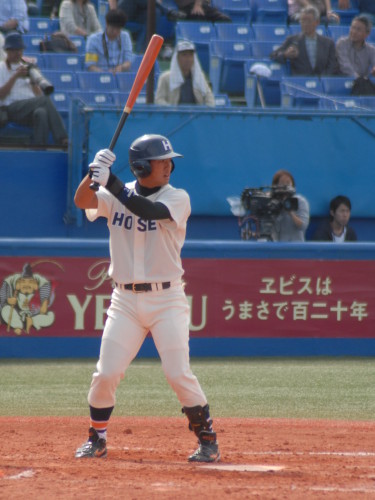 Tetsuro Matsumoto.
(Avalanche of Kagami-the-batter photos:)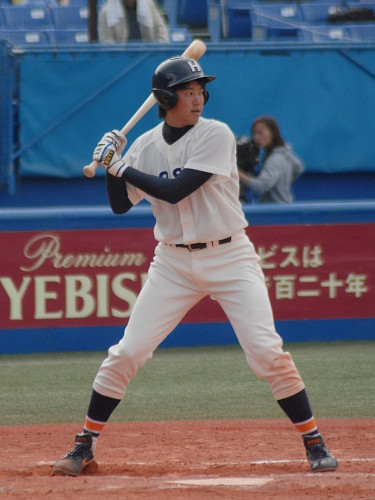 At bat.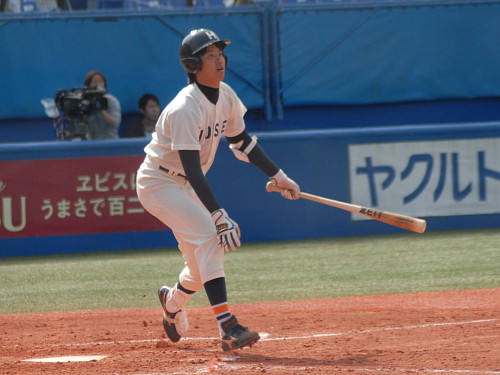 After a swing.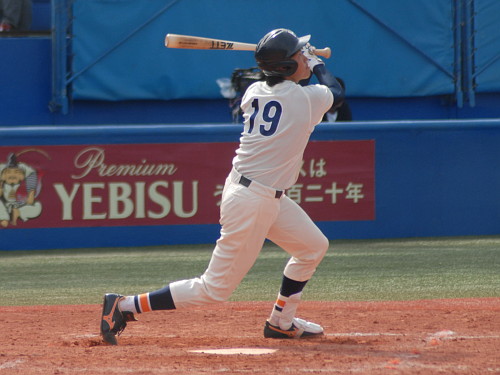 Another swing!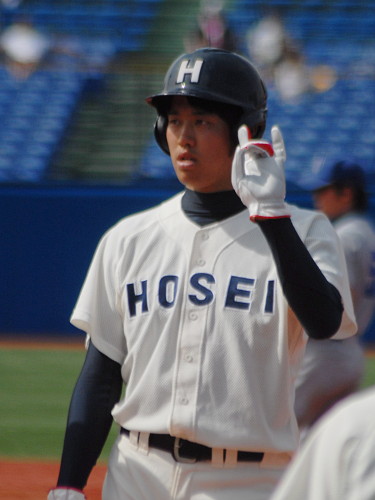 At first base after walking, signalling.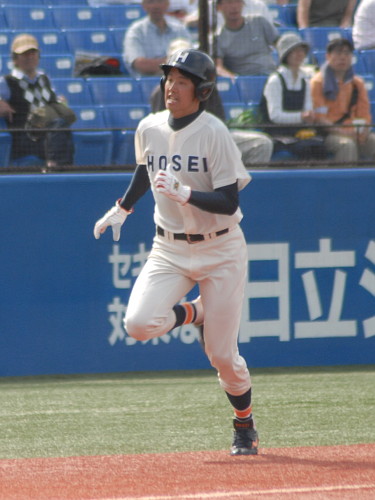 Running home!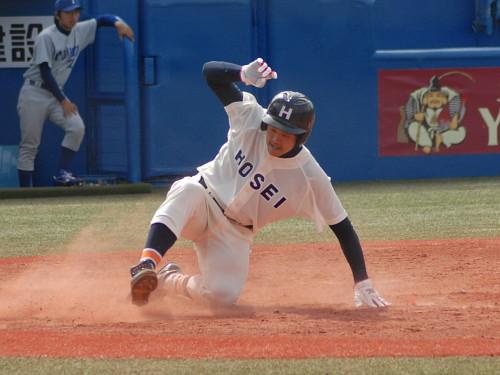 He slides in safely!! Hosei gets ahead 1-0!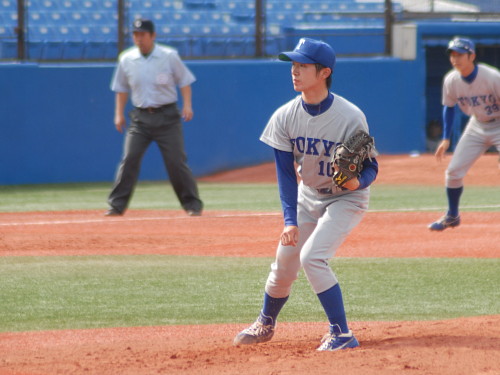 Todai captain and ace pitcher, Yoshihiro Maeda.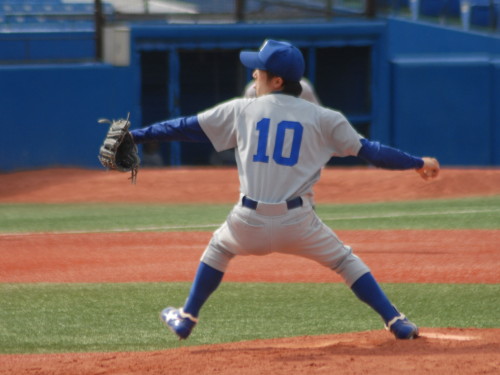 Maeda again.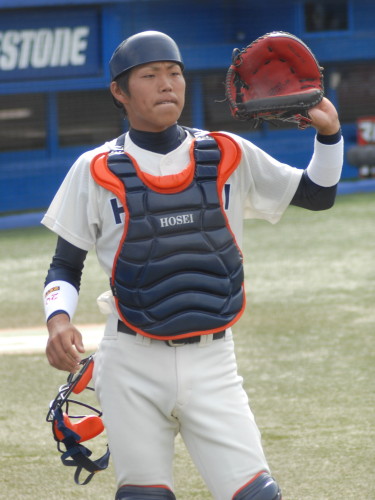 Catcher Takuya Hiromoto, warming up on the sidelines towards the end of an inning.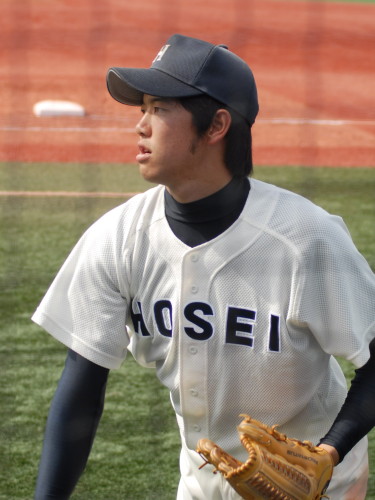 Kagami warming up on the sidelines toward the end of the inning too.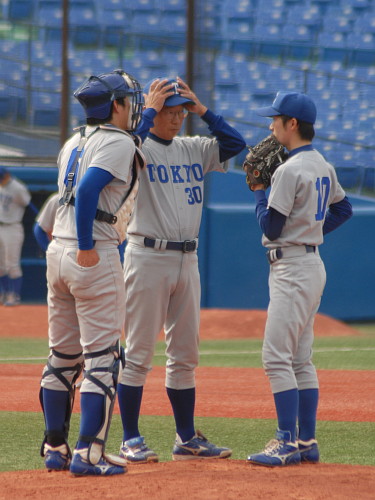 Todai mound conference. Mitarai-kantoku pretty much looks just like the old kantoku, but perhaps a little bit taller.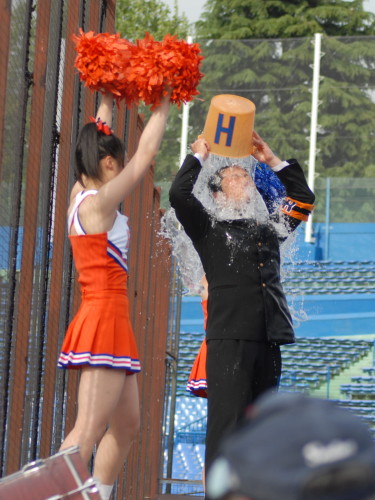 Ages-old ritual of the ouendan dumping buckets of water on themselves -- this makes sense in the summer when it is warm, but they also do it in the winter when it is cold. I've heard it is to inspire them to "fire it up", but...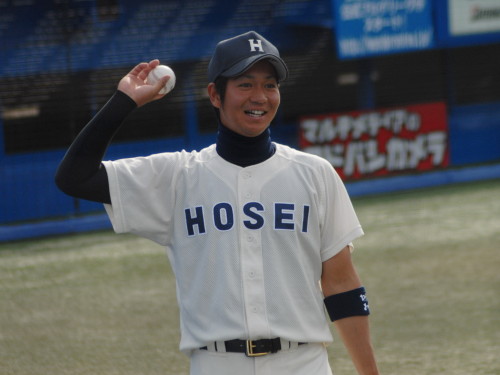 Ryo Imai warming up on the sidelines.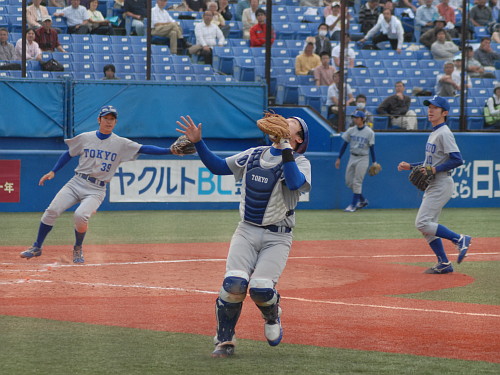 Answer to the riddle of "How many Todai players does it take to catch a foul fly?"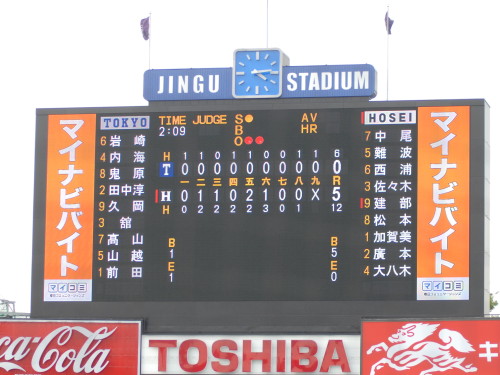 Final score of the game.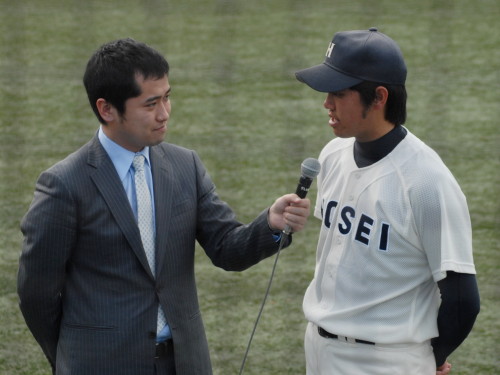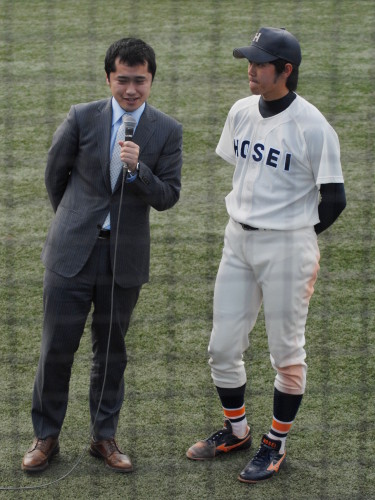 Oh, my hero...
After the game I wanted to wait for the Hosei players to come out, so I stood outside Jingu with some friends, waiting. I saw a bunch of kids standing around who looked just like any other group of Japanese college students, except I realized one of the guys was really familiar, and I'm like "That tall kid -- why does he look so familiar?" and another friend told me, "Oh, that's Yuichi Suzuki."
Holy crap! I used to totally be in love with Suzuki-kun like 2 years ago -- he was this tall lefty pitcher who actually won a bunch of games for Todai, which is unheard of. Then he blew his arm out and dropped out of the baseball club. So my friend said "OMG you should get your photo with him!" but I was like "...he doesn't even remotely look like a baseball player right now, he looks like just some random dude". I mean, seriously, if you weren't a Big Six bleacher bum like the rest of us you would totally have no clue that the group of normal college-age-looking kids standing there were all former Todai players and cheer/ouendan people. So, I missed my chance to go up and say anything to him -- but really, what the hell would I say anyway? "Excuse me, are you Yuichi Suzuki? The former lefty pitcher? I was a big fan of yours two years ago. Um."
(Ironically, one of the first Hosei games I ever went to, because of Suzuki-kun, I had actually gone with the intention of
cheering for Todai!
)
Anyway, one of our other friends (who we've nicknamed Drunk Tanaka) had gone and gotten himself involved in a conversation with a Hosei baseball club member who was actually outside, so we went over to fetch our friend and instead I ended up chatting with the Hosei kid for a while. His name's Ryosuke Maeda (
this guy
, it seems) and he was really nice and told us that the Hosei players were having a post-game meeting and wouldn't be coming out for a while. He told me, "Please remember my name and face and cheer for me if you see me in a game, okay?" So after chatting a bit, and then everyone was dragging me off to get coffee, I said "I have the same birthday as Mishima, which was yesterday... could you please tell him happy birthday from his weirdo gaijin fan?" He laughed and said he'd try to.
And then I went and got coffee and cake and chatted baseball for an hour with people. But I missed getting to see the Hosei players leave. Not sure I will get another chance this year to talk to Kagami. Argh.
Actually, if you want to see something even cuter than Kagami, you can go to the Meiji blog on the
Big 6 League 2010 Blog
site, which is worth reading just for the heck of it from time to time anyway, and learn about a 3rd-year member of the team that I'm pretty sure I've never seen at Jingu before named
Tama
...
And on that note, it's already time for me to start packing to head to Jingu for this week's games! Today should be awesome -- Daisuke Takeuchi vs. Yusuke Nomura, and Yuki Saitoh vs. Kisho Kagami. Whee!