So, you'd think that a sane person would spend the day before they go on a trip halfway across the country doing useful things like packing, buying last-minute trip things, straightening up their house, etc, right?
Good thing I'm not a sane person. At 1pm on Wednesday the 29th, the day before I was heading to Sapporo, I was on a train going towards Chiba Marine Stadium.
Bobby
announced
on Monday that he's essentially throwing in the towel and will not try to continue his term as Chiba manager next year. This obviously saddens me for many reasons, mostly because Bobby has been really nice to me last year and this year, and I have learned a lot from him and really enjoyed every minute I've spent talking to him. For those who have met me, you know that I get really excited and hyper about baseball, right? I often wonder how long someone can actually sustain such a passion for the sport without getting burned out, though, and the best thing about Bobby is that he's STILL just as excited and hyper as I am about baseball. He truly just loves it, and that enthusiasm is really contagious.
I wanted to chat with some players about how the entire ordeal has been affecting them, so I showed up fairly early and went to batting practice. As it turns out, I was perhaps a little too early to actually talk to any of the Marines players since they were busy working out, but on the other hand I got to chat with Chase Lambin's mom for a while, and hear about her adventures following Chase's baseball career literally all around the world now.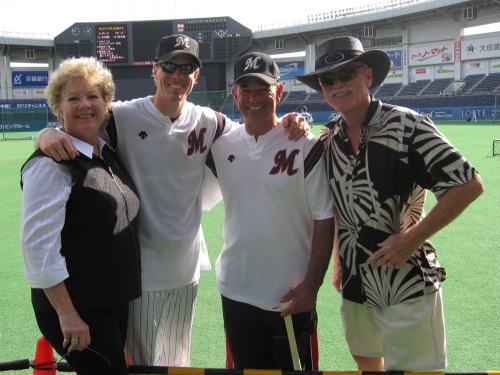 The Lambins with Bobby
After BP I managed to do short interviews with Chase Lambin and with Brian Sikorski, but what they told me was that for the most part, Bobby has protected them from all the front office crap, so it doesn't really change THAT much for them, though they both said that playing for Bobby is pretty awesome and he's done a lot for Chiba and the fans. Brian, who played for Lotte back in 2001-2003, said that Bobby's really changed both the stadium itself AND the atmosphere at the stadium. And when I finally sat down to chat with Bobby, what he had to say essentially came down to "Don't ask me what I'm doing next year. I'm still not thinking any further ahead than tonight, we have Shimizu starting. Sorry it's not your boyfriend Shunsuke!"
However, as usual, random chaos follows me wherever I go, and it just so happened that this particular week, Andrew Muscato and Jonah Pettigrew were on vacation hanging out in Japan. If those names sound vaguely familiar to you, it's because they're two of the three guys who filmed
The Zen of Bobby V
documentary movie for ESPN two years ago. I found myself sitting in Bobby's office talking to those guys about their adventures making the film and in hanging out in Japan. It sounds like they're working on some more projects now, though nothing Japan-related or baseball-related at the moment.
And even better -- I got a copy of the DVD of the movie from them. I haven't had a chance to watch it yet, but I'm really looking forward to it. It was never actually released or shown here in Japan at all, which is pretty silly, really.

Moose, Bobby, me, and Jonah
After all of that excitement, I got a Bobby Burger from the stadium Lotteria, and snuck out to the left-field bleachers where my friends in the Fighters section were waiting for me, and I... put on my Fighters jersey and started cheering with my usual buddies. Yeah, it's a little weird that I go from chatting with Bobby to cheering for the Fighters, but I had to go find and talk to a few people about my plans for Sapporo, essentially, so I could get information for meeting up with some of the Hokkaido crew. See, at least ONE good thing about Bobby not being the Marines manager next year is that I can stop feeling so guilty about sitting in the left-field stands during Fighters games in Chiba...
Of course, since 360 Beer Stadium had been on Tuesday, a whole bunch of people I needed to find didn't bother coming down to Chiba again on Wednesday, and the stands felt a little emptier than usual. Oops.
The Fighters started off the game with four straight doubles off Marines starter Naoyuki Shimizu, which put three runs on the board immediately,
3-0
. The Marines took one run back in their half of the first when Nishioka walked, moved up on a Takehara single, and scored on a Saburo single (
3-1
), but Fighters starter Kazuhito Tadano buckled down after that for the next few innings, allowing another run in the 3rd when Ohmatsu duobled to the centerfield wall and drove in Takehara.
3-2
.
Tadano wouldn't last through 5 innings, though, as he ran into a wall in the bottom of the 5th. Chase Lambin led off with a single, Tsuyoshi Nishioka followed it with a double to move Lambin to third, and Naotaka Takehara hit a pop fly to shallow right which Kensuke Tanaka couldn't get far back enough in time to catch, so that scored Lambin to tie the game at
3-3
. Saburo followed it up with a solid single to left to score Nishioka, making it
4-3
, and that's when Tadano came out of the game.
Masanori Hayashi came in and promptly hit Ohmatsu with a pitch, loading the bases, and walked Tadahito Iguchi after that for an
oshidashi
run.
5-3
. Hashimoto grounded into a 3-2-3 double play after that.
And after THAT, there were REAL fireworks...

(Fireworks over the outfield wall are a little hard to see.)
The Fighters had kind of squandered or screwed up a few early times where they might have scored, and then their bats were largely silent for the last few innings of the game, until Brian Sikorski took the mound in the 9th. He got two quick outs, and I started packing up all my stuff to go home, figuring that basically, hey, it was okay for the Fighters to lose to the Marines sometimes. And Brian was such a nice guy to talk to that I couldn't REALLY cheer against him, right? Except that then Inaba singled. And Shinji singled. And Sledge walked on a full count. And suddenly the bases were loaded for Eiichi Koyano, and the Marines were only up by 2 runs, and then BAM, Koyano hit a triple into the gap in right-center. Everyone scored, making it
6-5
. Holy crap!
Here I was thinking I could escape early and go home and pack for my trip, and instead I found myself watching Hisashi Takeda come in to close out the bottom of the 9th.
Hisashi ran into a little trouble, but when the dust settled, he got three outs with Hayasaka still stranded standing there on third base, and the Fighters won the game.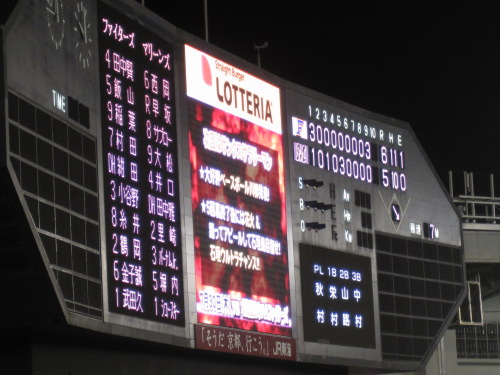 I stayed for about half of the post-game singing, until I noticed that it was well past 10pm and my flight was going to be at 9:45am the next day, and I live around 2 hours from Chiba Marine Stadium. So I left. I'm still not sure whether I would have stayed had the game gone into extra innings, to be honest.
Go figure, I ended up sitting on the train ride home with Daigo and MAB-san from the Lotte ouendan (which totally freaked out a bunch of my Fighters friends, but alas). Daigo's awesome because he's fluent in English, so I could finally actually ask some of the questions I had that I didn't know how to translate into Japanese. The upshot there is that unless the front office seriously stops screwing around ("It's not even about Bobby anymore, it's about how they treat EVERYONE"), there's a good chance a lot of the diehard fans will actually stop cheering for Lotte next year; that is, they might still watch the team, but they won't be out there in the outfield singing and supporting them the same way, and several of the ouendan leaders might possibly just outright quit. I find that really hard to believe, but I've also said many times that Lotte fans are crazy and really dedicated and a little bit scary, and you should never put anything past them.
I had plenty of things to think about as I started my pilgrimage to Sapporo, that's for sure.