Sorry, this is going to be a somewhat incoherent and rather me-centric entry, but I've already fallen behind on my Sapporo entries (almost through Friday's, which may get backdated based on when I started it) and don't want to skip this one.
Today, August 11th, was International Day at the Tokyo Dome. I'm sorry I didn't post about it before. There was information in Japanese on
the Fighters site
, but I somehow missed it. Basically, the deal was that if you showed a passport or foreigner registration ID card, you could get a half-price ticket... anywhere except the outfield. So for me, it was cheaper to just use my fan club discount and get an outfield ticket. It was also OB Day, but that just meant that they had a bunch of old Fighters players around and Futoshi Nakanishi (!!) threw out the ceremonial first pitch.
(For the record: Wednesday is Ladies' Day, so if any women see this and want to come to the Tokyo Dome on Wednesday night, you can get a half price ticket... again, anywhere except the outfield. And Thursday is Fan Club Day.)
I ran in with my friends and reserved our typical row and a half in the front, and then went to do pinbadges with Hiromi, Waka-chan, and Mariko. On the way there I ran into my friend Shohei who works for the Fighters, and he said, in English, "Come do YMCA with International Day! I don't know if we're going to get enough people!" I was really worried that my friends would be angry that I could go on the field and dance YMCA just for being a gaijin and they couldn't, but when Shohei explained to them what was going on, they were all like "OMG! YOU *HAVE* TO GO DO THAT! JUST THINK, YOU CAN RUN PAST THE DUGOUT AND SEE ALL THE PLAYERS AND BE ON THE FIELD! GANBATTE!" And here I am muttering in Japanese about how "I'm too shy! Everyone can see me out there! It's scary! I don't even know how to DO YMCA!" But I took a badge for it anyway, figuring that I could decide a bit later.
I haven't mentioned it here yet, but I made out like a bandit for pinbadges in Sapporo. I'm still missing a ton, but when I hit the trading floor on that Saturday I seriously turned 12 badges into 20, and then received 3 more from a friend later that day. Anyway, today I got Kikuchi as my FC badge, which was new, and my 5 others were Murata, Imanari, Nakata, Kanamori, and Tateyama. I have most of those, but I traded Kanamori to Hiromi for a Toyoshima, so it helped a lot. I think we might do a bigger trade on Thursday when it makes more sense.
While standing in line for the gachapon machine, Mariko suddenly turns to a guy walking into the stadium -- a young, very good-looking guy -- and says "Uchi! Long time no see! How are you these days?" Well, "Uchi" turns out to be Yusuke Uchiyama, who was a minor-league pitcher for the Fighters in 2007-2008. He was released last year and decided to retire. After we did pinbadges, we snuck into the infield seats and found Uchiyama again. He was there with Kazunori Yamamoto's younger brother, who is a senior at Keio University and also a pitcher. Kazunori went to Waseda, so it's kind of funny to have an in-family Waseda-Keio rivalry. But, Mariko is a huge Yamamoto fan, so she got her photo taken with the younger brother, and then she and Waka-chan sat there chatting with Uchiyama for around 10 minutes, including calling one of their friends who was a huge fan of his and handing over the phone so she could talk to him. I was mostly just sitting and listening and thinking about how surreal the situation was. I mean, would that EVER happen in the US?
After that we went back to our seats in the outfield. I said hello to various people, gave out Sapporo omiyage to my friends, and basically just waited for the game to start.
Tomoya Yagi started for the Fighters, and Mamoru Kishida started for the Buffaloes. The game went quickly for the first few innings and was still tied 0-0 when we got into the 4th inning, and that's when I was supposed to go down to Aisle 25 for International Day YMCA. My friends pushed me to go, so, I went. I said I'd only do it if it turned out there were a lot of people, but... amazingly... there were! I think the group ended up being something like 40 or 50 people in total.
Here we are in the concourse, confirming that everyone DOES infact know how to do the YMCA dance.
Bizarrely enough, while standing there, I saw two very familiar-looking little girls, and I realized they were Brian Sweeney's daughters, so I said hello, and asked the adults standing next to them if they were here with Brian, and one guy replied, "Why yes, we are!" I ended up talking (or probably more like babbling) with them for a while as we made our way through the labyrinth that is the bowels of the Tokyo Dome.
While waiting in the hallway getting ready to go onto the field, who should come out of a side passage but Brian Sweeney himself! So he chatted with a bunch of us while we were waiting. I took a few photos down there...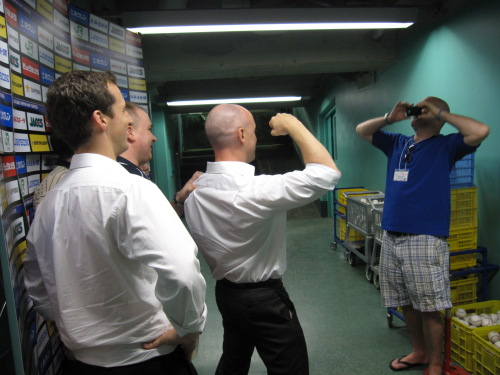 A group of guys who all work together take a photo in front of the Game Hero interview board.
Sweeney and his friends from NY, and his daughters. I feel kind of bad for how this turned out since Ava's not actually looking at the camera, whoops.
Me with one of the Fighters Girl dancers!
Believe it or not, this is the first time I ever got a photo with Brian. Usually I'm just yelling down at him from atop an outfield wall, see.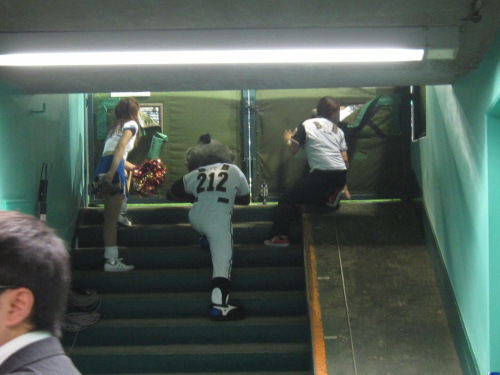 BB and the Fighters Girls wait for the inning to end so we can go out and do YMCA.
The inning ended, and suddenly we were told to run out onto the field! We lined up all along the infield line, and... danced YMCA. I had no clue what I was supposed to do outside of the chorus, but I ended up just imitating some of the people around me. I was dancing next to Brian's friends and daughters, and his daughters actually knew what to do, so I mostly imitated them, and then we got to the chorus and all of the YMCA calls and I knew how to do those, and then, of course, that insane
groundskeeper went crazy again
and distracted everyone from the huge line of gaijin flailing around.
Fortunately, it never actually sank in that I was
standing behind second base on the Tokyo Dome field
and dancing YMCA in front of 20,000 people or so... until the song ended and I looked out at the stands and saw a whole bunch of my friends laughing and waving at me. So I waved back and ran off the field with everyone else. I should have probably taken a photo while on the field, but I didn't want to look like an even bigger dork than I already did. I did look into the dugout as I ran by, and I waved and yelled "GANBARE!!!" at the players.
The sad part is, I don't have any actual pictures of me on the field yet. Ojisan definitely took a few, and Yoshizawa took that video of the crazy groundskeeper, but that's all I've seen so far. Still a WHOLLY SURREAL EXPERIENCE in many, many ways. I was scared to do it beforehand, but I think now I'm glad I went ahead and did it.
I was a pretty sweaty mess by that point and went to wash off my face (I should have probably done something about that BEFORE running onto a field in front of 20000 people) and then ran into Connie Sweeney out on the concourse and chatted with her for a bit. She was surprised to see me dancing next to her daughters, but apparently took video of it all, so I suppose we might see a Sweeney posting embarrassing footage of me to Youtube instead of vice versa!
When I did finally get back to the outfield stands, I was greeted by a few different groups of people who said they saw me dancing YMCA. It was really weird. The Fighters had scored a run in the 5th while we were waiting to go onto the field, apparently on a squeeze bunt by Tsuruoka, and I got back just in time to see Shinji Takahashi drive in Kensuke Tanaka to make it
2-0
. He got picked off in a rundown shortly thereafter.
Yagi made it through 7 innings and then gave up a home run to Ikki Shimamura to lead off the 8th, and Naoki Miyanishi finished out that inning. Hisashi Takeda came in to close out the game in the top of the 9th, except instead of closing out the game, he gave up a single to a pinch-hitting high-socks-wearing Hiroyuki Oze, and then a 2-run home run to Tuffy Rhodes. Oops.
3-2
. Hisashi went bye-bye and was replaced by Kazumasa Kikuchi, who got out of the jam.
Unfortunately, suddenly the Fighters found themselves losing in the bottom of the 9th instead. But for whatever reason, Mamoru Kishida was STILL pitching, and with two outs, the guy who's been hitting game-tying or go-ahead hits at almost every game I watch, Eiichi Koyano, SLAMMED a home run into the left-field bleachers, tying the game!
3-3
.
Extra innings started. The Fighters almost won it in their part of the 10th, with runners at the corners and 2 out, and then Daisuke Katoh intentionally walked Atsunori Inaba, loading the bases, to get to Tomohiro Nioka, who... struck out. In the top of the 11th, the Buffaloes had runners at first and second with two outs, and then Shiozaki hit a scorching liner up the left side... which was CAUGHT on a dive by Nioka, thus making up for his strikeout, somewhat. In the top of the 12th, catcher Fumihiro Suzuki managed to get all the way to third base with one out, but then Masanori Hayashi struck out both Abe and Oze to keep him from scoring.
So, the Fighters couldn't lose, at least. But could they win?
Naoto Inada pinch-hit and grounded out, amidst us doing a trumpet-and-drum-less cheer for him, as it was past 10pm. But then Yoshihiro Satoh pinch-hit for Iiyama, and hit a ball up the right side which was ruled an error as Alex Cabrera couldn't pick it up. Satoh got all the way to second base, and then Kensuke Tanaka got a pitch he liked from Masanobu Ohkubo, and hit it to right field, and the ball landed for a single, and Satoh scored, and THE FIGHTERS WIN IT 4-3!
Kensuke Tanaka was, of course, the game hero.
We did a decent amount of post-game cheering, but there's only so much you can do when you're not allowed trumpets and drums, and they're slowly turning out all the stadium lights around you and the security guards are starting to look antsy, so aside from a Jason Botts diversion (don't ask), it was fairly standard singing, and then we all went home happy, if tired.
I walked out of the stadium with one of my friends. Oddly, the first time I met him, last year, was also at a game on August 11th, which happens to be his birthday. Only difference is, last year it was at Seibu and the Fighters lost. This year was much, much better.
Have I mentioned recently how much FUN it is to be a Fighters fan? If I haven't, it could stand to be mentioned again. I love this team, and I love these fans, and I'm already looking forward to spending Wednesday and Thursday with everyone in the outfield.