I went to the Fighters-Buffaloes game at the Tokyo Dome tonight. Let me sum up the game itself for you: Hideki Sunaga started for the Fighters and gave up 7 runs in the 4th inning, including a 2-run homer to Alex Cabrera and another 2-run homer to Jose Fernandez, both of them following a walk. The Fernandez home run was followed immediately by a solo home run by Osamu Hamanaaaaaka, and the Buffaloes added two more runs on some singles and a bunt and whatnot, and the only saving grace was that the inning eventually ended on a double play. Tuffy Rhodes followed it with another home run in the 5th inning, to get the 8th run for their side. As for the Fighters, they had put up a run in the first inning against Buffaloes starter Kazuki Kondoh, but aside from that and a solo homer by Terrmel Sledge in the 6th, they could never get anything going in particular. Alas.
The only note I even have on my scorecard, actually, is "Why aren't we singing Happy Birthday to Toshimasa Konta?" Today was Konta's 29th birthday and he got the start in right field, but we didn't sing to him, which was odd. The other odd thing about the lineup was Nioka getting a start at SHORTSTOP and Naoto Inada getting a start at first base, instead of Kaneko and Shinji, respectively.
Here's the final score, and that's all I'm going to say about the game itself.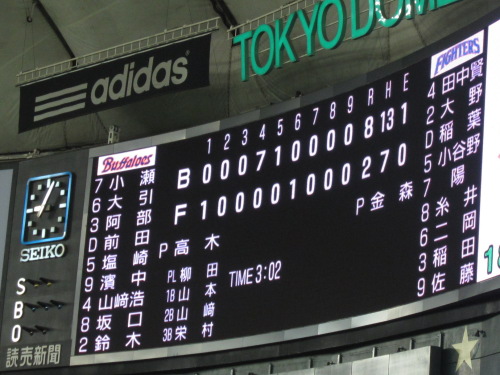 The best part of the day for me was before the game, showing up early to the park and meeting up with friends and wandering around the stadium in our little posse. We did our usual pinbadge thing, and while waiting in line, suddenly we realized: hey, wasn't Hayami Kentaro supposed to be having a signing session somewhere in the stadium? Sure enough, we wandered down to the concourse behind home plate, and there was a huge crowd around a table, and in the middle of the crowd, there he was!
Hayami Kentaro
is this J-Pop/enka/whatever singer guy who is probably most famous for "Dango San Kyodai" about ten years ago, but in the last few years he's done a whole bunch of songs for the Nippon Ham Fighters, including what is pretty much one of my favorite baseball songs ever, "Fighters Tamashii (Spirits)". They usually play that one at Kamagaya, and Hayami even comes to Kamagaya every now and then to sing it, usually for holidays. (You can see/hear one from
last summer
on Youtube)
The new CD is called "Fighters Kamagaya Songs" and has seven tracks. The first four are songs:
1. Cubby Taiso - Hokey Pokey
2. KAMAGAYA Tokimeki Fighters (Kamagaya Supporter Version)
3. Fighters Tamashii (Spirits)
4. Fighters Sanka (Kamakuma Version)
and the last three are karaoke versions of tracks 2-4.
One of my friends was going to buy the CD and get it signed, and so they convinced me to buy it too. It was only 1000 yen, which isn't so bad. I've got most of the other recent Fighters CDs, so I figured, why not? Plus, I got my copy signed by Hayami Kentaro himself, and got to say hello to him and shake hands! That was pretty cool (and very Japanese).
The sign-kai table with Hayami Kentaro and Kamagaya mascot Cubby.
Hayami signs a CD for a person a few places ahead of me in line.
I don't have a scanner, so I took a photo of the CD instead. Here's the paper with the diagram of exactly how to do "Cubby Taiso", and my autographed insert, and the CD and all...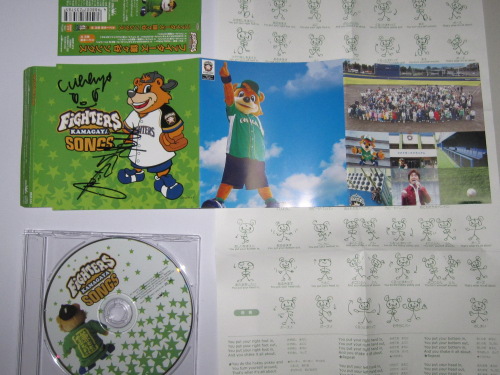 The Fighters Kamagaya Songs CD.
And as if that wasn't enough excitement, once we got back to our seats it turned out he was doing a mini-concert on the field at 5:15pm! He sang Fighters Spirits, and then the Kamagaya Tokimeki Fighters song, and after that he yelled "okay, everyone in right field sing along with me for the Fighters sanka!" So everyone stood up and clapped hands and sang along. It was pretty cool.
Hayami Kentaro singing on the field.
I kind of wonder how many other teams have mini-concerts with the artists who sing their theme songs. It seems like yet another one of those cool random things about the Fighters, but at the same time I feel like it can't possibly be THAT unique, unless the guy who wrote "We love love love love Marines" is too embarrassed to ever show his face in public ever again.
In the stands after the concert, though, we were all saying how nobody really particularly likes the Miho Fukuhara "La la la Fighters" song that they're using as the official song this year, except maybe Kensuke Tanaka. We're all sort of hoping they either go back to "Go Go Fighters" or get something else that doesn't suck. Seriously. I just don't think we can really identify with a song that doesn't involve yelling "F-I-G-H-T-E-R-S" somewhere in it.
Tomorrow will be the last Tokyo Dome game for the Fighters this year, until, of course, they return triumphantly to beat the socks off of Gomiuri in the Japan Series.
And on Friday, I take off on a trip around the western parts of Japan, using a Seishun 18 Ticket to go to Kansai, and Kyushu, and then Kochi. I'm planning to be at the Koshien tournament from the 15th to the 17th. So, for the record, I have a request to the entire Kansai region:
DEAR KANSAI WEATHER GODS:
PLEASE DO NOT RAIN FOR THE NEXT FEW DAYS. IF YOU DON'T RAIN, I WILL GET TO SEE HANAMAKI HIGASHI PLAY AGAINST YOKOHAMA HAYATO AS THE FINAL GAME ON MONDAY AT KOSHIEN. IF YOU RAIN, AND IT GETS POSTPONED, I WILL CRY. PLEASE DON'T RUIN MY SUMMER VACATION.
THANKS IN ADVANCE.
LOVE, DEANNA
XOXOXOXOXOXO
P.S. YOU'RE ALLOWED TO RAIN IN THE EVENING. JUST NOT BETWEEN THE HOURS OF 8AM AND 6PM.
P.P.S. PLEASE TO HAVE NO MORE EARTHQUAKES EITHER, OKAY?