Saturday was Day 6 of the Koshien Tournament. You don't REALLY need me to tell you what happened in all of the games -- for that, just go check out
Gen's blog
or
Edwin's blog
.
I left Nagoya at 9:30am and got to Koshien around 1pm, so I have a weird view of the games anyway. I watched a little of the PL Gakuen vs. Seiko Gakuin game on my cellphone, so I saw when it was tied, then saw later that it wasn't. I'm a little sad as I thought Seiko's pitcher Yokoyama seemed like the type I'd cheer for, had they advanced instead of PL. After that I saw bits and pieces of the second game, Meioh vs. JAA Ishikawa; the part that intrigued me was JAA's pitcher #18, Hamada. He's a sidearmer and I thought he was a lot of fun to watch. When I last was able to look at the game it was tied and going into extra innings; as I arrived at Koshien, I learned that JAA had just won the game on a few errors by Meioh in the 12th. Whoops. Funny, last year the Ishikawa prefecture team also had a submariner.
(If you're wondering why I started in Nagoya, I'm travelling around the country for the next week or so on a Seishun 18 Ticket, which means taking unlimited local trains everywhere. As a result, I spent 7 hours getting to Nagoya on Friday, hung out with a friend, then continued the rest of the way to Osaka.)
Unfortunately, the problem with having PL as the first game, and them being a powerhouse and an Osaka school, meant that getting into Koshien that day was a bit of a challenge.
See, the way tickets work at Koshien is, as far as I can tell: before the tournament, they sell ticket books for the entire tournament, but those only go until a week beforehand. After that, the only way you can get tickets is at the stadium on the day of the game. They sell tickets for behind-the-plate for 1600 yen each, the 1st and 3rd infield wings for 1200 yen each, the "Alps" for 500 yen each, and the outfield is free. A ticket is good for 4 games on a given game day, BUT you cannot leave and re-enter the stadium.
Once they sell out of a particular section, they simply stop selling tickets to that area, and people end up waiting in line without the line moving much if at all. When the stadium clears out a bit between games, then they somehow count how many people leave a section, and sell that many tickets to the people waiting for them.
Thus, when I arrived at Umeda station to go out to Koshien, they were announcing on the speakers that the entire stadium was full, and when I got there I saw huge lines of people waiting to buy infield tickets. I figured it was a lost cause to actually see a game that day, but on a whim went to the outfield to see what the line was like there to get in.
As it turned out, there WAS no line. I just walked right in to the left field bleachers, climbed about halfway up the stands, found an empty seat, and sat down, a minute or two before the third game of the day was about to start, Niigata's Nihon Bunri vs. Kagawa's Senkawa.
I will say something: sitting in the outfield by yourself for a Koshien game (at least for non-big-name schools) is not really all that exciting. The cheering sections are in the "Alps" seating areas, so the outfield has a kind of strange subdued atmosphere. You get the same people who are in the outfield in order to watch cheap baseball, but they're not also there to yell and sing and really cheer on their team per se, it seemed. At this game, I think certainly some people were cheering for the Kagawa team, since we were on the 3rd base side, but most people didn't seem to care that much about a particular team and just wanted to watch some high school baseball. There seemed to be an inordinately high number of men with ridiculous tank top tan lines, but other than that I couldn't find a pattern to the outfield crowd.
For me, however, it was hard to follow the action from that far out. And to make matters worse, it started raining in the 5th inning.
I suppose that part of it was that the game itself wasn't particularly exciting. The Kagawa team was winning for most of the time, having put a run on the board in the 3rd inning, while the Niigata nine didn't score a run until the 6th. The difference is, Bunri kept adding runs after that, with a kid named Takahashi hitting a homer un the 7th, even. Both teams had two players named Takahashi in the game, actually, so it was kind of confusing keeping track of them. The OTHER Takahashi actually scored the go-ahead run for Bunri on an RBI single by Takeishi, and Bunri's starting pitcher Itoh struck out the entire side to finish the game in the 9th and win it 4-3. Itoh had a total of 10 strikeouts for the game.
If nothing else, Bunri had a much better ouendan than Sankawa. Sadly, I wasn't sitting on the right side to see them that well. I did take one short video of the Sankawa band playing "Makenaide", by Zard, though the quality isn't so great:
After the game ended, I went and wandered around the outfield concourse a bit to see how much it's changed since I was there last September, and the answer is, WOW, it's changed a lot. The bathrooms are very nice now and the food stands are really new and nice-looking, with a wider variety of less-scary-looking food choices.
I also went around outside to see what there was, and that was a lot of fun. Going to Koshien is almost like going to a big baseball convention of sorts, since people come from all over the country to see it.
Photos from my little camera: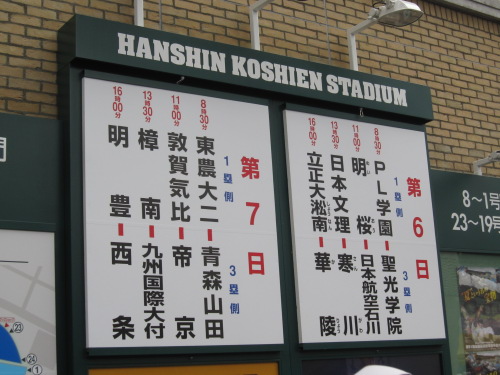 Arriving at Koshien, you can find out which teams are on which side of the field on a given day (and the next day's lineup as well).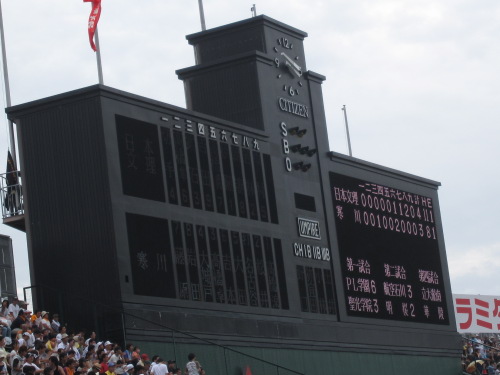 Final score of the Sankawa-Bunri game.
I saw a bunch of the Bunri players walk by so I took a photo... this one kid noticed and posed. How cute. No, I have no idea who he is.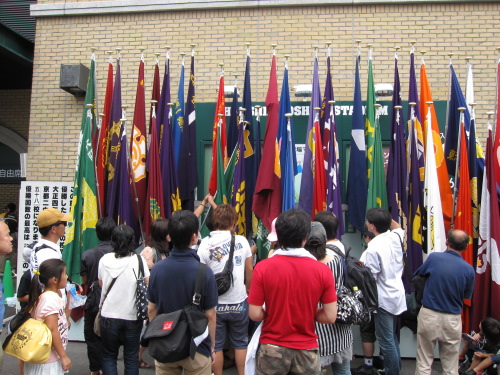 They have all of the flags from the schools who have ever won summer Koshien, organized by year, so Saga Kita is in the upper left (Osaka Toin's is elsewhere). People were taking photos with the various flags.
I went into the Koshien Goods store to see what stuff they had.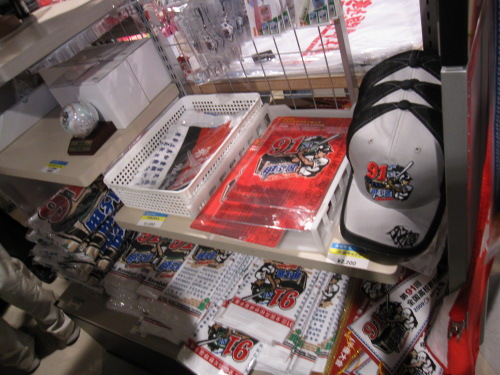 The answer? Everything. Towels, folders, caps, pens, keychains, noisemakers, hats, shirts, you name it. Even omiyage and all.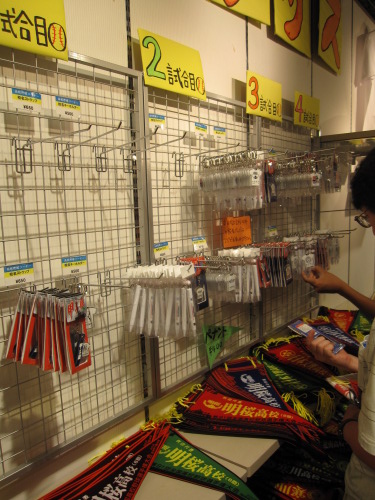 One neat thing is, you could get specific goods for that day's teams, like keychains, cell straps, and pens. Of course, by the time I got there all of the PL stuff was completely sold out. I figured I'd just come back the next day and get a Teikyo one anyway.
I was exhausted at that point from travelling and whatnot, so I left Koshien and went to check in to my hotel at that point, vowing to come back the next day at 6am in order to get a good seat for the Teikyo game. I didn't get back at 6am, but I did get a pretty kickass seat nonetheless (thanks to a friend of mine with excellent taste in okonomiyaki and a much better ability to actually wake up early). More on that in a subsequent post.