After a few days wandering around Nagasaki prefecture like a
rebel on the run
, I found myself at a slightly more familiar place to watch baseball on Friday night:
The Yahoo Dome is somewhat inconvenient to get to, but I always have a good time there, it seems, and this time was no different. Fortunately, being as this was a Friday, the visitor outfield seats were unreserved (apparently on weekends, they become reserved seats, which a lot of people are angry about), so my plan was, as always, to just go in and find some interesting people to sit with in the Fighters cheering section. I immediately ran into some friends from Tokyo, but they had no space, so I sat a bit further back, behind a lady wearing a Fighty jacket and a Pikachu hat. She and her friends turned out to be very interesting indeed, and even better, a bit later a friend of mine from Nagoya showed up out of nowhere and sat down next to me as well.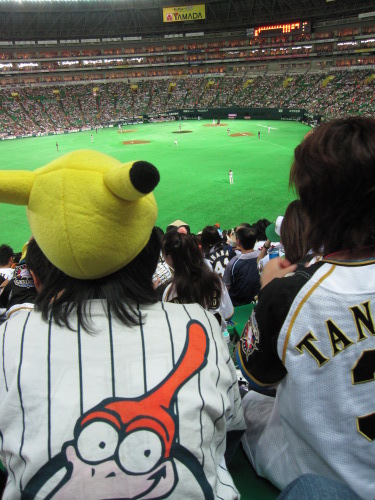 (I also ran into the people I sat with last year, as the "Yahoo Dome Obachan" came up to say hi. "I see you on TV all the time during games! I hoped you'd come back here someday!")
I had a Matsunaka bento for dinner this time. It was pretty good, kind of meat-heavy though.
The thing is, I figured this would mean that Matsunaka would definitely hit another home run against us. He's hit 8 (out of 20) homeruns against the Fighters this year, and I've personally witnessed 5 of them.
Fortunately, I was wrong.
Unfortunately, Jose Ortiz took it one further and hit TWO home runs against the Fighters instead, and that pretty much ended up deciding the game.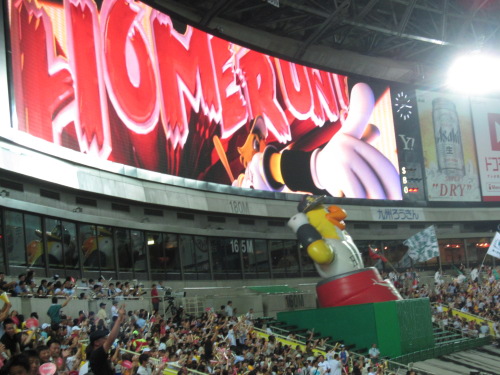 But let me back up a second.
Earlier in the week, several Fighters players were
diagnosed with the flu
, some cases actually being the dreaded "new type flu". Worse, Kensuke Tanaka was having trouble with a sore leg. So trust me when I say that everybody was laughing as they announced the following starting lineup:
LF Yoh
CF Murata
RF Inaba
1B Takahashi
3B Nioka
SS Kaneko
DH Nakata
2B Inada
C Nakajima
P Darvish
No, seriously, can we even count how many things are bizarre about that? Kaneko batting 6th instead of 9th, Nakajima getting the start at catcher (it was funny how several of us who go to 50 games a year still had to go look up his ouenka because we simply never sing it), Naoto Inada starting at second, Sho and Yoh and Murata all starting at ichi-gun... yeah. It was a really weird sight to behold.
At first, though, it seemed to be working, as Chon-so Yoh led off with a single off Hawks starter Kenji Ohtonari. Kazuya Murata had a failed sac bunt which only succeeded in getting Yoh out at second as Murata made it to first, but then Atsunori Inaba singled to right. Shinji Takahashi walked, loading the bases, and Tomohiro Nioka came through with a single to left, scoring Murata and Inaba to make it
2-0
. Ohtonari struck out Makoto Kaneko and Sho Nakata after that to end the threat, though.
Jose Ortiz cut the lead in half in the 2nd inning with his first home run to make it
2-1
. His second home run, in the 6th inning, was a 2-run shot that would put the Hawks ahead
3-2
.
Darvish would end up pitching the entire game, all 8 innings and 132 pitches of it, and maybe that wasn't really for the best. The Hawks scored 3 more runs off him in the 8th inning from 4 more hits, which made it
6-2
.
Yet in the 9th inning, with two outs, the Fighters started to get things going against closer Takahiro Mahara -- first a pinch-hitting Shota Ohno reached base on an error to third. Murata walked, and then Inaba grounded to second base for what I thought would be the final out, but Murata slid into second safe and somehow Inaba was also safe at first. I'm not sure how that happened, but it meant the bases were loaded for Shinji Takahashi. We sang the Genghis Khan chance theme, and he ran the pitch count up to full count. But just as everyone was thinking that it could be a tie game with a single good swing, the game ended on a CHECKED third strike. Ouch.
To nobody's surprise, the game hero was Jose Ortiz.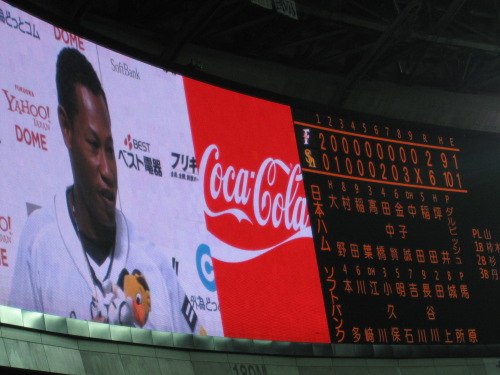 Anyway, despite the Fighters losing, and not even scoring anything past the first inning, I had a reasonably good time catching up with old friends and making new friends. There were some indoor fireworks after the game which we stuck around for, and then I walked back to Tojinmachi station with some of the people I'd been sitting with, and took the subway back to Hakata station.
On the way, we saw a whole lot of Hawks fans wearing the
Otousan 0103
jerseys, which are really cute. The white dog is from a series of Softbank "family plan" commercials where the family is quite mixed racially, even so much that the father is a talking white dog rather than a human. Softbank as a cellphone company does various marketing campaigns with the white dog, so this is how it extends to the Hawks, I suppose. "Otousan" means father, but in the Japanese numbering system it also can be read as 0103 -- zero is "oh", 10 can be pronounced "toh", and 3 is "san". It's a clever little joke that most people can catch on to regardless of whether they're Hawks fans.
Sadly, the Fighters ended up getting swept over the weekend, and haven't won a game since August 16th (as I finish writing this, they've just blown ANOTHER game on a totally crazy 9th inning). I hope they can get healthy and back on track soon...