Wow, I'm not even sure where to start with this one. I didn't think anything crazier was going to happen this week after dancing YMCA on the field on Tuesday, but I was wrong.
Brian Sweeney was starting for the Fighters tonight, and so over the last day or two I'd traded with some people to get two extra Sweeney pinbadges, with the idea that I'd try to find his family so that they could wear them for good luck. Amazingly, while I was waiting to do the pinbadge machines today, the entire Sweeney entourage happened to walk into the stadium, so I caught up with them in the stands a bit, and one of the guys said, "Hey, you look like you're having a lot of fun out there in the outfield, can we come join you?"
I told them by all means to come out there and I'd see if we could even scramble them some seats in the front area where I was sitting with my gang. They stopped by a bit before the game started, but nothing was going on then, so they said they'd come by later.
In the meantime, Brian started out by walking Alex Cabrera and giving up a home run to Tuffy Rhodes in the first inning, making it
2-0
pretty quickly. And two more runs came in the 3rd inning to make it
4-0
with Ohbiki driving in one and another run scoring when Tuffy grounded into a double play that time.
The people behind me (not part of my group of friends) were grumbling, "Sweeney, go home!" but I told them that they should just have patience, that the Fighters would surely find a way to win, and Brian would do his best in the meantime.
Fortunately, the Fighters lived up to that. Makoto Kaneko hit a home run in the 3rd to make it
4-1
, and then we had a WILD 5th inning.
Shota Ohno led off with a single, Kaneko struck out, but Kensuke Tanaka got his third hit of the day, a single. Toshimasa Konta then hit a hard grounder up the middle, and shortstop Keiji Ohbiki managed to dive and STOP the ball, but couldn't get up to make a throw, so suddenly the bases were loaded. We did a huge Inaba Jump, but he struck out. Eiichi Koyano, who has been CRAZY CLUTCH MAN recently, came up with the bases loaded and two out, and delivered a huge double into the gap in right-center, scoring Ohno and Kensuke to narrow the lead to
4-3
. Sledge walked,and then Yoshio Itoi hit ANOTHER double, this one down the right-field line. Konta scored, Koyano scored, and it was
5-4!
Nioka grounded out, but the Fighters had the lead, and they kept it the rest of the way.
Brian only lasted another two batters into the 6th, before letting Hayashi, Ejiri, Kikuchi, and Miyanishi combine to keep the rest of the game scoreless. It was still enough to earn him (and the team) a much-needed win.
In the meantime, the Fighters added another run in the 6th, off John Leicester, who replaced starter Hirano on the mound. Shota Ohno led off again and this time was hit by a pitch in the middle of his back (ouch), Kaneko bunted him up, Kensuke walked, and then Konta got HIS third hit of the day, a double to left, scoring Ohno.
6-4
. Leicester was taken out for former Fighter Akio Shimizu, who got a pop out from Inaba and then intentionally walked Koyano to get to Sledge, but it worked as he grounded out with the bases loaded.
It was about this time where things get really fuzzy for me, because most of the Sweeney posse came back -- his wife Connie and his daughter Ava, and their friends Brian and Liz and Steve, who I'd met the other day in our YMCA adventures. (The others joined us a bit later.) We scrambled to make room for them, but Ojisan had fortunately saved four extra seats in the second row for friends of ours that never showed up, so it worked out okay. I gave Ava my cheer sticks to use, and tried to quickly explain to everyone else what to do: "Just repeat whatever everyone's yelling, usually three times. And a really important word is 'Kattobase'." It turns out it was actually Ava and Connie's first time cheering in the middle of the stands like this, but they'd been to more than enough games to know the routine and everyone else caught on pretty quickly! They really enjoyed being in the middle of the craziness, which made me happy. I don't often get to introduce people to the cheering section, let alone friends and family of the starting pitcher, you know, so it was quite an experience for me too.
Or as Steve said, "The bleacher bums in NYC have NOTHING on you guys -- this is a million times better than anything they ever do!"
We sadly didn't get to do an Inaba Jump in the 8th, BUT we did get to do some chance music and Koyano also knocked in two more runs with a double to right!
8-4!
He also got himself tagged out trying for a triple, but whatever, it was pretty cool anyway, and there were high-fives and banzais all around.
So, the Fighters won, and the Sweeney clan got to experience a Fighters cheering section post-game celebration, with all of the singing and clapping required, including an Inaba Jump, which made Ava really happy. The funny part was, the ouendan leader was trying to decide which player to do a cheer for next at one point, and so Connie yells, "SWEENEY!!"
Some people were like "Sweeney?!" but then the ouendan leader, after joking a bit, said, "Since we have Sweeney's family in the stands with us today, and he was the winning pitcher, let's do Chitty Chitty Bang Bang for them!"
We seriously did the Kanto Chance Music Theme, aka Chitty Chitty Bang Bang, yelling "Kattobase Sweeney!", and followed it up with the Kita no Kuni Kara chance music as well, yelling "utte utte sore yuke kattobase Sweeney" at the end as well. Yes, it's a little weird to be doing a batting cheer for a pitcher outside of interleague, but it was pretty fun and people were all laughing.
After we finished all of the cheering and did a sanbon to end, about half the stands wanted to come take photos with Sweeney's family. I think most people recognized Mia and Ava since they've come out with Brian when he does hero interviews in Sapporo, plus, well, they are totally adorable American little girls, which are quite a rarity for most people here to ever see.
Even I couldn't resist...
I also made everyone take a photo together when they were first down there. (Steve was taking pictures of everything in sight anyway.)
(The guy in front of me is Akki, who's a big Sweeney fan. Although he threatened to throw his jersey over the outfield wall after that Rhodes home run in the first inning.)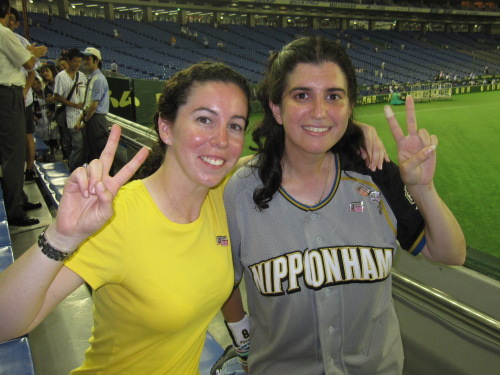 This is Liz, who was really really nice, both today and before the YMCA thing. I feel like if we'd met under other circumstances we'd probably be pretty good friends! She really got into the cheering stuff and my group said she was awesome.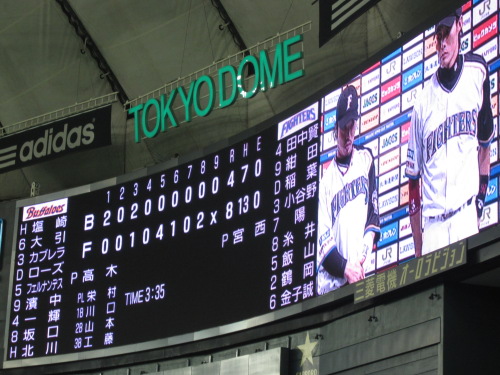 And the final score. The game heroes were Koyano and Itoi, which isn't too surprising. It would have been super-cool if Brian had been game hero, but I think we're happy enough that he just got the win today. Koyano seemed kind of dazed during his interview, at one point they asked something like "Were you hoping to get a go-ahead hit when you came up to the plate in the 5th inning?" and he's just like "Yes? Um, I think so?" It was cute.
I just hope I didn't use up too much ouendan karma today. I tried to explain on Connie's behalf that she had a great time and really wanted to thank everyone, and I think they understood. I'm sure that at first people were wondering what on earth the big group of gaijin were doing there, so it worked out pretty well, all things considered. I'm not sure they get players' families in the outfield stands that often, let alone foreign players' families!
Onwards! I'm leaving for Nagoya in the morning on my way to Koshien! (By the way, Tohoku won, Nichidai San won, and Seibo lost today, none of which are too surprising, really. Mie won, which IS surprising.)