To start off interleague play with a little extra kick, and channel some of their dreaded Saitama superpowers, the Seibu Lions hosted the Chunichi Dragons at Omiya Prefectural Stadium on Tuesday night, May 19th. (They have
three games there this year
, also on June 26th and August 4th.)

(my poor attempt at stitching a panorama of the view from where I was sitting)
Omiya is a rather old stadium. According to its
Wikipedia entry
, it opened in 1934 for the Babe Ruth Rockstar Japan Tour, and was remodelled in 1992. It has been used for a whole bunch of random stuff; mostly high school baseball, some industrial league baseball, some minor-league ball, and the occasional pro league ball. It seats slightly more than 20,000 people and has an all-dirt infield. You can see the lovely forests of Saitama in the distance from one side, and the NACK5 stadium used by the Omiya Ardija soccer team on the other side.
Most importantly, at least for this Seibu game, they had quite a festival atmosphere going on in the concourse behind the stadium. There were tons of colorful food trucks set up with a wide variety of food -- anything from Thai food to omurice to hot dogs to one tent selling Lions taiyaki, which was actually fantastic.
Concourse food trucks.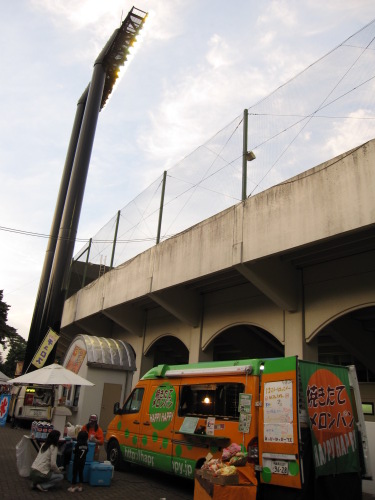 Brightly colored melon bread truck.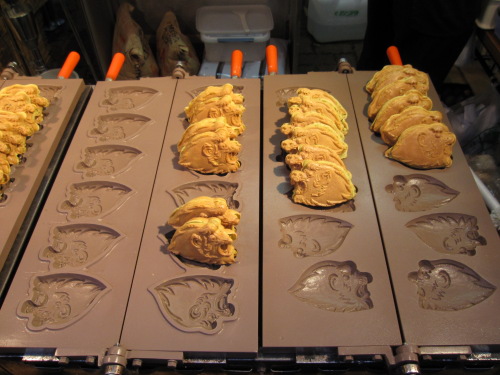 The aforementioned Lions taiyaki. (Taiyaki is usually shaped like a fish and has some sweet filling; these were shaped like the Lions logo. Perhaps they should have been called RAIyaki?)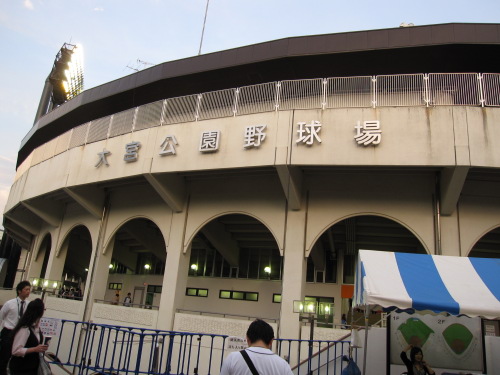 Omiya Stadium lettering.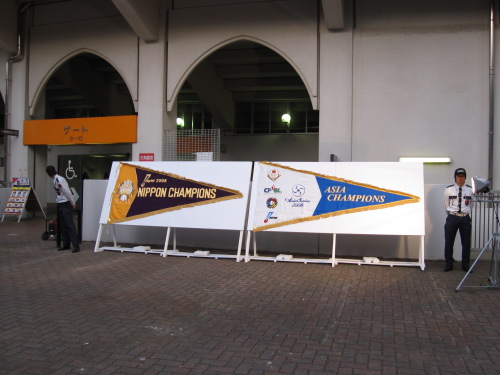 The Seibu Lions Japan Series and Asia Series victory flags on display behind home plate. You couldn't get TOO close to them or the guards would glare at you, though.
I ended up getting some yakisoba -- which for whatever reason had a fried egg in it -- and some of the Lions taiyaki. Yum. In general, the concourse behind the stadium was really pretty good, although perhaps I am mentally comparing it to
Gifu Nagarakawa Stadium
, which is simply not designed to support a professional baseball game. At Omiya, the bathrooms were reasonable and there were enough of them, the concourses had more than enough entry gates, and there were a ton of places to get food. (None of these facts were true at Nagarakawa. Also, why does it seem that I always see the Dragons in these countryside parks?)
Anyway, the starters for this game were Chunichi's Kenta Asakura, the only member of the Crazy Ken Trio (Kenshin Kawakami, Kenichi Nakata, Kenta Asakura, who were the top of the Chunichi rotation about 2-3 years ago) still on the staff, as Kenshin's busy being brave and Kenichi is Lost In Ni-Gun Hell or something to that effect. Seibu's starter was Takayuki Kishi, best known as That Kid Who Came Out Of Nowhere To Win The 2008 Japan Series.
And in general, the game was mostly a Battle of Who Could Err Less (yeah, Ben Folds would punch me for that pun). I kind of wonder about the field itself, to be honest, because the ball seemed to take several strange bounces through the infield. In the top of the 2nd inning, Tony Blanco led off by grounding to third, only the ball took a bounce over Okawari-kun's head and went into left field for a single. Wada lined out to third after that, and then Tomas Delarosa grounded to third... and this time Okawari-kun simply dropped the ball for an actual error. But the Dragons didn't capitalize on their chance then.
The Lions brought in a run on a fielding error by Ibata in the bottom of the 2nd. I didn't see it because I was out doing important things like investigating melon bread and buying taiyaki, so I can't tell you exactly what happened.
1-0
.
Then they brought in another run in the bottom of the 3rd -- Hiroyuki Nakajima got on base via a Morino error at third, though really, the ball took a bad hop and Morino simply couldn't get it in time. It was just particularly frustrating because Morino's had such awful luck at the plate lately too. Nakaji moved to third base when Okawari-kun singled to left, and then Yoshihito "Saitama Native" Ishii executed a squeeze bunt, Nakajima scoring on the play.
2-0
.
Tony Blanco led off the fourth inning with a HUGE home run to dead centerfield.
2-1
. Then the Lions quickly added a run in their half of the 4th inning on a double by Yutaro Ohsaki followed by a Ginjiro Sumitani single.
3-1
.
(For those wondering "Who the hell is Yutaro Ohsaki?", which at least encompasses most of the people who were sitting around me, apparently he has a decent baseball pedigree being from Joso Gakuin (same school as Makoto Kaneko and Toshihisa Nishi and such) and Aoyama Gakuin University (same school as plenty of people, notably Iguchi), but since I rarely went to Seibu ni-gun games last year, I didn't see him much. He does have some badass minor league stats though.)
Anyway, Morino lunged and imssed a ball in the 5th in the field, and then grounded into a double play in the top of the 6th, which Blanco followed up with ANOTHER HOME RUN, this one to left field.
3-2
. It was really sad though, because if Morino had done ANYTHING other than GIDP, the game would have been tied. And I was wearing my Morino jersey and holding my Morino towel, so even the nice older lady sitting in front of me decked out in Ibata gear remarked to me, "Why is Morino so crappy lately?"
Okawari-kun Nakamura hit a foul ball that went straight out of the stadium in the 7th inning, and then he corrected his mistake and hit the next pitch out of the park, a home run to right field.
4-2
.
Finally, in the 8th inning, the Dragons bats woke up.
Tanishige led off with a single to right which barely landed fair. Ibata tried to bunt him up, but Kishi smartly made the play at second to nab Tanishige instead, and narrowly missed making a double play. Then the craziness started -- Araki hit a fly ball out to right-center, and even Ibata was waiting for it to be caught. Only it wasn't caught, it fell for a single, and even better, GG Satoh was having one of his "What? I have a glove to pick baseballs up with?" moments, and only Ibata's initial hesitation kept him from scoring on that play. With runners at second and third, only one out, Kishi up to 125 pitches and the left-handed POWER THREAT MORINO coming up to bat (whatEVER), Nabe-Q decided to go to the pen and brought out Tomoki Hoshino.
We cheered for "Mr. 3-run" to "please hit a 3-run homer already", but instead, he hit a big fly ball out to right field, which gave Ibata plenty of time to score and Araki time to get to third.
4-3
. Nabe-Q went to the bullpen again to change hands to the right-handed Koji Ohnuma, who... threw a wild pitch allowing Araki to score.
4-4
.
Several rounds of "Misero Ochiai Nippon Ichi" and the "Nerai Uchi" chance theme later, Blanco was walking to first base, and then shortly after that, Kazuhiro Wada, who'd actually been having a decent night in the field but not at the plate, hit a home run into the Seibu cheering section. Gyakuten!
6-4
. It didn't even really sink in that the game had totally changed tides when Tomas Delarosa ran the Dragons out of the inning a bit later, getting caught stealing second by a mile.
The only thing that sucked about that inning is, Tatsunami kept wandering in and out of the on-deck circle, and people were getting all worked up for a Tatsunami PH appearance, but then the Dragons kept scoring, so no Tatsunami for us.
Before I talk about the bottom of the 8th, I have to pause for a moment to mention that the giveaway at the gate was an Omiya Lions Game Series poster, with the Seibu Lions lined up in a row, only where the normal center man would be one of the stars like Okawari-kun or Nakaji or whoever, on this poster the center man was Hiroshi "Warera na Hira-OH-OH-OH!" Hirao. I couldn't figure out why until I looked in my meikan, and it turns out he's from Saitama and went to Omiya Higashi HS, which is literally less than 2 miles from Omiya Stadium, as the crow flies, so he's about as local as a local boy can possibly get for a game like this. Infact it's fairly likely that he played baseball at Omiya Stadium pretty often in high school, as his school was in Koshien or almost in Koshien several times around the period that he attended.
Anyway, Local Boy Hira-OH comes up to the plate with Pretty Boy Takuya Asa-OH pitching for Chunichi, and wouldn't you know it, he hit a home run to left field. It was not a huge home run, and barely cleared the wall in left-center at all, but it was still a home run and still counted for a point.
6-5
.
We finally got our Daida Tatsunami in the 9th, as he pinch-hit for Kei Nomoto. Tatsunami walked, and Masaaki Koike pinch-ran for him, leading the people behind me to wonder, "Who the heck is that guy wearing #44 that isn't Tyrone?" Koike advanced on a sac bunt and then scored on an Ibata single a bit later.
7-5
.
Chunichi closer Hitoki Iwase managed to retire all three batters in the bottom of the 9th, mostly by way of pretending to be a first baseman himself, and
7-5 Dragons
is where it would end.
Kazuhiro Wada was the game hero. We couldn't hear him over the meager speaker system, though.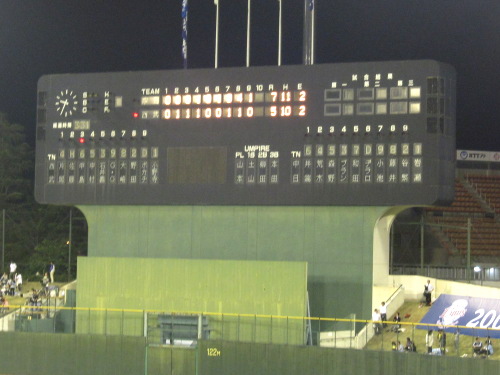 Final score on a really old scoreboard.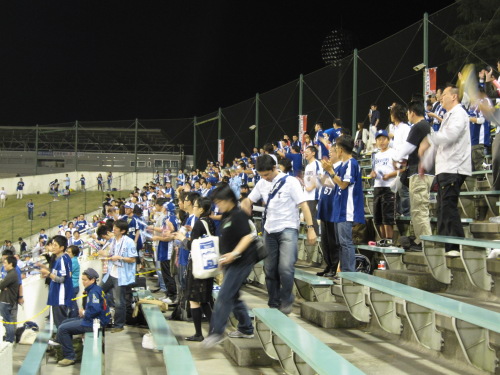 Strangely, the main "ouendan" were at the edge of infield seating. They don't have an official license to lead cheers here anyway.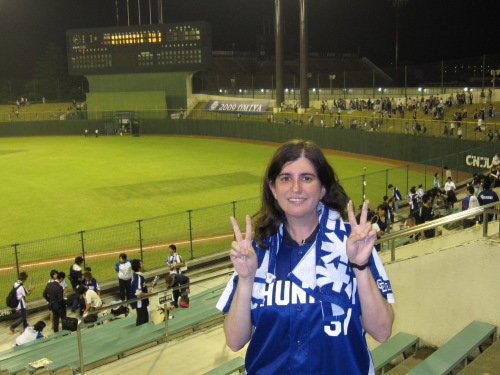 And here I am, proof that I'd been to my... I think 20th stadium in Japan. Yikes.
In all honesty, I think the Lions should have more games at Omiya Stadium. The atmosphere is really great and it's nice to be outdoors for the game!
By the way, the Lions site says it's a 20-minute walk from Omiya station, but that's really only if you walk super-fast and there's no traffic, as far as I can tell -- it took me around 20-25, and I'm a fairly quick walker. The path I took was to leave the station and go left until I reached a highwayish thing, at which point I turned right and walked until I saw a sign for Omiya Park and a huge torii marking a temple road; walked up the temple road and it led to the stadium, basically, I just had to follow the people carrying Lions bags and all.
I get the feeling there is a more efficient way to go there if you are more familiar with Omiya, though. This was honestly my first time going more than 5 minutes from the station.