The Dragons were playing one of their "local" games at Nagaragawa Stadium in Gifu Prefecture on April 29th. It was a national holiday and I'd wanted an excuse to go to Nagoya and visit some friends for a while. (Gifu City is so close to Nagoya -- it's like a 18-minute train ride from Nagoya Station to Gifu Station -- that I pretty much just say "going to Nagoya" when I am going to Gifu.) Jeff and Miyuki managed to get three tickets to the game, so there was my excuse!
First, I went to the Nagoya Dome, and took
many pictures
on the way there. My mission was to buy a copy of Moeyo Dragons 2008, and Doala ears, and something Tatsunami-related, and see what Japan Series Victory stuff they still had, and get some more Morino stuff. I succeeded in all fronts except the Doala ears, which they said they don't even make this year. Though upon listening to the CD, I was disappointed to hear that Moeyo Dragons 2008 has Wada 3rd, Morino 5th, Norihiro 6th, Lee 7th. Where the heck did they get THAT lineup?
After that I made my way to Gifu station, but by the time I got there it was seriously like 3:30pm. Jeff picked me up from the station, then we got Miyuki, then after a brief stop we went down to the Gifu Athletic Complex...
...and waited for like 50 minutes to get into a parking lot. No joke. Basically cars couldn't enter until other ones left so we had to wait for cars from the earlier events in the day -- a golf tournament and whatnot -- to leave so we could go in. At least it gave us a chance to hang out and chat, and for me to give Jeff the Fukudome t-shirt I'd picked up for him in Chicago, which he immediately put on to wear to the game.
After finally getting a spot, we also had to still walk to the stadium. I get the distinct impression that this field is perfectly great for most of the things it's used for -- high school regional qualifying tournaments, Chunichi preseason games, other similar events -- but for an ACTUAL PRO GAME THAT COUNTS? No way. For one thing, there isn't even really public transportation that goes there -- it's about 2-3 miles from Gifu station and there are only one or two bus routes that go there. So most people will drive, and the normal parking capacity is not up to a packed stadium's car crowd, so everyone ends up parking pretty far away and walking over.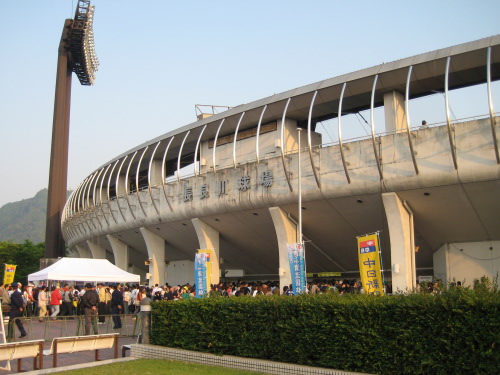 The stadium, and the crowds.
We finally got into the stadium around 5:30-5:35, since we had to wait in line for a while at the gate as well, and then we immediately were thrown into our choice of three lines of people to wait in, which were all kind of mixed together: 1) the line of people waiting to buy food, as there seemed to be exactly one set of food stand tables; 2) the line of people waiting to get into the bathrooms, and 3) the line of people waiting to get into the SEATING AREA. Which was kind of mingled with the lines for the bathroom, since there was no room for the bathroom lines inside the bathrooms themselves. (And, as I discovered, the women's bathroom only had Japanese-style toilets. Wheeeee.)
I couldn't really figure out why the lines were so long to get into the seating area, but it seems that there's pretty much only one walkway in the infield -- you either go up, or you go down, so everyone entering or exiting the seats was trying to move through a place that was only maybe 2-3 people wide. Hence, even once you get onto that walkway, you still have to inch your way over to where you're sitting.

Cluster of people waiting to get to their seats.
While I was waiting to get in, I heard a helicopter coming over the stadium, and I could see it drop something, but I had no idea what it was. Fortunately, Jeff took a bunch of pictures at the event too, and so it turns out it was
Doala catching a flag dropped from the helicopter
. Or, more like, a flag falling from a helicopter and Doala comically failing to catch it, as I was told later.
I had the sense to not wait in line to buy food/drink at the concourse, at least; instead, once I got out onto the walkway and out of the congested part, I flagged down a drink vendor for a soda, then flagged down a food vendor for a bento. The bento was full of bizarre random things, half of which I couldn't identify, and 70% of which I actually ate, which is pretty good all things considering.
And once I finally was in my seat and the game was on the verge of starting, I forgot all about the part where we had to wait in line for ninety years to get to that point, because, hey, I was seeing a Dragons home game for the first time in ages! And there was cheering! And Doala! And Morino! And Nakata! And all kinds of stuff! Baseball! Yay!
(I don't want you to think I'm a big horrible negative person -- but basically the experience was an hour and a half of being like "OMFG WHEN WILL THE WAITING STOP", and then a great ton of fun during the game itself, which of course went by way too quickly.)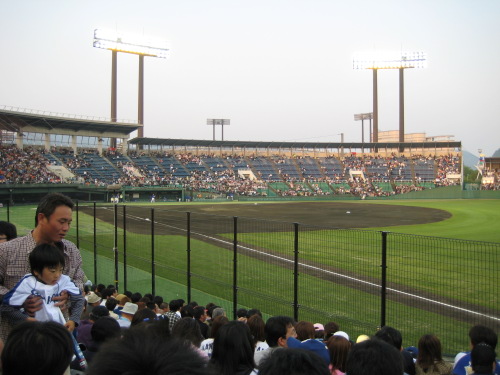 As you can see, the stadium seating is primarily bleachers, and the infield is a big dirt infield!



Starting lineups.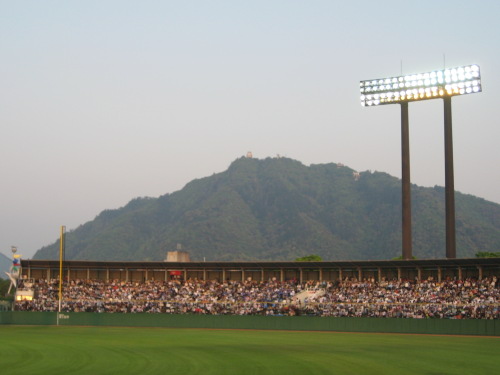 You can see Gifu Castle on top of that mountain in the distance, kind of.
Anyway, we were fairly far out on the first base line, but in extended infield, so not in that part of the stadium where you actually stand up and cheer. That didn't stop me from singing all the player songs (except freaking Norihiro's which I totally can't catch) anyway and cheering a lot, BUT I didn't really get to do my all-out Biggest Gaijin Morino Fan act, which is probably just as well. I did hold up my Morino towels and sing, but I didn't stand up and yell or anything. Plus, as I commented to Jeff, "It's really much funnier when he actually kicks ass." (Not that I'm complaining about 1-for-3 with a sac fly RBI and a double, with stellar defense, of course. Morino!) There was another crazy Morino fan one section over and a few rows in front of us, so I wasn't the only one.
(The other thing was, of course, being as the opponents were the Baystars, and I know all of their songs too, occasionally I'd start singing along without even thinking about it, especially to Takuro Ishii's. Miyuki was like "You're crazy! How do you know all of these?" Jeff's like "Her brain is... err... full of baseball...")
I doubt anyone would remember this, but
last time I went to Nagoya
and saw a game with Jeff, the Dragons won 4-1 by scoring 4 runs in an early inning and the other team never catching up, Nakata pitched 8 innings and struck out a whole ton of people, and Iwase came in for the save. So it should surprise nobody that this time, the Dragons
also won the game 4-1
by scoring 4 runs in an early inning and the other team never catching up, Nakata pitched 8 innings and struck out a whole lot of people, and Iwase came in for the save. The big difference is that this time we saw them in Gifu -- and that this time I wasn't hit by a truck the day before going down there. Either way, I think we can call it a tradition now for the 4-1 Nakata-Iwase win, right?
The other cool difference is that Nakata himself even hit a double in this game and scored a run! The second inning was the big inning for the Dragons; Tyrone led off with a double, and Wada singled; Morino hit a huge fly ball which was not a homer but far enough out to get Tyrone home (
1-0
), and then Norihiro Nakamura hit a MONSTER home run that almost hit the back wall of the leftfield bleachers (
3-0!
); people had been cheering "Jougai homerun Norihiro", which means "hit it OUT OF THE STADIUM, Norihiro". That would have been awesome and probably quite possible in Gifu. Kouhei Oda (cheer: "O! D! A!"), grounded out, and with two outs Nakata came to the plate, and Jeff's like "ok, there's the inning," and I said "wait, Kenichi might hit a home run too!" and then he hit a huuuuge shot to left-center, which fell for a double! Exciting! Araki singled him home (
4-0
) and then Ibata grounded out to end the inning.
The Dragons fans had been throwing streamers and confetti onto the field whenever anything cool happened, and by the end of the 2nd inning, there was an announcement of "Please refrain from throwing confetti or balloons." Another one of Jeff's excellent photos shows
Yuuki Yoshimura standing in right field among pools of streamers
, contemplating why the Baystars suck this year.
Araki, who played stellar defense for most of the day, kind of fell apart a bit in the 6th inning and made a Buckner-style error to start it off, the ball going through his legs into right field on what should have been a routine grounder. Takuro Ishii reached base on that play, and was driven in on singles by Nishi and Murata.
4-1
.
Hidenori came out to play defense in the 9th inning and got a huge cheer - he is from Gifu, as is Kazuhiro Wada, so the crowds were very supportive of them. To be honest, the Dragons have a lot of "local boys" - Iwase is from Aichi, Asakura is from Gifu, the Donoues are from Aichi, Asao is from Aichi, they have a bunch of kids from Mie and Fukui as well.
Doala came out several times to do flips and cartwheels and throw stuff to the crowd and whatnot. Doala is cool.
We actually didn't stay long enough to find out who the game hero was -- we wanted to get back to the car as soon as possible -- but I can't imagine it wasn't either Norihiro or Nakata.
We did have to wait another hour to get out of the parking lot afterwards, but Jeff's car has TV, so we watched some sports highlights of soccer and baseball and whatnot. Eventually we finally were free, and went to get miso katsu for dinner, and then I took a night train (the Moonlight Nagara) back to Tokyo. What I learned from that experience is that night trains are cheap and convenient, but it's pretty impossible to sleep on that one because it makes about 15 stops between Nagoya and Tokyo, from midnight to 5am, and I'd wake up every 15-20 minutes when the train stopped. Still, I'm all for trying new and interesting things, so it was good to find out -- but I think in the future I'll just spend the extra $50 and take the shinkansen.
So anyway, on one last note: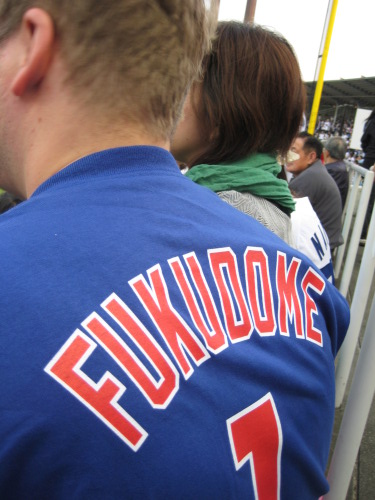 Jeff, being the American in the Cubs t-shirt.



Me, being Morino's Biggest Gaijin Fan Ever. Morinoooooooooo!
Good times. I'm hoping I can go back down to Nagoya in September or so.