So instead, I went to Meiji Jingu Stadium with my friend Pau, for another rainy day of baseball as the Hanshin Tigers took on the Yakult Swallows. They were rained out on Tuesday and Wednesday, so I guess they wanted to get at least one game of this series in, despite that the skies were looking pretty wet yet again.
Pau is a huge Hanshin Tigers fan, so we were sitting in reserved seating on the third base side. And because it was raining, I didn't keep a scorecard. Besides, there isn't a lot to say about the game anyway. Masanori Ishikawa is good, and he kept the Tigers in check for a very long time, aside from a home run by Kodai Sakurai.
Yasutomo Kubo had a really rocky first inning, and the first run of the game actually came in on his second hit batter. Takeuchi doubled and was bunted to third, and then Kubo hit Aoki with a pitch and walked D'Antona, loading the bases, and then he also hit Guiel with a pitch. Oops. The Swallows added a go-ahead run in the 6th inning as D'Antona hit a fly ball to left that Kanemoto caught up with but then dropped in a somersault, and then Guiel doubled to right. That one run lead was all they needed to win with Chang-yong Lim closing out the game for his 9th save and still keeping his perfect ERA.
On the other hand, Pau was really excited because Shinjiro Hiyama pinch-hit and got a single off Lim.
I blew up jet fuusen, a rare occasion for me, because the teams I cheer for don't do them in general. They're neat, but annoying, IMO.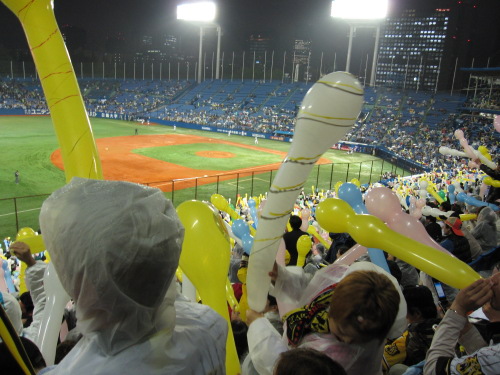 I even sang along to Rokko Oroshi and tried to sing ouenka, though in general all I really did is cheer for Kentaro Sekimoto. I also sang along to Tokyo Ondo, of course ("kutabare Yomiuri!").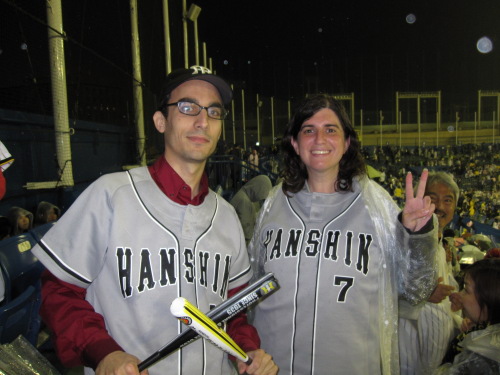 And here we are. I was wearing #7 on the 7th. After the game we even went to get birthday cake, and it cost 777 yen.
I feel indebted to explain this one in Japanese briefly in case some of my Fighters friends come across this entry and wonder about it.
5月7日は私の誕生日なんだけど、パリーグ試合はないから、神宮で阪神対ヤクルト戦を見に行きました。火曜日も水曜日も雨のため中止になりましたで、木曜日の試合は雨中しちゃった。ヤクルトは勝ちました。阪神ファンの友達と一緒に三塁側で阪神を応援した。
阪神ファンじゃないけど、今岡のユニフォームが持ってるの。2003年に買った。
Oh, whatever. I wanted to be at a baseball game for my birthday. That is all. Tomorrow (really today now) I am heading to the Tokyo Dome to support Chunichi and yell a lot of stuff about how much I hate the Giants.