In Japanese, a phrase that often gets used just as a way of saying hello or goodbye is "otsukaresama desu", which literally means "you must be exhausted", but is used more for a connotation of "thank you for your hard work" or "good job!" or "let's work hard!" or something to that effect. At my first job in Japan, if I answered the phone and it was somebody calling from another one of our offices, the requisite greeting was "otsukaresama desu", which seemed weird at first -- why would you GREET someone by saying they must be exhausted? Especially sometimes at, say, 10 or 11am?
But well, in the case of the Nippon Ham Fighters, it would have been something appropriate to say to pretty much anyone on the team at pretty much any time in the last 3-4 days.
They managed to play four games' worth of baseball in three games, and then flew across the country to play another game down here in Chiba today (Monday).
Seriously.
Friday,
2-1 Lions
, 12 innings
Saturday,
7-6 Fighters
, 11 innings
Sunday,
6-5 Fighters
, 12 innings
So it should be no surprise that when I asked some of the Fighters' players today what they were thinking going into today's game, the sentiment was mainly, "I just hope we can win it in 9."
I did manage to talk to most of the Fighters' foreign players today, which was pretty interesting. First I chatted with Luis Jimenez for a while. A bunch of people were watching Shota Ohno and Shinya Tsuruoka run after high pop flies, as practice for chasing foul fliesdown behind the plate, so as a joke I went up to Jimenez and asked, "When are YOU going to go run after some of those?"
He seems like a pretty funny guy. We talked for a few minutes, mostly about how he's adjusting to Japan, especially how different it is culturally and weatherwise than Venezuela. Also, he and I have the same birthday (this Thursday, May 7th, though I'm a few years older). At least the Fighters finally have a day off then, though that's my first day back at work after Golden Week.
Quote of the day:
Me: "You know the fans call you Hime-chan, right?"
Him: "Yeah, I heard that."
Me: "What do you think of it?"
Him: "It's MESSED UP! Do I look like a princess to you?"
I told him that I'd try to convince people to give him a new name, even though people never believe me when I tell them it's messed up in the first place. He suggested "Papi-chan".
After that, I managed to catch Terrmel Sledge and interview him for about 10 minutes. He's a really nice guy, and I'll hopefully get around to transcribing that sometime this week.
Ryan Wing was also hanging out at the park, though out of uniform. He's apparently injured his shoulder while working out in ni-gun and is spending the next week or so trying to completely relax it, no throwing at all. That must be pretty frustrating.
And of course it wouldn't be a Fighters game without saying hi to Brian Sweeney, who fortunately seemed to be in a good mood about his future as a
circus juggler
. No, just joking. Actually, he told Luis to read my blog, so I probably totally shouldn't be mentioning any of this stuff...
I didn't get to talk to Jason Botts, though he was up at Chiba working out with the team before the game. He's not listed on the team page as being moved up to ichi-gun (today's registration just said that Tadano was activated and Sakakibara was deactivated), so I'm not sure what was up with that. I'm not sure where Botts would play right now even if he did come up, because there's sort of a logjam in the 1B/DH position right now anyway, between Sledge, Shinji, Nioka, and Jimenez.
Anyway, I spent most of today's game hiding in the camera well, rather than going out into the leftfield stands. It was just such a nice day and I figured I should take advantage of it, since tomorrow will be raining. I shot about 900 photos, though, and if I take the time to process them all, you won't get this entry for another week or so. I'll try to add a few as I go.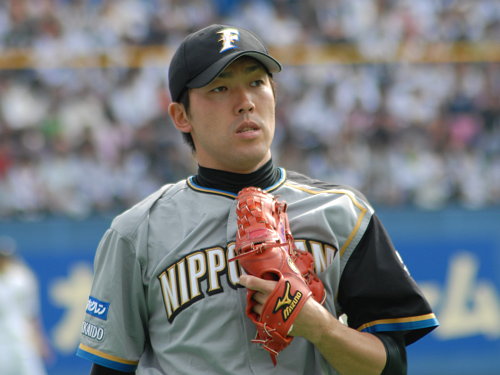 Kazuhito Tadano started for the Fighters,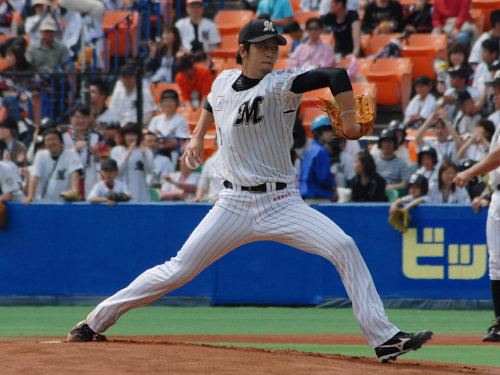 and Okinawan native Yuta Ohmine started for the Marines.
And Ohmine pretty much ran into trouble from the start. He walked Hichori and Inaba, so when Sledge came to the plate with two outs and two on, he singled to right to score Hichori, making it
1-0
. Shinji walked after that, loading the bases, and so Itoi singled to center and that scored Inaba and Sledge.
3-0
. Shota Ohno struck out after that, but it was a decent start for the Fighters nonetheless.
Sledge slides in for the third run of the first inning.
The Marines went down quick in their half of the first and the Fighters added another run in the top of the second when Kaneko reached base on an infield single, and two outs later moved to second on an Inaba single. Eiichi Koyano also singled to center after that, and Kaneko scored on the play, but Inaba was out at third as centerfielder Daisuke Hayakawa managed to fire the ball to third base.
4-0
.
Tadano walked Iguchi and Ohmatsu in the bottom of the 2nd, and then Imae launched a huge home run over the centerfield wall after that to bring the score to
4-3
.
Things stayed at that state for an inning, and then the Fighters just blew open Ohmine in the top of the 4th. Just as before, the walks hurt him; Ohno and Kaneko walked to start off the inning. (To be fair, Kaneko was trying to sac bunt at first but Ohmine kept missing the zone.) Kensuke bunted them up to second and third, and Hichori hit a double to right which scored Ohno and Kaneko,
6-3
. Inaba grounded out, which put Hichori on third, and he scored easily on a Koyano single,
7-3
.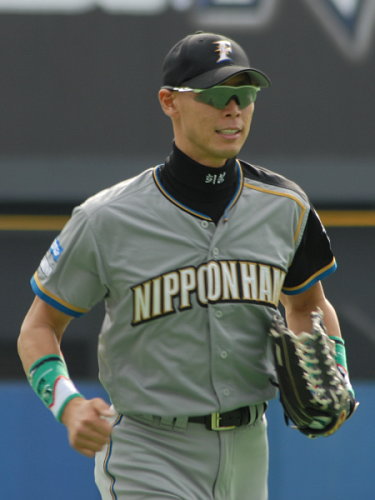 Hichori comes home! Note he has his name written on his collar in Korean. Cool, huh?
Ohmine was taken out of the game and replaced with a guy over twice his age, Satoru Komiyama. (Ohmine will be 21 in June, Komi-chan will be 44 in September.)
Koyano advanced to third on Sledge's single off Komi-chan, and scored on a Shinji Takahashi double into the leftfield corner.
8-3
. But then Yoshio Itoi lined out to short to end the inning.
Tadano threw no eephus pitches in this game, sadly. Maybe he should have. The 5th inning got him into a bit of a pinch. Chase Lambin started off with a double, and advanced to third on a Hayakawa groundout. Gary Burnham singled to right to score Lambin,
8-4
, and then Nishioka walked, and then Tadahito Iguchi singled to center, and it was only by some miracle that nobody scored on that single. With one out and the bases loaded, Tasuku Hashimoto came to the plate, and he hit a grounder to Kensuke Tanaka, who flipped the ball to Kaneko at second, and Kaneko fired it to first, but was apparently not in time to catch Hashimoto out. However, Hashimoto was out in another way -- when the play ended, he was lying on the ground several meters away from first base, and didn't look like he was going to move any time soon. I later heard that he pulled a muscle in his leg while trying to beat out the double play. Poor guy. Anyway, Burnham did score on the groundout, since there was no double play.
8-5
.
Hashimoto was replaced at first base by an extremely fleet-footed pinch runner, Tomoya Satozaki. Saburo subsequently grounded out to finish the inning.
Atsunori Inaba hit a solo home run in the 6th inning off of Komi-chan, his 5th homer of the year. I think I've seen them all, being as 3 of them were in one game at the Tokyo Dome and one was a walkoff homer the other day in Sapporo, which I watched on TV. I need to watch more Fighters games, if Inaba can only hit home runs when I'm watching.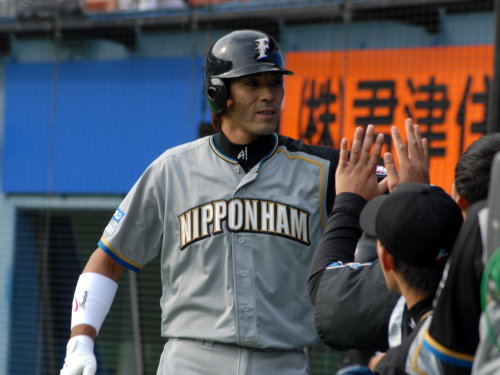 Inaba high-fives back at the dugout.
The bullpen car drivers got a lot of work in through the last 3-4 innings, as the Fighters shuffled to Masanori Hayashi, then Kazumasa Kikuchi, then Yataro Sakamoto, then Yoshinori Tateyama, and finally Hisashi Takeda as the closer. Meanwhile Chiba cycled through Yusuke Kawasaki, Koji Takagi and Tadahiro Ogino after Komi-chan gave up that homer.
Of all of those, the worst were Yataro Sakamoto, who gave up two runs to Lotte, and Koji Takagi, who managed to load the bases by walking Koyano, hitting Sledge with a pitch, and walking Shinji Takahashi; Koyano scored on a sacrifice fly by Itoi.
I should also mention that when Sledge was hit by a pitch, there was a bench-clearing brawl, by which I really mean, Takagi tipped his cap, Sledge looked angrily at Takagi and wasn't moving towards first, Satozaki stepped in to prevent anything from happening, and since Satozaki isn't a complete idiot like certain
other catchers I could name
, it just turned into some kind of shouting match which was impossible to see from my vantage point... it mostly looked like a few guys were arguing and everyone else came out to see what was going on: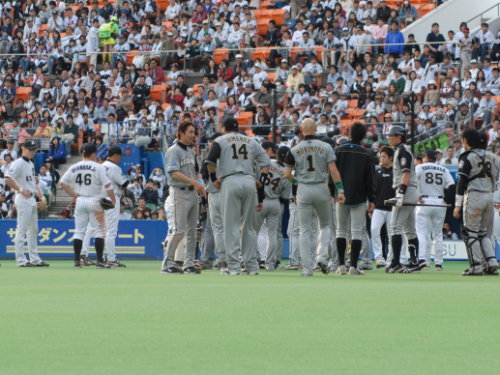 But after a few minutes, everyone went back to the dugout, Sledge went to first (and was replaced by Tsuboi as a pinch-runner), and everything seemed to be okay.
Hisashi Takeda gave up two hits in the 9th but closed out the game in fine fashion and the Fighters
won it 10-7
.
I'd moved up to the seating area in the later innings to meet up with some friends, and their 10-year-old son wanted to run the bases after the game, so I got to do/see that for the first time. Only kids can run the bases themselves, but parents and families wait in line with them outside the leftfield gate, and you make your way to home plate, and then the kids get to run run run around the bases while the parents stand there yelling encouraging things and/or taking photos as their kids run.
After that we went over to the Marines dugout and waved hello to Frank Ramppen-coach, who was swamped with signing autographs for people. Then we left.
Long day, but good day (for Fighters fans, at least). And at least the game didn't go into extra innings.
I cropped a few more photos for this post but didn't quite fit them into the story flow, so here are the leftovers for now: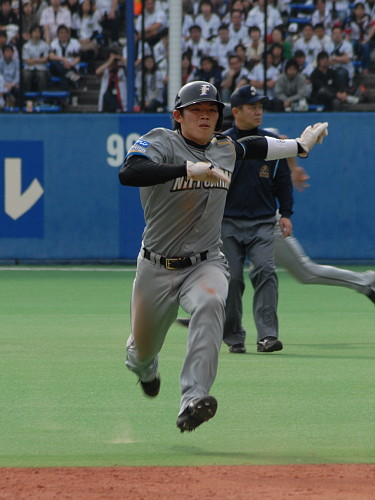 Shota Ohno goes flying into third base in the 4th inning.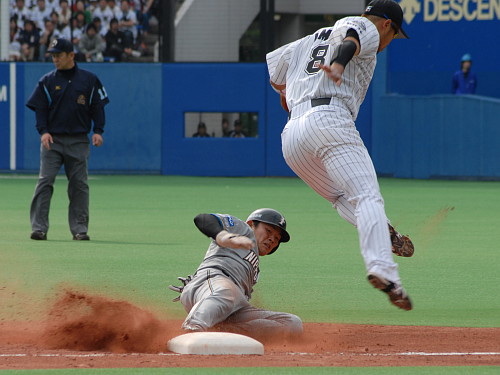 And somehow Imae goes flying afterwards.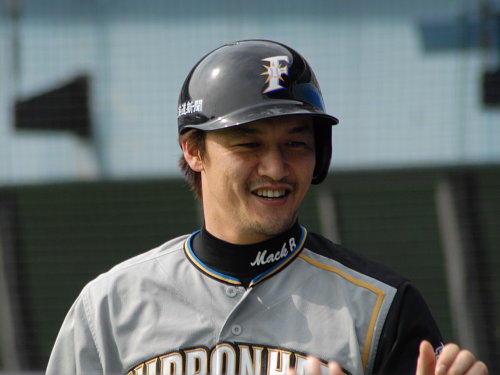 Makoto Kaneko comes back to the dugout all smiles after scoring a run in the 4th inning.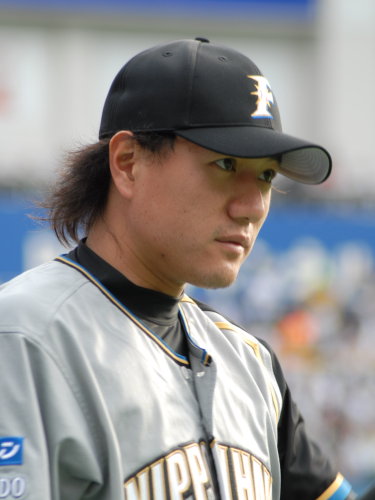 Masanori Hayashi, who I'm pretty sure I never saw pitch before. Crazy.
And on a final note, in the "what's with all of these extra inning games?" vein, in the Tokyo Big 6 University League, Waseda and Rikkio also spent Monday
dueling it out for 14 innings
. Waseda eventually prevailed, and my college baseball boyfriend Tatsuya Ohishi got the win, pitching 7 innings in relief (with 1 hit, 1 walk, and 8 strikeouts in that time). Obviously I should have been at Jingu instead -- in some alternate dimension where I can watch infinite baseball games happening at the same time, of course.