On Saturday May 16th, my two top choices for where to watch baseball were either Kamagaya for the Fighters-Searex game, or Jingu for the Tokyo Big 6 University League games.
I chose Jingu, because I expected that day to be THE best pitching matchups of the entire Spring 2009 season:
Waseda's Yuki Saito, the hero of the 2006 Koshien summer tournament, against Meiji's Yusuke Nomura, the boy who was 5 outs away from being the hero of the 2007 Koshien summer tournament before running out of steam.
Keio's Nobuaki Nakabayashi, who's big and left-handed and kind of reminds me of Mikinori Katoh, and Hosei's Kazuhito Futagami.
I had ACTUALLY hoped to see Hosei's Kisho Kagami, who had a monster season last fall (doing things like striking out 26 Waseda batters in one weekend, although perhaps throwing over 300 pitches in that weekend was not so brilliant). Except I apparently didn't get the memo that Kagami has been experiencing shoulder pain, probably due to throwing all those pitches, which is why he hasn't been so ungodly dominant this season, and had been taken off Hosei's roster. Oops. So Futagami replaced him. I realize Futagami is Hosei's ace this season and expected to go pretty high in the draft and all, but for whatever reason, I find him kind of boring to watch.
I forgot that the game was starting at 10:30 instead of 11am, so when I arrived at about 10:35, not only had the game started already, but the place was PACKED, with huge lines of people waiting to buy tickets and waiting to get into the stadium. I suppose half of Tokyo wanted to come see the Koshien heroes pitch as well. So guess what I accidentally discovered?
Outfield seats for Tokyo Big 6 games are FREE for women!
Seriously! I decided I didn't feel like waiting in the huge line for infield tickets so I asked a guy where I could buy outfield tickets and he basically said "...um, you're a girl, women get in for free in the outfield." "WHAT? Really?" "Really."
Note: Soukeisen games (the biannual Waseda-Keio deathmatch) are NOT free for women in the outfield. But all others are. I wish I'd found that out earlier. It does say it in the box on the right on the
schedule page
, but I swear I'd never noticed it before.
So I went in for free, and sat in the front row in right field for the first game. I would have sat on the Meiji side if I'd been taking photos for real, but the outfield was so far out that I decided to go sit as close to the Waseda bullpen as I could, for the sake of watching my favorite college baseball player, Tatsuya Ohishi, warming up. He usually finishes out the last inning or two of games that Handkerchief Boy starts.
The thing is, I missed the first inning of the game, so by the time I got into a seat, it was already
4-0 Waseda
. I'd heard "Konpeki no Sora" being sung from outside the stadium, but had no clue how it happened. I chatted up a lady sitting near me with a scorecard and she told me that Nomura got two quick outs, and then somehow the floodgates totally opened. Shohei Habu, who'd been a teammate of Nomura's at Koryo, started the assault with a single, and then Hironobu Hara walked. Toshiki Yamada singled in a run, Shota Sugiyama singled in another run, and then Hiroki Kojima hit a bases-clearing triple to bring everyone else home.
Yamada singled home another run in the 3rd inning to make it
5-0
, the last run off Yusuke Nomura. Hayato Narita pitched a scoreless inning, and then Aikodai Meiden alum Shogo Shibata pitched the next three innings for Meiji. He got himself out of a bases-loaded pinch in the 5th by striking out Takashi Gotoh - but in the 7th, with two on and two outs, centerfielder Hiroki Kojima hit a big single out to center which brought in two more runs, to make it
7-0
in favor of Waseda. And then Takashi Gotoh struck out to end the 7th inning as well -- he struck out four times that day AND made an error.
(Actually, it's a little weird that Gotoh, and to a lesser extent Koji Udaka, who make up the left side of Waseda's infield, are just kind of having a crappy year all around, it seems. I wonder if they just don't have any better options than Gotoh right now.)
In the meantime, as Waseda was piling up runs, Handkerchief Boy was keeping Meiji from putting any runs on their side of the board. He only allowed 6 base runners in his 8 innings, and two of them got on via errors.
As a result, I got to watch Ohishi-kun warming up in the bullpen from about the 5th inning to the 8th inning. Not that I minded, but I do sometimes wonder if these kids should be throwing as much as they are. When he actually did come into the game to pitch the 9th inning, he immediately gave up two legitimate singles, both hard-hit to the outfield. But then he struck out Naoya Matsumura and got Hayato Tada to ground into a double play, ending the game. Whew.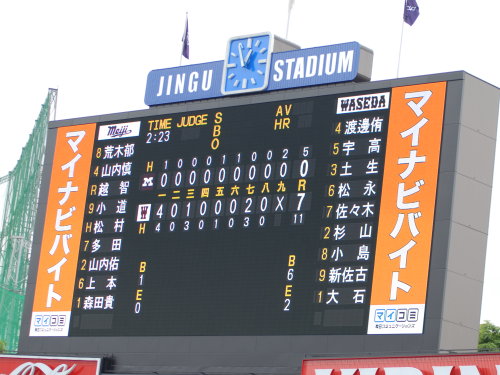 And here are a few shots I have from the outfield: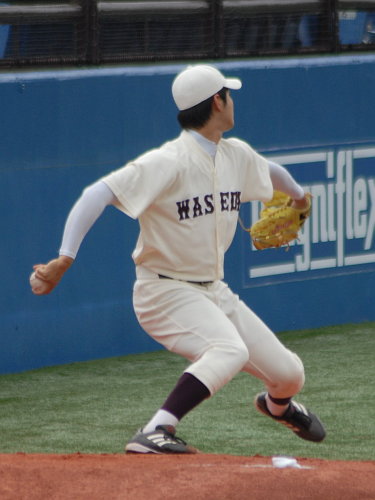 Tatsuya Ohishi, warming up.
Ohishi smiling AND facing the outfield vaguely. I feel like such a stalker sometimes. What can I say? I'm a fan.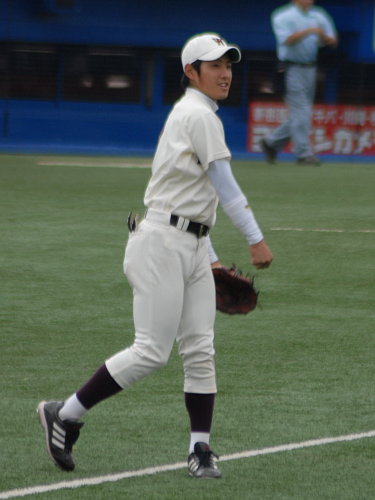 And then there's this kid.
Ayuki Matsumoto
. I thought he looked vaguely familiar, but it turns out he's the younger brother of former Waseda and current Yokohama Baystars outfielder Keijiro Matsumoto. I've heard that he's not nearly as hard-working or talented as his brother, nor does it bother him that that's the case.
After the first game ended, I chose to go sit in left field instead, on the Hosei side, because I wasn't aware yet that Kagami wasn't playing. I stayed out there anyway, because I'd sat on the Keio side for a game a few weeks ago anyway, plus I knew Nakabayashi was likely to go the distance and the Keio bullpen would be boring.
As it was, just like last time I saw Keio, this turned out to be a very close one-run pitcher's duel game with Keio and Nakabayashi on the losing end. Go figure.
Hosei got off to a small but quick lead in the first inning when captain Shuhei Ishikawa hit a double to left and was singled in by Masatoshi Matsumoto, who is actually leading the Big 6 League with a scorching batting average of .452 this season so far.
1-0
. Hosei threatened again in the second inning when freshman Hiroshi Taki led off with a single (really a pop fly to left that landed between the Keio leftfielder and shortstop) and was bunted up to second. Yusuke Hasegawa followed that with a single to short -- Keio shortstop Hitoshi Fuchikami simply not making a throw -- but then pitcher Kazuhito Futagami grounded into a double play to end the inning.
Nakabayashi walked four Hosei batters over the next three innings and somehow none of them scored. But the Keio batters weren't getting much of anywhere with Futagami either; a few scattered singles (among which was one where Nakabayashi grounded back to the mound, Futagami ran to 1st with the ball rather than throwing it, but he was a second late to make the tag). And Hosei left-fielder Tetsuro Matsumoto had a dramatic flair and made several diving or somersaulting or otherwise crazy catches out in the field.
Hosei put another run on the board in the top of the 6th when Taki singled again, Tetsuro Matsumoto bunted him up again, and then Hasegawa hit the most awkward single ever, a ball that looked to be an easy grounder and then took a really bizarre bounce past the pitcher's mound and ended up heading to right field instead, so Taki scored.
2-0
. Futagami tried to bunt Hasegawa up, but instead succeeded in popping into his second double play of the game, as Keio catcher Gen Takahashi caught the bunt failure and fired it to first to double off Hasegawa. Seriously, Futagami might have won the game with his pitching, but at the plate he caused 6 outs in 4 at-bats, an impressive feat.
(There are WAY too many players in the Tokyo Big 6 League named Matsumoto, by the way.)
Keio finally put a run on the board in their half of the 6th when Kazuma Takeuchi singled and Hayata Itoh followed it up two batters later with another single, putting Takeuchi on third. Kazuya Onodera grounded out, which scored Takeuchi.
2-1
. Not glamorous, but better than nothing.
The aforementioned batting champ Masatoshi Matsumoto led off the top of the 8th inning for Hosei with a HUGE home run to left field. It actually sailed right over where I was sitting, but much further back, bouncing in the back half of seats of section U.
3-1
.
Keio matched that in their half of the 8th when Fuchikami led off with a double, moved up on a pop out by Takeuchi, and scored on a groundout by Kajimoto, again not particularly glamorous.
3-2
.
And well that's basically where things would stay, though it was close. Onodera led off the bottom of the 9th with a double to right, and Hiroshi Aoyama bunted him up to third. Tatsuya Yumoto pinch-hit after that but grounded out to second after fouling off about 5 pitches, and Onodera couldn't score on the play. Ryoichi Yuasa pinch-hit for Nakabayashi at that point, and he smacked a line drive -- which somehow happened to go right into defensive replacement second baseman Seiya Ohyagi's glove for the final out, leaving the tying run on third.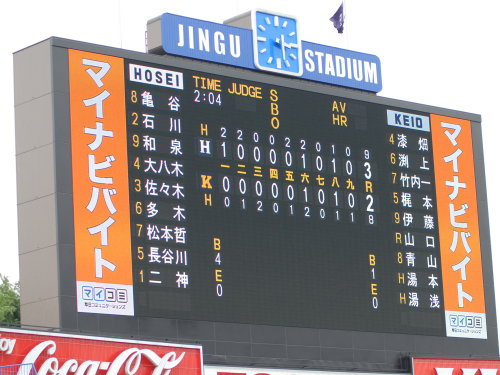 You know, it occurs to me that I'd like to see Keio's Yuki Murayama pitch again sometime because he has a crazy sidearm motion, but for the most part, Nakabayashi and Junpei Komuro have basically thrown almost every inning for Keio this year.
Speaking of sidearmers, actually, while I was sitting in right field watching the Hosei bullpen from time to time, one of their pitchers also caught my eye. Kohei Nishi, a senior, and a sidearmer. He hasn't had much of a pitching career in Big 6, and is unlikely to ever, but he was fun to watch warming up: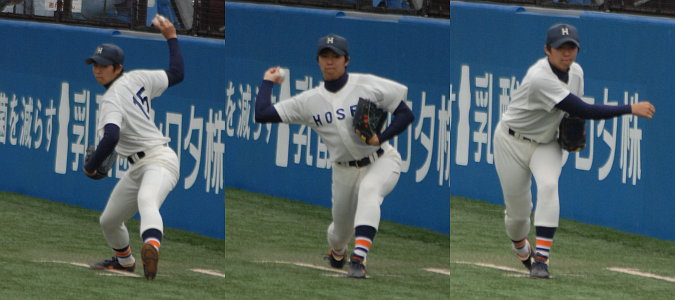 Nishi's sidearm action.
While we're at it, here's two more photos from before the second game:
Yuushi Ueno, who was put on the roster in Kagami's place, and pitched against Todai last weekend.
Yudai Kajiya, who didn't play in this game. I just liked this picture.
By the way, if you watched the Carp-Giants game today, and you're into college baseball, you might have noticed a familiar face starting for the Carp: Hosei alum
Takeshi Komatsu
! He did fairly well, pitching 7 innings of one-run ball, the only run coming in on a homer to right by that weasel Wakiya. The Giants sadly won, but I thought it was really cool to see Komatsu pitch again, making his first start as a pro already!
Also, to sum up how Tokyo Big 6 is going this year:
Tokyo University still hasn't won a game, probably because Yuichi Suzuki blew out his arm last year and they just don't have anyone else who can pitch. They do face off against Rikkio University next week, and Rikkio hasn't won a SERIES yet, though at least they have won three GAMES, so maaaaaaaybe Todai can at least win a GAME against them. The weird part about Todai is that three of their guys are actually hitting somewhat well this year -- Utsumi's batting .290, Iwasaki's batting .286 and Furugaki's batting .276. Iwasaki even hit a home run. Last season, Iwasaki at .220 was the only guy who was both batting over .200 AND had enough plate appearances to count.
Soukeisen won't actually matter for anything this year as Keio has only won 2 series, and even if Waseda manages to beat Meiji tomorrow they'll only have 3 series as well. The real "for all the marbles" matchup is Hosei vs. Meiji NEXT weekend, May 23-24. Less people will show up for it than the Meiji-Waseda game on Saturday or than for Soukeisen, because Waseda is simply more popular, but whoever wins it will likely be the league champion. (And I kind of expect Hosei's batters to just pound the heck out of Meiji.)
On the other hand, Yuki Saito will most likely win the strikeout title for Big 6 this season -- it seems unlikely that Nomura or Futagami or anyone else will catch him.
Two other fun events will happen after the season finishes with Soukeisen:
Big 6 Rookie Tournament
, starting from the day after Soukeisen and going for three days. Freshmen and sophomores can play in that tournament, which means that if we're lucky, maybe some of those awesome Keio kids from last year's Koshien tournament will make an appearance. I really want to see Kei Tamura pitch again. Sadly, I can't actually go to this series for the most part, though.
The All-Japan College Tournament
is scheduled to be at Jingu and the Tokyo Dome between June 9th and 14th. I would joke that it'll be really neat to see Toyodai stomp everyone, except that since Asia-dai now has Okinawa Shogyo's Higashihama Nao, aka "Mr. Complete Game Shutout", tearing apart the Tohto league batters, and captain Ryoji "Okawari-kun Wannabe" Nakata eating up all of the pitching and everything else in sight, it may pretty much come down to whoever wins the Toyo-Asia final series, and signs point to Asia.
If nothing else, the marching bands should be pretty good.