You know that I love telling everybody about the little crazy things that happen in the amazing world of Japanese baseball, especially the things off the field.
So to talk about Saturday (May 9th)'s game, I need to first talk about what happened afterwards.
Basically, on May 17 2007, World Hypertension Day, the Chiba Lotte Marines fans, with the help of some medical companies in Japan,
set a Guinness Book of World Records record
for most people having their blood pressure checked in one location in a 24-hour period, when 2109 people had their pressure checked at Chiba Marine Stadium. Japan is well-known for having a lot of stress and blood pressure issues, so this was a good way to raise awareness of hypertension prevention.
Well, some lady in the Phillippines went and
broke that record
in March 2008.
Naturally Chiba decided to take the record back, and not only that, to get all of the Pacific League in on it, so there was actually a tally of how many people got checked in Chiba, at the Sapporo Dome, and at the Fukuoka Yahoo Dome, all on the same day. I believe Chiba won, though I'll have to confirm the official numbers later.
So after the game, I was pressured into getting my blood pressure checked, pun intended.
People line up for the "Roll up Your Sleeves, Japan!"
(ウデをまくろう、ニッポン!)
campaign.
Look how happy I am to get my blood pressure checked! The guy sitting to my left is Larry Rocca, whose idea this all was in the first place.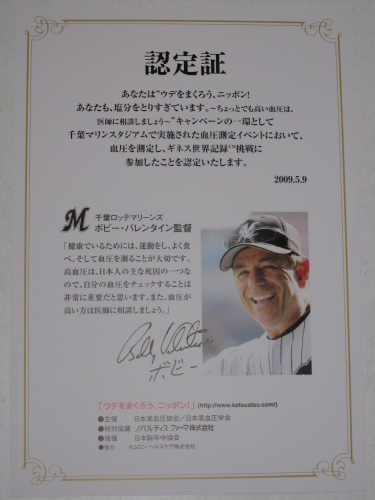 Everybody who got their pressure checked got a certificate from Bobby thanking them for being part of the blood pressure campaign, as well as telling them to be careful for their health. (The other side is where they wrote your blood pressure numbers.)
For the record, my blood pressure was measured at 141/85, which is a tiny bit high, but on the other hand I believe that you are supposed to get your blood pressure checked when you are at rest and relaxed, not when you have just run out of a stadium because a Chiba Lotte Marines staff member has been pestering you to get your blood pressure checked for the Guinness Book. And you definitely shouldn't have it done after you've been watching Hisashi Iwakuma pitch. :)
See, originally Saturday was going to be a day off from baseball, as I'd gone to baseball games 5 days straight at that point, and 8 of the previous 10 days. Unfortunately, my plans got cancelled due to other people's work. I woke up and saw that Hisashi Iwakuma was going to be the Rakuten starting pitcher, and quicker than you can say "the REAL MVP of the 2009 WBC", I was on a train to Chiba with my camera and scorecard.
I got to briefly say hi to Fernando Seguignol, which was nice, he's a great guy. Seggy is having a kind of slow start this year, but the team is kicking ass, so hopefully he'll warm up as the summer progresses. If not, we'll have to figure out a way to send a truckload of bananas up to Sendai for him. I know I'm technically not supposed to cheer for him anymore because he's not on the Fighters, but whatever, I think there are plenty of Fighters fans who still consider him "one of ours", as it were, and want him to do well as long as he isn't playing against us.
I apologize in advance for the rest of this post, as it's mostly a Rakuten photopost. I did mention that I was going to this game mostly to see Iwakuma, right?
Shingo Ono started for the Marines, and put up 6 good innings of one-run ball, and then he and Yoshihiro Itoh kind of got blown apart in the 7th inning for 4 runs, with Rakuten ultimately
winning 6-2
. Hisashi Iwakuma, for his part, was pretty good, although he had a really shaky and scary second inning where he walked three straight batters, including walking in a run. But he recovered to have an otherwise decent outing, 7 innings of one-run ball. Shinichiro Koyama gave up a home run to Iguchi in the 8th, and that's all Lotte would put on the board.
What sucks for Lotte is that I do think they had several chances to win this game, and just couldn't get it done. Like in the second inning when Satozaki came to bat, there were runners on first and second, and then Iguchi made a baserunning blunder and got picked off in a rundown; had he not, the Marines might have actually managed to knock Iwakuma out of the game in that shaky second inning. And then there were two fielding errors by Lotte -- coincidentally, Ryuji Miyade (!!) reached base on both of them. One time was a throwing error from third to first where Burnham had to jump to get the ball and Miyade was safe in the meantime, and another time, Takuya Furuya simply couldn't get the ball in time. I do give Shunichi Nemoto credit for making a nice play from second base to catch Miyade at the plate in the 7th inning, though.
Itoh also walked in the Eagles' go-ahead run by walking Kenshi Kawaguchi, but it looked like after the game they were interviewing Daisuke Kusano as the "game hero", probably because Kusano followed Kenshi's walk with a bases-clearing double, scoring Hijirisawa, Naoto Watanabe, and a pinch-running Shiokawa. On the other hand, and I know I'm biased, if I was going to pick a game hero for Rakuten, I'd certainly go with the dude who pitched his way in and out of the bottle of glue, if you know what I mean.
Anyway, here's a whole bunch of photos of your tied-for-first-place Rakuten Golden Eagles. If these guys can keep it up, you'll certainly be seeing and hearing about them quite a bit more this year...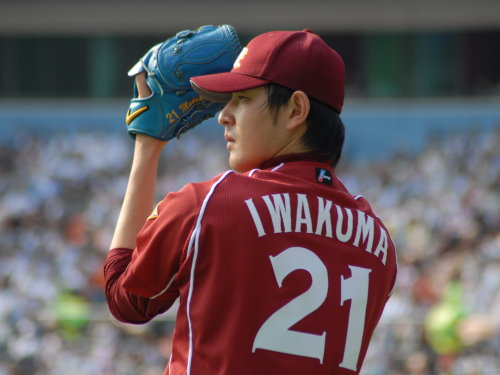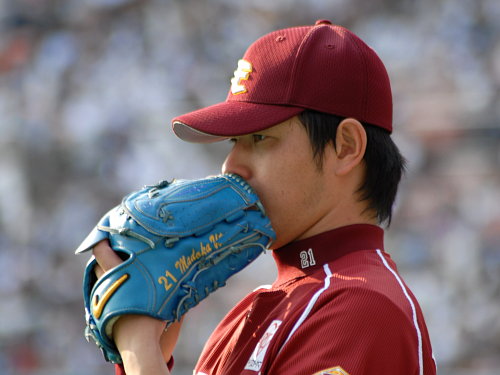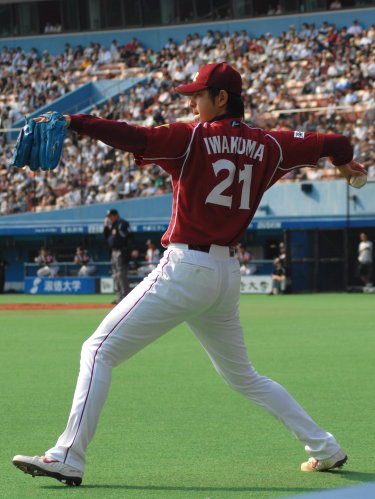 Do I need to say anything more about Hisashi Iwakuma? He is all levels of amazing, and the reason I went to this game in the first place.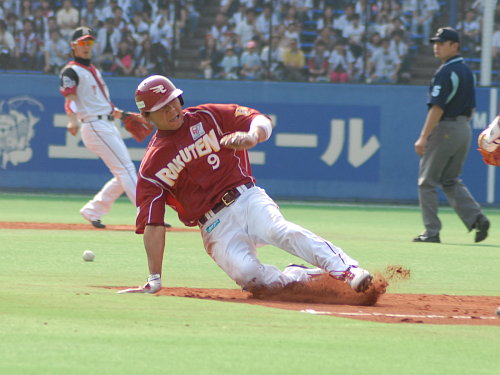 Ryuji Miyade sliding into third base in the 5th inning. I was a huge Miyade fan when he was with the Yakult Swallows, so I also kind of wanted to see him with his new birds of a feather.
Miyade high-fiving everyone back at the dugout.
Miyade sliding into home plate in the 7th inning, but he was out.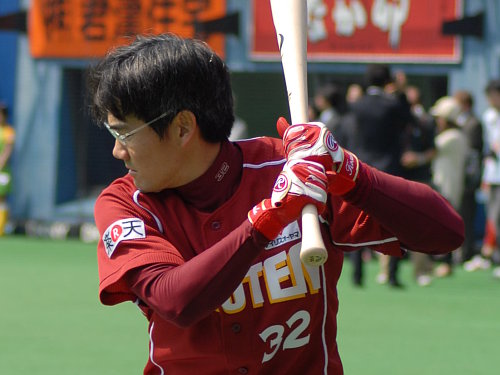 Another guy I used to be a huge fan of, Makoto Kosaka. Kosaka was the shortest guy in Japanese baseball at one point, and I was always amused by the idea of there being professional baseball players shorter than me, being as that never happens in the US.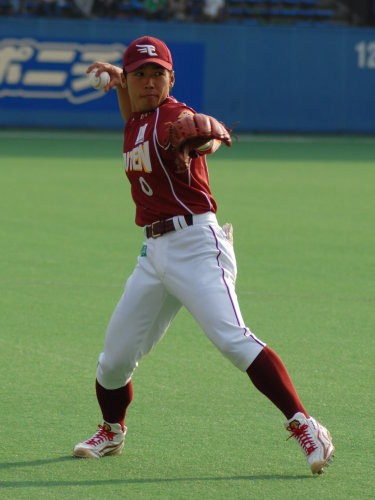 Little Kensuke Uchimura, who IS the shortest man in Japanese baseball at this point (at a whopping 163 centimeters). I've gone on about him a few times on this blog before, but he definitely was one of the best stories of 2008 Pro Yakyu, that's for sure.
Ryo Hijirisawa, who I saw a decent amount at ni-gun last year in his rookie season.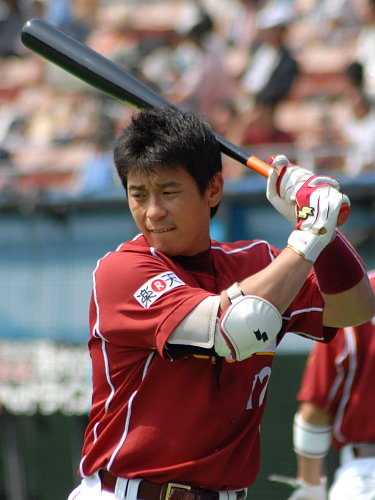 Daisuke Kusano, game hero.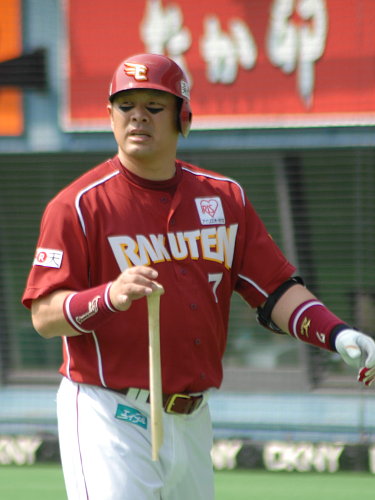 Takeshi "TAKESHI SMASH" Yamasaki wielding the remaining shard of his broken bat when he popped out to second base in the second inning.
And just because it's unfair not to include any Lotte photos in this post...
Bobby Valentine at bat! (For the ceremonial first pitch, but still, I think this is the first time I got a shot of him at the plate!)
Another photo for the Bobby 2010 collection -- a group of women behind first base made a set of posters that when held together spelled out "We want to fight together with Bobby forever".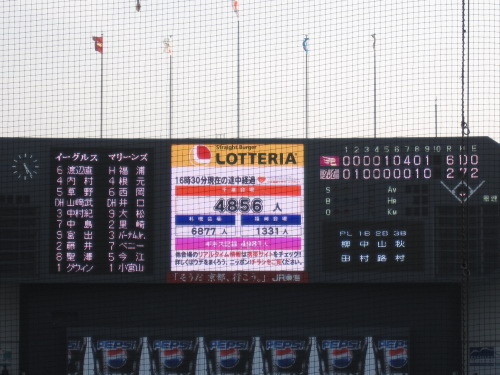 Final score of the game, along with the tally at that point for people in the blood pressure checking contest. It looked like Sapporo was ahead, but they also started their game earlier, so Chiba may have caught up with all of the post-game fans, maybe.