I'd been saying for ages how happy I was that the Fighters drafted Kazuhito Tadano, and I was super-excited when I saw him at
Kamagaya Fighters Fan Fest
, and tonight's game, where he DOMINATED the Rakuten Golden Eagles, was sort of a great moment that took 5 months to be realized. Or, on a more personal level, that took something like 5 YEARS to be realized. I've been wanting to go see the Fighters in Sapporo ever since they moved there, and so tonight was my first time being at the Sapporo Dome - and coincidentally it was also Kazuhito Tadano's debut game!
I'll admit that I was actually a bit worried because the Eagles were putting up Hisashi Iwakuma, who has been nigh untouchable so far this year. I figured, this is my only chance to see a game from the cheering sections at the Sapporo Dome, and Iwakuma's gonna do something like pitch a one-hitter and I won't get to do the Inaba Jump or sing Oi Hokkaido or anything fun, and people are going to be all grumpy...
...well, I was COMPLETELY WRONG. I mean, someone pitched a one-hitter and ruined the opposing fans' day, it just wasn't Iwakuma.
*Tadano* pitched seven innings of one-hit baseball. Seriously. He allowed exactly one runner the entire time he was out there and that was catcher Akihito Fujii, who got a single to center in the 3rd inning. HE. WAS. AWESOME. That's all. He stared at guys like Rick Short, Jose Fernandez, and Takeshi Yamasaki, and made them SIT RIGHT BACK DOWN. It was amazing.
In the meantime, Iwakuma ran into a whole bunch of trouble early on. In the first inning, he walked Takahito Kudoh, and then Kensuke Tanaka hit a double to left, and then we all started the Inaba Jump! (And I was REALLY excited about that. So was the little boy sitting two seats down from me who had a big Inaba sign.) Inaba singled to left as well, and Kudoh and Kensuke scored! Wheee!
2-0
. However, Inaba then got caught stealing, and Sledge grounded out.
The Fighters put a few more runners on base over the next few innings, but I wasn't really taking notes because I was doing more important things like yelling "KENSUKEEEEEEEEE!!!" at the top of my lungs, and singing cheer songs, and stuff like that.
In the 5th inning, with one out, Hichori hit the ball along the right field line which stayed barely fair and went into the corner for a double. Kudoh struck out, but then Kensuke Tanaka TRIPLED! Because he is AWESOME! Hichori scored,
3-0
. We jumped for Inaba and he responded by also hitting a double, scoring Kensuke.
4-0
. Funny part is, in most stadiums a lot of these doubles would actually be home runs, but the outfield walls in the Sapporo Dome are approximately six Hichoris high and thus a lot of things just bounce off the wall for doubles. Quite the pitcher's park. Anyway, Terrmel Sledge -- who comes out to Peter Gabriel's song Sledgehammer, and who the fans wave giant inflatable sledgehammers for -- also hit a double off the leftfield wall (I actually thought it was going to be a home run as it sailed towards us, but my guess is it fell a few feet short), scoring Inaba, so
5-0
, and that's when I found out that they really do play Na Na Na Na Hey Hey Hey Goodbye over the speakers when the opposing starter is knocked out. Iwakuma left the game and Yoshizaki came in, and he struck out a pinch-hitting Takaguchi to end the inning.
As I mentioned, Tadano pitched 7 fantastic, amazing innings. His act was followed up with Naoki Miyanishi pitching a mostly-uneventful 8th, and then Yachiho Hoshino pitching a... more eventful 9th. A pinch-hitting Kenshi Kawaguchi popped out to right, but then Naoto Watanabe singled to short and Yuji Iiyama overthrew to first, so while Naoto Inada was recovering the ball, the other Naoto made it to second. Takasu singled to left after that, and only a bullet-shot throw from Kudoh in left kept Watanabe from scoring. Rick Short hit a pop fly out -- two outs. One more person! One more! But that one more was Jose Fernandez, who hit a clean single that bounced in shallow right field, scoring Naoto Watanabe.
5-1
. And just to prove that we were NOT messing around anymore, they brought out Micheal Nakamura to pitch to The Big Man, Takeshi Yamasaki... and Yamasaki grounded out to third base and that was the game and the FIGHTERS WIN IT! YEEEEEAH!
I got to be in the midst of the big gold streamers flying all over the place afterwards, and then Tadano and Kensuke were the game heroes and it was awesome. I recorded most of the hero interview and just made a Youtube account so I can upload it, but seem to be having some trouble actually doing so (though other stuff uploaded fine). I'll try again tomorrow.
Okay, so the game aside, I had a fantastic time at the Sapporo Dome. I showed up around 3:30pm, I guess, and hit the one really sad spot in my day -- went into the Dome shop and found out that THEY DON'T SELL THOSE BEAUTIFUL BLUE HOKKAIDO JERSEYS ANYMORE. I had been looking forward to buying one for ages, and it seems it was just a summer special last year. ARGH! I also found out they didn't have the green Morimoto #1 t-shirts in my size, which sucks, I might go to the Fighters store in Marui Imai tomorrow morning before I head to the park and check there, before deciding what stuff to get instead. (I saw that letters are 400 yen each and big numbers are 900 yen... so "Takeda #2138" is probably not happening, but I think I'll end up getting letters to make "Kensuke #3" for my numberless away jersey.
One thing I have to mention is that Fighters fans in Hokkaido are CREATIVE. The ones in the outfield, seriously, most people had signs for at least one player -- usually for many players -- and a LOT of people had cool homemade jerseys with various numbers and players and phrases. When I get around to cropping and uploading most of my pictures there'll be some examples, including a dude who had "Oi Oi Hokkaido, Banzai! Banzai! Banzai!" on his, and a lady who went overboard with Naoto Inada stuff. I saw a LOT of people with pink-bordered Kensuke lettering, blue-bordered Makoto Kaneko, and green-bordered Hichori, among other things, and most people had kanji, too, which is NOT sold in the official store. (I asked one girl how she made her jersey and she said she went to a sporting goods store and bought the kanji patches there and sewed them on.)
You would be surprised how many of the young guys on the Fighters without much top league experience, who seem to get largely forgotten in Tokyo, have huge followings in Hokkaido. There were a TON of Youhei Kaneko fans, and even MORE Naoto Inada fans, and tons of Kudoh shirts too... heck, even a few rows ahead of me was the Tomoyuki Oda cheering contingent. Oda has been on the team as long as *I* remember, yet he hasn't particularly done much in the last few years, so it was surprising. (Plus he embarrasses me because his cheer song is "Ganbare ganbare Oda, right, left, center e" and I always, always, always STILL get them backwards and look stupid.) Anyway, this is a good thing being as the team is kind of going through a transition again from old guard to new, but still, it's a little weird.
The other thing I have to say about Fighters fans is that they are AWESOME as always. I have never, ever, ever, felt as comfortable in a big group of baseball fans as I have been around Fighters fans forever and ever. I was wearing my super-old Tokyo fighters jersey and taking pictures of stuff and a lot of people just chatted with me. It reminded me of my first Fighters game, when everyone was like "Come join us! Let's sing! Let's cheer for the Fighters!" I was watching most of the game with a big stupid "I'm in Sapporo Dome this is SO COOL" grin on my face, I'm sure.
There was a ton of stuff going on for fans in the Dome, too -- outside was some sort of Fighters festival which involved speed pitch and batting cages, some normal carnival game type things, a golf game, a stage that people were doing stuff on I couldn't figure out, a ton of picnic tables and food stands, and the weirdest of all was probably the animal petting zoo -- no joke, they had ducks and bunnies and hamsters for kids to play with, as well as an emu and a goat and another animal I forget what it was. Oh, and an animal handler was holding a snake that people could pet as well. Pretty crazy. Inside was a lot of stuff that I think is normal -- a BB booth for kids to pose with the Fighters mascot, a Nintendo Wii stand where people could play Wii Sports, and oh, the craziest thing -- they have these gatchapon capsule games, with Fighters player pins inside, that you can only get at the Sapporo Dome. Only catch is, in order to use the capsule machine, you have to go buy special coins that go into it, which cost 200 yen each. And the only way to buy those special coins is if you are a Fighters fan club member -- and each member can only buy 5 coins per game. I bought 2 because I wasn't sure what they were for, and I got a Kensuke Tanaka (!!!!!) pin and a Tatsuo Katoh, which I didn't care so much about. So the next two days I have to make sure to buy 5 each, of course :)
Another crazy thing is that today they had a very special ceremonial first pitch --
Hideki Saijo
, who is a fairly well-established singer in Japan. Why was he there? Well, because the Fighters play YMCA (the Japanese version, called "Young Man") every game in the 5th inning. And would you guess who sang the original "Young Man" back in 1979 or so? Hideki Saijo, of course. So people cheered like mad when he threw out the pitch, and then during the 5th inning, he actually sang YMCA/Youngman LIVE! That was really really cool! (And by the way, unlike in America where people only dance during YMCA if they want to be on the big screen, EVERYONE dances to YMCA here. If you don't, you risk getting hit in the head by people making Y's.)
Speaking of music, they play "Who Let The Dogs Out?" after pretty much every 1-2-3 inning from the opposing team, and maybe even more, I dunno, but EVERYONE claps along to the "woof woof woof" part. It's pretty funny. People clap along to all of the player at-bat music as well (and in general the
at-bat music
is pretty good), although it's not integrated into the cheers like, say, the Giants AB songs are.
Oh yeah, and in the 6th inning this vaguely familiar Japanese guy comes down the aisle and says (in Japanese), "hey -- were you at Hillman's Hangout last night?" and I said yeah, and he said, "I thought so! I was there too, we were a few tables over from you," and I'm like "Oh yeah, I remember you guys!" and he points up to the top of the next section and there's his girlfriend and she's waving at us. Wow! That was pretty funny too. Turns out he also keeps a scorecard too, so at the top of the 7th I went up to where they were sitting and we compared American and Japanese scorebooks. Oh, even BETTER, the two of them told me they live in Shinjuku (the guy has been a Fighters fan ALL HIS LIFE, and is also a huge Yukio Tanaka fan) and ALSO just came up to Sapporo for the weekend just for the Fighters series. Holy crap! ("You're CRAZY! You came all the way here for the games too!" "No, YOU'RE crazy! You came here alone!") They're gonna be at the Giants-Fighters games later this month but actually managed to get tickets in the outfield, unlike me. Lucky!
After the game I ran into them again on my way out and chatted some more, and we got a security guard to take our picture together, so this is my "Look I'm in the Sapporo Dome" picture, only you can't really tell it's the Sapporo Dome: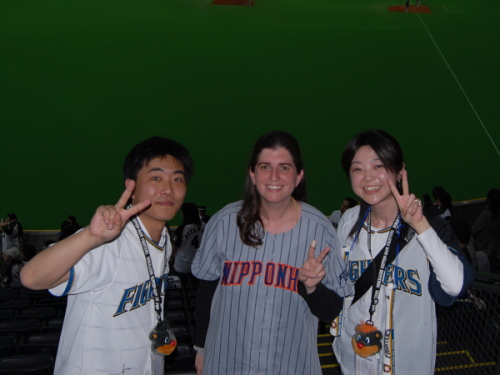 Oh, and while I'm at it -- so today I had a goal of learning the cheer songs for Terrmel Sledge and for Takahito Kudoh, so I recorded videos of everyone singing those songs acapella and with trumpets, and with my brand new awesome Youtube Account, I can now show you those videos! Cool, huh?
ノースカロライナパワー ホームラン スレッジ
大地に万里風吹かせよ 熱くなれ ハンマー・スレッジ
North Carolina power, homerun Sledge
Daichi ni banrifuu fukaseyo atsuku nare Hammer Sledge
(Go go let's go su-re-ji!)
さぁ行けよ工藤 疾風の如く
フィールド駆け抜け勝ち取れ 勝利の栄光を
Saa ikeyo Kudoh, hayate no kodoku
Field kakenuke kachitore shouri no eikou wo
(Kattobase Kudoh!)
After the game, getting home was kind of a NIGHTMARE, though. There's only one subway stop near the Dome, and so 40,000 people at once are all going towards it, which results in insane clogging, of course. Though, I ended up stopping in Ito Yokado by the station and found the BB Ears that I wanted, so that was good. I'm going to look crazy ridiculous wearing them, but I don't think I care.
Okay, off to sleep with me. And to think I have TWO MORE DAYS OF THIS! Although the next two days I won't actually be in the outfield, so it might be slightly less fun. We'll see. Tomorrow is Shugo Fujii vs. Domingo Guzman, so I really have absolutely no clue how this game's gonna go. I did make one decision though, and that's that I will try one of the Inaba bento boxes tomorrow for lunch.