Dragons 4, Swallows 1
Last Sunday I went down to Nagoya, even though I had been hit by a truck on Saturday. Why? Because I'm stupid, that's why. Even better, it turned out that my friend Jeff hadn't ACTUALLY gotten us tickets, and somehow a Swallows-Dragons game actually sold out, so I found myself standing there at the Nagoya Dome an hour or two before the game trying to chat up a few scalpers... I did get us tickets, but it cost 4000 yen per ticket for seats somewhere in the vicinity of Gifu: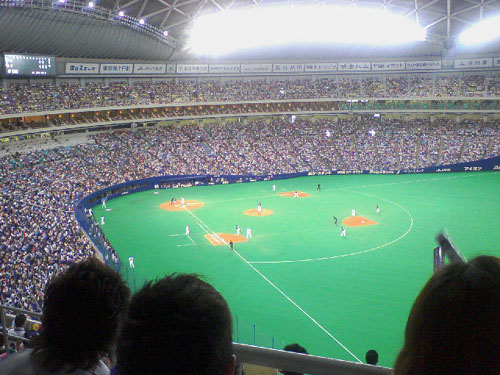 Even Tyrone Woods isn't going to hit a ball all the way up here.
Jeff actually made a
pretty nifty panorama
of our view; I think that was the only thing he managed to get a decent picture of, though.
Anyway, I was a bit nervous about this game because Seth Greisinger was starting for Yakult, and he's probably the best starting pitcher in the Central League right now (the guy's 15-6 on a team that's something like 50-75), but... whatever magic he normally has, I guess he didn't have it for this game, because the Dragons exploded on him for four runs in the first inning, batting around the order, the first SIX batters getting a hit: Ibata double, Araki single, Nori Nakamura single (RBI), Woods double (RBI), Morino single (RBI), Byung-Kyu Lee single (RBI). With the score already 4-0, runners on first and second with no outs, Hidenori sac bunted them to second and third, but then Motonobu Tanishige struck out and pitcher Kenichi Nakata grounded out.
Good thing they got those runs then, too, because between Greisinger, and Brian Sikorski, and Yuuya Kamada, and Masao Kida (how many of Yakult's current pitchers played a game in Tacoma at some point?) the Dragons were shut down for the rest of the game, only managing four more runners total.
They might have had a chance to do something in the 6th inning, when Morino led off with a single, but then got himself caught in a pretty funny rundown immediately after. I wrote it down as 4-3-6-3-6-4-3 because it was really a 4-3 groundout by Lee, but Morino got himself caught off base. Immediately after that, Hidenori walked and should have gotten thrown out stealing second, but Tanaka bobbled the ball and instead Hidenori was at third base for Tanishige to strike out -- and that was really it for the Dragons' post-first-inning offense.
The Swallows were mostly shut down because "K is for Kenichi and that's good enough for me" Nakata managed to get 9 strikeouts... and 7 of those were of Alex Ramirez and Aaron Guiel, 4 and 3 respectively. Maybe Guiel was thrown off by the Swallows oendan playing Oh Canada as his fanfare? The team did manage one run in the 5th inning; Tyrone Woods missed a throw from Ibata, putting Shinya Miyamoto on base; Miyamoto advanced on a wild pitch during Iihara's at-bat; didn't advance on what should have been a groundout by Kawamoto but the ball was bobbled, and both of them advanced when Mitsuru "Short and Fat" Manaka got a pinch-hit walk to load the bases. Aoki hit a sac fly to right which scored Miyamoto, but that was it for the inning, Ibata snagging another grounder to get the force out at second.
I need to take a second just to say something - in case you don't already know this, Hirokazu Ibata is the best shortstop in Japan, hands down (well, or hands up as the case may be most of the time). He just wins at baseball - fielding, hitting, etc. But watching him field is just amazing -- it's almost like he knows where the ball is going to go, and he's positioned to make the plays all look super-easy. Maybe that's why nobody outside of Nagoya seems to realize how damn good he is.
I was also happy to see Morino make some sweet plays at third base, after switching in from left field in the 6th inning.
Hitoki Iwase came in to pitch the 9th inning and got the save, which, as it turned out, was his 150th career save; he's the 6th player in Japanese history to achieve that number. He and Nakata were the game heroes; as it turns out, Nakata's 9 strikeouts had put him in the Central League strikeout lead, though they didn't mention at the time that his total was 150 strikeouts. 150 saves, 150 strikeouts. Pretty cool.
Iwase's hero interview, with the final score.
After the game, we went and got some yummy Nagoya food for dinner -- ie, miso katsu and tebasaki -- and then I took the train back up to Tokyo. Yeah, it wasn't a very long trip; hopefully I'll go down there again at some point, we'll see. I like Nagoya in general.
I'm going to see the Dragons at Jingu tomorrow (9/17), and then at the Tokyo Dome on 9/24, and then maybe in Yokohama on 10/7. So buying a Morino replica jersey wasn't entirely a waste :)