May 7th is my birthday, but May 6th is the last day of Golden Week, so technically you could say the game I went to in Yokohama on Tuesday was my birthday game. I mean, the 7th was Darvish vs. Wakui at the Seibu Dump, and would have been a perfect birthday game, except I had to work all evening. And Nashida left Darvish in too long and the Fighters lost anyway. On the bright side, about 150 miles from here, the Chunichi Dragons won their game, and on an even brighter side, Masa Yamamoto started and got the win. So now he only needs 6 more to go for 200 career wins! GO OLD MAN GO! YOU CAN DO IT!
(On a less bright side, about 150 miles away from here in the ocean, there was just a
series of earthquakes
that measured between 5.1 and 6.8 on the Richter scale, and my apartment was shaking on and off for a good hour between tremors. That was SCARY. Thanks for the birthday quake, Japan, but you really shouldn't have. Honest.)
Anyway, on Tuesday, I was lucky enough to get to go to a Baystars vs. Yakult game with Michael Westbay (of japanesebaseball.com fame) and his son. Westbay doesn't do the whole cheering thing, but his son is totally into banging cheersticks and yelling a lot, so I had a sidekick to yell with :) Plus his son is a big fan of Tatsuhiko Kinjoh (who batted 3rd), and I am a big fan of Takuro Ishii (who batted 7th), so we had pretty good yelling coverage of the lineup.
But, first, I had to go spy on the Yakult Swallows during their fielding practice; since it was a gorgeous sunny day out, I brought my camera and went around stealing souls for a bit:

This is Kyohei Muranaka, a 20-year-old lefty who had a no-hitter going for 8.1 innings against the Giants the other day only to lose the game 5-0 in the 9th.



Shinya "Captain Japan" Miyamoto goes flying through the air with the greatest of ease!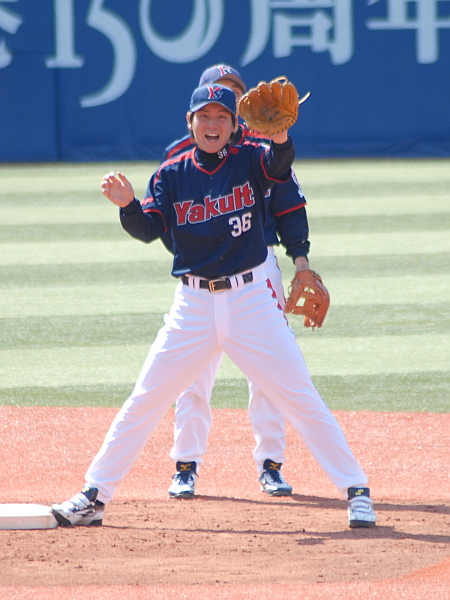 Shingo Kawabata just LOVES fielding practice!
See
more pictures here
.
The pre-game was most of the usual stuff -- the Yokohama dancing cheer girl team, which is called
diana
, but is pronounced the same as "Deanna", has a new t-shirt they're selling now and some new pregame dances, with the loudspeaker playing "Go! Go! Diana!" as part of it. So I come back from the concourse, and Westbay's like "Go! Go! Deanna!"
The starters for the game were both non-Japanese -- Mike Wood for the Baystars, and Daniel Rios for the Swallows. Rios is an incredibly intriguing pitcher to me -- he was born in Spain, grew up in the US, pitched in the minors and majors over here, then went all over the damn place in independent leagues and Mexico, before spending a couple of years in Korea. Last year he had what was one of the most amazing years ever by a pitcher in the KBO, going something like 22-5 with a 2.07 ERA for the Doosan Bears, so naturally the next step up was coming to Japan. Or something. So far he is now 1-4 with a 5.09 ERA for Yakult, though, making him one of the weaker starters on the team, oddly. It was still exciting to see him pitch though, and he went pretty deep into this game.

Yakult starter Danny Rios.



Baystars starter Mike Wood.
I'm going to list the lineups a second, because they were kind of wacky to me for various reasons:

Yakult               Yokohama
------               --------
Keizo 3B             Ohnishi LF
Fukuchi CF           Fujita "2B"
Beavis 2B            Kinjoh CF       
Guiel RF             Murata 3B    
Miyamoto SS          Uchikawa 1B
Yuichi 1B            Yoshimura RF 
Iihara LF            Takuro SS           
Yoneno C             Tsuruoka C
Rios P               Wood P
Wacky #1: No Aoki! Turns out he has a mild injury, but we didn't know that at the time.
Wacky #2: Yuichi Matsumoto at first base instead of Adam Riggs?
Wacky #3: Uhh... Yoneno?
Wacky #4: No Nishi? And Takuro Ishii batting 7th?
Also, we saw Shingo Nonaka out there playing catch with Yoshimura between innings, and I was all like "LOOK! IT'S NONAKA!!!!!" and everyone's like "So what?"
We were sitting in Field A seats, which means we were actually pretty close to the field, but the way Yokohama Stadium works, that area isn't really slanted much at all, so your view of home plate will often be worse than your view of most other parts of the field, if just one tall person is sitting in your way. Which, of course, always inevitably happens to me. But Westbay's son was also having trouble seeing -- he kept standing up and looking around like "I can see... kind of... through that LITTLE BITTY HOLE there!"
Thus I ended up making my photography goal for the day to get a good shot of someone getting tagged on a pickoff to first, since I had a clear shot of first. And naturally, every time there was a pickoff throw, someone was in my way -- a beer girl, a random kid standing up, etc. It was pretty amazing.
So here's about the best I could do:

Yuichi Matsumoto looks like he's going to backhand Takuro Ishii upside the head or butt or something.



One of the better ones to come out, of Yasushi Iihara diving back into first.



Fukuchi almost looks like he's doing pushups here.
And the funny part is, the Baystars put guys on base a LOT, so I should have had plenty of pickoff photo fodder. (They also LEFT a lot of guys on base, but that's another story.) They loaded the bases in the 2nd inning on consecutive singles by Takuro Ishii and Kazunari Tsuruoka, and then pitcher Mike Wood actually WALKED, but then Hiroaki Ohnishi grounded out.
In the bottom of the 4th, they put on plenty of runners again -- Uchikawa led off with a single, Yoshimura followed it with another single, and then Takuro sac bunted the guys over to second and third. Fine. With Tsuruoka at bat, and one out, I watched as Yakult's second baseman Hiroyasu Tanaka pretty much looked at the pitcher, looked at the plate and took about five steps to his right. Five seconds later, Tsuruoka grounded the ball RIGHT TO HIROYASU, who fired it home to catch Uchikawa in plenty of time. Sheesh.
"Hey," said Westbay, "What on earth was that second baseman doing in perfect position to make that play?"
"Oh," I said, "He was totally waiting for it. You know, when that Hiroyasu Tanaka kid got the Best Nine award at second base last year, and most people were like 'Who!?', I do think he might have actually deserved it..."
In the top of the 5th, Shinya "Captain Japan" Miyamoto hit the ball deep to right field, where it momentarily seemed like Yuuki Yoshimura made the catch, but he couldn't hold onto the ball, and it dropped for a double.
"They called that a HIT?!" said Westbay in disbelief.
"Well, it WAS kind of a tough play...? I mean, I like Yuuki a lot but to be honest, I'm amazed he even touched the ball before it hit the ground. He's not exactly the fastest guy out there."
"He got a late start on it though."
So Yuichi Matsumoto sac bunted Miyamoto over to third, and then Iihara walked, so with runners at the corners and one out it wasn't too difficult even for Yoneno to pull off a squeeze bunt. Baystars 2B Kazuya Fujita, whom Westbay had been commenting all game on the lack of fielding ability thereof, or at least his range compared to Nishi, was late covering first and almost didn't make the play at all. Yikes. So, Miyamoto scored, and that made it
1-0
, and the umbrellas came out in full force in the leftfield bleachers.
Keizo Kawashima led off the top of the 6th with another double, Fukuchi sac bunting him over to third as well. "Great," I said, "Here comes another run." But Hiroyasu grounded out, as did Guiel. The guys sitting to my left, who had been yelling random silly crap all game, decided that Hiroyasu's chant reminded them of Shinnosuke Abe's for some reason, and they started cheering "Shinnosuke!!!" for him, which was just... plain... weird.
In the realm of Players Doing Things I Want To Punch Them For, Seiichi Uchikawa slid headfirst into first base on a groundout, which never fails to annoy me for some reason. But then Yoshimura walked and stole second! Scoring position with Takuro Ishii at bat!
"TAKUROOOOOOOOOOOOOOO!!!" I yelled, having been holding up my Ishii towel during all of his atbats and doing my Takuro Ishii's Biggest Fan act. "TANOMU YO!" (Which is about the equivalent of "Come on, we're begging/asking/counting on you!!") The guy to my left laughed and also yelled "TAKURO!! TANOMU YO!" Anyway, Takuro also walked. Exciting! Kind of! Time for chance music! Time for Tsuruoka to come to bat! Time for Tsuruoka to ground into a fielder's choice and end the inning! How totally anticlimactic.

"Our nice white uniforms are very very dirty," says Takuro Ishii, "And we still don't have any freaking runs scored to show for it."
In the top of the 7th, for the THIRD INNING IN A ROW, the Swallows led off with a double and sac bunted the runner over to third, this time the perpetrators being Miyamoto and Yuichi yet again. Difference this time is that Fujita pulled a Hiroyasu and actually pegged Miyamoto at the plate, so another run did NOT score. Whew.
The Lucky 7 inning came and went. Matt Wood came out of the game and Travis Hughes came in for Yokohama to pitch the top of the 8th. Hughes proceeded to strike out two guys, walk one, and strike out another. Cute.
Tatsuhiko Kinjoh led off the bottom of the 8th by promptly hitting a liner straight into Hiroyasu Tanaka's glove ("Why is that pesky second baseman ALWAYS there to make the play?" said Westbay), and Shuuichi Murata, The Man, hit a biiiiiiiig towering fly ball that landed in now-centerfielder Keizo Kawashima's glove. So with two outs in the bottom of the 8th it seemed like things were pretty futile.
But then Uchikawa hit a sharp liner out towards right center that looked like it might end up as a homer. Might... might... not quite, but it bounced high on the wall and fell in for a double. And then Yuuki Yoshimura walked, and here was Takuro Ishii up to bat again with runners at first and second. Time for lots of yelling! And this time, Takuro hit a nice clean single to left! Uchikawa ran all the way around from second, beat the throw, and SCORED!
1-1
tie game!

First Yokohama run of the game scores!
And then, pinch-hitting in the 8 spot, was none other than another one of my favorite old dudes on Yokohama, Takahiro Saeki. More chance music! Utte utte Saeki, utte utte Saeki, kattobase Saeki! Utte utte Saeki, utte-- WAIT WTF JUST HAPPENED? Everyone's running! Where's the ball! What the heck?
It seems that Rios faked a pickoff throw to first -- or made some sort of weird motion -- and then actually threw to first, but stumpy first baseman Shinichi Takeuchi wasn't expecting that either, and so the ball flew wild towards the dugout. Yuuki Yoshimura ran home from third and scored easily.
2-1
. And in the confusion trying to actually recover the ball and stop the damage, Takuro Ishii made it all the way around to third base. Saeki ultimately ended up walking, and that's when Daniel Rios came out of the game.
Former Fighters pitcher Takahiko Oshimoto came in for Yakult, and got Tatsuya Ozeki to ground out to end the inning, but that was still a pretty good amount of excitement. Westbay's son said, "They call it Lucky 7 but today it was really Lucky 8!"
What was also awesome about the entire turn of events was that I got to see Hayato Terahara in his new role as Yokohama's closer. I think this is actually a role that totally suits him. Terahara was known for setting a speed record at Koshien back in high school, and he's still quite capable of rearing back and throwing 97 mph. The problem is, as a starter, he can't go out there and throw like that every pitch. But as a closer, he can just let loose for one inning and just go for pure power, and everyone's all like "Ooooh, 155!!" as they watch the scoreboard. He dealt with Guiel, Miyamoto, and Takeuchi in pretty quick order and then the game was over! Yay! The Baystars
ACTUALLY WIN ONE
!
Game heroes were Takuro and Terahara. I stood up on my chair, cheered, and took pictures:

"Were you trying to do something really big when you came to bat in the 8th inning, Takuro?"
"Not really."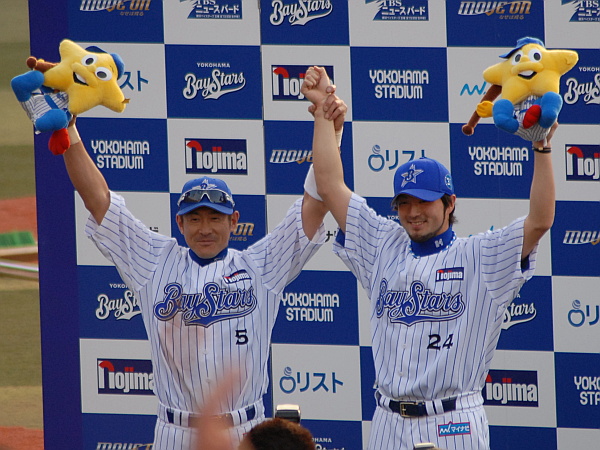 明日の星を掴めよ石井その手で。
The Baystars players all threw their hats into the crowd after the game, and then after the hero interview, Takuro and Terahara went out and threw a bunch of signed baseballs into the crowd. I stood up on my chair and held up my Ishii towel and yelled "TAKUROOOOOOOOOOOOOOO!!!" It didn't result in anything getting thrown my way, though, sadly.
The guys two rows in front of me were like "Hey look at her with her Takuro towel," and the one guy's like "I have Nishi, see?" and waves his Toshihisa Nishi towel, and then the other dude holds up a Kimiyasu Kudoh towel and I just crack up like "Oyaji?" Because, after all, Kudoh's 45th birthday was on Monday.
We pack up our stuff to leave the stadium. It's a pretty exciting day -- nice weather, fun game, big dramatic comeback win out of nowhere, and then I realize something kind of stupid.
"This win was nice and all," I said, "but the Baystars still haven't reached double digits in wins yet, have they?"
"I don't think so," said Westbay.
"Wow." I pause. "They're REALLY sucking it up this year."
(For the record, they still haven't gotten to 10, having dropped their next two games after this one. I'd say I should go back and cheer for them more, since they won both times I cheered for them this year, but I think the next time I plan to head to Yokohama is when the Fighters play there on June 8/9...)