Today is the birthday of one Bobby V,
Who starred in a
film that you all ought to see
.
It airs at 9 Eastern, on ESPN,
And it has a good dose of some pure Bobby Zen.
The filmmakers took on a fresh attitude;
tried biking and subways and every town's food;
To learn about
yakyuu
-- that was the main plan --
But also to bring home a slice of Japan.
The camera followed through cold days and warm;
adventures on Fuji in darkness and storm;
They saw highschool baseball, and sumo as well,
and tried karaoke and gave Bobby hell.
Of baseball, the passion's what really appealed --
The true dedication both on- and off-field.
They filmed from the dugout, the rooftop, the stands,
And captured the spirit of players and fans.
To Bobby: we thank you for being so vocal
on improving the game AND on keeping it local.
So for all that you've done and for all that you do --
Have another great year! Happy birthday to you!!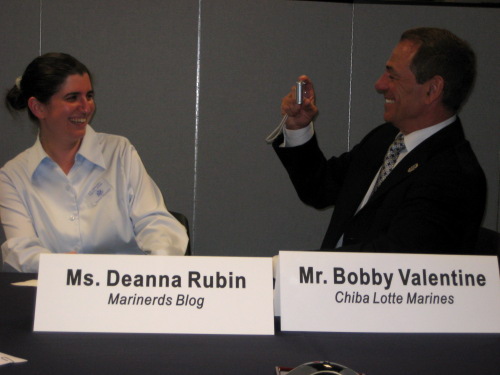 (Photo taken by Larry Rocca, and presented without explanation, because it's funnier this way, I think.)