I wasn't originally going to make a photo set for this day since it wasn't even a game I'd originally intended to see. I'd already gone to see both the Lions and Buffaloes in their home stadiums, both playing the Fighters -- and I've posted the photo sets from those days already, even (check out the
trip pictures
tag) -- but when looking through the pictures I took that night, I realized I got a whole bunch of semi-decent pictures of players, so I might as well crop them and put them up anyway.
So, these are from September 15th. It was a Friday night, I couldn't get in touch with any of my friends to hang out, so I took the train back out to Tokorozawa for some baseball. Looking back at the
box score
for the game, only 10,000 people were there. ON A FRIDAY NIGHT IN THE MIDST OF THE PENNANT RACE! What's even crazier is that I got a seat in the second row, in the infield, right by third base -- and then decided to move BACK to the 22nd row so I could take pictures over the fence. Here's my
blog entry from that day
.
And yeah, this was the day of the infamous
bunt heard round the world
that I wrote about later on. I still think of Toru Hosokawa every time I see a reference to enka singer Kiyoshi Hikawa, too. Funny that.
I also got to see current Phillies NRI Karim Garcia strike out twice and hit a home run that day. Whee!
Full photoset with thumbnails and descriptions here:
Lions vs. Buffaloes at the Seibu Invoice Dome, September 15, 2006
And of course I'll put up a few thumbnails here. I think the theme of this set was either "Hiroyuki Nakajima talks too much" or "Leave it to Liefer".
Wide field view, final game score, little leaguers gather pre-game: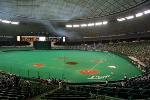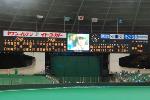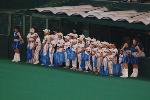 Orix fans in left, Lions fans in right, Lions players bow to the fans after winning: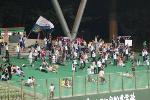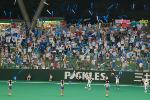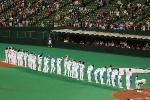 Toru Hosokawa bunts, Karim Garcia swings, Yasunari Takagi pitches: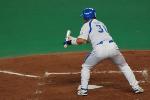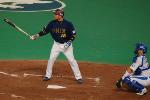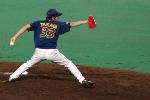 Meiji vendor peddles candy, Alex Cabrera's post-HR lion doll, Jeff Liefer is game hero: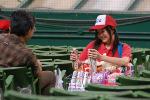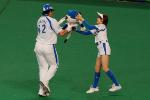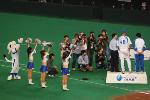 Lions starter Matsunaga, Orix starter Hirano, Ming-Chieh Hsu, Minoru Yamagishi, Lions closer Chikara Onodera: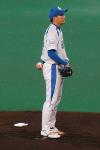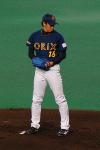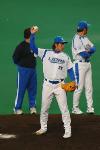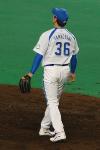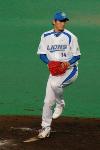 Alex Cabrera, Kazuhiro Wada, Shogo Akada, Eiji Mizuguchi, and Hiroyuki Nakajima talking gloves with Hsu: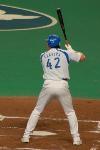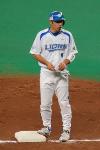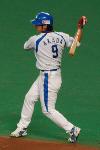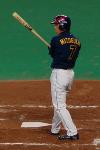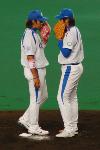 Tea vendor, Lions mascot, ball girl, Lions cheer chicks, indoor post-game fireworks: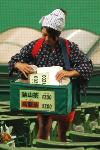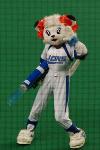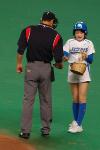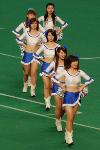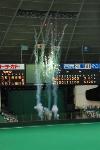 The Seibu Dome at night is a really frustrating place to shoot, and I ended up experimenting with taking shots at ISO 800 and 1600. Unfortunately, this meant that I got less blurry shots in a lot of cases, but they were so grainy they still looked kind of bad. I really need a low-light zoom, but I sort of can't afford one right now...