This post was inspired by a misunderstanding in a recent
USS Mariner daily thread
. Someone saw a recent Mariners
Around the Horn
article, and saw the lines "There was a point last August [in 2006] when the Mariners were the lone team in the Major Leagues to have used the same five starting pitchers all season. Say what you want about the combined production Jamie Moyer, Jarrod Washburn, Joel Pineiro, Felix Hernandez and Gil Meche gave the Mariners..." and got them confused with the Mariners 2003 rotation, because we didn't have Felix or J-Rod back then.
See, in
2003
, the team managed to use the same five pitchers to start every single game -- Moyer, Garcia, Pineiro, Meche, and Franklin. As it turns out, apparently the only other teams to do this since 1900 were the
1904 Red Sox
and the
1966 Dodgers
.
Of course, as far as I can tell, the 1904 Sox only HAD five pitchers, anchored by Cy Young (41 starts, 26-16, 1.97 ERA, 380 IP, 29 BB, 200 K). The 1966 Dodgers were anchored by Sandy Koufax (41 starts, 27-9, 1.73 ERA, 323 IP, 77 BB, 317 K), who of course won the Cy Young award that year, and retired after that season. The 2003 Mariners, on the other hand, were anchored by... Jamie Moyer (33 starts, 21-7, 3.27 ERA, 215 IP, 66 BB, 129 K), who... became the oldest guy to ever play in his first All-Star game that year at the young age of 40. (Satchel Paige was voted into his first All-Star Game in 1952 at the age of 46, but didn't play.) Jamie, of course, has no intention of retiring until after he turns 50, though, as an aside, if he's still pitching past the end of May 2007, will be older than Cy Young was in his last game. He'll probably be throwing the ball about as fast, too.
Sadly, this might be one of the few times I can find a good excuse to put Cy Young, Sandy Koufax, and Jamie Moyer all in the same paragraph.
Anyway, this is a Foto post. Honest: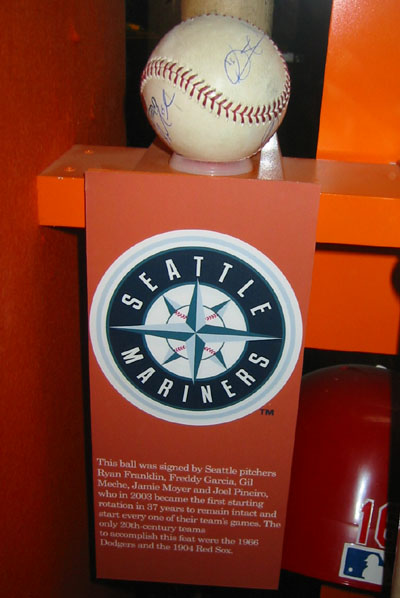 From the 2003 events display at Cooperstown.
If it's fuzzy, the description reads:
"This ball was signed by Seattle pitchers Ryan Franklin, Freddy Garcia, Gil Meche, Jamie Moyer and Joel Pineiro, who in 2003 became the first starting rotation in 37 years to remain intact and start every one of their team's games. The only 20th century teams to accomplish this feat were the 1966 Dodgers and the 1904 Red Sox."
I've been to Cooperstown twice, once in 1989 and once in 2003, but I haven't really put a lot of the pictures I took online, mostly because they really suck. Also, on said latter trip, the place was still under construction, so there wasn't as much to see anyway. Either way, there were a few other neat Mariners items there, like a
ball that Shiggy pitched to Ichiro
in 2001 which was the first Japanese-Japanese pitcher-batter matchup in the MLB, a
bat used by Bret Boone
when he hit his 33rd home run of 2001 and broke the AL record for HRs by a second baseman, a
hat and ball from John Halama
when he threw a perfect game for the Tacoma Rainiers on July 7 2001, and bats from both
Bret Boone
and
Mike Cameron
from
May 2, 2002
, where they became the first teammates to hit back-to-back home runs TWICE in the first inning, as well as Cameron hitting four home runs in four consecutive at-bats. Wow. Or maybe I should say, "My oh my!"
Anyway, say what you want about Franklin, Meche, and Pineiro, but they are, in their own special way, in Cooperstown.
(EDIT: In CRAZY COINCIDENCE land, Jim Parque, who gave up three out of the four home runs to Mike Cameron that day, has
just signed a minor league and NRI deal with the Mariners
. My gosh, I must be psychic.)