After watching the
Toshitaikou bracketing
on Saturday, I was like "Hey, I was thinking of going to Jingu tonight for the Yakult-Hanshin game, wanna go?"
So we did.
Before the game, I had a very important piece of business to take care of, however. You see, it's been over a year now since
Ryuji moved to Sendai
, and it's been a long process for me to get over him and find a new guy. I'd started to notice a certain outfielder towards the end of last year though, and after some soul-searching this year, while I realized I am actually more into Mikinori, it's so unpredictable to know when I'll actually get to see him, you never know where he's going to be.
So I finally went ahead and committed to Yasushi:
And so far, he has reciprocated in kind :)
(In other words, I went and bought a Yasushi Iihara #9 jersey before the game, because I realized that getting a Mikinori Katoh jersey specially made was going to take more time and money than I have right now. And apparently I bring Iihara good luck for hitting home runs. Though I'm a little sad because I wanted an away jersey rather than a home jersey, but "free size" away jerseys have like a 31" chest, whereas "free size" home jerseys had a 40" chest, so I had to go with the one that was actually going to, you know, fit me.)
Anyway, we went and found seats in the infield part of outfield unreserved kind of near the bullpen, and I went off to the top of section D to say hi to Kozo and some of the other Tsubamegun friends. While lineups were announced, I was in the underpass getting food and putting on sunscreen and stuff, so imagine my surprise when I emerge back into daylight and see this:
MIKINORI KATOH! WAS THE STARTER! INSTEAD OF MURANAKA! DUDE!
See, I may have mentioned that part of why we went to the Toshitaikou bracketing in the first place was to find out when former Tokyo Big 6 guys would be playing in that tournament, so finding out that former Keio ace Mikinori Katoh was starting the game at Jingu was also a nice added bonus. Mikinori was the last guy to win 30 games in a Big 6 career -- and I was there for his 30th win, against freshman Yuki Saitoh in the Fall 2007 Soukeisen. Which is ironic because Saitoh himself is now up to 27 wins, so if he can get 3 more this coming fall, which is his last chance, he'll be the next one.
And Mikinori just got his first pro win a week or two ago, too.
So I was pretty psyched to see him out there again!
...until Kenji Johjima blasted a home run to left field in the 2nd inning to make it
2-0
in favor of Hanshin.
And it just got worse in the 3rd, what with a Murton 2-RBI single and a Takahiro Arai 2-run homer.
6-0
. Katoh came out of the game right after the Arai homer and Shun Takaichi came in.
And I spent the next few innings being pretty bummed out.
Aoki scored a run in the bottom of the 3rd off two wild pitches -- no, really, he singled to right to get on base, moved to 3rd base on a wild pitch to Hiroyasu Tanaka, and then Hiroyasu walked, the 4th ball also being a wild pitch and Aoki scored then.
6-1
.
A crazy thing happened in the 4th -- with a runner at 3rd base, Keiichi Hirano hit a bouncy grounder to second. Hiroyasu Tanaka fielded it and threw to first just in time to get Hirano out on a headslide into the bag. But Hirano didn't agree with that and threw his helmet to the ground and got ejected from the game, and a bunch of Hanshin coaches ran out and argued.
Wada shoved the umpire and ALSO got ejected
, and the call still stood, and both guys were out of the game, Yamato replacing Hirano at 2nd base.
We were lamenting that it wasn't Hiroki Uemoto replacing Hirano, being as we are partial to former Big 6 players, even Waseda ones, and Uemoto's little brother is currently at Meiji anyway. But apparently Saturday was the only game of the weekend where Uemoto DIDN'T make a token appearance.
Anyway, Hanshin continued to happen. Murton singled in the 5th, Arai followed it with a double to put runners at 2nd and 3rd, and then Murton scored when Brazell grounded out to second, and Arai scored when Kanemoto grounded into a rare G4 Unassisted play as Hiroyasu Tanaka was just faster than both Kanemoto and Josh Whitesell to get the ball and get to the bag. So that brought it to
8-1
.
My boy Yasushi Iihara hit a ball into the right-field foul pole for a 3-run homer in the bottom of the 5th to cut the lead to
8-4
. Hooray!
Takashi Toritani (dude, can you count how many Waseda alums were in this game?) walked to get on base in the 6th, stole second during Yamato's at-bat... and the throw to get him at second was a little off and so he was safe. The stupid thing is, the ball got away from Tanaka at 2nd base and went into the outfield, and NOBODY got it, so Toritani took 3rd as well! Sheesh. He scored on a Murton single a little bit later.
9-4
.
I visited the upper outfield again in the 8th inning, and while I was there, Aaron Guiel pinch-hit a doule and scored on a Miyamoto single to make it
9-5
.
(And as people were saying that apparently Yasushi did think I look good in a #9 jersey, I pointed out that "See, if they'd had Katoh #16 jerseys, he would have hit a home run today instead!")
Lotte
Hanshin starter Yasutomo Kubo almost got the complete-game win, but in the 9th inning with two outs, up around 150 pitches, he gave up a single to Aoki and then another single to Tanaka, and so Mayumi pulled Kubo and put in Kyuji Fujikawa to pitch to Yasushi Iihara... and it took all of 3 pitches to get Iihara to ground out to end the game, sadly.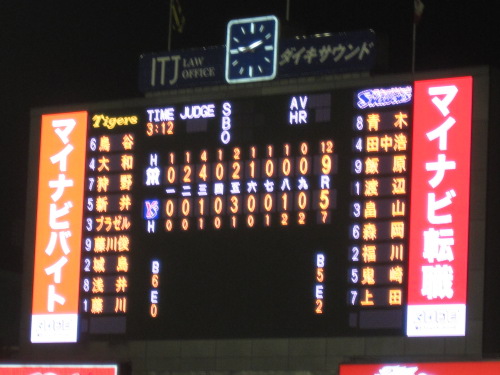 Matt Murton was 4-for-5 with 3 RBI on the evening, so he was the game hero.
Oh well.
I still enjoyed sitting out at Jingu for the evening. I really DO seem to live there this year, don't I.