So much for another series win.
For the third day in a row, I journeyed out to Tokorozawa to see the Fighters take on the Seibu Lions on Thursday. I was pretty wiped out after the first two games, but I knew Thursday was Salaryman Night and we'd go play catch on the field, so I really wanted to come to the game just for that purpose.
Mitsuo Yoshikawa was starting for the Fighters, and Masamitsu Hirano for the Lions. And rather than summarize the game myself, I'm going to defer to the lovely and talented
Jason Coskrey
, who did a better job of it than I could. I didn't even realize Hirano's win was the first one he'd had in two years.
Though I will add one funny anecdote of my own: see, we all brought gloves and softballs for Salaryman Night. I'd spent the first inning on the train, then the second and third innings, I spent in the infield eating dinner. I came back to the outfield for the 4th inning, and was already kind of tired and antsy, so as a joke, right before Ryo Sakata came up to bat, I got out my glove like "Cmon, hit one here, I'm bored!"
Not a minute later he did exactly that. No joke. It bounced about 10 feet in front of me, if I had actually been quicker I could have maybe gotten up and snagged it, instead it bounced to the back of the section.
Everyone was like "Dude, that was scary. You ought to do it for the Fighters batters instead, though."
So I tried, but it obviously didn't work as the Lions won 7-0. There was another home run by Masahiro Abe, and then a big horrible 8th inning where Hideki Sunaga got smacked around by the Lions as well.
I forgot to mention that Jose Fernandez is apparently back in Japan with the Lions again. On Wednesday, they had a "Fernandez" in the order and I was like "Who?" and then when I saw his face on the board, I was pretty surprised. He went 0-for-4 that first day, but this time managed two hits and two RBIs, so I guess they made him a game hero as a welcome-back gesture or something. I dunno: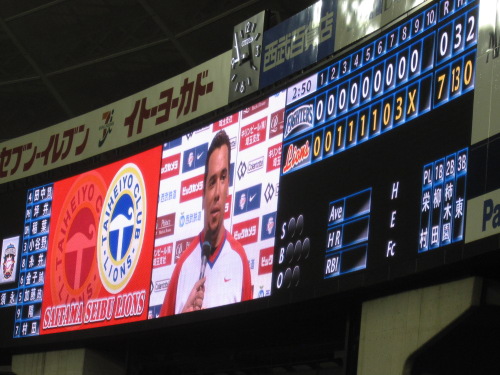 This time I took a few other pictures from the game. They occasionally showed profiles of various Taiheiyo Club Lions players between innings. I knew a few of them but largely I had no clue who they were, like these guys:
Katsutoshi Miyadera, catcher, from Ebara HS and Toyo University. I saw Ebara play the other day but didn't know he was an alum until I just looked it up. He played for the Giants for a few years before joining the Lions.
Tamotsu Nagai, who apparently redid his arm motion to become a lefty sidearm/submarine reliever for most of his career.
Screen from Bokura no Akogare Lions (I posted the video the day before -- though, they actually played different versions of the song each day...)
Okay, and the rest of this is from Salaryman Night. Quite frankly, when your team gets pounded like ours does, there isn't much to say about the game anyway. I suppose the only other relevant thing I could point out is the Fighters starting lineup, which was:
1. Kensuke 2b
2. Tsuruoka c
3. Inaba dh
4. Koyano 1b
5. Itoi cf
6. Kaneko ss
7. Masayoshi Katoh 3b
8. Yoh rf
9. Kazuya Murata lf
because Hichori is out and Shinji is out and Inaba hasn't been playing the outfield. Kind of crazy, really.
Anyway, so, we went to line up for Salaryman Night almost as soon as the game ended...
Here we are waiting for them to let us on the field.
On the field itself, lots of people playing catch.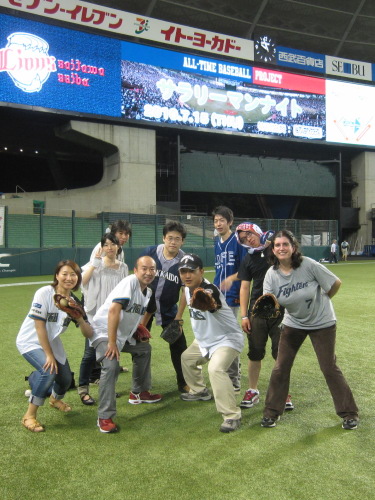 "Team 52" team photo. We took one last year too but that time we couldn't get an event sign, and it wasn't with our gloves then either.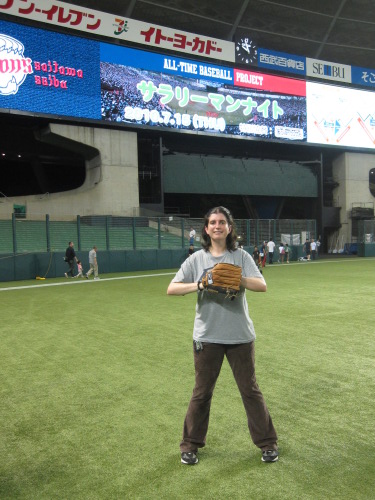 I wanted a photo under the Salaryman night board.
So actually, I played catch for about 30-40 minutes having not really thrown in months -- and I was throwing with guys in my group, so we were standing pretty far apart, relatively. At first I could barely actually throw the ball all the way across, and kept missing to the left or right, though about 15 minutes in I started getting into a groove and actually throwing relatively well. I say "relatively" because I know I don't throw that hard, of course, but at least I could consistently get the ball across the split and to my throwing partner with SOME zing on it, which is no small feat. Infact, the other women in our group, who mostly just sat and hung out watching, were like "よく頑張った!" because they were sort of astounded I just threw for the entire time we were out there. It's just... I don't get to play catch in Japan much at all, so I wanted to take advantage of the entire time that I had.
But then the next day my arm was killing me, which is part of why it took so long to finish this entry, it actually hurt to type on Friday.
And on a final note, as I mentioned, I spent the 2nd and 3rd innings in the infield eating dinner. What did I have? I had KFC, because the miso katsu stand is gone and the rest of the options seriously didn't look all that much more appetizing than the stuff I'd passed on outside. I know that the TRUE infield has some tasty stuff -- the new food court levels that they built with the Matsuzaka money. But the infield unreserved area has very little to offer, although they do have the ramen and curry stands, which are great when it's COLD outside... not so much in the summer.