Wow, Wednesday was quite a day for Kensuke Tanaka.
First, he was voted onto the Pacific League All-Star Team by the
Plus One Vote
. Which makes sense -- he's currently the batting leader in the PL and well, he's just that good.
Then, he led off the Lions-Fighters game by walking, and scored the first run for the Fighters on a Koyano sac fly -- and an inning later he had an RBI single to drive in the second run for the Fighters.
He went 2-for-3 for the day with two walks, and increased his league-leading batting average to .361...
...but then in the 9th inning it all fell apart. The game was tied 2-2 (Lions scored on a Hirao RBI double and Yoshihito Ishii solo home run). Kensuke led off the 9th with a walk... and got caught stealing when Konta struck out. This pretty much killed the Fighters offense, despite that they still managed to load the bases after that.
Then in the bottom of the 9th, with the bases loaded and the game still tied, a grounder came to second base, the Fighters fans all got excited because it was sure to be a double play, and then... and then Kensuke DROPPED THE BALL?!!? By the time he recovered it, it was too late to even make the force out at home and the Lions won on a sayonara error.
We were joking that Kensuke should have been the game hero for either side, but the Lions game hero was Yoshihito Ishii for his home run:
Some other stuff about this game...
...there were a LOT of batters hit by pitches. 3 on each side. Whether they were on purpose or not isn't clear to me, but it is still an awful lot. Hisashi Takayama, Hiroyuki Nakajima, and Ryo Sakata were all hit on the Lions, and Hichori Morimoto, Dai-Kan Yoh, and Atsunori Inaba were hit on the Fighters. Hichori's was in the first inning and he hurt his hand bunting, and came out of the game... apparently his
finger is broken
, although they expect him to only be out for a few weeks, it was only a small fracture. Why this keeps happening to Hichori is beyond me. Yoh had to come out of the game too, but he was
just bruised
pretty badly, apparently.
Pitchers by both teams:
Fighters - Tomoya Yagi started, went 5 innings, and was followed by Ryo Sakakibara, Yoshinori Tateyama, Naoki Miyanishi, and Hisashi Takeda, who is supposed to be our closer, but makes everyone really nervous when he comes into a game in a situation like the one here, and sure enough, he lost.
Lions: Ryoma Nogami started, was taken out after 4.2 innings for some reason, then Atsushi Okamoto pitched 2.1 innings, followed by Shuichiro Osada and Brian Sikorski. Sikorski got the win, for basically striking out Tsuboi with the bases loaded in the top of the 9th while the Lions went on to win on that sayonara error.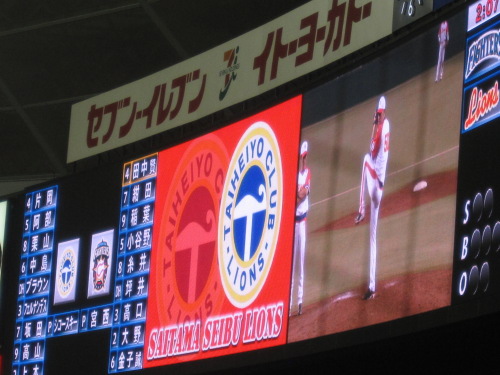 (Sikorski warming up, shown on the big screen)
Oh, and as I mentioned, the Lions have been using a team song from the Taiheiyo Club Lions days in the 1970's for their pre-game and 7th inning stuff, so Wednesday I was prepared with my camera and took a video of the song. It's called "Bokura no Akogare Lions" (basically "Our Wonderful Lions") and pretty much completely comes from the same mold as Moeyo Dragons...
In case you can actually catch the line which references a player named Alou, that is, for the record, Matty Alou, who played for the Lions for 3 years in the 1970's.
I don't have that much else to say about this game from the fan side of things. The most amusing moment for us was probably when one of the Fighters ouendan drummers hit the drum so hard the mallot end (not sure what you call it) went flying and they had to go into the fans to search for it.
This time my dinner was omusoba, from a different cart closer to the station. It was again 600 yen, and not really all that great -- basically it was a carton of yakisoba with a thin dry fried egg over it, and unfortunately they also put in mayonnaise and ginger, which I hadn't noticed before buying it. Dislike.
This is going to sound funny, but I actually pre-bought my ticket for Thursday as infield unreserved instead of outfield unreserved, mainly so I have a few more options for food within the stadium, being as I decided the outside options are pretty lousy, and there's really only one food stand in the visitor outfield section, which sells curry and a bunch of breaded fried stuff that they keep under a heat lamp. I don't think I can go all the way to the fancy-schmancy eateries that were built with the stadium renovation, but I know I can at least get to KFC if nothing else appetizing is out there.
And I guess if nothing else I can wander over to the bullpen, too.
So, onwards to Thursday, where Masamitsu Hirano and Mitsuo Yoshikawa battle it out to see who takes the series. Sadly since the Fighters lost and the Hawks won, we are back in 4th place... but it's oh so close!