Well, maybe not match. Not quite yet. We'll leave that to Thursday's game.
So, this game went a LOT better than Tuesday's. Shinsuke Ogura started for Softbank, and I actually don't think I ever saw him before. Tomoya Yagi started for the Fighters.
Bizarrely, before the game when I did pinbadges, I got a Yanuki pinbadge -- "Ah, that's yesterday's starter!" and then the next one to come out was a Yagi pinbadge -- "Ah, that's tonight's starter! Is the next one going to be tomorrow's starter?" but it was Tadano, so obviously not.
Still, it seemed like a good omen. And well, the first three innings of the game went really quickly on both sides. I was sitting in the front row again with Ojisan's group, and a lot of our friends weren't coming until after 7pm, and we were like "They're going to miss half the game!"
The Fighters scored a run in the bottom of the 4th when Hichori singled and Itoi drove him in a little bit later.
1-0
.
So that was good, except that Jose Ortiz hit a 2-run homer in the top of the 6th to make it
2-1
.
That seemed kinda ominous, and it wasn't helped any by having them show Sadaharu Oh on the big screen during the Hawks' Lucky 7. (I couldn't find my camera. Argh.)
Tadashi Settsu came in to pitch the bottom of the 7th, and everyone groaned, since he usually kicks our butts.
But I guess something was different this time, because Yoshio Itoi led off against him with a single to center, and then Tomochika Tsuboi pinch-hit for Ugumori (which was very exciting, I hadn't seen Tsuboi in forever) and Settsu hit him in the shoulder with a pitch. Dai-kan Yoh struck out... and Masayoshi Katoh, who just got called up earlier in the day, pinch-hit for Shota Ohno and singled to center, a low fly ball that fell inbetween Kawasaki and Hasegawa, so it was too shallow for anyone to score, but the bases were loaded for Makoto Kaneko, who single to left, scoring Itoi. Tie game!
2-2
.
Kensuke Tanaka came up and singled to right, the ball veering off into foul territory, so Kensuke tried to stretch things into a double and was thrown out at second. But in the meantime, Tsuboi and Masayoshi scored, so
4-2!
Hichori followed that up with a dramatic infield single where he headslid into first base to beat out the throw just barely, and Kaneko scored.
5-2
.
Inaba grounded out to first after that, though the Hawks almost didn't make the play, some weird miscommunication between Petagine and Settsu.
Anyway, Keisuke Kattoh pitched the 8th for Softbank, and he gave up another run to the Fighters as Itoi led off with a double and then Tsuboi singled to left, reaching second as the Hawks tried to throw to the plate to get Itoi, but failed, so
6-2
. Exciting!
(Actually, to me, the most exciting part of the 7th and 8th innings were that we finally did a whole bunch of other chance music other than freaking Chitty Chitty Bang Bang, which I am sick of. We did the special Tokyo Dome theme a few times, and we finally did Kita no Kuni Kara for Inaba's at-bat, and we even did the Wasshoi one that I haven't heard in YEARS. Yay for variety. Now can we just get some ouenka for guys like Ohno and Yoh and Ugumori?)
Naoki Miyanishi and Hisashi Takeda pitched a scoreless 8th and 9th and that was the game.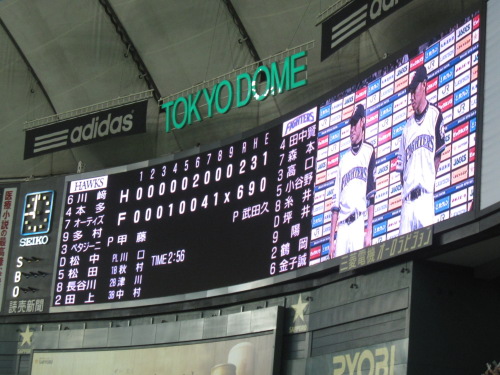 Starter Tomoya Yagi and go-ahead-2-RBI-single-hitting Kensuke Tanaka were the game heroes.
So several players on the team came out and threw signed baseballs into the stands, and then later Yagi and Kensuke came out and threw a stuffed BB doll and some baseballs into the crowd, and then we had a long post-game cheering session where we did a whole bunch of themes and songs and whatnot, including even a song for Tanabata, which is the Star Festival celebrated on July 7th.
Afterwards, when things were winding down, my friend Tsuji came down to the front row and said, "Deanna, put out your hand."
"What?"
"Don't ask, just do it."
So I did, and you'd never believe what he gave me: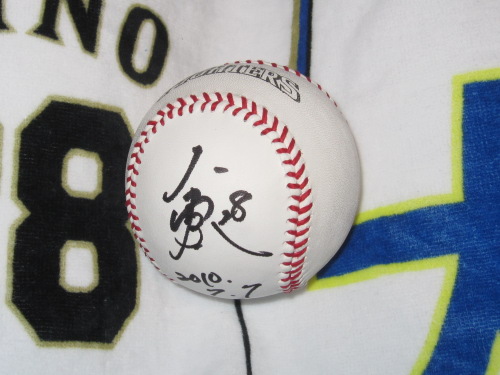 Yeah -- he was sitting about 4-5 rows behind me and he managed to catch a signed ball thrown by Shota Ohno. He was like "You like Ohno a hell of a lot more than I do, so here you are."
So cool!
I actually have one other ball like this -- I got it last year when the Hawks played the Fighters in the Tokyo Dome, a ball thrown by Kensuke. But I really do like Ohno, so this is pretty awesome. I totally freaked out and was basically like "OMG OMG OMG OMG YOU'RE KIDDING" for like 5 minutes.
Dude. My friends rock.
After the game I also met up with blog reader Hema for a bit and we walked to the station together. It was a good game.