This week the Lions are doing a "Lions Classic" series where they wear throwback uniforms made to look like their old mid-1970's uniforms, when the team was known as the Taiheiyo Club Lions. I arrived at the stadium about 15 minutes late for the Tuesday night game, which is the best I can do on a weekday, and was greeted by a display of some old Lions uniforms and club history photos from that era:
And they had some cutouts of players around the stadium. Wakui was behind the Fighters cheering section: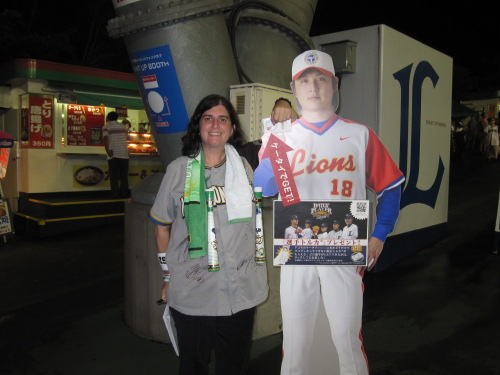 The players were wearing these uniforms and even the Seibu fans were decked out in red for a change instead of blue. When I entered the stadium, I was given a reprinting of a newspaper page from 1974 when Taiheiyo was actually in first place.
As expected for a weekday game, this was relatively sparsely attended, so people were spread out all over in the outfield turf, and the Fighters half of the infield was pretty much empty.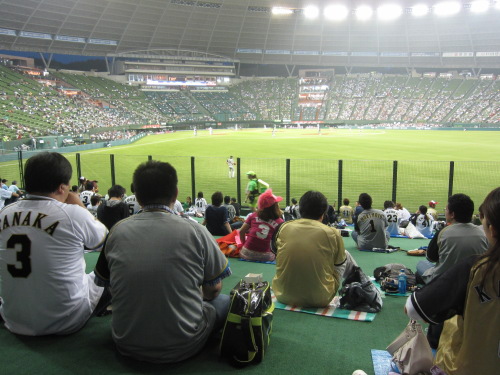 But we had a pretty good atmosphere anyway -- lots of noise and lots of reason to make lots of noise.
Toshiyuki Yanuki started for the Fighters, and Ming-Chieh Hsu started for the Lions. After getting omurice for dinner, I came into the stadium just in time to see Dee Brown strike out to start off the bottom of the 2nd inning, with the score tied at 0-0.
(In case you are wondering, I got it from that omurice van with the bizarre Engrish all over it right outside the dome. I'd seen that place for years but never tried it, and this seemed like as good a time as any, since the miso katsu van has disappeared. My verdict is that for 600 yen it may very well be one of the better options for food at the Seibu Dome -- my demiglace-sauce omurice was quite tasty and filling. HOWEVER, I do not recommend it if you are in a hurry, as it took the entirety of the top of the 2nd inning to get.)
Yasuyuki Kataoka hit a home run to left field in the 3rd inning to make it
1-0
and strike fear into the heart of Fighters players who are used to being beaten down.
But that only lasted a little while -- in the top of the 4th, Inaba led off with a single to center, and then Koyano grounded one up the 3rd-base line... the fielders let it roll... and it stopped fair. Ha! Itoi bunted the guys up a base. Sadly, Tsuboi struck out, but Dai-Kan Yoh hit a clean single to left that scored Inaba and Koyano to make it
2-1
.
Bizarrely, after that inning, we were all standing up to do a Yoh yell -- it's customary for us, after an inning where the Fighters scored, to yell the name of a player who hit an RBI until they wave or bow or somehow acknowledge us. But he never came out. Even weirder, nobody seemed to notice -- Nakajima came to the plate and the announcer announced him and everything, and yet THERE WAS NO RIGHT-FIELDER! WTF! So then they paused the game and said to please wait, though I couldn't quite catch what the problem was, though it didn't sound like an injury or anything. Eventually Yoh DID come out, but by that point all we could do was one shout of "YOH DAI-KAN!!!" and he waved and then the inning started.
Craziness continued to rule the day in the 5th inning as Kaneko led off with a normal single, and then Kensuke Tanaka grounded into what looked like it'd be a double play, except Yoshihito Ishii threw to second and somehow the ball got away from Nakajima there and into the outfield, so no force and no double play. Hichori was supposed to bunt the guys up but instead Ishii made up for his error by charging the ball and getting Kaneko out at third on the force. Inaba fouled out, but then Koyano hit this shot that looked like it was coming right for us in right field. It didn't clear the wall, but it did hit the wall for a double, scoring Kensuke and Hichori.
4-1
. Itoi followed that with a single to left that scored Koyano,
5-1
. He stole second and Tsuboi walked, but that was it.
Yanuki lasted 4 innings and Hsu 6. Shota Takekuma came out to pitch the top of the 7th... and the first thing he did was walk Hichori. Inaba hit a double to right much like Koyano's, against the wall and over the fielders, though Hichori only made it to third. Itoi was able to hit a sac fly to center to score Hichori and continue piling on,
6-1
.
They played a really old Lions song for the Lucky 7 -- I'm hoping to get a video of it tomorrow. It was awesome. Some of the throwback touches have been really nice, including speeches on the video display between innings from players of the Taiheiyo era.
Anyway, former Baystars lefty Yoshihiro Doi pitched the top of the 9th for Seibu, and as if things weren't already lopsided enough (they weren't!), he gave up a one-out single to Koyano, who moved up on an Itoi groundout. Doi then hit Atsushi Ugumori in the shoulder with a pitch. With two out, Yoh seemed to ground out to short, a force at second... but Ugumori, sliding in, knocked the ball out of the fielder's glove (or he dropped it, I couldn't tell), and so players were safe all around. Shinya Tsuruoka hit a double to left and everyone else on base scored, bringing the total to
9-1
.
Meanwhile, the Fighters pitching after Yanuki left, of 2 innings by Ryo Sakakibara, and 1 each for Yoshinori Tateyama, Yuya Ishii, and Hideki Sunaga (!!), held the Lions down just fine, and the Fighters won the game.
Dai-Kan Yoh was the game hero: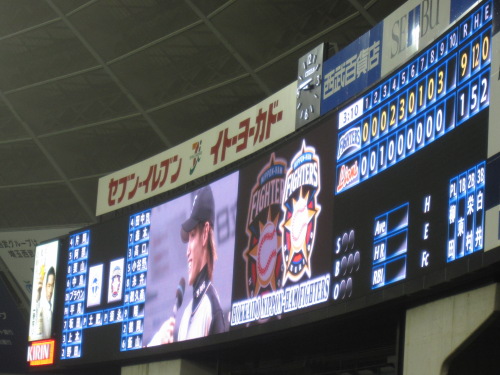 And then we all had to gather up at the top of the field to do our postgame cheering: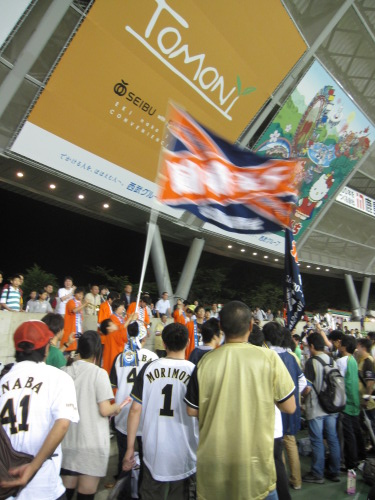 Because apparently this was "Woman's night", which is just like Salaryman Night, except for women. Women could try to hit home runs, and take fielding practice, and there was also a section of the outfield for playing catch (the rule being each pair had to be 2 women, or 1 woman and a guy). They wanted everyone to clear out as much of the stadium as possible so they could deal with the ensuing chaos on the field.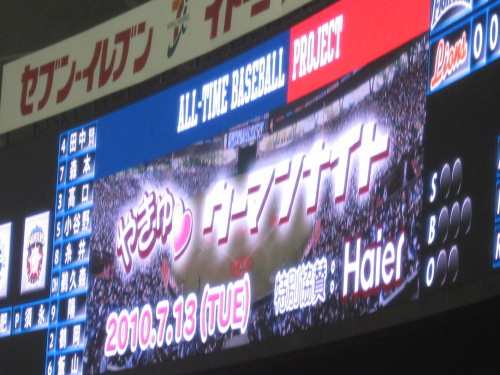 (woman's night sign -- what sucks is that the Japanese spelling of Woman is actually "ooman", so it is always weird to hear people saying "Ooman Nighto")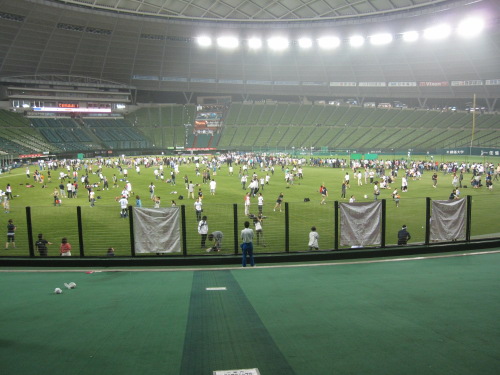 You maybe can't tell, but those huge lines are people lining up to either take fielding practice or hit home runs. I'm not really sure exactly how it worked, though at Salaryman Night they usually have some former Lions player like Taisei Takagi or Tatsuya Ozeki hitting grounders for it, which is why people have to wait so long.
I didn't bother doing this event because 1) I was exhausted and 2) my group of friends was mostly guys, so instead we're going to go play catch on the field on Thursday for Salaryman Night.
I did, however, stop for a second to get a photo with the seasonal throwback cutouts of Lions players near the train station: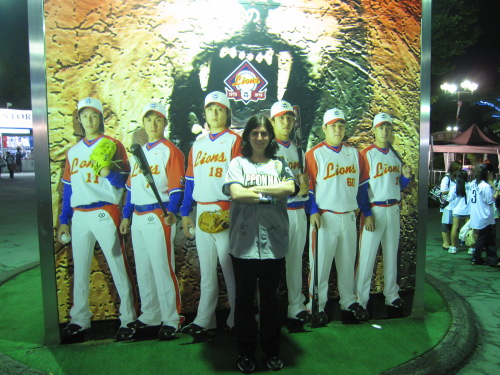 Yeah.
Anyway, I will be back at the Seibu Dome for both Wednesday and Thursday's games. See you there!