Look, we brought South Africa's game atmosphere to Saitama!
This game was a perfect example of several things:
1) Regional stadiums are fun
2) Ouendan leaders are crazy
3) Never EVER leave a game early even if it is 5 hours long, because you will probably miss something exciting and cool if you do.
Seibu seems to be making a point of "connecting with Saitama Prefecture" at these games in Omiya, so for this game they had invited Kobaton, the black pigeon mascot of Saitama, to
come to the game
, and the big event was that they had the
cast of Ookiku Furikabutte
on the field before the game. (They also apparently had a talkshow with Taisei Takagi, who is interesting, but I was too late for that.)
I'll be honest, I knew nothing about
Ookiku Furikabutte
before the game, since I don't really follow manga or anime, but my friends explained that the manga takes place in Saitama; Asa Higuchi, who drew it, went to Urawa Nishi high school, and the "Nishiura" team in the manga is based on that school's baseball team. Also, she threw out the ceremonial first pitch, which reached home plate but was a bit wild.
In other Saitama things, the "player of the day" was Yoshihito Ishii, who is from Saitama and went to Urawa Gakuin HS, and Hiroshi Hirao was batting 5th -- Hirao is not only from Saitama but he went to Omiya Higashi HS, which is literally less than a mile from Omiya Stadium. I've rarely seen Hirao at ichi-gun let alone in the starting lineup, and I feel like most of the time I've seen him play, it was at Omiya Stadium actually, although I learned his cheer song ("...warera no Hira-OH-OH-OH!") at the 2008 Asia Series.
The game started about 15 minutes late, and we were told it was due to ground conditions (it had rained earlier in the day and Omiya Stadium is a mudpit) but it also seemed like it was due to these anime voice actors taking forever for their speeches. And the outfield slope cheering area was relatively empty compared to the "outfield" seats with real bleachers in the infield. This is because Omiya's outfield is REALLY sloped -- if you sit at the top, as me and my friends did, it is okay, and if you sit at the bottom, it is okay, but sitting on the actual slope really royally bites, it is hard to stand up and keep your balance, and you can't really put any of you stuff down because it slides down the slope. Hell, when a guy got really excited and came up to high-five a bunch of us, he slipped on the slope and fell flat on his face. Seriously. Slopes suck. But Omiya sucks even more than usual. Even Sagamihara wasn't quite that bad, nor is the Seibu Dump itself.
But one funny thing about Omiya Stadium is that the fences are only 99 meters away at the corners, and thanks to said slope, it is a bit easier to hit a home run straight out of the actual ballpark than it is in a lot of other places...
...which is precisely what happened in the 2nd inning. The ouendan leader had yelled, "Omiya Stadium is a bit smaller than most so let's yell a good cheer for Itoi to hit a home run out here! So-re, KOKO MADE TOBASE ITOI!!" Which means "Hit it here", and we cheered that twice, and in the middle of the third cheer he BLASTED a home run towards us -- towards us -- OVER us -- and OUT OF THE STADIUM! That made it
1-0
.
Hiroyuki Nakajima answered it with a home run of his own in the 4th, a 2-run shot to make it
2-1
. And the Fighters then answered THAT in their half of the 5th, ater Koyano and Itoi singled, Dai-Kan Yoh hit a sac fly to score Koyano and tie the game. Shinji Takahashi doubled to put Itoi on 3rd, and then Itoi scored on a wild pitch during Shota Ohno's at-bat to make it
3-2
, and then starter Ryoma Nogami came out of the game and Chikara Onodera came in and shut down the Fighters for a bit (including striking out Kensuke, Hichori, and Inaba for a flawless 6th).
Doing the Chitty Chitty Bang Bang chance theme on the hillside of Omiya Outfield. This was retarded for two reasons: 1) the hillside is dangerous, and 2) there were very few women at the game relatively, so when it gets up to "UTTE UTTE YOH DAI-KAN!" suddenly most of the cheer fell silent.
Fighters starter Tomoya Yagi only fared slightly better than Nogami -- he gave up another homer in the 5th, this time a solo shot to Yasuyuki Kataoka that tied it up at
3-3
, and Yagi came out with the bases loaded in the 6th, for Takeharu Katoh to fortunately strike out Tatsuyuki "
Who the hell are you anyway
" Uemoto to end that threat.
At this point, the game was tied, and it stayed tied for a long long time, even into extra innings. The game was also SLOW. It turns out the rule at Omiya Stadium is that trumpets and drums are all forbidden after 9:30pm, which we hit in the bottom of the 8th inning, in the middle of an at-bat at that, and just like that the music cut out and turned into clapping and singing only.
Well, to make it easier for us to cheer together, the ouendan rounded up people in the bench seats and brought them in the outfield to consolidate. Case in point:
Right-field stands at the start of the game.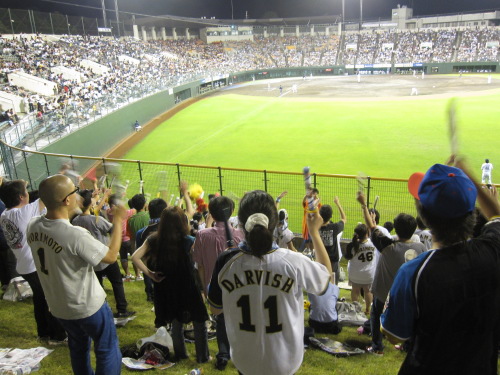 Right-field stands in the 9th inning.
Flags at the start of the game.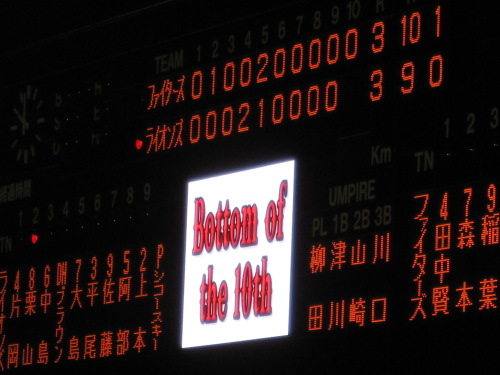 And here we go into extras...
I have to admit something about this game -- I was actually pretty tired from having been up since 6am after staying up late to try to catch the Japan-Paraguay World Cup game, and then I was really grumpy that it seemed like the ouendan seriously won't do any other themes in Kanto except CCBB, which is kinda sorta fun but it would be nice to have some variety, we haven't done some of the other themes in YEARS, literally.
So just as I was thinking, man, this game is in extra innings, it is late, I am tired, I am bored, the Lions are just going to win anyway, why are these ouendan so stupid, etc,
Crazy Glasses Dude and High-Pitched Guy start coming around with the cardboard megaphones that Seibu had been giving out before the game for that anime Ookiku Furikabutte. Their instructions? "Let's make these into vuvuzelas and annoy the crap out of the Seibu fans. Fold this into a megaphone and blow them when Seibu makes an out."
People thought that was a good idea, so we did just that.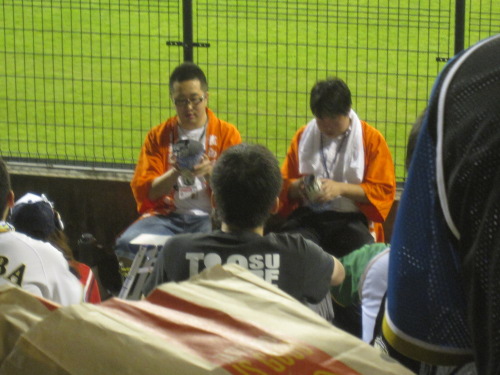 As you can see in the
video embedded at the top of this post
, we actually had a pretty damn good imitation going there, much to everyone's amusement. Infact we continued blowing them as vuvuzelas well into the Fighters' at-bat cheering as well, which resulted in things like us doing a Kensuke call and then vuvuzelaing. "SE-NO -- KENSUKE!!!!!!! vzvzvzvzvzzvzvzzzzzzzzzzzzzzzzzzzz....."
Anyway, I guess the vuvuzelas helped the Fighters -- or more like, it was the Lions switching from Brian Sikorski to Koji Ohnuma in the top of the 11th. We were all pretty psyched about that. Kaneko grounded out to lead off, but then Kensuke singled to center, Hichori walked, and Inaba ALSO walked to load the bases. Koyano lined a shot into left-center and that scored Kensuke and Hichori to make it
5-3
Fighters. Ohnuma came out of the game at that point and Hironori Matsunaga replaced him on the mound. Itoi hit a pop fly out but Dai-Kan Yoh singled to center, scoring a pinch-running Toshimasa Konta,
6-3
. Shinji Takahashi followed that up with ANOTHER single, scoring Koyano,
7-3
. Shota Ohno unfortunately ended the inning by striking out -- he was the only starting member of the Fighters to not collect a hit, walking once, striking out three times, and hitting a sac bunt once. Oh, and his other at-bat he lined a ball into Brian Sikorski's stomach.
Either way, Hisashi Takeda came out to close out the bottom of the 11th. Yoshihito Ishii, another "pride of Saitama" player, pinch-hit for Hiroshi "Omiya's Finest" Hirao to lead off. Hirao was actually 3-for-3 with a walk, but Ishii one-upped him by hitting a home run to right -- infact it landed 10 feet to the right of me, a guy in the next group of friends over caught it on a bounce.
7-4
. But that was it and the game ended three batters later.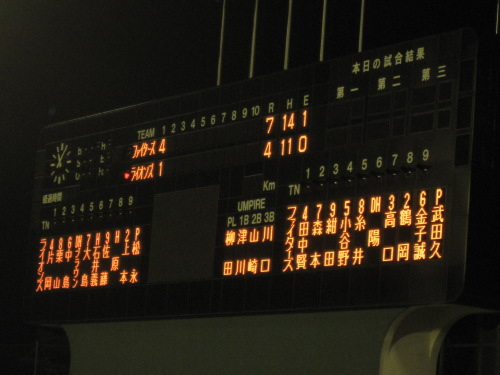 Apparently I was on TV during the post-game celebrations, or so said a few friends that sent me email about it. They said they saw me in my black jersey standing near a bunch of Inaba jerseys against the back wall. Those would be Taicho's -- he's been an Inaba fan for years and years and years and brings his jerseys to each game and usually has people stand up and wave them with him. "Taicho" is not actually his name, but it's a shortened version of 稲葉応援隊長, or "Inaba cheering chief".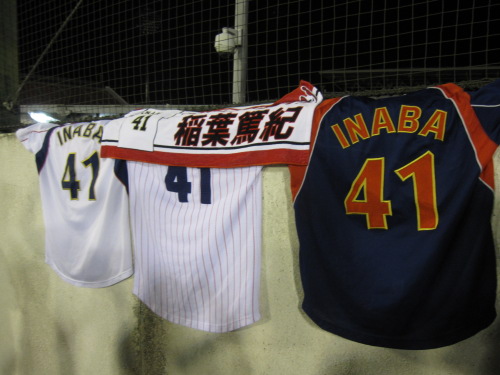 These are Taicho's jerseys.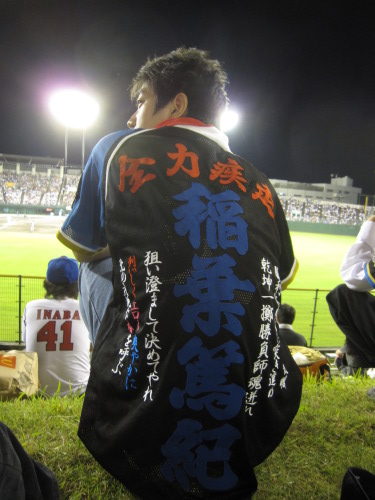 And this is Taicho. I knew him by his insane Inaba jerseys long before I actually met him.
One more thing from this game: I received this from a friend who makes a ton of cheering towels. Most of Team 52 have a whole bunch of them for lots of the players, but I really just wanted the Ohno one, so she gave it to me. Whee!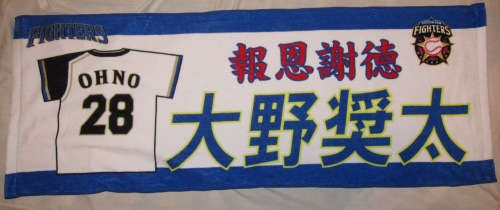 Okay, and one last thing: Here we are doing an Inaba Jump with no trumpets or drums, and on the side of a hill. Whee.
So, the game ended at around 11pm and I didn't get home until well after midnight, and there was a long boring period of the game itself, but... overall with the vuvuzela craziness and the Fighters pulling out a crazy win, it was a pretty good game. Wish I could go to Thursday's since they have Salaryman Night and all my friends will go play catch on the field at the Seibu Dump, but I have my final Japanese class before the JLPT exam on Sunday. Sigh.