I don't know why on earth Pau ever wants me to go see Tigers games with him, as every time we watch them or plan to watch them, they lose. Seriously.
But Sunday afternoon we headed down to Chiba together for the first time and for the last time, to catch the Hanshin Tigers taking on the Chiba Lotte Marines. Pau was decked out in his Hiyama t-shirt and Akahoshi towel and Tigers noisesticks and all that stuff, and I was wearing my Satozaki t-shirt and Marines towel and so on. I'm sure most people who saw us thought we were just a bunch of confused gaijin wearing random baseball crap. Little did they know, of course.
The first order of business was actually to get my Bobby 2010 t-shirt from Declan, and to make Pau sign the Bobby 2010 petition. I would be surprised if they didn't hit the 100,000 signatures mark this weekend, given that there should have been around 20,000 Tigers fans around that hadn't been to Chiba yet this season, who are just as crazy as the Marines faithful. They're supposedly presenting the petition to the front office this week. I doubt it'll make any difference, much as I wish it would. Mostly, I hope Bobby stays in Japan since he's been such a great ambassador for Japanese baseball (and he kicks my ass at learning kanji).
The next order of business was to get into the stadium and get Bobby Burgers. We were successful on both counts. It was also amusing that 90% of the people in line at the stadium Lotteria were wearing Tigers gear.
After that, we were just going to sit around and cheer our respective teams and try not to trash-talk too much.
There was some sort of "Let's go to Kyoto!" promotion going on this weekend, which was appropriate given the opponents. As a result, the ceremonial first pitch was thrown out by a representative of the Kansai region...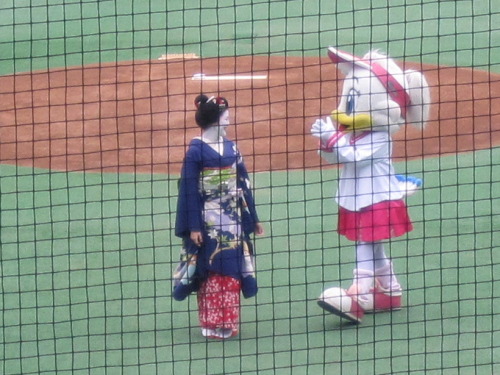 (However, unlike
certain other women
who have become representative of baseball in Kansai, this one didn't have a particularly good knuckleball.)
The Marines mascots were also visited by some new friends for the pregame festivities:
Lucky seemed to get along with Rine-chan just fine, but To-Lucky was getting abused by the rest of the mascot squad. They stole his hat and tried to eat it.
For the real game on the field, we had Hiroyuki Kobayashi starting for the Marines and Yuya Andoh starting for the Tigers. I was a little surprised that Kobayashi was starting given that I thought he was still doing the bullpen thing, but hey, whatever works.
Both pitchers and both teams seemed eager to win this one, which was a sign that it'd be a pretty good game, and for the first three innings neither team was able to put a run on the board. Andoh was actually perfect through three as well. The first Hanshin hit was actually almost by accident -- Hirano was trying a safety bunt, popped it up in the air as Imae ran in to catch it... and it sailed OVER Imae, amazingly enough.
The second Hanshin hit of the game was Lion-turned-Tiger Craig Brazell, who hit a home run into the right field stands to make the game
1-0
in the top of the 4th. Brazell's shot was so loud and was a line drive sailing upwards that you could pretty much tell from the crack of the bat that it was going to be gone. The entire Tigers lineup came out of the dugout and lined up to high-five him on his way back, and the camera well emptied to take photos of it, too. (No, I wasn't down there for this game.) I've rarely seen that happen, where everyone actually comes OUT of the dugout.
Katsuragi followed Brazell's shot with another line drive to right, though this one was only a double. After a fly out by Lin, Toritani singled to right, but Ohmatsu (Ohmatsu!) threw the ball in so fast that Katsuragi had to stop at third, and Kanoh grounded out after him.
Before the bottom of the 5th, we saw an interesting sight on the scoreboard screen...
Apparently a couple got married, I assume before the game, and had their reception at Chiba Marine Stadium in one of the big party rooms down the 3rd base line. That's pretty cool. I've been to a
wedding at a game
once before, but I don't think I'd ever seen such a thing in Japan before. (We were also noting how you don't get the proposals on the big board here like you do in the US, although the
Fighters matchmaking seats
is kind of similarly embarrassing in a way.)
I was thinking it was a shame that the Marines were losing during their wedding reception though, so conveniently Tomoya Satozaki decided to hit a home run to right field a few minutes later and tied the
knot
game at
1-1
.
And well, 1-1 is where it would stay for a few innings, not for lack of trying on the Marines part. In the 6th they got runners to first and third with two outs but couldn't bring them in, and in the 7th they got runners to first and second with two outs, and Koichi Hori singled to left, and Saburo tried to score from second, third base coach Nishimura waving him in, and well, Saburo was totally out. I'm really not sure I agree with the choice to send him given that the ball wasn't hit that far out to left, Saburo isn't THAT fast a runner, and Fukuura was up to bat next, but I guess when you really want to get a run ahead, sometimes you make risky choices.
Speaking of the 7th, this is what happens when you get the two craziest fanbases together in Japan...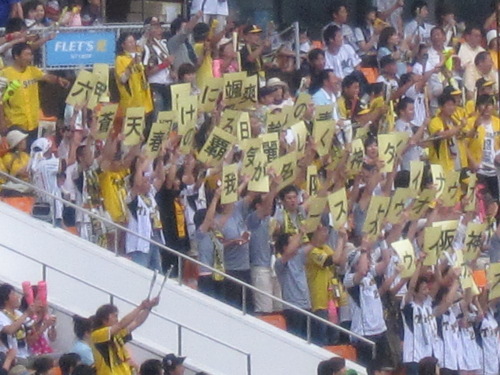 A bunch of Hanshin Tigers fans (must be around 50 of them!) coordinate putting up the lyrics to
Rokko Oroshi
, the Tigers' song, one letter per person.
And in the right-field stands we have the Marines fans sending an important message as well - 26をナメるな! or "don't mess with Team 26!" I'm not sure whether this is aimed at the Tigers and their fans, or at the Lotte front office, to be honest.
The Tigers started off the 8th inning with Keiichi Hirano taking a headfirst slide into first base after hitting a grounder off Hiroyuki Kobayashi's leg (which bounced to second base). Hirano was safe, but Akahoshi tried to bunt and hit a short pop fly to the mound, which Kobayashi caught and threw to first in time to double off Hirano, who was preparing to run to second on the sac bunt. Arai also grounded out to the mound.
Jeff Williams came out to pitch the bottom of the 8th, and from the get-go he just ran into some control problems. Masahiko "Gingiragin" Tanaka pinch-hit for Lotte, and basically almost every pitch to him was inside. Tanaka broke his bat on a foul and eventually walked. Ohmatsu hit a pop fly out to center, and then Iguchi also walked. (Ohmatsu is a lefty batter so the ball was going outside for him, but for the righty batters it was inside all the way, almost hitting them a few times.)
Naotaka Takehara, a righty batter, came in to pinch-hit for DH Tasuku Hashimoto, a lefty batter. So Scott Atchison, a righty pitcher, took the mound in place of Jeff Williams, a lefty pitcher.
And Takehara hit the ball to right field! It went out to the warning track, and as the outfielders chased it down, Masahiko Tanaka and Tadahito Iguchi scored, and Takehara made it all the way to third base!
3-1
. The crowd went wild -- and on the very next play, Tomoya Satozaki laid down a squeeze bunt. Takehara was off on the play and made it home safe before anyone could get the ball home, but for whatever reason, Satozaki DIDN'T run at all to first, so he was an easy out. Oops. Still,
4-1
.
Brian Sikorski closed out the game, and aside from one wild pitch he had everything under control as the Marines won the game 4-1.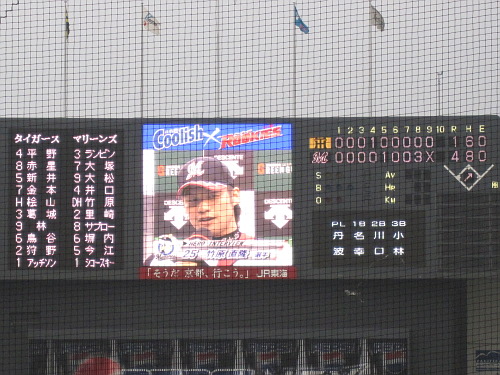 It was no real surprise that the game heroes were Hiroyuki Kobayashi for pitching 8 innings of 1-run ball, along with Naotaka Takehara for hitting that huge go-ahead 2-RBI triple.
After the game, I dragged Pau through the Marines museum since I hadn't been through there this year yet, and he had never been there at all. The thing that was new for me there this time was a bunch of ticket displays -- they had things like tickets for a Lotte-Giants 1981 Japan Series that never happened because the Fighters beat them in the playoffs, back in the 1st half 2nd half format era. There were game tickets from the 1970's and 1980's which were pretty neat to see though, and also a whole bunch of old posters that I hadn't seen before, including one from the early 1990's of a "young up-and-coming" infielder named Koichi Hori.
The weird thing is that the "visiting team goods" section seems to have disappeared from the big Marines store in the museum building, to be replaced with more throwback Orions stuff and whatnot. I was a little surprised by that, maybe it was just for interleague time, but I'm not sure.
Steve Novosel was also at this game and wrote about it on
his blog
, and unlike me he bothered bringing a real camera and sitting somewhere that wasn't behind a net. I kind of hurt my elbow at volleyball on Saturday night so wasn't really up for lugging my big camera to the stadium.
In other news, Hosei did win the college tournament, I still haven't finished cropping photos from the Fuji-Soka game, I may go to Jingu tomorrow for the Yakult-Lotte game if it doesn't rain too much, and I am heading to Hiroshima on Saturday for the Fighters-Carp series at the brand-new stadium! I'm psyched! (I also watched the Fighters-Tigers on TV last night, and if you are counting, which I am, Inaba has now hit 9 home runs this year and I have seen 8 of them.)