Walking to Chiba Marine Stadium on Saturday morning, I couldn't help but notice the breeze blowing in off Tokyo Bay. It was probably around 90 degrees Fahrenheit outside, but actually didn't feel that bad thanks to the wind. My thought, though, was that it was going to be a really tough day for anyone to hit a home run with that wind blowing in off the bay.
Boy, was I wrong.
But this story doesn't actually start with the 5 homeruns hit during the game. This story starts with the pre-game. I can shorten 90% of my interactions to basically "Saw [name], my Fighters-cheering friend that lives in [city that isn't Tokyo] who I met in [some other city]. Gave them Carp cookie omiyage from last weekend and they gave me [something yummy that comes from where they live]." Though you'd be surprised by how many people fit that, and the wide variety of yummy stuff they brought. The best was probably the coffee-cream daifuku from Kobe.
As I was staring at the Fighters out in the field during batting practice, I was surprised to see a guy running around wearing #42, since Brian Sweeney wasn't on the active roster as far as I knew, but sure enough, he was there, and just as I saw him, my friend Akki grabbed my arm like "Hey! Come translate for me, I wanna talk to Brian since I'm his biggest fan ever but you know I can't speak a damned word of English."
(This is not entirely an exaggeration. Akki has a signed Sweeney jersey and always cheers for him as much as possible.)
So I go down to the field, we yell for Brian, and being the super-nice guy he is, he actually comes over to chat for a few minutes. Akki gave him a Carp Katsu omiyage package and Brian's like "Can I eat this?" and I'm like "Yeah, you can," and Akki told me to tell him that he also gave some Carp omiyage to Brian's family in the infield the day before. And then he said, "Tell Brian that he has to be the game hero when the Fighters play at the Tokyo Dome and throw me a baseball in the stands!" and I'm like "Eeeeh?" but I went ahead and translated anyway. But Brian actually knows who Akki is, and even asked why he wasn't wearing glasses that day, which made Akki really happy.
Oh! But important info that I gained from the exchange is that Brian's pitching on Sunday! I should be sitting in the infield for that game, so I hope I'll get to see him pitch a good game from there! I told him I'd blog about it, so he better kick butt :)
Anyway, one other thing I discovered while waiting for the game to start is that there's actually a huge concessions stand behind the centerfield scoreboard with a patio. I'm not sure why I'd never wandered out there before, but one of my main complaints about sitting in the outfield in Chiba was the lack of decent food choices out there, and now it turns out I just never found them. I still prefer Bobby Burgers from the infield, but it's still nowhere near as dire a situation as I thought.
So, today's starters were Tomoya Yagi for the Fighters and Yuki Karakawa for the Marines. Karakawa's 20th birthday is next week on July 5th and he'd said he really wanted to win another game as a teenager. Yagi, on the other hand, really just wants to spend another year up at ichi-gun if possible, after being the Rookie of the Year in 2006 and then immediately having a terrible second season.
The Fighters got off to a stupid start, Kensuke walking and then the count getting up to 3-0 on Koyano, who was batting second. This should have led to great things, but instead it led to Kensuke getting caught stealing and Koyano hitting a pop fly out a few pitches later. Oops. But, in the 2nd inning, Sledge hit a one-out double to right field and another out later, Tomohiro Nioka, who was DHing and batting 7th, hit a fly ball to right field that happened to actually land inside fair territory, surprising everyone, most of all right-fielder Ohmatsu. Sledge scored, making it
1-0
.
In the top of the 4th, Shinji Takahashi singled, and then Sledge hit a fly ball that we thought might be a home run... but was caught at the left-field wall, which had a No Homeruns Shield on it. So fortunately, Yoshio Itoi hit the ball to RIGHT field, where it cleared the wall for a 2-run homer.
3-0
. And, amazingly, Tomohiro Nioka followed that up with ANOTHER homer to right, making it
4-0
. I can't remember the last time I saw Fighters back-to-back homeruns, to be honest.
Shoitsu Ohmatsu took advantage of the home run magnet in right field to hit one there himself in the bottom of the 4th, making it
4-1
.
But well, much as Karaage-kun really wanted to get that final win as a teenager, it was not destined to happen at this game. Koyano led off the 5th with a single, and Inaba walked, and Shinji bunted them up to second and third... and then Sledge ALSO walked, loading the bases, and so it was curtains for Karakawa.
Koji Takagi took over on the mound ("Uniform number 48? Or age 48?" joked one of my friends), and much to the chagrin of the Fighters ouendan guy I think of as "Shaggy", we struck up the Kanto Chance Theme Music, aka Chitty Chitty Bang Bang. Yoshio Itoi didn't hit another home run, but he did hit a single to right, scoring Koyano to make it
5-1
. Another pitching change brought Taiki Nakagoh out to the mound again, and he struck out Nioka. Tsuruoka hit a sharp liner to left... caught by Tadahito Iguchi to end the inning. Whoops.
Speaking of old dudes on the Marines, Koichi Hori hit a 2-run homer in the bottom of the 5th to make it
5-3
. It was a monster shot straight to dead centerfield -- it bounced in the crack between the centerfield wall and fence and then went over. I like Hori and all, but I'd rather see him hit home runs against teams I don't like, like Seibu.
Yagi finished 6 innings and then Shintaro Ejiri came in to pitch the bottom of the 7th. Hooray, I like Ejiri. Unfortunately, he got to two outs pretty quickly and then BAM, a pinch-hitting Gary Burnham Jr. sent yet another homerun over the right field wall, making it
5-4
.
Then there was a bit of Musical Chairs going on between the mound and the plate. Left-handed Tasuku Hashimoto pinch-hit for right-handed Koichi Hori, so the Fighters took the right-handed Ejiri off the mound and replaced him with the left-handed Masanori Hayashi. So Bobby replaced pinch-hitter Hashimoto with the right-handed Akira "Go Go Ohtsukakira" Ohtsuka, who hit a big, big foul ball.
I spent that inning talking to some other gaijin way out on the fringes of the cheering section, who are perhaps nominally Fighters fans, by which I mean I've seen them at games once or twice before and they claim to be Fighters fans, but they don't know any of the cheer songs or who most of the players on the team are. They were super-disappointed that Darvish wasn't coming in from the bullpen, and asked me "who the heck is this guy?" when Nioka came up to bat, and it made me wonder if maybe I'm the weird one for having so much baseball in my head. But in reality, no, it just made me remember that why I love Japanese baseball fans so much is that they all know the roster so well and live and die by the team so much, which is a passion I just don't find enough of in the US. (It also might be why I get along with Japanese baseball fans better -- I'm as crazy as they are.)
Anyway, something pretty odd happened after that inning -- Gary Burnham, who'd pinch-hit for the DH, entered the game as the first baseman, so Tadahito Ogino, who entered the game as the pitcher, was inserted into the lineup batting 7th. It's been a while since I've seen a PL team lose the DH. But anyway, Ogino wasn't too awful aside from hitting Makoto Kaneko with a pitch. Grrr.
Kaneko, for the record, hit two doubles today, three singles yesterday, and is 5-for-6 on the weekend. Seriously. Welcome back to the Pacific League, kaicho.
Kazumasa Kikuchi took over on the mound for the Fighters in the bottom of the 8th, which caused quite a stir, because it was his 27th birthday: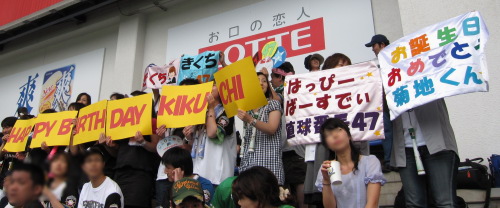 Very cool, a whole bunch of people orchestrated this one, and held up their signs for the entire inning he pitched, which was a 1-2-3 inning.
Hisashi Takeda closed out the game, and he had us a bit worried when he suddenly seemed incapable of throwing a strike, but it all worked out okay in the end and the Fighters managed to pull it all together, winning 5-4. Whew.
Nioka was the game hero for the go-ahead RBI back in the 2nd, and once again we didn't see him on the screen, only heard him.
I guess it was another day for kids to run around the bases, so while we were still doing our after-game cheers, people started filling up the field, which was especially odd as several of them started taking photos of the Fighters cheering section...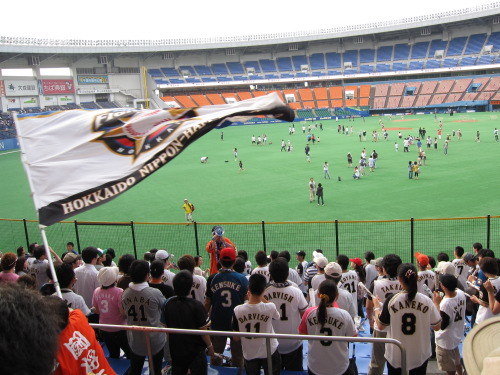 Anyway, good times. Our post-game cheering wasn't quite as crazy as Friday, but it was still a lot of fun.
Onwards to Sunday, where Brian Sweeney will take on Shingo Ono, and Deanna will take on the summer sun and try not to get burnt too badly.