It's always frustrating when your ace loses. But it's even more frustrating when your ace gets defeated by your own team's former fan favorites.
Saturday was yet another day in the left-field bleachers for me at the Tokyo Dome. Shortly after I arrived, they announced the starting pitchers. I already knew Darvish was starting for the Fighters, but we also found out Utsumi was starting for the Giants. Is this an encouraging sign or what?
(If you can't read it, the left half says the Fighters battery is Darvish-Tsuruoka, with Darvish's record being 7-1, 1.09 in 9 games. The right half says the Giants battery is Utsumi-Abe, with Utsumi's record being 1-3. 3.40 in 9 games.)
I'm a bit of a closet Utsumi fan (you know, in the "I would love you if you were not on the Giants" sort of way), and secretly I know he just had a shaky start to the season and has been just getting a little unlucky recently, but seriously, I'd still pick Darvish to win this matchup, especially since recently our better hitters have been right-handed, not left-handed, what with Sledge out for a bit and having Shinji, Koyano, and Kaneko in the middle of the lineup.
But, I was wrong.
I blame these guys:
The guy on the left, you probably know who he is, Alex Ramirez. The guy on the right is Takahito Kudoh, and he was a Fighters outfielder last year, until someone in the front office had the brilliant idea to trade Kudoh and Micheal to the Giants for Nioka and Hayashi. Kudoh was relatively popular with Fighters fans for a new-ish semi-regular outfielder, probably because he runs very fast and makes nice plays in the outfield, and wears high socks and seems like an all-around nice guy.
Infact, as he came out to take practice in left field, about half the Fighters cheering section started yelling "KUDOH-CHAN!!!!!!" until he turned around and smiled and bowed to us. Ramirez also turned around and started waving and smiling, I'm not sure he realized what was going on.
Anyway, the game was going swimmingly well for a while. The Fighters put their first run on the board in the second inning, when Koyano doubled down the left-field line and then Itoi followed it up with what looked like a home run but ended up hitting the left-field wall pretty high instead for a double, scoring Koyano,
1-0
. Kaneko walked, and then we had Tsuruoka and Darvish up next, who popped out and grounded out respectively. It felt like a CL game, that's for sure.
The fun part is, I got to sing Darvish's cheer song for the first time in a real game!
雄叫びあげて 唸るその剛腕 我らのエース 日本のエース
osakebi agete unaru sono gouwan warera no ACE nihon no ACE
Much cooler than all that stuff about "your uniform number is 14-3" and so on.
Fighters fielding ruled the next few innings, especially when Tsuruoka executed a "Thou Shall Not Bunt" play and snagged an Utsumi bunt to nail Lee at second, followed up by a 1-6-3 double play off of Wonder Boy Sakamoto.
And in keeping with the entire "Inaba only hits homeruns when Deanna is watching" gig, Inaba hit another home run in the 6th inning, putting the Fighters up
2-0
. Whee! That makes 8 homers for him on the season, 7 of which I actually saw.
The story turns sour in the bottom of the 6th, at this exact moment: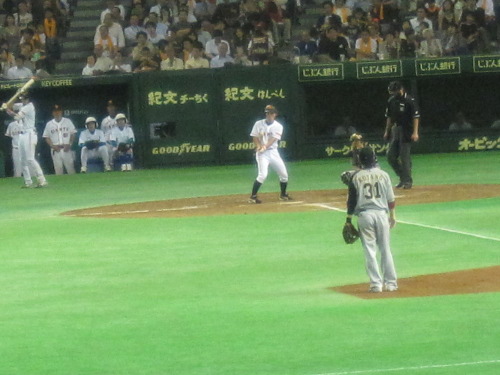 Former Fighter Takahito Kudoh pinch-hit for Tetsuya Utsumi, and hit a single to center. Well, okay. We like Kudoh, we don't mind him getting a hit, sure.
Unfortunately, Hayato Wonder Boy Sakamoto followed it up with another single, Kudoh running to third, and then Matsumoto followed THAT up with ANOTHER single, scoring Kudoh for the first Giants run.
2-1
.
Former Fighter Michihiro "Clean-shaven Doppleganger" Ogasawara came to the plate after that... and unfortunately he ALSO hit a single to center, over a jumping Kaneko. Crap. Sakamoto scored on the play,
2-2
. And would you believe it, but it didn't stop there -- Alex Ramirez ALSO singled, scoring Matsumoto on the play for the go-ahead run,
3-2
.
You see, it started with Kudoh and ended with Rami. A wild pitch during Kamei's at-bat allowed Ogasawara and Ramirez to move to 2nd and 3rd, but then Kamei lined to second and Kensuke Tanaka fired the ball to third to catch Ogasawara coming back, for an inning-ending double play.
The Giants went from biding time with their pitchers to putting in their good guys -- Kiyoshi Toyoda, Tetsuya Yamaguchi, and Marc Kroon. Toyoda dealt with the Fighters pretty quickly in his inning, though they really should have done better against Yamaguchi.
In the 8th, Jason Botts pinch-hit to lead off the inning (his first top-team at-bat this year), but grounded out. Inaba singled after that though, and so did Shinji, Inaba moving to 2nd. We started the Chitty Chitty Bang Bang chance music finally, AND KOYANO ALSO SINGLED, except that it was to center, and Inaba was running home on the play, and it was a really close call as Matsumoto threw the ball in from center, and Abe kind of blocked the plate, and we really couldn't see it from the outfield, but all we knew was that Inaba got called out. And that sucked. And even more chance music couldn't buy Itoi a hit.
The 9th was also interesting, but fruitless. Makoto Kaneko started off by laying off of Kroon's pitches, so he walked. Tsuruoka bunted Kaneko to second cleanly. Then... then Naoto Inada pinch-hit for Darvish. And what happened could be best described as bizarre: Naoto grounded back to the mound. Kaneko was already halfway between 2nd and 3rd base at that point -- and Kroon got the ball and turned to see where Kaneko was, and Kaneko kind of stood there staring at him. Kroon ran out to tag Kaneko, who ducked and started running back to 2nd. Kroon chased him. Eventually Kroon did make the tag, but in doing so, he kind of leaned out too far and fell down after tagging Kaneko, sprawling out on 2nd base.
Kroon sat on 2nd base for a while, and a couple of team staff members came out to check on him, and he walked back into the dugout. As Fighters fans we did a few "Zettai katsuzo Fighters" cheers and so on, until Kroon came back out to pitch to Kensuke Tanaka. And unfortunately, Kensuke struck out to end the game, so the Giants won 3-2.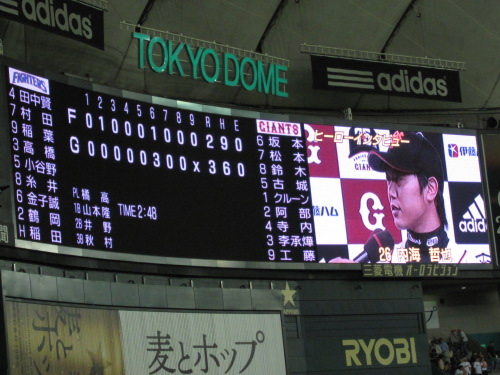 Someone's got to explain to me why Utsumi was a game hero when he wasn't even winning the game when he was pinch-hit for, despite that he was still the pitcher of record when the Giants went ahead. I think there was another game hero too, but I didn't stay long enough to find out. Watching Giants fans celebrate is not exactly my favorite thing in the world.
I realized that part of what pisses me off about Giants fans is that... they're like... they're just not diehard baseball fans for the most part. A lot of them follow the Giants because that's the easy route -- the most convenient stadium, the team shown the most often on TV, etc, etc. It's like, "I like baseball, but I don't have the time or energy to be totally crazy about it, so I'll be a Giants fan." They go to the games at the Tokyo Dome and wave their towels, and know who the famous players are, but don't know much more. I can't imagine the average Giants fan following the team around the country like the fans of other teams do. And why would they have to? Giants fans are everywhere and they're always on TV, so there's no NEED to travel.
Note: I realize there ARE diehard Giants fans just as there are for any team. It's just that it certainly feels like a lot more of them are casual fans than of any other team, and that a lot more casual baseball fans are Giants fans than any other team. I mean, you can't BE a casual Tigers fan, for example. It just doesn't work that way.
Anyway, onward and upwards. I'm heading to Sunday's game at Jingu to see the Fighters take on the Swallows. I do, however, plan to dance the umbrella dance and sing a lot of "kutabare Yomiuri".