For me, Sunday's game was almost as much about socializing as it was about watching baseball. Once you really start going to a lot of games and get to know various groups of people in the stands, you find that there are complicated social rites that you have to perform. They call it "aisatsu", which sort of just means "greetings", but there's more to it than just simple greetings. You have to make an effort to make sure you acknowledge and say hello to everyone you know before the game, and try your best to say goodbye to everyone after the game and tell them they did a good job cheering. Whether you're at work, or at home, or at a baseball game, it's considered rude not to make an effort to properly greet people, if possible.
Usually I go to Fighters games after work and so I barely have 10 minutes before the game starts to get settled, fill out the starting lineups in my scorecard, get all of my cheering stuff ready, etc, so it's okay that I only say hi to the people I'm sitting with.
On Sunday, I got into the Jingu outfield bleachers at 4:30 or so for a 6pm game, and fortunately some friends of friends saved seats for me. I suppose I could have just sat around waiting for the game to start for an hour and a half, but that's really no fun, so I wandered around to do things like getting food and filling out All-Star ballots and such, which also meant saying hi to a whole bunch of people as I walked past them. I also made a point of trying to go down to the field to say hi to the foreign Fighters players, but the guards wouldn't let me, not even for a minute, even after I said I needed to do aisatsu, so I could only stand about 5-6 rows back from the field behind the reserved seats. In a moment of weirdness, the team interpreter actually pointed me out to Brian Sweeney, so I got to wave hi and yell a few "what's up?" kind of things over everyone (and as usual ask when he was pitching, which was not Monday! Doh).
(I also went to try to say hi to the
Tsubamegun
guys, but wouldn't you know it, they weren't there. It definitely got me a LOT of strange looks in the right field stands, like "Why has this poor confused gaijin wandered into enemy territory?" since I was wearing my Fighters jersey.)
Pau showed up shortly after I finished helping a college student in the ouendan with their English homework; I get roped into some crazy things sometimes when I'm going around saying hello to people. Shortly after that, the pre-game festivities started, like lineups and cheering and so on. This is where I was sittting: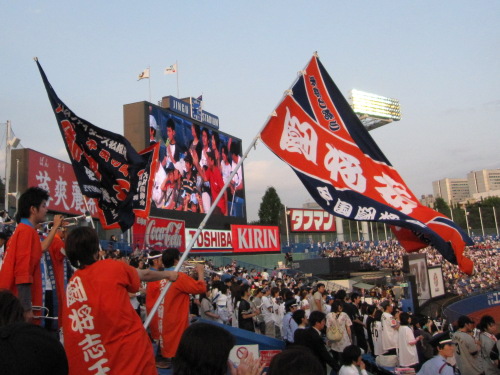 And this is the song the people on the other side of the field were (theoretically) singing before the game. Bad karaoke, anyone?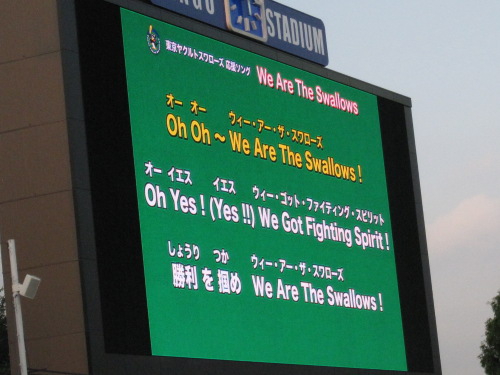 It, uh, goes nicely with things like "Just Play To Win".
So yeah, there was a game. Masaru Takeda started for the Fighters and Ryo Kawashima started for the Swallows, and there were no hits on either side for the first three innings. Infact, the first five innings of the game went by in about an hour and 15 minutes, with a total of three baserunners in that entire time period, all on hits.
Not to say that the game went by without incident. First, for whatever reason (has Jingu always been this way and I just didn't notice?) the ouendan didn't have drums to go with their trumpets. It was odd enough to me that I took a video of us doing Kensuke Tanaka's cheer song, because the Kensuke call without two drumbeats was so strange:
Seriously, doing all the cheers with no drums was kind of strange, especially things like the Inaba Jump and the Chitty Chitty Bang Bang chance music.
Then there was an ouendan incident in the 5th inning, kind of -- Glasses Dude was standing up on a railing and, I'm not sure exactly what happened but I THINK that some guy complained that he was in his way, because next thing I knew, two of the ouendan guys were taking off their jackets and running up to this guy in a "WHAT did you say?" kind of thing. It was just far enough away that I couldn't hear what they were saying, though. Very weird. But the ouendan were in a grumpy mood the rest of the day, and at one point I saw the guy I always think of as "Shaggy" basically go up to a lady who was filming the ouendan, and he kind of just grabbed her camera and yelled at her for filming. REALLY weird, I've never seen them quite so grumpy before.
Anyway, the Fighters finally put some runs on the board in the 6th inning. Shota Ohno led off and was hit in the left shoulder by a pitch. Masaru Takeda successfully bunted him up to second, and then Kensuke Tanaka walked. Tsuboi sadly struck out, but then Inaba came up to the plate, and even though I claimed he would hit a home run and he didn't, what he DID do is single to center, scoring Ohno and sending Kensuke to third.
1-0
. Shinji Takahashi followed that up with another single, scoring Kensuke.
2-0
. Whee! Itoi grounded into a fielder's choice after that, but the game was finally going somewhere!
Pau made me take this photo in the bottom of the 6th because we both take a special interest in "Watch out for balls" signage: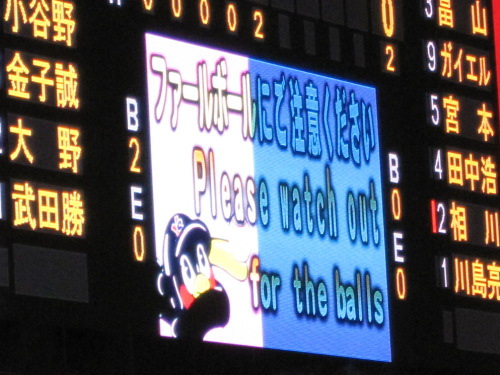 Note that by adding an unnecessary article to the sign rather than adding the word "foul", they have made it all the more amusing.
Pau also noticed that the teenage girl in front of us must have been named Haruka, because every time the line "Tobase haruka, sutando e" in Makoto Kaneko's cheer song came up, the girl's mother would sing it and point to her with the word "Haruka". I know if it was me, I would have been whining a lot of "Mooooommmm, cut it out" after the first time, but this girl seemed to be embarrassed yet putting up with it. Hmm.
Koyano led off the top of the 7th by also getting hit with a pitch in the left shoulder, by pitcher Jun Hagiwara. I guess that's what we get for me saying "Hagiwara sucks" as he took the mound. Kaneko walked, and then Shota Ohno sac bunted into a double play (I'm not sure I've ever denoted a play as "FAIL B1-5-3" in a scorecard before), bouncing the bunt up to the mound, where Hagiwara threw it to third in time to get Koyano and then Miyamoto relayed it back to first in time to get Ohno. Sheesh.
It all worked out okay as Kensuke led off the 8th with a double off Masao Kida, advanced on a Tsuboi groundout, and eventually score on a Shinji Takahashi sac fly to center.
3-0
.
Masaru got a groundout from Guiel to start off the 8th and was then pulled for Yoshinori Tateyama (and I still contend that their Tateyama is much, much better than our Tateyama), who fortunately only succeeded in giving up a ground rule double to Yuichi Matsumoto, before giving way to Hisashi Takeda in the 9th, who closed out the game pretty easily, so the Fighters won. Yay.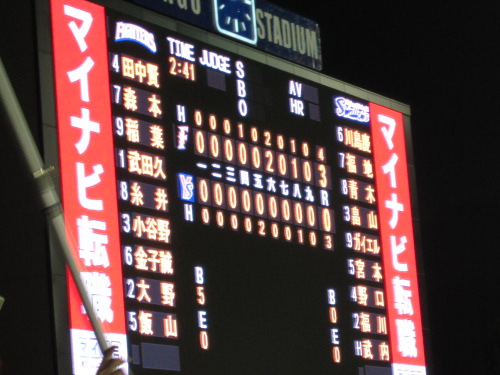 Final score, 3-0 Fighters.
Masaru Takeda as game hero, with a scary ferocious bear behind him.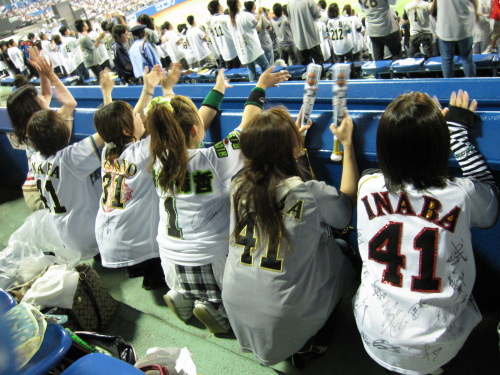 I'll take Fangirls of Players With Uniform Numbers Ending in 1 for $500, Alex!
(Actually, these were our friends in the row ahead of us, ducking down while we made our row of Tsuboi fan stuff.)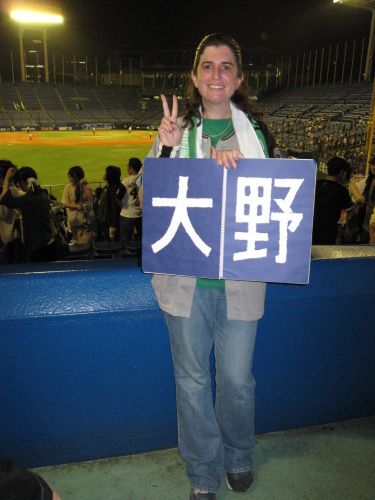 And here is me with my Ohno sign, which I made Pau take a picture of.
I'm off to Jingu for Monday night's game. I might add a bit more to this later, but maybe not. It's only Monday and the school week is already kind of wearing me out.