I can't believe I almost decided I didn't feel like going to this game. What was I thinking? "Oh, Chiba is so far away." "Oh, people will just be there for the beer and not for the baseball." "Oh, I can see Darvish start any time."
See, I'm an idiot.
First of all, if I hadn't gone down to Chiba on Friday night, I would have missed seeing this sunset:
But even moreso, I would have missed one of the more fun games this season.
I showed up at the end of the first inning, because getting to Chiba Marine Stadium by 18:30 from where I work in the north end of Tokyo is pretty much impossible. I hadn't actually made plans with anyone for this game, so my idea was just to walk in and find the first people I recognized and sit with them. Which took all of about 5 seconds, as the group of people I went out for okonomiyaki with in Hiroshima spotted me immediately and waved me over, and they had a free seat or two in their area.
The first thing they told me was, "You missed Hichori hitting a home run in the first inning! If only you got here a little earlier!"
"WHAT?"
So the Fighters were already up 1-0 when I arrived, and Darvish was on the mound. Hiroyuki Kobayashi was starting for the Marines, and for the record, he pitched WELL. Really seriously WELL. He was striking out Fighters batters left and right, and even had two 3-strikeout innings. It's just that Darvish pitched better -- every inning after about the 4th, people were like, "Wait a minute, there hasn't been a Lotte hit yet, has there...?"
It's true the Chiba wind probably helped Darvish quite a bit, as there were a LOT of fly balls out to center, that might have left the park in other places. But it all worked out okay, and the 1-0 deadlock continued for quite a while. There were fireworks after the 5th inning, and they announced that tomorrow's starters were Yagi and Karaage-kun. And still no hits from Lotte.
Eiichi Koyano led off the Lucky 7 inning with a double to right that basically took a weird arc and came down THROUGH Ohmatsu, and Itoi bunted him up to third, and then Tsuruoka botched a bunt attempt for the second time that day, this time grounding out to third -- good thing Koyano wasn't doubled off. Makoto Kaneko came through for the Fighters with a single to right to make it
2-0
.
The Lotte bullpen took over in the 8th, starting with Tatsuya Uchi, and Glasses Dude took over for the Fighters ouendan, which meant something interesting was bound to happen (it always does when he's up there). He started his inning by saying things like "Have you all drunk enough beer yet? Do you want to go drink more? If we score some runs, everyone can go get another beer!"
Hichori led off with a walk, and we were doing the normal cheer for Inaba until Hichori stole second, so with no outs and a runner at second, Glasses Dude said, "Crap, can't be helped... OKAY, INABA JUMP!" And everyone laughed, and jumped, and we didn't even get through the first round of Inaba's song by the time he just hit this beautiful line drive to left, scoring Hichori!
3-0
.
Shinji grounded out and then Koji Takagi took over on the mound... and Terrmel Sledge came out and BAM, he hit a home run to right-center! This brought the score to
5-0
. Taiki Nakagoh took over on the mound a few batters later, and finished out the game.
Naturally, Darvish didn't actually pitch a no-hitter or you know I would have started off by mentioning that. Saburo got the first Lotte hit of the game in the bottom of the 8th, at around 9pm, and Hashimoto followed it with another hit, and we were all wondering if Darvish would come out of the game immediately, but no, they let him finish the inning out, with two more strikeouts and a fielder's choice. Whew.
Naoki Miyanishi started off pitching the bottom of the 9th, and walked Tsuyoshi Nishioka, so they switched to Shintaro Ejiri (yay!) and Ejiri retired the next three batters to complete the shutout, though Nishioka made it all the way to third by stealing and advancing on a wild pitch during Ohmatsu's at-bat. But when Ohmatsu hit a pop fly to center, Itoi fired the ball in fast enough that Nishioka (!) wasn't able to tag up and score. Yay.
Darvish was the game hero, but for some reason we could only hear his voice during his interview, and couldn't see him on the screen...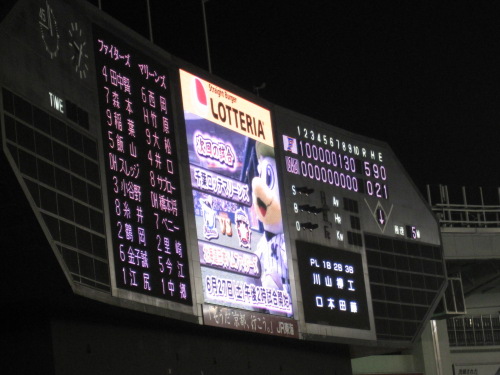 And then we did our normal postgame cheering, including silly things like "Good luck at ni-gun, Luis", and "Leave it up to the bunt, Itoi" and "Hit more than one home run this year, please, Hichori". You see, Hichori's home run was not only the first one this year, but also the first one for him in two years! Not that he's a power hitter or anything, but...
For my part, I had a good time cheering, and hanging out with my new friends, and visiting some old friends, and seeing the Fighters win. I always feel slightly bad rooting against the Marines, but well, as they say in Japanese,
shouganai
. Maybe next year after they kick out Bobby I won't feel so bad. Yeah.