Despite that on Saturday evening the forecast for Sunday said it would be cloudy and humid, by Sunday morning it was raining and the forecast said it wasn't likely to stop any time soon. You have to love tsuyu, the rainy season -- just ignore the weather forecast and assume it will either be pouring rain or it will be horribly hot and sunny, and not very much inbetween.
Unlike the other two games in this series, I went to this one with the enemy, by which I mean
Steve
, who writes a Marines blog. Thanks to Bobby, we got to sit behind home plate, in Row 26, which is the most awesome place in the world to watch a rainy game from, because it is the only row in the lower deck that is covered by an overhang. Even better, we were randomly joined by the inimitable Larry Rocca.
Before the game was also exciting -- while walking around outside I saw a blonde lady with two kids standing there, and was thinking, "That has to be Brian Sweeney's family!" (I recognized them from a photo the Fighters had up last year when
Brian signed a new contract
.) While I was trying desperately to think of something to say to Brian's wife that didn't sound crazy and stalkerish, she actually turned around and recognized ME! Which made it lot simpler, and she turns out to be a really nice person too.
But yeah, it started raining as we were walking to the stadium, and it pretty much never stopped. We got our Bobby Burgers and settled in to see if the game would even be played, as groundskeepers dumped dirt on the bases, and eventually, sure enough, players took the field.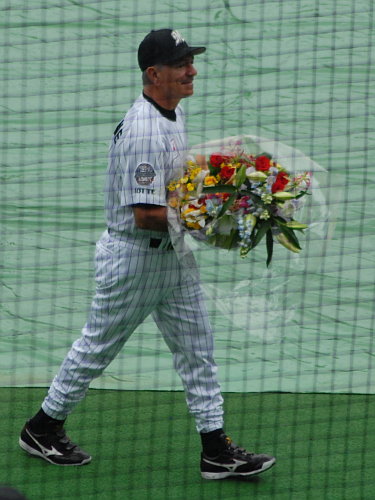 Here you can see Bobby walking by a tarped-up home plate after receiving flowers before the game.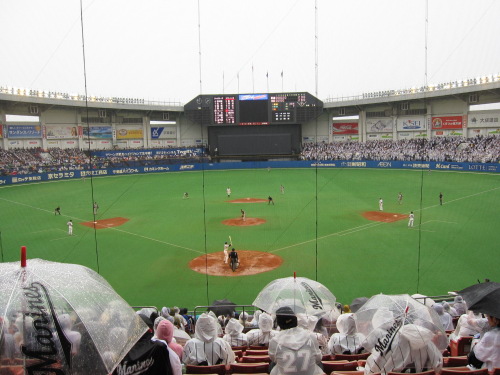 This is what it looked like from our view.
Shingo Ono started for the Marines and Brian Sweeney started for the Fighters, and the game got underway as the rain sprinkled down on the field.
The Marines took a fairly early lead during the second inning when Saburo hit a fly ball way out to left field which didn't clear the wall but did hit the wall for a double. Right after that, Tasuku Hashimoto hit a ground ball towards first base which was going straight to Shinji Takahashi until it took the CRAZIEST bounce ever and suddenly bounced over Shinji's head and into right field, so while Inaba was retrieving it, Saburo scored.
1-0
. Benny walked after that, advancing Hashimoto to second. Two outs later, Nishioka hit a ball down the left-field foul line which happened to land fair. Hashimoto was off running and scored;
2-0
.
The rain continued to fall and several slippery plays happened. Between almost every inning, ground crew came out to the mound to work on it...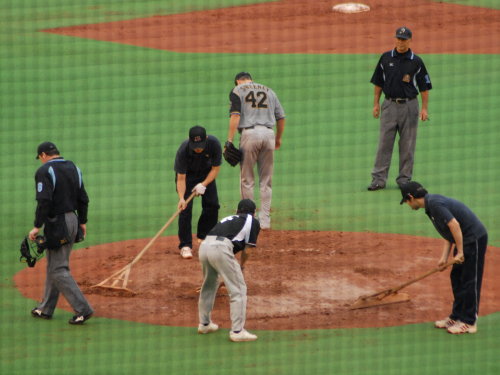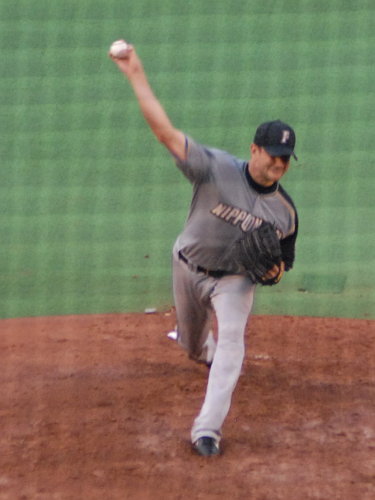 And here's Brian Sweeney trying to pitch from the mudpile.
In the top of the 4th inning, Hichori singled and then Inaba hit a home run into the right-field bleachers! That tied the score at
2-2
.
If you are counting, which I am, Inaba has hit 10 home runs this year, 9 of which I've seen, 7 of which I've seen in person. The Sapporo Dome is scary.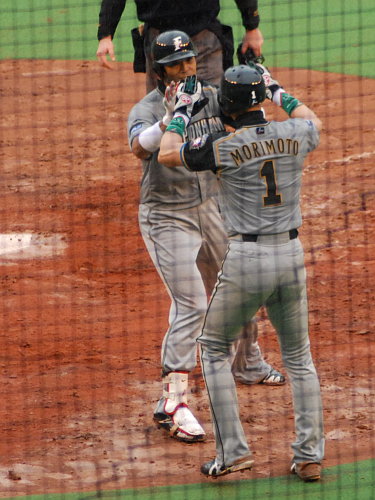 Inaba and Hichori high-five back at the plate.
Things carried on for a few very wet innings, and then in the bottom of the 6th, Benny Agbayani led off with a double to left, running and running and eventually taking a headslide into second base, safe. Gary Burnham grounded out, moving Benny to third, and so I started focusing my camera on home plate. "Ohno-kun... be careful, a large Hawaiian man is about to come barrelling into you..."
Sure enough, that is exactly what happened. Imae hit a squeeze bunt and WHOOOSH, Benny came charging home:
So that brought the score to
3-2
.
To start the 7th inning, they actually did announce the Fighters Lucky 7, and they played the Fighters song and showed the Fighters fans on the big screen, and announced Akira Ohtsuka as a defensive replacement in left...
...and then a bunch of people came out and started covering up the field with tarp, as we went into a rain delay.
Yeah.
The Fighters ouendan started the traditional Old Ouenka Game out in the left-field stands, even including Ogasawara's and whatnot, and the crazy Marines fans sitting next to us even sang along for Yukio Tanaka's. But well, 20 minutes later or so, the game was called, since the field was pretty wet and there was no end in sight to the rain.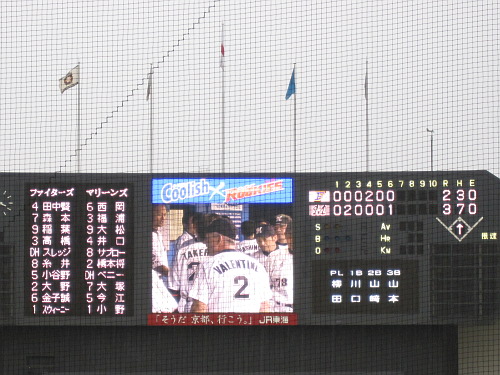 Sadly, there was no big display of headsliding after the game -- one of the Marines mascots, Ma-kun, came out and ran around the bases and slid into the wet tarps, but it wasn't really anywhere as exciting as having coach Morozumi come out and do it.
At any rate, it was still a fun day at the game, and I'm really glad we got to sit in row 26 under the cover. I didn't even need to get out a plastic bag or an umbrella or anything.
I have a few other photos from the day that I wanted to post but that didn't really fit into the story: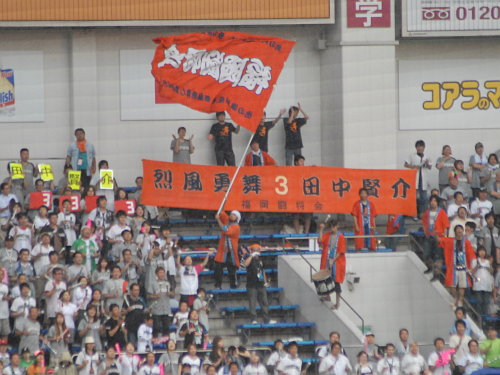 This is the Fighters ouendan cheering for Kensuke Tanaka. There's a guy waving a big orange flag, which actually belongs to the Fighters Fukuoka ouendan group. Why is he waving it? Well, first, because Kensuke Tanaka is from Fukuoka... but second, because that particular ouendan guy is also from Fukuoka and happened to go to the same high school as Kensuke.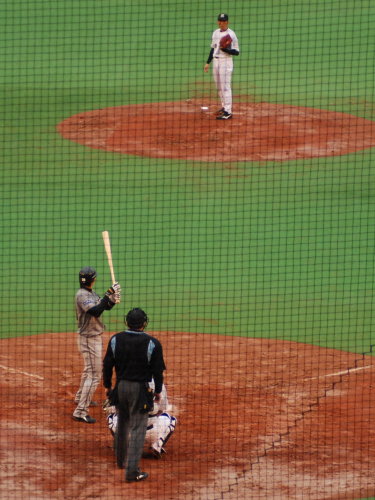 Ono (小野) is pitching to Ohno (大野). You could say that "ours is bigger than theirs", I suppose.
And last... I posted a photo of this a few years ago but I'm not sure I ever got a photo of myself in front of this thing before, so...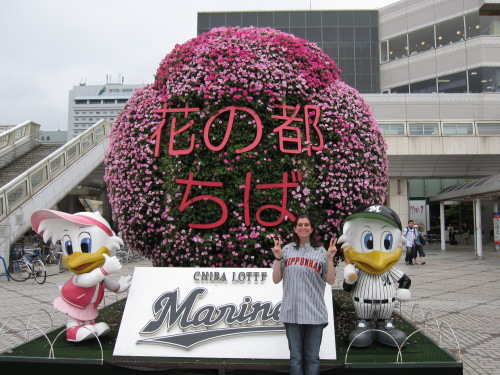 ...this is outside Kaihin-Makuhari station, the big flowerball declaring that Chiba is a flower capital. Or something like that.
Overall, anyway, it was a fun weekend.
Now I'm finishing this up on Tuesday afternoon, and maybe if I get home on time I'll try to even liveblog the Fighters-Eagles game tonight, since it's on BS1 and I can watch it. We'll see.